Robert Redford The Old Man & The Gun
Cast: Casey Affleck, Robert Redford, Keith Carradine, Danny Glover, Elisabeth Moss, Tika Sumpter, Sissy Spacek, Tom Waits, John David Washington
Director: David Lowery
Genre: Comedy, Crime

Synopsis: Announced as his final performance, Robert Redford stars in The Old Man & The Gun, a beautifully crafted film inspired by the true story of career robber Forrest Tucker. Following a daring prison escape at the age of 70, Forrest embarks on a string of bank robberies that confound the authorities and enchant the public. Wrapped up in the pursuit are detective John Hunt (Casey Affleck), who becomes captivated by Forrest's commitment to his craft, and Jewel (Sissy Spacek), who loves him in spite of his chosen profession. Featuring a magnetic performance by Redford as the charming, irrepressible Forrest, The Old Man & The Gun is a fun, thoughtful film exploring what it means to truly live a life.

The Old Man & The Gun
Release Date: November 15th, 2018
About The Production
"The police were stunned when they realised that the man they had apprehended was not only 78 years old – he looked, according to Captain James Chinn, 'as if he had just come from an Early Bird Special...'" " David Grann, "The Old Man and the Gun," The New Yorker

Academy Award winner Robert Redford has played many charisma-laden rebels and renegades in his expansive career – the sharpshooting train burglar in Butch Cassidy and the Sundance Kid or the con artist in the classic caper The Sting – and now brings the legend of Forrest Tucker to life in The Old Man & The Gun.

Tucker only ever had one occupation, but it was one he was unusually gifted at and pursued with unabashed joy. It just happened to be bank robbing. In the early 1980s, at a septuagenarian age, Tucker embarked on a final legend-making spree of heists with the "Over-the-Hill Gang," a posse of elderly bandits who employed smooth charm over aggression to make off with millions. Tucker never stopped defying age, expectations, or rules – he made his twilight the pinnacle of his life of crime. If the sole art form he knew was robbery, he was darned if he wasn't going to try to perfect it, no matter how elusive the dream.

The film also stars Academy Award winner Casey Affleck (Manchester by the Sea) as Detective John Hunt and Tika Sumpter (Southside with You) as his wife Maureen; Academy Award winner Sissy Spacek (Coal Miner's Daughter) as Tucker's paramour, Jewel; and accomplices Teddy, played by Danny Glover (To Sleep with Anger, Dreamgirls) and Waller played by Tom Waits (Short Cuts, Seven Psychopaths).

Jeremy Steckler of Condé Nast Entertainment first discovered David Grann's riveting profile of Tucker in The New Yorker in their archives. They quickly secured the rights to the project and reached out to Robert Redford and David Lowery (Ain't Them Bodies Saints, A Ghost Story). Since he had been contemplating retirement for the past few years, Redford felt a magnetic pull to the role and was gratified when writer-director David Lowery came aboard since they knew each other from Sundance. "Never say never, but I pretty well concluded that this would be it for me in terms of acting. I told David, the one thing this movie had to be is fun. Forrest is a wonderful, complicated character, so full of life and risk and enjoying danger, but he also was about having fun," says Redford.

Lowery took that to heart. Extrapolating out from Grann's journalism, Lowery imbued the story with the rollicking mythos of a modern Western. The feeling was that of a campfire tale about a simpler time – i.e. the 1980s, that last decade just before mobile devices and the internet changed everything. It was a time with less hurry and more room to hide, which made the chase that erupted between Tucker and the lawman who pursued him a thing of slow-burning beauty both men relished. And as Forrest is chased, he too is chasing something: a last chance at love and at a legacy, even if it must be an outlaw one.

At the core of Lowery's script was an homage not just to a complicated anti-hero, but also an ode to the profound pleasures of Redford's four decades in film, including founding the game-changing Sundance Institute, which in turn helped spur Lowery's own career as an indie filmmaker.

Says Lowery: "Bob and Forrest Tucker were always intrinsically related in my mind. I saw all sorts of parallels with the various characters he's played over the years, but it wasn't until I worked with him on Pete's Dragon that I got to know him personally. That was what allowed me to tailor the part specifically for him. It was a real luxury to have that month together in New Zealand, hanging out and working together."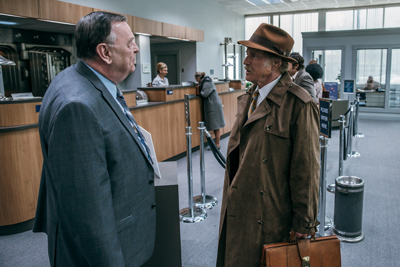 As for what drew him to the story beyond the chance to create a bespoke role for a screen icon, Lowery admits having his own soft spot for Forrest. "I totally related to him," he says. "He's someone who does what he loves and gets away with it. I'm sure Bob felt a kinship with him for the same reason."

For the producing team – a group that draws together Endgame Entertainment's James D. Stern, Condé Nast Entertainment's Jeremy Steckler and Dawn Ostroff (now with Spotify), Identity Films' Anthony Mastromauro, Sailor Bear's Toby Halbrooks and James M. Johnston, and Wildwood Enterprises' Bill Holderman – the marriage of a character like Forrest with Redford and Lowery was the kind that comes along rarely.

Stern observes that the film employs the frameworks of some of movie audiences' favourite genres – Western showdowns, comic capers and gritty tales of complicated cops and robbers – but all in service to a fresh take on living outside the lines. "David talked about honouring not just Butch Cassidy and The Sting but Bonnie and Clyde and Cool Hand Luke, all those great anti-hero films," he says. "But what made this story unique is that it's an allegory for an uncompromising artist's soul. Robbing banks maybe isn't the greatest choice of art form but it's what Forrest did, so he put his heart into it. And like all uncompromising people, Forrest sacrificed a lot, in terms of relationships, in terms of what he missed and what he risked. The film touches on these deeper themes in a playful way."

Steckler loved watching the symbiosis unfold between character and actor. He observes: "David's script truly felt like an exploration of where Bob's early characters might have ended up – how these artistic robbers who had a flair for what they do, and a twinkle in their eye, would age. I think Bob identified with that idea – and he also identified with Forrest's life-long dedication to honing his craft."

Says Halbrooks, who along with Johnston has been working with Lowery from the start of his career, of what Lowery was able to do with the story: "There's a subtlety to David's filmmaking that's pretty distinctive. When we first read David Grann's piece the big question we all had was: how could all this be true? I remember having to double-check that it wasn't fiction. But because David's way of storytelling is so concerned with the verisimilitude of emotions, he was able to tell it in a way that never feels fake and allows you to empathise with where Forrest is coming from."

For Johnston, Lowery's playfulness worked as a counterpoint to the film's explorations of obsession, love, regret and coming to the end of the road. "It was important to David for the film to have levity, to feel like a fun legend people tell their kids at night. But in the midst of that, David found deep emotion," he summarises "We root for Forrest because we understand him as a man who wants to keep doing what does best, a man looking for love and success who isn't ready to quit."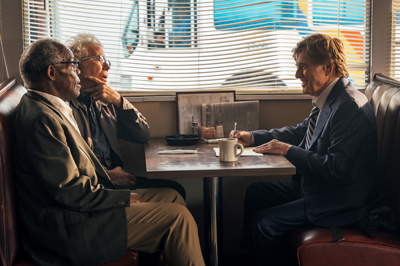 From The Pages Of The New Yorker To The Screen

Forrest Tucker had a long career robbing banks, and he wasn't willing to retire " The New Yorker

Even amid the eccentric annals of famed outlaws, Forrest Tucker was an original, a career bank robber who escaped prison 18 times and pulled off bank heists well into his seventies. That's what initially drew journalist and author David Grann (The Lost City of Z) to write about Forrest for The New Yorker in 2003, three years after the bank robbing legend been sent back to prison at age 80 for yet another cunning heist to cap off a literal lifetime of them. Grann revealed a man who you could not deny took a surprisingly relatable and honourable pride in his work, considering he was a lawless felon but also a nice guy.

Early on, two people who read Grann's piece were producers Jeremy Steckler and Dawn Ostroff. With Redford already aboard, they brought the idea to David Lowery who had just directed the visually stunning Texas outlaw tale, Ain't Them Bodies Saints, because says Ostroff, "he makes movies the way David Grann writes, with a meticulously crafted, human approach."

"I didn't want to find out too much about the real Forrest because I knew Bob would define him so thoroughly. He'd make him into his own character," says the writer-director Lowery. His approach evolved to give the character maximum room to breathe. "The first draft of the script was much longer and quite a bit more journalistic," Lowery explains. "I really leaned into the facts. In real life, the Over-The-Hill gang was much larger and grittier – there were drugs and deaths and a lot of unsavoury elements. But I abandoned that approach pretty quickly, partially because it's just not my forte and also because I just really wanted to keep the camera on Bob the whole time. So I basically used Grann's article as my bible and didn't veer too far from that."

The internal joyousness of the character was his guide into telling the story as an almost anti-procedural, making both the crimes and the pursuit of the criminals secondary to the spirit of the storytelling. Says Lowery: "I wanted to see Forrest shine. As a storyteller, I naturally skew towards melancholy, and there definitely are some tragic aspects to Forrest's story, but I wanted to curb those instincts for once and just make a movie that would make people smile."

As Lowery churned through drafts, he turned the story into two gleeful cat-and-mouse games: one the unfolding love story between Tucker and perhaps the only woman who would ever put up with his outrageous career choice; the other the story of the world-weary law man who decided to chase him.

He also emphasised the idea that a mere few decades ago, both crime and law enforcement had a different feel. With no internet or smart phones and few computers, if police wanted to share information across state lines it was done by telephone or U.S. mail. Most cops still carried revolvers, not automatic weapons. "All my movies take place in that hinterland before technology was ever-present in our lives," notes Lowery.

It was a time when a cop could take his time chasing a robber, when the contest of the chase itself could overtake the finality of the capture, which is what happens between Forrest and John Hunt. "The chase is where all the energy was," observes Lowery. "It's always a little bit of a letdown in movies when the chase has to end, isn't it? And I am secretly hoping that the cop will let the robber go. When I was writing this screenplay, the fact that Hunt let him go when he had the chance is probably one of the more personal elements of the story. That's just me, not wanting Forrest to get caught."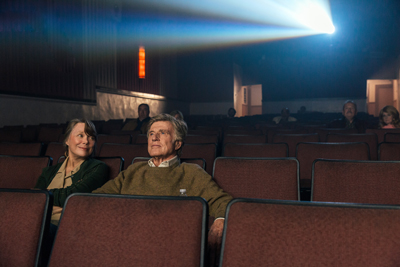 Lowery also felt it was vital to highlight that Forrest aspires to peace more than harming people. Grann had noted in his article that Forrest believed that wanton violence was the sign of an amateur holdup man. "The best holdup men, in his view, were like stage actors, able to hold a room by the sheer force of their personality. Some even wore makeup and practised getting into character," wrote Grann.

That sat well with Lowery. "Forrest carried a gun, but it was important to me that we never even saw it. If the article hadn't been called The Old Man and The Gun, I'd probably have left firearms out altogether," he says.

The restraint of the script impressed executive producer Patrick Newall. "It harkens back to almost a James Cagney type of movie, where there's an innocence to it. Forrest wasn't trying to shoot people. David made a very clear, creative choice that he didn't want it to be about that," he says. "And that's also true to who Forrest was. He was a gentleman, even if he was gentlemanly bank robber."

Johnston notes that Lowery also brought a strong Texas voice to the script. "David's vision extrapolated a more personal story from the original article. He explored the double-sided coin of the cop and the robber – and as a Texan, I felt he captured some of the mystique of what Texas is," he says.

Sums up Newall: "David walked a very fine balance in the script of not being judgmental with Forrest as a character, and brought other characters into it who kind of challenge that thesis of a troubled man addicted to something. The story is funny. It's moving. It's also exciting at times. And I think David has that ability to craft something that works on all those levels, which is very unique."

Robert Redford As Forrest Tucker

79 Years Old and His Life of Crime Appears to Be Going Strong" Los Angeles Times

The real Forrest Silva Tucker grew up in Depression-era Florida, brought up by his grandmother and raised on dime-store novels about stickup men who broke out from the social margins. He began his own life of crime in his early teens with a stolen bicycle (at least as he tells it) and from then on, spent his entire adulthood in and out of prison – often breaking out of prisons, including his most notorious escape from San Quentin. Moulding himself into his own version of the crime legends he'd read about, he would become as renowned for his calm, personable heist style as for amassing a total of 18 successful escapes from incarceration.

Forrest Tucker passed away in 2004 at the age of 83, after serving just 4 years of his 13- year sentence for armed robbery in Texas when sent to prison in 2000. Nevertheless, his legend persisted, though Forrest could not have foreseen that he would have eventually be portrayed by another legend, Robert Redford. Two qualities seemed to bind Forrest and Redford: dedication to their chosen craft and an ability to tap into a boyish passion no matter their age.

As an actor, Redford is known for a wide range of roles that always showcase the power and the perilous costs of charm. There's the upstart, single-minded Olympic skier in 1969's Downhill Racer, the golden boy politician of The Candidate, the haunted war veteran turned instinctive mountain man in Sidney Pollack's Jeremiah Johnson, the bookish government bureaucrat thrust into an international conspiracy in Sidney Pollack's Three Days of the Condor, the daredevil stunt pilot of The Great Waldo Pepper and the muckraking Bob Woodward chasing a President's secrets in All the President's Men. There's also the flawed baseball great in Barry Levinson's The Natural, the reform-minded warden of Brubaker and a sailor facing himself alone at sea in All is Lost.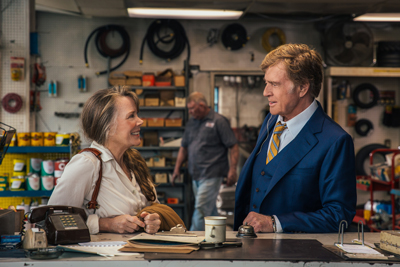 As a filmmaker, Redford has the Oscar® for Best Director for Ordinary People, as well acclaim for such additions to the American cinemascape as Oscar winner A River Runs Through It and Academy Award nominated films Quiz Show and The Horse Whisperer. In the second half of his life, Redford started two more chapters for which he is now equally celebrated: founding the Sundance Institute and Sundance Film Festival to nurture and champion independent filmmaking voices and as a renowned advocate for working diligently to help preserve the nation's natural beauty and resources.

For Redford, whose love of new challenges is obvious from his resumé, it was the lightness of Forrest Tucker that fascinated him, more than his felonies. He played him as a man in search of jubilant adventure, a man who couldn't resist solving an impossible problem, as well as a man whose gut instinct said that to buck the system and go your own way was to stay young and vital.

Tucker's nonlethal approach to heists also spoke volumes to Redford about the code by which he lived. "Forrest never shot anybody. He used a gun but it was never loaded," Redford points out.

For Lowery, working with Redford on the role from the get-go was one of the great pleasures of the film. "We talked about it a lot over the years, as Bob read various drafts of the script, but once we had a draft we both liked, we didn't have to discuss it that much," Lowery recalls. "The character was so well honed on the page, and so attuned to Bob, that we were able to leave things more open. We talked a lot about his relationship with Jewel. That was probably what we worked the most on while we were on set."

Redford, who has been starring in movies since he was 21, has said that The Old Man & The Gun might be his last film as an actor, but perhaps that notion only made him savour the process more. He was especially excited by his co-stars. "They kept it edgy and they kept it real," he says. "I was just so lucky to have these colleagues and I have huge respect for them. Sissy and Casey have done so much incredible work. Then you have Danny Glover, who I never worked with before but I certainly admired. He and I are from the same part of California, so we had that connection. And I've long been a fan of Tom Waits so the idea that we could be working together, well, it was all a kind of blessing."

The end of the road is something Tucker always sought to avoid, one of the reasons perhaps he became one of the world's greatest escape artists. Redford notes that it is Tucker's desire to keep upping his game that draws the law to him one last time. He could have walked away from bank robbery and never faced a jail cell again but as Redford explains, "Forrest was someone who thinks, 'yes, it's been fun doing these smaller jobs, but something is missing. I think I need the really big one.' And that's when he stepped into a trap."

Johnston especially loved seeing Redford's sense of humour come to the fore in the role. "Bob is naturally funny. So David knew he could give him a line that might be very subtly humorous and Bob would take that and make it shine. With just a wink Bob has the ability to light up the screen and make everybody swoon."

Halbrooks remembers every day bringing the unexpected with Redford. "Bob is pretty subdued when he's not on camera and when he's getting ready to perform and then he'll come in and do something so beautiful you think 'wow I didn't see that coming.' We also didn't know how well the chemistry would work with him and Sissy. You have your hopes and your dreams about that pairing but we watched as Bob and Sissy each compelled the other to take it up a notch. It was just continually surprising in the best ways."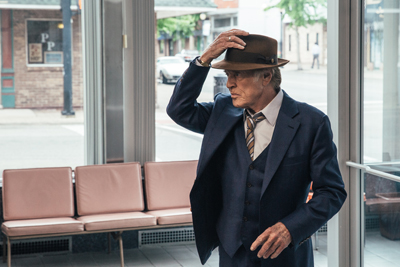 It was Redford's way of fully embodying Forrest without stamping him as sinner or saint that impressed everyone on set. Says Newall: "Like David's script, Bob's interpretation of the character didn't judge Forrest. It was exciting to see Bob at his pinnacle playing a role that capitalizes on everything he brings to the screen. He's enormously charming. He's subtle. He made it look effortless. But he's also brought deep subtext, and whenever he was on camera something more than you expected came to life."

Sums up Stern: "There was no one else in the world to play this role, pure and simple."

Sissy Spacek: Jewel

The real Forrest Tucker was married three times, but it was his last wife who saw him for who he was. In his script, Lowery riffed in a semi-fictional way on the character of Jewel, exploring why a fiercely independent widow might choose to share her life with a bank robber still dreaming of the biggest and best heist he might pull off.

The first person Lowery ever saw in his head for Jewel was the accomplished Sissy Spacek and he never budged from that idea. "At a certain point, I needed to get a better handle on the character – and in doing so, I immediately found myself thinking of Sissy. I've always loved her and just decided to take a chance and try to write a really great part for her. I'm so grateful that she took it! I don't know what I'd have done if she had said no. I want to make a million more movies with her now."

A six-time Oscar® nominee and a winner for her portrayal of Loretta Lynn in Coal Miner's Daughter, Spacek has appeared in some of American filmmaking's most evocative films and often creating characters who break the mould. Her memorable roles ranged from the telekinetic force of iconic teen rage in Brian De Palma's Carrie, the small-town girl who follows her boyfriend on a killing spree in Terrence Malick's Badlands, and a wife determined to find her husband in Costa-Gavras' Missing. She would go on to play a farmer fighting for her family's land in The River, the sister who shot her husband in Crimes of the Heart and a protective mother facing tragedy in In the Bedroom.

The role of Jewel took her into unexplored territory once again. Spacek found herself wanting to excavate the improbable nature of Forrest and Jewel's connection – exploring why two people who seem so thoroughly unlikely as a couple on the surface match at a deeper level as two people each still looking to extract something more out of life.

"Jewel was content on her own. Her children are grown up and gone. Her husband has gone on to the other side and she lived on a ranch with all of her animals. She was very rooted and she was the opposite of who Forrest was. Forrest went whichever way the wind blew, he always had," Spacek observes. "But Jewel was just grounded and everything for her was about her relationships with both people and animals."

In that context, deciding to let Forrest woo her is most of all a welcome leap into one of life's unknowns for Jewel. "Jewel was at a point in her life where she thinks, maybe it's time for me to do whatever I want," says Spacek. "In saying yes to this man, she was really saying yes to life. And she could do that, because she was already so independent and didn't really need anybody to take care of her."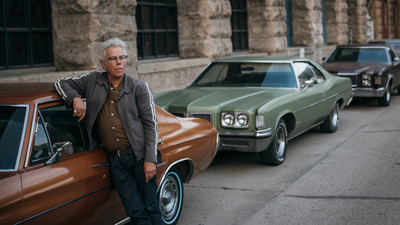 It certainly wasn't hard for Spacek to channel the magnetic pull Jewel feels towards Forrest, with Redford in the role. "Yes, he was a criminal, but he was just so damn charming," Spacek muses. "A scholar and a gentleman. And yes, a thief. But they made each other laugh and they had this really sweet and awkward and funny way of being with each other, as if they were middle schoolers."

Forrest Tucker knew he was lucky to discover in Jewel a woman who accepted his enormous flaw of being a wanted man, while falling for everything else about him. Says Redford of Jewel: "She knew who Forrest was and she knew this terrible thing about him but still, she supported him. She didn't particularly like what he did, but she loved him for the kind of human being he was. And she stood by him when he kept getting caught, so I think that really made a huge impact on him. He knew she truly loved him."

Ostroff says the organic chemistry that erupted was palpable from day one. "The energy between Bob and Sissy was so beautiful because it's all about what's not said between the two of them. You just feel that their souls are being fed in very different ways by one another. I think it's very unusual relationship in film, because it's about what's felt underneath the words," she says.

Spacek, Redford and Lowery communed at length on the characters, etching out every subtle detail of how the two interact in the halcyon days between his heists. "We talked about their relationship a lot," says Lowery, "both one-on-one and together, and while I had my own thoughts on things, I always made sure to lean into their perspectives. I learned a lot from both of them."

Sweet as things are, they both knew it's just a matter of time before the law caught up with Forrest again. It was a bittersweet reality for Jewel, but Spacek could understand her willingness to take the risk. "I think she knew Forrest couldn't stop, even if a part of him would have liked to," observes Spacek. "It's what he knew. He was good at it and it was kind of an addiction as well. I think Jewel also saw that Forrest doesn't rob banks for any darker purpose other than for the thrill of knowing he can figure it out."

Redford's performance made that even more real, heightening the comedy, but also the tragic impossibility, of their love affair. Spacek was exhilarated to work with Redford for the first time in their careers. She'd first met him when she was first starting out, and remembers being completely rattled at the time. "I know he has no recollection of the meeting. But I do. He was already a big star. And when I was introduced to him and I got so flustered I called him 'Bobert.' I was mortified," Spacek laughs.

She watched his career evolve on its multiple fronts. "He has starred in so many great movies, and he's directed so many important films as well. He's quite an individual. He's also done enormous things for independent filmmakers so his contribution to film has been immense," she says.

As for what Jewel does for Forrest, Spacek says: "I think she gave him a place to go, a place to stop and rest his weary bones, if just for a moment, and she gave him a good friend. Forrest was so good at robbing banks, but if had found something else I thought, 'what could his life have been?' He was such a lovely human being, he might have been successful at anything, and then maybe he and Jewel could have rode off into the sunset together."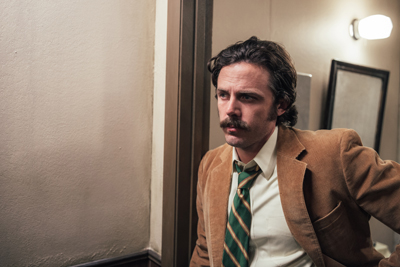 Casey Affleck: Detective John Hunt

The thrill of the heist for Forrest Tucker was matched by the meaningfulness of the pursuit for the cop who decided he was going to nab him: John Hunt. Taking the role of a weary lawman who was revitalised by the purity of a chase is Academy Award® winner Casey Affleck, following on the heels of his work in Manchester by the Sea and in Lowery's A Ghost Story.

Says Lowery: "Casey is a friend and I just love working with friends. He also reminds me of Bob in a lot of ways. They're both irascible and playful and like to walk down paths untrodden."

The relationship between Tucker and Hunter everyone looked forward to watching unfold. Says Steckler: "Forrest is an undeniable force, able to get the bank tellers to swoon and cooperate. So John Hunt looks at him and wonders: is the way this guy lives his life an example I should be applying to myself? That's a hard thing for a police officer to ask about a criminal. And it creates a really interesting interplay both inside Hunt and with Tucker."

Affleck was drawn to Hunt as a unique take on the detective focused almost lovingly on getting under the skin of his mark. "Hunt was kind of a lone wolf," says Affleck. "He was discontented with the police department, so he went off and decided he'd figure this case out all on his own. But I think there's also something about the romance of a non-violent, lifelong bank robber that appealed to Hunt. He had a kind of admiration for Forrest. I mean, he knew he had to catch him – that's his job – but Forrest touched something inside him." Even as Forrest grew closer to Jewel, the Texas policeman John Hunt was closing in on him. But Hunt too was more a source of pride than distress for Forrest, who enjoyed being worthy of a grand chase and having an opponent to outsmart. Says Redford of their relationship; "There's real respect between them. For Forrest, that respect came with realising that Hunt was going to be the animal that chased him and he was going to be the animal that escaped. I think Forrest loved that connection between them."

"Redford is somebody I've watched my whole life and more than a few of his films are among my most favourites," Affleck says. "He brought something special to playing Forrest because it's partly who he is – and it was so fun to watch. One of the things I think is so great about Redford is, famous as he is, he's managed to still be sort of mysterious and enigmatic the whole time."

Much as he was excited about working with Redford, Affleck says he was equally drawn to reuniting with Lowery, whom he describes as an auteur. "David has a very clear vision and voice," he describes. "I loved that he wanted to make this movie with a very 70s, energetic style that really feels like the best of the old crime movies, with a free-form, fun visual style. It's really quite funny and playful."

Though the film riffs fictionally on his character, the real John Hunt was also exhilarated to be included in the production. He'd heard of a possible feature film for years but never really believed it would happen until Lowery called him. "I got a phone call from him and he said, 'we're doing it. We're gonna make a movie…and it's gonna star Robert Redford and Casey Affleck.' And I said, 'you gotta be kidding me?' I mean, I was stunned. David said, 'Would you mind if we use your name as the detective?' I told him I'd be honoured," Hunt recalls.

Hunt confesses that he did indeed have a qualified respect for Tucker, even as he sought to bring him to justice. "I admired his professionalism – you've got to admire the professionalism," Hunt says. "But I cannot admire that he broke the law. Or that he threatened people with a gun. But I can admire the professionalism he brought to the planning, and to be able to keep doing it year after year."


In real life, Hunt never actually met Tucker face-to-face. But in the film, they have two intriguing encounters. In their first, Hunt is humiliated by Tucker when he finds himself standing in a bank line waiting to make a deposit when a stickup occurs right under his nose. "From that moment, Hunt makes it his life's mission to catch this guy," says Ostroff, "and that's the start of a deeper connection between the two of them where they each are playing the other and pushing the other."

Affleck's look was also carefully curated, right down to the Tom Selleck-style moustache. "Casey came in with some facial hair, and we were able to beat it into a sort of Magnum P.I., Tom Selleck-y look. It suits the character really well and Casey really enjoyed it," says makeup designer Leo Corey Castellano.

For Jim Stern, Affleck embodied the character completely, right down to the psychic tangle that can happen when cop-and-robber see a mirror in one another: "The way Casey played John, you can feel how he got Forrest's juices flowing again, and how they each gave the other something they needed. Forrest needed a foil to challenge him and John needed the joie de vivre Forrest provided him."

Partners In Crime

Senior Citizen Inmate Always Walked a Crooked Mile" The Palm Beach Post

Joining Robert Redford as Tucker's co-conspirators in the Over-The-Hill Gang are two men with distinctive, long-lived careers all their own: four-time Emmy nominee, Danny Glover, as Teddy Green, and singer-songwriter-actor, Tom Waits, as Waller. "Danny and Tom were the first names David spoke about and we thought they were fantastic ideas," recalls Steckler. "As a trio with Bob, it's something magical."

For Lowery, the casting felt organic. "I knew I needed actors who could lend something more to the characters. I've admired Danny all my life, from the time I saw Lonesome Dove as a little kid all the way to seeing his name as a producer on Apichatpong Weerathesakul and Lucretia Martel movies. It was an honour to have him in the film. And Tom Waits is Tom Waits. He's a hero," he says.

The screenplay swept in Glover. "I loved the pacing and the language," he says. "I loved how it was orchestrated so that you could take either side. And it was the relationships in the Over-The-Hill Gang that really interested me – the way that they communicated with each other and the way that, though they each had their own different story, they were all cut from the same kind of cloth."

Glover gave a lot of thought to why Teddy and Waller followed Forrest as their leader. "On the one hand, Forrest is a dreamer but on the other, he's capable of taking great risks and he's someone who you can trust has the capacity to go through with a plan, and trust is key in this world," he points out.

On set, the rapport between Glover, Redford and Waits was unmistakable. Says Waits of the trio's synergy: "Danny's a great actor and he's fun to work with. He's spontaneous, so he was great to improvise with and so is Bob. They were both ready to go. Their engines are always running, and I like that."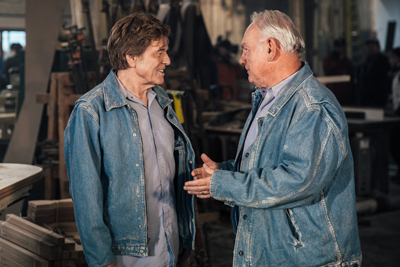 Waits might be a musical legend for his story-spinning songs and smoky delivery, but he has also drawn accolades in acting roles in such films as Robert Altman's Short Cuts and Martin McDonagh's Seven Psychopaths. He, too, was sold on Lowery's script and his cast mates. "It felt to me like a modern Western," he says. "David's got a real eye, ear and voice as a writer. And it was Redford, Spacek and Glover. It's like if someone is having a party and they tell you who is coming and then you say, yeah, who else? And who else? And who else? You're hooked by hearing who's going to be there."

For Waits, Waller was a more prototypical criminal than Forrest, someone who didn't quite have it all together. "I think he had a screw loose," he muses. "He was in prison for 10 years, he had made a lot of mistakes and, you know, his socks didn't match. Forrest was much more together. He was composed and that's why he was the gang leader."

Rounding out the cast are several vital supporting roles including John Hunt's wife Maureen, portrayed by Tika Sumpter, who played young Michelle Obama in Southside With You. Says Sumpter of Maureen: "She saw her husband going through a midlife crisis and she was the kind of woman who encouraged him but would never tell him what to do. She believed he would figure it out, and she supported him as he did, and I loved that about her."

Actress Elisabeth Moss appears in the film as Dorothy, the daughter Forrest doesn't really seem to want to know. The Emmy and Golden Globe winner says of her brief, but indelible, role: "Dorothy brings a little bit of a reality check to the story of Forrest and gives you a more complicated picture of who he actually was. He's so charming and legendary, you can't help but be on his side. But Dorothy shows how his life style has had some hidden consequences."

Behind The Scenes: The Design

The Old Man & The Gun takes place on the cusp of the 80s, which allowed Lowery to pay his own form of homage to 70s filmmaking. At the same time, the film's settings are an outgrowth of the film's characters. Lowery worked closely with director of photography Joe Anderson (who worked as a 2nd Unit DoP on Lowery's Ain't Them Bodies Saints), production designer Scott Kuzio (The Sinner), costume designer Annell Brodeur (A Ghost Story) and Oscar®-nominated editor Lisa Zeno Churgin (The Cider House Rules, Pete's Dragon) to bring what he envisioned to life.

While the period adds another rich layer to the storytelling, Toby Halbrooks notes that it never overwhelms that storytelling, either. "We don't wear ever wear the period-ness of the story on our sleeve," he says. "I think of the film as being more of a throwback emotionally rather than in its style. It's never flashy or kitschy and that's part of what David is so good at. The emphasis is on the people and it's almost not important when and where this all takes place. It's just that you suddenly might realize that hey, nobody has a cell phone or the internet and you're in this world that's a little different from the one we live in now."

Lowery always intended to shoot The Old Man & The Gun on Super 16, even as he was writing. "Super 16 has such a special aesthetic quality that immediately harkens back to 70s filmmaking. And David not only wanted to shoot on 16 but to also shoot using zooms, older lenses, and without using tons of fancy, new tools," says Johnston.

The idea creatively exhilarated cinematographer Anderson – but he knew his work was cut out for him. "No one makes 16mm cameras anymore. So you have to find ones that are 15 years old or so," he explains. "Luckily, the 16mm film itself is still in production and being processed so it's alive and well."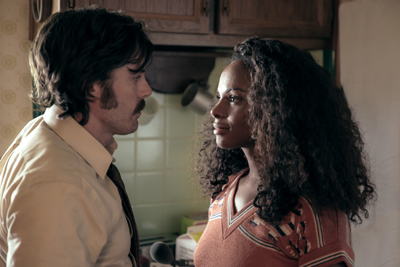 For Lowery, 16mm offered far more pros than cons. "Super 16mm is a dream to work on, much easier than digital or 35mm," he comments. "And it looks really old-fashioned, which is why we wanted to use it. We wanted the image to feel old but we also wanted to avoid nostalgia, and 16 was the way to do that. I was looking for a way to make the images less refined, a little less perfect. I described my approach as wanting to shoot actors against concrete walls in harsh midday sun – which we literally did when Bob and Sissy meet for the first time."

Anderson notes that shooting on film is not just about the image; it also changes the atmosphere on set. Shooting on slow-speed 16mm film did however demand more experimentation with light. "When you're shooting digitally everyone is shrouded behind monitors. But when you shoot film, the crew is communicating with one another more," he points out, "working together to imagine what the film will look like versus obsessing over every little pixel. People use their imagination more."

The first bank heist in the film – the only one of Forrest's myriad heists depicted in its entirety – was one of the most demanding sequences. "It's meant to be fun and robust and have a lot going on at once," says Lowery. "I wanted to lean into the cleverness and charm Forrest employs, and let that same cleverness and charm extend to the filmmaking. It was a lot of fun working out the rhythm of that scene, the handoffs from one character to the next."

Throughout, Anderson worked closely with Kuzio and Brodeur to develop the film's carefully chosen palette. "We didn't want to overplay the period," comments Kuzio. "We wanted a timeless feel. We stuck to the physical side of everything being pre-1981, but we didn't necessarily do a wink to, 'hey, this is a 1980 film.' We wanted a colder, more sterile look, using greys, whites and primary colours, rather than everything being warm browns, woods

A favourite set for many was Jewel's house, which is very much her refuge from the world. The location that Kuzio chose transported cast and crew. "It was a big, old country farmhouse with wrap-around porches and the most stately, beautiful views," describes Spacek. "When we all saw the house for the first time, it took our breath away, including Bob's. I think for Forrest, that house was a port in the storm. And for Jewel, it was really a big part of who she was."

Says Kuzio of the house: "We needed a beautiful horse farm that was neither posh nor dilapidated and we could not find it. We could find exteriors and we could find interiors, but never both. So, in the end we settled on a picturesque farm and then we completely remade the house to fit Jewel's character, which we wanted to free-spirited but not be easily defined. Her house is that of a bohemian who grew up in a working-class Texas family, so it was about mixing those two worlds together."

Forrest's house contrasts with Jewel's in its minimalism. "Forrest never wanted to grow up or settle down so his home was practically bare. It's essentially the kind of home 12-year-old would have been happy with. He's not someone who wanted lavish things. He's a bank robber but the robberies are for the love of doing robberies and not about leading the high life," Kuzio reflects.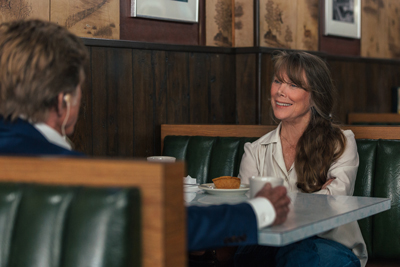 Completing the triangle of houses is John Hunt's family-oriented abode. "John's home represents the family suburbia of the 70s. It's about aspiring to the classic American dream," says Kuzio.

More fun came in creating the film's prison escape montage. Standing in for San Quentin was an active prison in Jackson, Michigan that happened to have a totally empty block of cells that Kuzio refashioned. Then, since Forrest finally escaped in a hand-made boat from that illustrious institution, Kuzio decided he should make his version of the boat from scratch. "We decided to use only materials that you could find at a prison woodshop and could be constructed very quietly because this is how it would have been created realistically," explains Kuzio.

Kuzio worked in tandem with Brodeur's costume designs. Says Kuzio: "Annell brought her ideas and I brought in mine and then we'd sit together and ask: how can we blend the best of these together?"

Brodeur's work sent her on endless expeditions into thrift shops looking for late 70s threads. But it all centred around a singular piece de resistance: Forrest's sparkling blue suit that catches Jewel's eye when he stopped to give her some roadside assistance. "David, Scott and I talked about how the world appears almost flat and then you see Forrest come in with this blue suit that pops and you know he is something special," Brodeur explains.

Brodeur knew that Redford would bring whatever she designed for him to life in his own way. "The real Forrest was very flashy, perhaps even more so than in the film. So I was really excited to see Bob in that way. He's so dapper that he's able to reflect someone who takes great pride in his appearance. It felt like such a perfect fit to see him become this very suave, smart bank robber."

Redford stays in the same suit throughout most of the film, which later gave Lowery and editor Churgin endless options while stitching the final film together.

Casey Affleck's clothing, on the other hand shifts, coming more alive chromatically as the story progresses. "As John got closer to Forrest, we see more colour in John's world," Brodeur points out. "By the time they met, John had a bold green tie and was much more saturated in colour than we had seen him in the film because that was his mood."

Equally fun for Brodeur was working with Spacek as Jewel. "Jewel is no muss, no fuss but there's a lightness about her, too. I saw her clothes as very fluid because she's not rigid in how she looks at the world. She's on her own independent journey so she maintains her own story colour-wise."

Brodeur also gives credit to Spacek for inspiring the approach. "Much of what Sissy wears was influenced by Sissy, who lives on a horse farm, so she knows that lifestyle. She gave me lots of ideas and it was a wonderful collaborative experience with her."

When photography wrapped, Lowery returned home to Dallas, a city with a newly burgeoning film industry, where Churgin joined him for six-and-a-half months of editing. She was eager to reunite with the director after her experience on Pete's Dragon. But it was also her first chance to work on a film starring Redford.

"I feel really proud to be part of something in the latter part of Redford's career and for the opportunity David gave me to work with such great acting by Sissy, Casey and the rest of the cast," says Churgin. "That's always what turns me on most. David has the ability to bring so much out of the actors and the visual storytelling. Since we first met on a big Disney feature, I found it a lot of fun to do a more indie story with him."

Says Lowery of their unique way of collaborating: "It's a lot of small discoveries over a period of months. I edit in one room and Lisa edits in another and then we trade sequences and compare work. Or sometimes she'll cut something, I'll go destroy it, and then bring it back to her to fix. The one scene that pretty much never changed from the first cut to the last was the rainy-day bank robbery. She cut that while we were still shooting and it really set the tone for the rest of the edit."

Their biggest challenge Churgin says was structuring a story that purposefully mixes up pace. "It's a more subtle, human take on a crime story," she observes, "but it also has a very jazzy kind of feel. We really went for the idea that less is always more and that we wanted to leave audiences with mysteries and questions.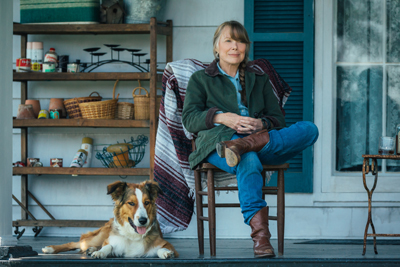 For Churgin, a favourite scene is the film's opener. "I still smile every time I see that first scene between Bob and Sissy because you're in her shoes and you're just totally seduced by him," she muses.

While Churgin and Lowery watched some revisionist, self-reflective Westerns (Sam Peckinpah's Pat Garrett & Billy the Kid), road films (Monte Hellman's Two-Lane Blacktop) and Redford's early work for inspiration, Churgin notes that the final piece has a rhythm all its own. "I find the whole structure of it to be unique," she concludes. "It has elements of a Western but it's not about the gun. Forrest Tucker was not about the gun. It's about Forrest's idea of what it was to be alive."

Unusually, Lowery and Churgin cut the film without music, not even a temp track. "It makes you find the internal rhythm rather than have an external rhythm put over it," Churgin explains. It makes you more rigorous – you end up letting the action and the pace determine things rather than rely on music alone."

The last touch added to the film was the work of composer Daniel Hart, who had established a close creative relationship with Lowery on A Ghost Story and Pete's Dragon. Early on, Lowery gave Hart one overarching musical idea that Hart ran with. "David said he kept hearing percussion in his head when thinking about the film so that was my start," says Hart.

Says Lowery: "I always felt that something percussive would be good. It would have been easy to do something more folky or country, but I really wanted to push against those more predictable instincts. Daniel suggested we try a jazz score, and he shared some Miles Davis tracks that he thought would be a good template. It felt really good when we put it up against the picture."

Hart says the film was a gratifying experience. "One of David's greatest gifts as a director is his ability to listen to other people and his ability to trust other people's judgment," Hart describes. I think it's one of the things that make David's films feel as sincere as they do." For Lowery, that sincerity started with a plan that was his cornerstone throughout every element of the production, from screenplay to post-production. "I wanted to do three things with this movie. I wanted to push against all of my natural instincts as a filmmaker and see how far outside my comfort zone I could get myself; I wanted to make something that would make people smile; and I wanted to write a love letter to one of the great heroes of the silver screen. Hopefully, telling a good story was a by-product of those three."

The Old Man & The Gun
Release Date: November 15th, 2018