Quick get your Skin Winterfined
In winter you still need sunscreen
: Don't put your sunscreen away just because it is winter, your skin can still be damaged in less intense sunlight.
Moisturisers
: You may feel that you need to change your moisturiser to one that is richer over winter due to the drying conditions. Be diligent about applying and re-applying your moisturiser throughout the day if you feel like your skin is dry. Keep a moisturiser in your purse or on your desk at work - travel packs/sizes are brilliant for this. Try
Guinot Hydra Range
it is a fantastic range for dry skin.
Avoid soap, and use only gentle cleansers
: This is really important, your skin needs to be treated delicately over the drying winter months. Scrubbing your skin simply won't slough away the dry skin it will only cause more dryness and redness.
We all love long hot showers in the winter but try to avoid soaking in the bathtub, or taking long showers.
It just dries your skin more. Be gentle when you get out of the shower, rubbing harshly will only break down skin and cause more dryness. A great tip is also to apply your moisturiser when you are still damp this will keep any moisture on the surface of the skin from escaping.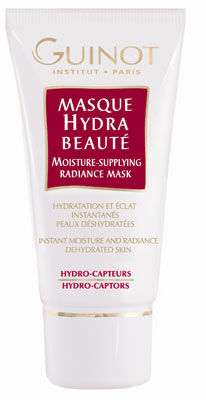 Exfoliate
: But this does not mean rubbing the skin vigorously use a bio exfoliate and AHA's and BHA's. Delicate exfoliation all year round allows your skin to behave at its optimum.
Try Guinot Gommage Biologique. Use a mask once a week
: It is a great way to add in extra moisture and plump up your skin cells.
Try Guinot Masque Hydra Beaute.Use olive oil at night
: Once you have applied your moisturiser, it is a great tip to rub in a small amount of extra virgin olive oil into parts of the skin that are persistently dry such as feet, elbows and knees. Olive oil is not only incredibly emollient it is rich in antioxidants and that is great for skin.
Don't forget your lips and hands
One of our favourite winter skin care lines is Guinot. In France where the brand comes from 68% of women swear by it. It was started by Dr Guinot (pronounced ger - no), for burns patients in French Hospitals where it is still used. Guinot is only practitioner sold, which means you will not find it in your local shop, you need to go to a beautician who will have a thorough look at exactly what your skin needs and suggest your optimum skin fix program.
For more information go to their website
www.guinot.com.au
you can find a list of beauticians that offer Guinot products.
By Diana Kerr