The Cancer Council Australia is pinning its hopes on the community to wear a pink ribbon on Pink Ribbon Day, Monday 27 October 2003 in support of all those touched by breast cancer.
Pink Ribbon Day continues to raise awareness of the disease that causes the most cancer deaths amongst Australian women. Early detection and advanced treatment has contributed to a decline in breast cancer mortality since 1994.
Chief Executive Officer of The Cancer Council Australia, Professor Alan Coates said,
"In October, we ask that people purchase a Cancer Council pink ribbon and be a part of global movement contributing to improving the lives of women affected by breast cancer and ultimately, finding a cure for the disease. Wear a ribbon proudly knowing your small contribution is making a difference to the lives of those affected."
Pink Ribbon Day took on a new look symbol this year to capture the many emotions which surround the day; support, breasts, love and of course the pink ribbon image, which has become synonymous with breast cancer internationally. "There is a sense of solidarity amongst women and a genuine feeling of hope that we are close to a breast cancer research breakthrough. The new symbol was also intended to embody the feelings of strength, optimism and hope for the 1 in 11 eleven woman affected by the disease", said Professor Coates.
For the month of October, Cancer Council pink ribbon merchandise can be purchased from national supporting outlets: Big W, Best & Less, Amcal, Rockmans/BeMe, HIC Network of Medicare Offices, Miller's Fashion Club, Katies, 1626, Crossroads, Silhouette and Angus & Coote.
The Cancer Council Australia is Australia's peak national cancer control organisation funding research into every aspect of breast cancer. It brings together the eight state and territory community-based cancer councils in a joint commitment to preventing and controlling cancer in Australia. In working for women with breast cancer, The Cancer Council Australia cooperates closely with the National Breast Cancer Centre and is.
For more details:
Website:
www.pinkribbonday.com.au
.
Fundraising hotline:
1300 65 65 85
Cancer Helpline:
13 11 20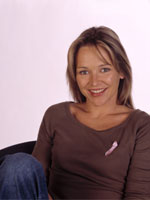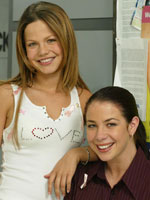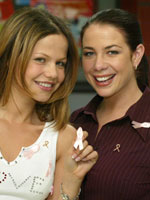 FAST FACTS
Pink Ribbon Day is an annual event, established in 1994, aimed at increasing awareness about breast cancer and raising funds for breast cancer research, education, treatment and support services.


While the official day for Pink Ribbon Day is Monday October 27 2003, the awareness and fundraising campaign takes place throughout October.


Breast cancer is the most common type of cancer in women and the leading cause of cancer death in Australian women.


ne in 11 Australian women will be diagnosed with breast cancer by the age of 75, and more than 2,500 women die as a result each year.


More than 500,000 people are expected to wear a pink ribbons this October, honouring all who have been touched by breast cancer.
Cancer Council pink ribbons are available for purchase at any of the following locations: Big W, Best & Less, Rockmans/BeMe, Millers, Katies, 1626, Silhouette, Crossroads, Amcal or Angus & Coote.


The Cancer Council Australia is affiliated with The National Breast Cancer Centre.


Pink Ribbon Day donations not only fund research, they also support initiatives such as the Breast Cancer Support Groups (breast cancer survivors trained as volunteers providing advice and support to newly diagnosed patients and their families).


For more information call our Cancer Information Service on 13 11 20 or visit the website at www.pinkribbonday.com.au


The pink ribbon is an international symbol of support and recognition for all those touched by breast cancer.