Experience Smooth Skin for Longer with NEW Gillette Venus Platinum Extra Smooth
Gillette Venus, Australia's #1 female hair removal brand1, introduces its most elegant razor yet - Venus Platinum Extra Smooth. Designed and made especially for a woman's needs and contours, Venus Platinum Extra Smooth gives women ultimate control and precision thanks to its sleek ergonomic design. This premium innovation from Venus enables women to reveal their most carefree, confident selves.

"It's no secret that I'm a beach girl at heart - chasing the sun means smooth legs is a must! Having the right tools is essential to achieving fuss-free, radiant skin! Venus Platinum Extra Smooth is my newest beauty staple for prepped pins - its metallic handle paired with Venus' superior blade technology gives me greater control and a seamless shave, leaving my skin feeling extra smooth!" said Venus Ambassador and Aussie actress, Pia Miller.

Elegant metallic handle for total control
The premium metallic handle, paired with the soft grip gel inserts, is sculpted perfectly to fit your hand's natural contours. Its shape allows for grip changes and adapts to different women's shaving styles and unique body areas giving you increased control and durability while providing incomparable closeness and precision shaving.

Elevate your smoothness
Venus Platinum Extra Smooth features five diamond-like coated blades which are perfectly balanced and designed to work together to glide over skin, so you stay extra smooth for longer. Gillette Venus' superior blade technology, paired with its diamond-like coating, allows blades to be made thinner and sharper to reduce friction and irritation for a seamless glide.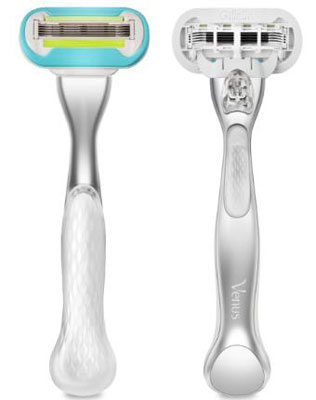 Customise your shave
The 360-degree ribbon of moisture around the blades is activated when wet for an incredible glide that helps to protect against nicks and cuts. The flexible head also smooths over more curves than any other razor brand through its design that adjusts to every unique contour - swap out Gillette Venus razor cartridges for an even more personalised shave.

Only the Gillette Venus Platinum Extra Smooth razor provides the solution for women looking for a more premium design that allows you to step out with the confidence of smooth skin.

Gillette Venus Platinum Extra Smooth
New metal handle boosts control with strength, durability, cleanliness
Designed-for-women, ergonomic handle allows for increased control and precision shaving in shower and bath
Advanced blade technology, including 5 diamond-like coated blades for low-cutting force, and less irritation
360-degree ribbon of moisture pearls surround blades to provide premium glide technology, comfort, and protection

Venus Platinum Extra Smooth is available from leading supermarkets and pharmacies. RRP $19.99.


Interview with Pia Miller, Venus Ambassador
Question: Can you tell us about your streamlined beauty routine?

Pia Miller: I have my routine down to a fine art - being a mum with a busy work schedule, it needs to be efficient. My beauty routine ultimately starts from the moment I get in the shower. I'll do an all over body exfoliation and then shave my legs with the new Venus Platinum Extra Smooth. Then I cleanse my face, wash off and jump out to do a full body moisturise. I keep all my potions and vitamins in the bathroom so I don't forget to take them. Once I'm done I'll get ready for the day ahead. I typically don't wear a huge amount of makeup on my days off but if I'm heading out I'll start with an SPF base like Invisible Zinc, pop on some concealer like RMS uncover up, a lip to cheek colour and then I'll curl my eyelashes and then finish with some mascara. At the end of the day, I'll cleanse, tone and moisturise and do a little face mask with one of my many products from Vaia Beauty.


Question: How can you be beauty-ready in five minutes?

Pia Miller: Two things I won't leave the house without doing; shave my legs – smooth legs always feel nice…. and curling my eyelashes, it's like opening the curtains. I like to go with the 'less is more' approach to beauty. So if I only had 5 minutes to get ready I'd shave my legs with my Venus Platinum Extra Smooth, clean my face and then put on a quick makeup look. Tinted SPF Invisible Zinc, RMS uncover up under the eyes, a light dusting of bronzer for a nice glow and then curl eyelashes, pop on some mascara and I'd be out the door!


Question: What advice do you have for women who want to feel more comfortable in their own skin?

Pia Miller: I've always taken the approach that when you are happy, it radiates out. Everyone has a story – everyone has little things they aren't overly happy with. My advice would be to surround yourself with good friends, family and colleagues who lift you up and love you for who you are.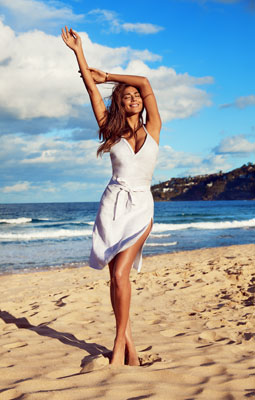 Question: What five beauty products could you not live without?

Pia Miller: My Venus Platinum Extra Smooth (of course!) – especially with summer coming up it's an essential part of my beauty routine.
RMS Uncover up – for dark circles and any blemishes that pop up
Macabalm – to repair and replenish dry lips and for an all-round multipurpose use.
Invisible Zinc Sheer Defence – awesome lightweight SPF, I always use this as a base.
Eye Lash Curler – I honestly don't leave the house without using it. If I'm running out the door, I'll have it in my bag to use in the car!


Question: Why do you love the new Gillette Venus Platinum Extra Smooth?

Pia Miller: I love the new Gillette Venus Platinum Extra Smooth because it makes shaving my legs that little bit easier. The ergonomic design gives me greater control and precision which is imperative when I'm in a rush. Plus it's the first razor for women with a sleek metal handle, so it looks great whilst giving me a smooth shave.


Question: Can you give us your best advice for using the Gillette Venus Platinum Extra Smooth?

Pia Miller: I like to prep my skin by doing a gentle exfoliation in the shower, followed by applying Gillette Satin Care for sensitive skin with soothing aloe vera. After working a good lather I'm then ready to shave with my Venus Platinum Extra Smooth.


Question: What's a typical day like, for you?

Pia Miller: My days change week to week; I don't really have a typical day. If I'm not filming for a production or working with one of the great brands I have the pleasure to work alongside, it's just being a Mum and working on the many ideas and goals I have. Making lunches, doing school drop offs, taking meetings, walking the dog and hanging at home enjoying some time to myself.


Interview by Brooke Hunter