Todos Lo Saben
Cast: Penélope Cruz, Javier Bardem, Ricardo Darín
Director: Asghar Farhadi
Genre: Crime, Drama, Mystery
Running Time: 132 minutes

Synopsis: From Oscar®-winning filmmaker Asghar Farhadi comes a gripping new thriller about the fissures and faultlines that can tear a family apart.

Laura (Penélope Cruz) returns to the small Spanish village where she spent her childhood to attend the wedding of her younger sister. Her husband Alejandro (Ricardo Darín) has remained in Argentina to fulfill professional obligations, but Laura isn't alone. She's traveling with her free-spirited teenage daughter, Irene, and her young son, and she's also soon reunited with a close friend from days gone by, Paco (Javier Bardem). Irene learns from a new friend that her mother and Paco were once in love"but he, too, is now happily married, operating a modest but successful vineyard with his wife, Bea (Bárbara Lennie).

With Laura's large extended family gathered to celebrate the nuptials of Ana (Inma Cuesta) and Joan (Roger Casamajor), spirts are high and a sense of frivolity reigns. But the wedding night descends from joy to despair when Irene (Carla Campra) suddenly goes missing from her bed. In the place of the sleeping girl are a selection of newspaper clippings, all with stories about a local child who was kidnapped years earlier in the town. Desperate with panic and wracked with grief, Laura turns to Paco for support and assistance as she searches everywhere for Irene.

As time passes, the situation only becomes more fraught. Suspicions mount, loved ones begin to turn on one another, and dark secrets long hidden threaten to come to light, revealing shocking truths.


About The Production
After a decades-long career featuring such Oscar®-winning films as A Separation and The Salesman, Asghar Farhadi has earned a reputation as a master filmmaker, a supremely gifted storyteller whose innate understanding of the human condition suffuses every new work. His astonishing eighth feature is no exception. An expertly crafted thriller that served as the opening night film for the 71st Festival de Cannes, Everybody Knows (Todos lo saben) centers on a family in small-town Spain plunged into crisis light in the wake of a terrifying kidnapping.

It begins with a celebration"the wedding of Ana and Joan. The occasion has drawn Ana's older sister Laura (Penélope Cruz) back to her childhood home town, a scenic Spanish village where the pace of life moves slowly and all the residents are well acquainted. Laura's husband, Alejandro (Ricardo Darín), has remained behind in Buenos Ares on business. Instead, Laura is accompanied by her young son and her headstrong teenage daughter, Irene, whose unbridled zest for life catches the eye of the nephew of Laura's old flame, Paco (Javier Bardem). Although Paco is now happily married to Bea (Bárbara Lennie), Irene learns that he and her mother were once very much in love.

For the villagers, Laura's past with Paco is hardly a secret. Quite simply, everybody knows.

On the night of the wedding, a blackout interrupts the joyful reception. Shortly after, Laura discovers that Irene has vanished. As Laura becomes hysterical with worry, untraceable text messages begin to arrive, threatening that great harm will come to the girl should anyone contact the authorities and demanding a significant ransom"a sum that Laura and Alejandro cannot afford to pay. Desperate, Laura turns to Paco as a source of strength and support. By the time Alejandro travels to the village to assist in the search for his daughter, old wounds have reopened, and loved ones have started to turn on one another with accusations of deception and blackmail. All the while, Irene's life hangs in the balance.

Clandestine relationships, jealous rivalries, little slights that can grow into grievous injuries with the passage of time"it's all rich territory for Farhadi, an artist who for years has been driven to explore the many complexities and contradictions of the human psyche across continents and cultures. For years, his native Iran served as the setting for most of his best known and admired films, but with 2013's The Past, he traveled to Europe for a somber divorce drama set in France. Everybody Knows sees him push his creative boundaries once more with a film that is both ticking clock mystery and a compelling exploration of a family at a crossroads told entirely in Spanish.

The Spanish setting was an integral part of the project since its inception nearly 15 years ago. The idea took hold in Farhadi's imagination during a visit to the south of Spain, when he noticed photos of a missing child, the subject of a frantic search, affixed to the walls of local buildings. "I had the first spark for my intrigue, and I kept it in mind over the years," the filmmaker says. Initially, the tale took the form of a short story, but as Farhadi continued to turn the plot over in his mind, it gradually assumed the contours of a screenplay.

Four years ago, he began to work on the project in earnest, refining the themes at its core and bringing the relationships among all the characters"but especially Laura and Paco"into ever sharper focus. Starring as the former lovers are two of the most lauded actors working today: Academy Award winners Penélope Cruz (2008's Vicky Cristina Barcelona) and Javier Bardem (2007's No Country for Old Men). "The two main roles were written for Penélope and Javier," says Farhadi. "I've been speaking to them about the screenplay for years. They are both very gifted actors, but also profoundly human. And our relationship now goes beyond our professional collaboration."

Farhadi originally had approached Cruz to star in The Past, but family obligations prevented her from signing on to the project (she and Bardem married in 2010 and they were expecting a child). Cruz and Farhadi remained in touch, however, and when he began to tease out the story for Everybody Knows, he consulted her about her thoughts on his Spain-set thriller and the complicated woman at its heart.

Although Cruz's nearly unrivalled resume stretches back decades and features outstanding performances in both Hollywood productions and Spanish-language films, Laura was one of the most challenging characters she's ever portrayed. "Laura is a very special woman who's been through a lot," Cruz says. "She has had to make some difficult decisions involving other people, and that weighs on her. We all carry the burden of our experiences and traumas, some of us more than others. Laura is a woman with a secret, and suddenly she finds herself faced with a crisis. This situation leads her into revealing her secret and thereby unleashing a host of things that she'd struggled to keep buried."

"What he wanted to tell through this story was interesting to me," Cruz adds. "In one way, this family is a sort of metaphor for what is going on around us. Like in the poem by Jalāl ad-Dīn Muhammad Rūmī"which I came across a few weeks into filming thanks to another Iranian friend" it says that if one member of a family is suffering, then all the others suffer, too. For me, the essence of the film is in this poem. When I spoke to Asghar about it he told me that this same poem meant a great deal to him."

Like Cruz, Bardem has built a reputation as a tremendously accomplished actor who can convey both empathy and extreme menace, as evidenced by his unforgettable performances in films from 2004's The Sea Inside to 2012's Skyfall. He, too, eager to work with Farhadi, signed on to star in Everybody Knows early on"after a brief meeting with the filmmaker and reading only a portion of an early draft of the script.

"I really liked the story, the atmosphere and particularly the relationships between the characters," Bardem says. "Paco is a man living in a village, even if he has contact with the city. He's worked hard to get to where he is. At the opening of the film, he feels fulfilled in his personal and professional life. But then something happens that makes all sorts of demands upon him: psychological, emotional, physical, as well as ethical, and causing his life to change."

"I like the character," Bardem adds. "As the great Victoria Abril said, as actors we have to defend our characters rather than judge them, otherwise we're not doing our job. That said, sometimes there will be characters who make you uncomfortable. But that's not the case here. It's like Ramón Sampedro in The Sea Inside or Reinaldo Arenas in Before Night Falls"characters I remember fondly. Paco is like that. There's a light about him, a glow, a simplicity which is akin to a certain type of wisdom. He's a down-to-earth soul, full of common sense."

In the vital third role of Laura's husband Alejandro is respected Argentine actor Ricardo Darín, who came to Everybody Knows after bonding with Farhadi over a shared appreciation for Ingmar Bergman. Whereas Paco is a self-made man from modest means, Alejandro is a wealthy man fallen on hard times yet sustained by his love for his family and his unwavering religious conviction.

"Alejandro used to be well-off but things have changed," Darín says of his character. "He's lost his job and is as good as broke, but it seems that when he did have money, he did a lot to help the village where his wife Laura is from. He can't go to the wedding of Laura's sister and stays in Buenos Aires to look for work, go to interviews, and try to find a way out of this dead-end. When he hears what happened on the evening of the wedding, he heads to Spain to try not only to help but also to keep control."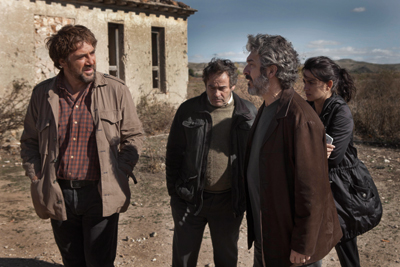 Once Darín was cast, Farhadi tailored the role to better suit the actor. "Ricardo's character was not meant to be Argentinian," says the writer-director. "He was an American character travelling in Spain. But, if we'd gone with the American character, the film would have been in two languages: English and Spanish. I preferred using just one and that the characters share a common language. So instead of North America, I thought rather of South America, and more particularly of Argentina. And Ricardo is one of the best South American actors. He's an honest and simple man who gives you the impression of having known him for years. Ricardo helped us with everything to do with Argentinian culture so that we were as close to reality as possible."

Since his 2002 feature film debut Dancing in the Dust, authenticity has been a hallmark of Farhadi's work, and for Everybody Knows, he once again sought to set an affecting interpersonal drama against the backdrop of a fully realized world. He understood that capturing the nuances of life in a Spanish village would require a certain amount of anthropological exploration. So, as he continued to refine the script, he made several trips to the country, observing with an artist's eye the everyday rhythms of small-town life.

"This story had to take place in a village," Farhadi says "It's about human relations between villagers. Their relationships are not the same as those of city dwellers. In a village, people are closer. People know each other, and that has fuelled my story. If it had taken place in a city, people would not have these relationships with each other. It would have been another film. The characters of the film, whilst being caught up in a complicated situation, are simple beings. Placing the protagonists in a village reinforced this simplicity."

Farhadi wrote scenes in Farsi, which were then translated into Spanish by interpreter Massoumeh Lahidji. A respected expert in her field, Lahidji previously worked with Farhadi on The Past, and he describes her as someone so well acquainted with his writing style that her translation hewed closely to what he had set out in his native language. "The goal was to convey in Spanish what we felt through the Persian words," says the writer-director.

When a final draft was nearing completion, Farhadi sought out additional feedback from several Spanish associates. "When I finished writing the screenplay in Farsi, I gave it to some friends living in Spain," he says. "Friends who didn't work in cinema, but who were movie fans, and also cinema professionals"directors, actors, etc. I gathered all their opinions. The first question I asked them was whether they felt that the story was being told by a non-Spaniard. And the closer we got to the final version, the more they thought that the story was becoming completely Spanish."

Bardem says he was profoundly struck when reading Farhadi's script by the fact that it not only contained the insight and depth he might have expected but also that the filmmaker had perfectly captured the local traditions, too. "Like in his previous films, Everybody Knows deals with the relationships between people and the way in which they interact, and it's about the past which resurfaces and can impact our present lives," Bardem says. "It was also an extremely accurate portrayal of Spanish manners. Coming from a foreigner, I thought that was brilliant."

Before filming began, Farhadi had an additional opportunity to immerse himself in Spanish customs, embarking on an extensive period of pre-production and location scouting in the country. He also poured through recent films searching for actors to round out his robust ensemble. "I find that one of the great assets of Spanish cinema comes from its actors who are so talented," Farhadi says. "It's really exceptional."

Everybody Knows features a collection of award-winning actors, both veterans and up-and-coming talents, as locals with some connection to Irene's disappearance. Among them, Eduard Fernández (who appeared opposite Bardem in 2010's Biutiful) plays Fernando, a retired cop and friend to Paco who advises Laura how best to appease the kidnappers once they have made their ransom demands. Ramón Barea portrayed Laura's aging father Antonio, an ailing patriarch whose hostility toward Paco is rooted in class disparity and what he believes was a real estate deal made in bad faith.

Farhadi spent weeks rehearsing with his actors, teasing out the subtleties of the story and the psychologies of the characters"their motivations, their anxieties, their resentments. "During the rehearsals, I discovered that he had a gift for giving color and luster to the work of his actors," Bardem says of the filmmaker. "To be gathered around the same table and to see how Asghar sketched out his characters, how he asked us to focus on some very precise details that gave each of us the essence of our character, I just loved the whole experience."

Offers Farhadi: "I tried to talk a lot with them and convey to them exactly what I had in mind. At first, I thought that it would be difficult to get the message across, given that we didn't have a common language, but once the work began everything turned out to be easier. We rehearsed, but not necessarily scenes from the film. There was a great deal of discussion about their way of walking, speaking, expressing themselves with their hands, about their external appearance. The aim was to make them credible as villagers. We tried to create the family relationships which had to exist between them."

Everybody Knows was shot in and around Torrelaguna, a picturesque town northeast of Madrid, with the production spanning nearly four months. The transporting environs helped give the film a singular character and an unmistakable visual texture. "From the start, my desire to film with nature, in a village, led me to work in this setting," Farhadi says. "One of the pleasures of this project was filming in the middle of all those farms, that village world where people gather on the main square in the afternoon. It's something that inspires a certain nostalgia in me."

From the opening shots of Everybody Knows, the film teems with vibrancy as the camera follows Laura through her interactions with the members of her sprawling clan"the happy chaos of the wedding reception arrives as a dazzling set piece, full of joy and exuberance. Once Irene has vanished, the lens remains trained on her terrified mother as Laura, by turns, experiences rage, sorrow, and grief. The extraordinary cinematography is the work of José Luis Alcaine, whose career dates to the 1960s and whose distinctive eye helped define the look of Spanish cinema.

Farhadi was delighted to partner with Alcaine on the project, their first collaboration. "He's one of the greatest cinematographers in the world," Farhadi says. "He's 78 years old now and has the energy of a young man of 30. Initially, I was concerned that his style was too different from the films I've directed to date, that realistic style that I'm always looking to translate into images. But he'd already seen my films and really knew them. He ensured that everything was done for the benefit of the realism that I was looking to convey. He always wants to try out new ideas, avoid clichés, with a boldness that is usually associated with youth."

As the actors worked through tense sequences filled with emotional tumult, Farhadi was always prepared to offer specific guidance despite the language barrier. "When you speak the same language, it's easier to communicate, especially with the actors," Farhadi says. "When you don't know the language and culture of your film very well, you become more vigilant so as not to let this affect the quality. For example, if I want to ask something of an actor during filming in Iran, we'll talk a lot, and I'll give him lots of explanations. But in a foreign language, since I have to go through an interpreter, I try to be as precise and clear as possible in order to help the actor understand more quickly. It's like entering into a game that requires more energy and effort, something I enjoy."

Although Cruz says she found Farhadi to be an exacting director, she also says he was a valuable source of support with the unfailingly ability to clearly articulate his vision. "Asghar is very demanding but also very good at explaining things," says Cruz. "He asks a lot of you, but he does it with tact. The result being that you always want to give of your best. He is very inspiring. He lights the way to take you where he wants, and he does it with elegance because he's a true artist. He's a kind of genius, a different breed, gifted with exceptional sensitivity. He's able to move people deeply with the way that he tells his stories, with what he conveys. And he does it with such humility. He doesn't claim to be a prophet but, for me, he is so much more than a mere director."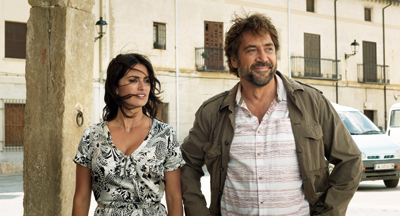 "The way he directs his actors and crafts his film shows his genius," adds Bardem. "For an actor, working with him is a delight because he loves acting"he understands it and knows what it involves. He respects actors and is considerate towards them."

Offers Darín: "Asghar is very meticulous. He is a very determined director. He knows exactly how he wants to tell his story through his characters. He's always looking to enhance their emotional intensity, and what's invaluable is that he provides us with the tools to achieve this."

Darín had similarly kind words for Cruz, with whom he shares a number of intense, heart-rending scenes. "Penélope, my encounter with her was a revelation," he says. "On set, we were very responsive to each other's acting, and I think that created a form of trust between us, which in turn gave us more serenity when dealing with different situations. Penélope's approach to acting is very intelligent and precise, which is very stimulating."

For Cruz and Bardem, working together has become a creative way of life. The actors have appeared in nine films together since 1992's Jamón, Jamón, most recently starring in Loving Pablo, in which Bardem plays the drug lord Pablo Escobar and Cruz, the Colombian journalist Virginia Vallejo. Still, Everybody Knows offered the couple the opportunity to explore new artistic ground.

"We'd just finished filming Escobar, in which we play two very strong characters who have a toxic relationship," Bardem says. "We had lots of scenes together, and it was quite complex. This time it was simpler. Penélope is an actress who grows with every new role, and it's a pleasure to see her at work and see her blossom. It's easy for us to work together because we know each other, and that's a big help."

Their short-hand became invaluable during some of the most harrowing scenes between Laura and Paco, such as when she reveals to him a private, painful truth, one that he initially can't quite bring himself to believe. Bardem credits Farhadi for creating a nurturing environment on set in which the actors could feel free to follow their instincts in pursuit of honesty and truth.

"It's a complicated film," Bardem says. "Here, the subject matter makes for great emotional intensity. No scene was easy. In fact, Asghar would suggest a scene, see how it worked, and change details if he wanted to try other things or emphasize something else. Nothing was set in stone, and he never said, 'That's how it has to be.' On the contrary, Asghar loves life and wants every scene to be true to life."

"All the characters are complex, subtle and multi-faceted," adds Cruz. "There are no good guys and bad guys: it's like in real life, things are never as clear-cut as they seem."

Indeed, in the cinema of Asghar Farhadi, there are no easy answers. There are no fairytale endings. There are only real stories freighted with all the imperfections of their players, human beings hoping to find acceptance despite their faults and their flaws and their uncertainties.

"What I'm always looking for when writing and directing a film, and which is uppermost in my mind, can be summarised in one word: empathy," Farhadi says. "I don't necessarily intend to transmit a message through my films. If the audience from anywhere around the world, from any culture and language, with very diverse traits, manage to feel empathy for my characters without knowing them, if they can imagine themselves as one of them, then I will have achieved my objective. That's what I always emphasize the most in each film, what I need myself and what today's world needs"this empathy for one's fellow man across borders and cultures."