Paul Costa Wheels & Steel Interview
Costa's fourth album, Wheels & Steel, is hard hitting, raw and honest. Full of tough, electric guitar driven, commercial country songs set in the landscape of rural Australia.
The album features contributions by a swag of distinguished co-writers, an award-winning producer, and some of the best country session players in Australia and the United States. "In making this album, the most important thing was that every song had to mean something special to me," says Paul. "I've been more creatively involved in this album than any other and I'm really proud of the way it's turned out."
Wheels & Steel is the fourth collaboration between Paul and his long-time producer Rod McCormack, who has been on board since Paul's first album, Walking In These Shoes back in 2004. "The new album all went down pretty smoothly and it was fantastic to have such a talented team of people around, helping to bring my songs to life." Says Paul "With the magic of technology we were able to include some of the most distinguished US musicians. It's been such a thrill to hear these guys play and sing on my tracks, when they have been such a big part of some of my favourite records over the years."
"We had around 30 demos at the start of the recording process, but only the best tracks were selected," says Paul. "The criteria for deciding which tracks made the final cut was simple, they had to have a realness, integrity and believability."
Some of Australia's finest musicians came on board for 3 days of band tracking in the studio including Rod and Jeff McCormack, Mitch Farmer on drums, guitarist Mark Punch, Bill Risby on Piano and Scott Bird on the Harp. Another highlight for Paul was having good mate Amber Lawrence come in to duet on the only cover on the album, a remake of the Joe Camilleri classic Chained to the Wheel.
On Wheels & Steel, Paul takes his listeners through the gamut of emotions - sadness, anger, nostalgia, but, above all, hope. "This album means so much to me and it's been a very satisfying journey. I can't wait to share it with people".
Wheels & Steel Tracklisting
1. Tractors & Bikes (2.53)
2. Right Back At Ya (2.58)
3. Shine (4.05)
4. 4. Big End Of Town (3.12)
5. Sad old Country Song (3.57)
6. Ribbon Gang Lane (3.49)
7. Shake These Chains (1.57)
8. Buying Back The Farm (4.01)
9. Comin' Down (3.28)
10. With This Ring (3.16)
11. Bad Boy (3.05)
12. Meant To be (3.15)
13. Chained To The Wheel (4.11)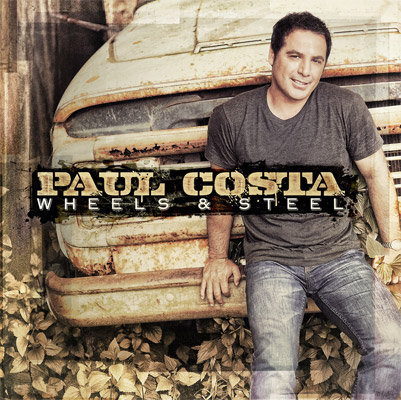 Interview with Paul Costa
Question:
How would you describe Wheels & Steel?
Paul Costa
: Compared to previous releases, Wheels & Steel is a bit more hard hitting and it's a lot more me because I've had a lot more input into this album than the previous albums. We went for a slightly tougher sound with a more electric guitar driven sound.
Question:
What was the main inspiration behind Wheels & Steel?
Paul Costa
: The main inspiration was things that have happened through my life including experiences and concerns that I have. The first single, Tractors & Bikes is really about me in my later teenage years. I didn't write Buying Back The Farm but I can relate to it, being from a farm and every track that I recorded for Wheels & Steel really meant something to me and is a song that I want to sing week in week out.
Question:
Which song on the album holds the most memories, for you?
Paul Costa
: Meant To Be is sentimental because it is about meeting my wife, falling in love and when I wrote the song our first son, Dylan, was on the way, he is now 19 months and that song is very close to home.
Question:
When writing what's your inspiration?
Paul Costa
: My life and experiences are my inspiration because it's a lot more believable when you can draw from your own experiences and conversations as it comes from inside you and when you're in the studio you can tell the story which tends to make the song more sincere sounding on the record.
Question:
What's next? Tour/Album/Single?
Paul Costa
: The album has been out a while and we debuted at number 2 on the ARIA charts which was very exciting.
I'm an ambassador for Mission Australia and we've done 2 sleep outs and we have 2 more to go to raise funds and awareness for the homeless.
I am also heading to Europe to perform on a Country Music River Boat Cruise which travels from Amsterdam down to Budapest for 15 days.
Question:
What music/artists do you listen to when you are not playing your own?
Paul Costa
: I grew up with the classic country artists like Johnny Cash and Marty Robbins and that era of music. Contemporary music I like to listen to is Alan Jackson, George Strait and Brad Paisley.
Question:
Do you prefer performing live or recording?
Paul Costa
: I enjoy both processes but I'd have to say live because you have an instant feedback whereas in the studio you have to build yourself up for the performance because it can be a cold and clinical environment. When you're in front of an audience it all happens by itself and you have adrenalin to make sure you're doing the best you can.
Question:
What/who was your inspiration to go into the music industry?
Paul Costa
: It came naturally as I began playing guitar when I was 7 years old and I can't remember not loving music and I couldn't imagine not having music in my life because it's always been there!
Question:
Was there a moment you contemplated throwing in the towel?
Paul Costa
: Never, not even for a second!
Question:
What is the biggest challenge you have faced along the way to your musical success?
Paul Costa
: The biggest challenge that any artist has is popping your head out and getting your music out there when there are so many other artists out there. Getting noticed is the biggest challenge although the music does speak for itself. Fortunately this time around I have a good team surrounding the distribution of the album and although it's early days yet it seems to be a lot easier with a good team surrounding me and without that it would be a lot harder to be noticed.
Question:
What has been your favourite part of becoming a music artist?
Paul Costa
: The best (and easiest) part is being on the road and performing and getting an instant reaction and appreciation for the songs that you've written - there is not greater reward.
Question:
If you could collaborate with another artist, who would it be?
Paul Costa
: I'd love to do a song with Keith Urban, that would be fantastic!
Question:
Do you have a website fans can visit?
Paul Costa
:
www.paulcosta.com.au