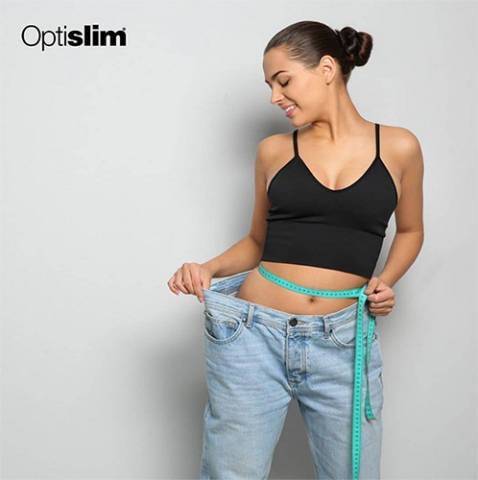 Getting gutsy about New Year's resolutions
A puppy is not just for Christmas and your health and wellbeing is not just for new year resolutions.

This is why OptiSlim have created a new range very low calorie diet program (VLCD) with patented formula called 'OptiBiome' to ensure that you feel the way you want to feel, naturally, all year round.

What sets OptiBiome apart is that it simultaneously promotes gut health AND weight loss.

In OptiBiome, three natural ingredients work synergistically to create the perfect environment to support people on their individual weight loss journey. Their combined effects help battle hunger cravings, empowering people to change their eating habits for good.

The Optislim OptiBiome VCLD is great for people to embark on their resolutions, of 'new year, new me' and taking on some new healthy choices. The three ingredients that significantly redude body fat while having a positive impact on gut microbiota composition are:

Konjac Root (Gluncomannan), is often used in Chinese medicine. Konjac Root is a dietary fibre that gently expands in the stomach to provide a feeling of satiety and fullness, whilst delaying gastric emptying.

A prebiotic, Chicory Root Fibre helps stimulate the growth of positive bacteria in the gut. Increasing micro-diversity or good gut health which in turn promotes a favourable mood impression. You simply feel better in yourself over the long term.

Lastly, Optislim OptiBiome includes Chromium, a mineral that helps contribute to the maintenance of normal blood glucose levels and mediates the peaks and troughs of dieting by enhancing the bodies use of insulin.

Through this unique blend of prebiotics and dietary fibres, OptiBiome simply stimulates the growth of positive bacteria in the digestive tract to help battle food cravings and hunger. Trace mineral chromium content enhances the body's use of insulin, helping to metabolise carbohydrate and fat.

Optislim OptiBiome consumer studies show an average weight loss of up to 1.3Kgs per week, significantly reduced systolic blood pressure, and reduced calorie intake of 20% with markedly lower levels of cravings.

Optislim OptiBiome is about all the 'good gut stuff' it is a patented ingredient that promotes a feeling of fullness, decreasing cravings and reduces fat intake and can be used as both a meal replacement and snack.

For rapid weight loss, it is recommended to replace three meals a day, for steady weight loss, replace two meals a day and for easy maintenance it is recommended to replace one meal per day. OptiBiome is available in five flavours Strawberry, Vanilla, Salted Caramel, Chocolate, Espresso and Variety Pack are also available online at Chemist Warehouse or at Woolworths.

An OptiBiome VLCD program is the perfect way to feel fabulous about 2021.