Interview with Olivia Arezzolo, Bachelor of Social Science - Psychology; Certificate Sleep Psychology; Diploma of Health Science - Nutritional Medicine; Certificate 3+4 Fitness
Question: How does lack of sleep affect our brain and stress levels?

Olivia Arezzolo: Academic research pinpoints frontal cortex processes of concentration, judgement, motivation and mental clarity dependent upon quality sleep. Further, scientific journal Brain highlights deep sleep enables detoxification of from beta-amyloid, a protein associated with Alzheimers and memory loss.

In terms of your stress levels, evidence by Department of Research, California Institute of Behavioral Neurosciences & Psychology, 2018 found when you don't sleep enough the region of the brain responsible for stress - the HPA axis - has a greater impact over the other brain functions, like emotions, decision making and even appetite. Further, scientists have identified after only 1 night of a lack of sleep your cortisol - stress hormone - levels rise 37%, which makes you feel depressed, anxious and wired.


Question: Does our sleep also affect our weight?

Olivia Arezzolo: 2 nights of insufficient sleep has been shown to increase overall hunger by 24%, appetite by 23%, reduce satiety hormone leptin by 18% and increase hunger hormone grehlin by 28% - as reported in Annuals of Internal Medicine. Another study found participants lost 55% more body fat when sleeping 8.5 hours rather than 5.5 - all other conditions remained the same, such as calorie and exercise (Nedeltcheva, 2010). Translated, sleep can save or sabotage efforts designed to lose or maintain weight.


Question: What are your top healthy sleeping habits that we need to adopt, this year?

Olivia Arezzolo: Get support over time. We've all started a NY resolution and by March forgot even what it was about. Sleep is a permanent feature in your life - make sure you're getting ongoing advice from a trusted professional, like yours truly. I have just launched an online program, the 6 week sleep solution is perfect for anyone needing help to fall asleep, stay asleep or wake up more refreshed. Combining psychology, physiology and nutrition advice applied to sleep; the program includes weekly coaching videos, action plans, direct access to me and member only benefits, like discounts for recommended products (e.g. sleep teas, sleep supplements). It comes in three levels: Gold, which includes weekly 1-1 coaching; silver, which has fortnightly 1-1 coaching, or bronze, which is with a single 1-1 coaching video. As a launch special i'm offering the first two weeks free - so if this sounds interesting to you, sign up now! Alternatively, join me on instagram for daily tips - whip out your phone now before you get distracted!

Get blue blocking sunglasses. Research found blue light from devices and room lighting causes a 90 minute delay to your sense of tiredness - avoid this by getting these snazzy glasses for evening use. These ones are 100% blue light blocking - be wary of imitations which only protect 40-50%.

Stay cool in the evening. Help your body stay cool in the evening by having (marino) wool sheets and pillows - my partner Shleep has ones that I absolutely love and personally use. Responding to your body temperature, they cooling you down when you're too hot, whilst heating you up when you're too hot. How great is that?! A fan and air con are also important. Temperature is critical to get right because when you're too hot the body doesn't secrete the hormone melatonin which otherwise makes you sleepy.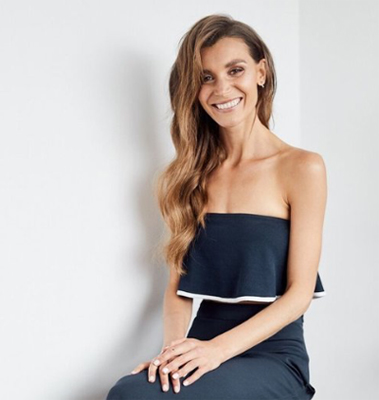 Question: How can we use essential oils to help us fall asleep?

Olivia Arezzolo: Absolutely. I have recently been using Oil Garden Sleep Assist in the evening which is a blend of lavender, sweet orange and chamomile. It smells divine and utilises evidence based herbs which help reduce anxiety and improve insomnia. I'm all about education - here is some info on lavender and here is some on chamomile.


Question: What foods should we be eating to ensure a quality sleep?

Olivia Arezzolo: Fish and eggs - all the way! Both contain omega 3 which calm the nervous system and aid insomnia, as noted in the Journal of Clinical Sleep Medicine, Avoid sugar, gluten, dairy and alcohol - these are pro-inflammatory and damage your absorption of key nutrients like tryptophan which is needed to optimise sleep. I created an ideal sleep diet day planner - click here to see it.


Question: Are you surprised that research reports childhood anxiety increases with evening screen time?

Olivia Arezzolo: Not at all. But perhaps surprised by how significant it is - research of 125,198 children, found nadequate sleep quantity was 217% more likely, poor sleep quality 46% more likely and excessive daytime sleepiness 272% more likely.


Question: What advice do you have for parents who have children with sleeping difficulties?

Olivia Arezzolo: Seek help from a credible professional - poor sleep is linked with learning difficulties, anxiety, depression and an inability to pay attention - nothing you want your child to go through. Just like you would any other problem, sleep is a serious matter which needs to be governed by an expert (say, myself) who can provide you long term support matched with an evidence based solution.


Question: Can you tell us about your personal tailored sleep program?

Olivia Arezzolo: Sure! The 6 week sleep solution is perfect for anyone needing help to fall asleep, stay asleep or wake up more refreshed. Combining psychology, physiology and nutrition advice applied to sleep; the program includes weekly coaching videos, action plans, direct access to me and member only benefits, like discounts for recommended products (e.g. sleep teas, sleep supplements). It comes in three levels: Gold, which includes weekly 1-1 coaching; silver, which has fortnightly 1-1 coaching, or bronze, which is with a single 1-1 coaching video. As a launch special i'm offering the first two weeks free - so if this sounds interesting to you, sign up now!


Interview by Brooke Hunter
Photo by Kinga Cichewicz on Unsplash