The lives of people from New York to Spain intersect over the course of different generations.
Cast: Antonio Banderas, Oscar Isaac, Samuel L. Jackson, Olivia Cooke, Olivia Wilde, Mandy Patinkin, Annette Bening, Jake Robinson
Director: Dan Fogelman
Genre: Drama, Romance
Rated: MA15+
Running Time: 117 minutes

Synopsis: Director and writer Dan Fogelman, creator of the groundbreaking series "This Is Us," takes a poignant and expansive look at love, family, tragedy, joy and fate in Life Itself. In a heartbreaking, hilarious and relentlessly human film, Fogelman weaves a sprawling multigenerational saga that celebrates life and all of its complications, set to a soundtrack inspired by Bob Dylan's landmark album Time Out of Mind.

Life Itself follows college sweethearts Will (Oscar Isaac) and Abby (Olivia Wilde) as they fall in love, get married and prepare to bring their first child into the world. As their story unfolds, fate will link them to Dylan (Olivia Cooke), a troubled young woman trying to find a way out of her pain, Irwin (Mandy Patinkin), bringing up his son's daughter in a perilous world, to Mr. Saccione (Antonio Banderas), a moneyed landowner in Spain, his plantation manager Javier (Sergio PerisMencheta) and Javier's family, Isabelle (Laia Costa) and Rodrigo (Alex Monner), in ways large and small, ordinary and exceptional.

With an esteemed cast and settings that range from the crowded streets of Manhattan to sunbathed olive groves in the Spanish countryside, Life Itself asks us to question our assumptions about luck and misfortune, about triumph and tragedy, and ultimately about life itself

Life Itself
Release Date: December 6th, 2018
About The Production
Over the course of the last 15 years, Dan Fogelman has established himself as one the most versatile, creative cinematic talents working today. As a director, producer and writer, his resume includes everything from a wildly popular and deeply emotional dramatic series ("This Is Us") to a bittersweet romantic comedy about a straight-laced middle-aged guy forced to reenter the dating world (Crazy, Stupid, Love). His latest project, Life Itself, is his most ambitious and perhaps most personal project yet. Heartbreaking and hilarious by turns, the film combines an unconventional narrative with exquisitely realized characters for a story as unusual as it is poignant.

With an already packed schedule, Fogelman did not take the decision to direct this film lightly. "But something about this movie got in my bones and I had to do it," he says. "The film is about a lot of different things. It's about life and how big and messy and full of love and of tragedy it is. It's about people. It explores the ups and downs, the sad and the happy, and this beautiful, weird thing we're all in together ― life itself. The plot is nearly impossible to describe ― which is one of the things that really excites me about it."

Being one of the most successful writers and producers in Hollywood is no guarantee that someone can succeed behind the camera, but Fogelman is a visionary with a unique cinematic point of view and the skills to make his ambitious vision a reality, according to producer Aaron Ryder of FilmNation. "This is such a complicated movie, not only in its structure and the way the story is told, but in a practical way," he says. "You have a story spanning decades, two different continents and two different languages. There's a huge ensemble cast. We really had to bring our A-game."

Fogelman deftly connects the multiple storylines as the setting moves from New York City to Spain and back again. "That makes the film seem epic to me," says Fogelman. "This movie addresses big loss, big tragedy, big love, big moments. It's like a larger-than-life novel in which you follow generation after generation."

With its multiple protagonists and subtle misdirection, the film is designed to play with audience expectations, not fulfill them, he says. As a director, he has deliberately packed the film with unexpected moments and surprises, big and small. "At times, the audience will be surprised to realize whose story they are watching, which is by design. I want people to have to pay attention in a different way. The hope is we could keep people on their toes via the narrative."

Off the Black List and into the Director's Chair

Life Itself had instantly sparked interest throughout Hollywood in 2016 when it was included on the Hollywood Black List of best unproduced screenplays. Fogelman says he had two of the most important people in his life on his mind while writing it: his wife and his mother. "At first, I was surprised at how emotional some of the scenes made me," he remembers. "Eventually, it occurred to me that I was making this film for my mom, who passed away 10 years ago. We were very close. And shortly after that I met my wife and I love my wife the way Will loves Abby in the film. I realized that all along I had been writing for the two great loves of my life."

Ryder heard that Fogelman had written a very personal script ― and that he wanted to direct it. "We quickly managed to get our hands on a copy of it," says the producer. "It was one of our favorites because it felt so timely and original. It's a gift when a script this good comes across my desk."

But Fogelman's skillful direction makes the film even more engaging, says Ryder. "The lives of two families intersect because of a tragedy. You see how these lives become intertwined over decades. It's an incredibly funny movie, but it's got a deep emotional core and that's what I think people will respond to. It's what Dan Fogelman does better than anybody else."

From early on in preproduction, it was clear to Ryder that Fogelman had a singular vision for the film. "Dan is a guy who is built to direct," the producer says. "He is unbelievably cinematic in the way he thinks, in the way he's able to describe a scene to people. He is very decisive, and he knows exactly what he's after. On set, his ability to communicate not only with the crew but with the actors is exceptional. I was taken aback every day by how skillful and thoughtful a director he is."

Producer Marty Bowen says Fogelman started out a step ahead of most filmmakers, because he had already put so much information about how he envisioned the film on the page. "But very few people have the capacity to direct in the way he does under any circumstances," Bowen adds. "For Life Itself, he knew every single shot he wanted to do. He knew where the characters needed to go. He came ready to execute, not to figure it out. And that makes him very rare."

Although the film's international, multigenerational story is epic, perhaps Fogelman's greatest accomplishment is how simple he makes it all seem, says Bowen. "It's like the Beach Boys. When you hear those harmonies with an unsophisticated ear, it just sounds like really happy music. But they are really brilliant complicated harmonies. I think Dan has elevated this story in a way other people would find almost impossible to do."

The New Yorkers

With more than a half dozen potential protagonists, Life Itself required an ensemble cast, one that included acclaimed award winners, youthful up-and-comers and international actors making their Hollywood debuts. But where some might have seen a daunting challenge, for Fogelman the process was a dream come true.

"I had images in my head of who I wanted," he says. "We were able to get them all. We have famous actors who don't audition. We have new discoveries and younger actors who not only hold their own, but by the end take over the film. Each of them has incredible movie-star magic that holds the screen when not a lot is happening."

Essential to the entire endeavor was finding the right Will, the character whose tragic love story launches the movie. "A perfect Will could be both young and old; funny, charming, and utterly broken," says Bowen. "It required a truly special actor."

Fogelman knew exactly the right man for the job: Oscar Isaac. Guatemalan-born and Juilliard-trained, Isaac has played roles ranging from an anguished Off Broadway Hamlet to the villainous mutant Apocalypse in the blockbuster X-Men: Apocalypse. "Oscar is not only, for my money, the actor of a generation," says Fogelman. "He's also the most funny, charming leading man you'll ever work with. Women like him. Men like him. He's a great actor and he's a star."

Isaac was intrigued by what he calls the subversive nature of the storytelling, as well as the depth of the characters. "I was taken aback by how unusual and rebellious the writing is," he says.

"Every character is a lead character with a full life to be investigated. I was constantly surprised. The most challenging thing in talking about the film is that the movie is about the unreliability of trying to narrate your own life. When you try to tell the story of one person, everything that goes into making that one person comes with a long history, and everything this person does affects what happens from here on out."

Will is smart, handsome and funny, but his life has fallen apart. With the help of his therapist, played by Annette Bening, he tries to explain what has happened to him by telling her how he met Abby, the love of his life, and realized she was the person he would spend the rest of his life with.

"He's a romantic extremist," explains Isaac. "He just plunges himself in completely with utter loyalty and utter commitment to the point that it's even overwhelming to Abby. As the story continues, he starts to narrate Abby's life even before they met. You get to meet his parents, and slowly understand the construct that Will has made in order to survive."

Fogelman made it easy for the actors to excel, Isaac says, by always being willing to go where the scene naturally took them: "So many unexpected things would happen under his direction. Dan set the stage for us to feel confident and free and open to anything."

Olivia Wilde, who plays Abby, would be a hard woman not to fall hopelessly in love with, as Isaac describes her. "I couldn't have imagined how versatile and funny and heartbreaking and present and imaginative and inventive this woman would be," he says. "At every turn, she was there with me. She would take me into other places that I couldn't imagine."

Or as Bowen puts it, "Abby is always the smartest person in the room, the prettiest woman in the room and the one person that every guy would love to have a beer with. And Olivia is all of those things, too."

Wilde signed on, eager to work with Fogelman, and was not disappointed. "He is an awesome communicator which makes him a great director," she says. "Dan ran our set in a way that provided the most fertile environment for all of us. What impressed me most was the way he created a very specific and tricky tone for this film, but made it look so easy."

The point of the film, to Wilde, is that the events of a lifetime are different for each of us, and Life Itself is a completely different movie from each character's perspective. "For Abby, it is about finding love in a life that has been challenged," says the actress. "Her parents both died in an accident when she was a kid. She survived that heroically, went to college and fell in love with Will."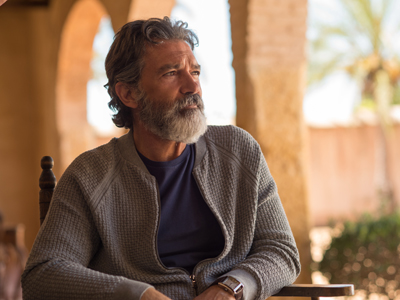 But as the couple is expecting their first child, something changes between them. "I was really moved by how intensely unfair things can seem when we are so accustomed to happy endings," says Wilde. "Dan Fogelman has made a movie that accurately mirrors the way life surprises us, shocks us, thrills us and devastates us. This film urges us to consider that we each are but one piece of a bigger picture. I think it's optimistic and romantic, so I hope it inspires people to think about how they view themselves and the world."

At age 21, Will and Abby's daughter, Dylan (named after Bob Dylan, her mother's favorite musical artist), becomes the focus of the film. Played by Olivia Cooke, Dylan is finding an identity through the punk band she performs with. "Olivia Cooke is quickly becoming the finest actor of her generation," says Bowen. "She's only been working a few years but the work that she's doing is incredible."

Dylan seeks catharsis through her music, says Cooke, who previously starred in the Fogelman-produced film Me and Earl and the Dying Girl. She sings a raucous punk rendition of Bob Dylan's tender ballad "Make You Feel My Love," a song that is integral to the film's soundtrack. "To sing that song and twist it in an angry, staccato way reflects how she feels about her life so far. She has become an enraged, depressed, anxious, unhappy person, but with a wry sense of humor she inherited from her parents."

Director Fogelman has a gift for building emotional tension in unexpected ways, according to the actress. "This has just the right amount of tragedy and melancholy mixed with witty dialogue and hilarious moments," Cooke says. "Dan is brilliant at creating such sadness, and then picking up the mood with a funny line or a slapstick moment. And then he might confront you with a complete shock. But then he will again lift it up with comedy. And then he is able to settle into a very emotional scene and just let it breathe."

As Will's parents the filmmakers cast veteran actors Mandy Patinkin and Jean Smart. "They're consummate professionals," says Ryder. "And they were Dan's first choices for those parts. Dan has a true fondness for Mandy and believed he would ground that character dramatically better than anybody else."

According to Patinkin, Dylan's grandfather takes his role in her life very seriously. "It's Irwin's job to hope and pray that she doesn't fall into the soup and to teach her to fight to be alive," says the Tony® and Emmy® Award-winning actor. "He wishes it was in his control, but he knows that life itself is the one in charge."

Patinkin, whose four-decade career has encompassed memorable roles in projects ranging from the Stephen Sondheim movie musical "Sunday in the Park With George" to the taut espionage series "Homeland," says the director runs a tight ship, but always makes it enjoyable. "He makes it quiet and concentrated, but also easy and fun. As a director, he's as good as they get. I just hope I live long enough to work with him again."

In the New York section of the film, Fogelman includes a sly tribute to the Quentin Tarantino films that Abby and Will bond over early in their relationship, as the unmistakeable voice of Samuel L. Jackson recounts the love story between the young couple. But as the film unspools, his authoritative voiceover begins to seem at odds with the onscreen action, introducing the idea of the unreliable narrator.

In a surprise cameo, Jackson also appears briefly in the film as himself. "Somebody sent me a script and I was a character in it," he says. "It always intrigues me when people think I can lend something different to whatever's going on ― especially with my voice. Then I realized that script was by Dan Fogelman. I have watched 'This Is Us' and I loved his show 'Galavant.' So, I said yes."

Although the intense preparation for the movie was as complicated as any Ryder had ever worked on, he says the shoot was surprisingly easy. "One thing I hadn't factored in was just how good these actors are. We put Mandy Patinkin, Jean Smart, Oscar Isaac and Olivia Wilde together at a dining room table and we couldn't believe what they could do, how intimately they knew their characters and how well they were working with each other. They are just pros and, man, did they bring it. My God, that was a lot of fun to watch."

La Vida Misma

Fogelman knew that he was taking a huge risk by abruptly changing the setting of Life Itself from New York City to Sevilla, Spain, and an even bigger one switching the dialogue from English to Spanish, but it was integral to the film's core concept. "We are trying to say that we're all living this giant experience together," he says. "Isn't it more interesting to connect all these people who also experience love and loss and life on different continents in a different language?"

Knowing that the decision could be controversial, Ryder threw his full support behind Fogelman. "It takes a lot of courage to defy convention like that," he says. "But it's a measure of Dan's confidence and his savvy as a filmmaker. He knew it wouldn't have the same resonance otherwise."

Although he is now confident that he made the right the choice, the shift in language was the scariest part of making the film, admits the director. "People have gotten very attached to the English-speaking characters by that point in the film. But I always knew that the moment we switched to Spain and the movie turned into Spanish was going to be terribly exciting. Antonio Banderas begins that part of the film with a long monologue in Spanish, so we're asking the audience to not only switch continents but language as well. But the first time we screened it, the American audience was with him. You could hear a pin drop."

It was important to Fogelman that all of the actors in the segment be from Spain, and he particularly wanted Banderas in the film. "Dan wanted to make sure we had one Spanish actor who was internationally known and respected to play Mr. Saccione, the owner of the olive grove and a powerful man in his world," Ryder explains. "For all the other Spanish characters, he felt that people relatively unknown to an American audience would be a fresh window into that side of the world." Mr. Saccione, the half-Italian, half-Spanish owner of an olive plantation, was brought up in Italy by a wealthy and tyrannical Italian father who made life intolerable for both his wife and son. But when his father died without a will, Mr. Saccione inherited his considerable fortune, and his heart took him back to his mother's country.

Part of the script's appeal for Banderas was its lack of a typical cinematic plot structure. "It follows the narrative of life," he says. "Life is very surprising. My own story is. I have lived in two worlds: Spain and then the United States, in which I have lived for 25 years. My life is divided between these two worlds and that's what happens with this movie."

The actor, who first came to international attention in the stereotype-smashing black comedies of Spanish auteur Pedro Almodóvar, says Life Itself marks the second opportunity he has had to explore uncharted cinematic territory. "I took a risk at the beginning of my career in Pedro's films, which experiment with the traditional content and form of the movie," he says. "Suddenly I met Dan Fogelman, who is trying to do the same thing. From an artist's point of view " and I think from an audience's point of view also " the possibility of being surprised is very attractive."

After viewing footage of Isaac and Wilde shot in New York, the actor was convinced. "It's magnificent," says Banderas. "It's of an incredibly emotional intensity that is difficult to obtain, but at the same time it's very natural. That captures your heart and in the end that's what all of this is about. I think he is a truly great director. Not for a moment did he lose the rhythm of the movie."

Fogelman still seems a bit awed by Banderas' presence in the film. "There's a reason he's a gigantic movie star," says Fogelman. "He's the coolest guy in the world. When he asked me what I thought he should wear for a scene, I was like, 'Antonio, I'm a schlub from New Jersey. I'm not going to tell Antonio Banderas what clothes to put on to look cool.' I cast him because I had an instinct that taking a guy with that kind of power and charisma, and exposing this really vulnerable, slightly broken side of him, would be a really exciting thing to watch."

Mr. Saccione unexpectedly reaches out to Javier, a laborer on his farm. He has noticed that unlike the other olivaderos (olive pickers) who use rakes and nets to harvest the crop, Javier will only pick by hand. "Javier has a different rhythm from the other characters in the movie," says Sergio Peris-Mencheta, who plays the character. "He's not in a hurry. He's a simple country man with no remorse or pain inside."

Peris-Mencheta says he was shocked to learn that the script was written by an American. "The story seems very Spanish. Federico García Lorca used to write this kind of story. It had all the twists of a Lorca story, jumping from one age to the other, and changing the setting from the U.S. to Spain. Dan's characters have unusual humanity and truthfulness in them."

Working on Life Itself gave the actor a chance to fulfill two longtime dreams: working with Banderas and making a film in New York City. "To meet Antonio and be able to talk with him between takes was amazing," he says. "And to work in New York ― Times Square, Central Park " was very special."

Laia Costa, who plays Isabelle, the naïve village waitress who becomes Javier's wife, is a rising star in European cinema and television but was unknown to American filmmakers. Her audition, a 30-minute video sent to Fogelman from Spain, earned her the role. "She had taped all of Isabelle's scenes," he remembers. "She was off book, looking directly into the lens. I was so blown away. If it was a better-quality recording, I would have just put it into the film. When we shot those scenes, I just tried to re-create her audition."

Costa loved the fact that the character ages 20 years over the course of the film, transforming from an innocent girl into a mature, capable woman. "Isabelle looks fragile and delicate, but at the same time she's able to make very strong decisions," says Costa. "Everyone's trying to save her, and at the end you realize she doesn't need to be saved at all."

The character's love for her son, Rodrigo, and determination to give him a better life are what keep her moving forward, according to Costa. "From Isabelle's perspective, this movie is about the life we live and how we can explain it through generations, and also how pain links us all in a very magical way," she says. "The tragedy and the beauty of life are so rolled up together, one can't exist without the other. The film seems very true to life in an epic way, and then a very simple way."

With the roles of Mr. Saccione, Javier and Isabelle cast, finding Rodrigo was the next challenge. "Rodrigo is a big part and an important character," says Fogelman. "We knew we wanted somebody from Spain. Alex Monner came to an audition in Sevilla and I loved him."

Life Itself was the Barcelona-born actor's first American film, and he would be shooting part of it in New York City. He was eager and apprehensive about learning the way an American film set worked. "Meeting with everyone, I was like, okay, it's going to be fun," he says. "Because I'm performing a Spanish character my English didn't need to be perfect, which made me more comfortable. Then the first time we started shooting, Dan said, okay, now start improvising. And I thought, let's go!"

Monner found everyone on the set warm and committed to working together to make the best film possible. "Dan really talks with the actors. Before every shot, he comes to you and tells you something important about the situation or the character. And that's nice for me as an actor. I haven't experienced that a lot in Spain."

From the Big Apple to Spanish Olive Groves

Fogelman was insistent that the movie needed to be shot in New York City and the province of Sevilla, Spain, two places for which he has great affection. A New Jersey native, he says he always felt that the city that never sleeps encapsulates life. "I pictured the energy of New York," he says. "I'm constantly struck by the pace of it and the beauty of it and the contrast between that and the difficulty of life in the city. Sometimes you need to get the hell out of it and sometimes it's the only place you want to be, because it's so exciting and passionate and beautiful."

Along with its unique energy, New York brings a host of challenges for filmmakers, but Ryder says it would have been disingenuous to shoot anywhere else. "It's complicated for sure," he adds. "New Yorkers don't like their sidewalks blocked by film crews and they don't like their roads to be clogged up, which you can understand. But there is something about New York that you can't duplicate in another city."

During a four-day scouting excursion in Spain, Fogelman, Ryder and Bowen, along with cinematographer Brett Pawlak and production designer Gerald Sullivan, sought not only picturesque settings for the story but a way to create a cohesive look for the film. "Dan not only wrapped his head around all of the intricacies of the story, he was hugely supportive of the art department," Sullivan says. "His mind is very deceptive because he's so easygoing even in the most stressful moments of production, but he's intensely involved with everything."

Sullivan, who has also worked with director Wes Anderson to create the richly imagined retro New England island of New Penzance for Moonrise Kingdom and the Mitteleuropean fantasy world of The Grand Budapest Hotel, was tasked with designing timeless, seamless visuals for a story that takes place over several decades and in two countries.

"We had talked about the design for months before we went into production," says Sullivan. "Dan and Brett were intimately involved in every decision. We decided to use a palette inspired by our travels in Spain that runs through the entire course of the movie."

The concept, explains Sullivan, was to find a common ground between Sevilla's centuries-old artisanal aesthetic and New York City's hard-edged urban modernity. Incorporating visual themes that recurred throughout the Spanish countryside into the New York settings, including unique materials, frequently used colors and motifs, he was able to create to a unified feeling for locations that could not be more different.

The settings range from a campus fraternity house, a classic New York brownstone (where Will's parents live) and a minimalist psychiatrist's office in Manhattan, to a small-town café and a modest cottage in Spain. But Sullivan's favorite is the historic olive plantation in the small town of Carmona that serves as Mr. Saccione's gracious estate. "It is a hacienda that was constructed over several centuries," says Sullivan. "There are fragments from each different era. It is an amazing compound with acres and acres of olive orchards, which is what we were looking for."

Covering All the Angles

Director of photography Brett Pawlak says that from the first meeting, he and Fogelman were on the same page in terms of the film's aesthetics. "The script is very much about the narrator," he explains. "We talked about the ways we could amplify this narrator and help tell the story without being untruthful. It's an expansive story, which is what drew me to it in the first place, but that meant finding cinematic ways to keep things connected."

Fogelman came to the production with very specific ideas about what he wanted visually, according to Pawlak, right down to the composition of the shots. "You can see his wheels turning all the time," he says. "If something doesn't feel right, he's able to go in there and tweak it just enough to make it fit. When he walks into a location, he is able to take it all in. It's kind of magical and really mesmerizing to see."

Pawlak's unusual shooting approach is character-driven, with an emphasis on giving the actors room to be comfortable. "Dan and I went through the script a few times during prep, going back over the coverage and finding themes we could come back to repeatedly or that we used for just one person," he says. "For example, we tried to let Dylan's scenes play in one shot whenever possible. That character brings a different energy to the movie and we wanted to set her scenes apart.

"With Will and Abby, we developed a cinematic language that doesn't really fit in other people's stories, but that really made sense for them," he continues. "For a lot of their scenes we used a mini with transmitters. I would just carry around the body and the room would be clear. I'd just kind of float with them and follow them.

"There is a strong correlation between the film's use of the unreliable narrator in its storytelling and its cinematography," he says. "What we do for a living, whether we're writing, photographing, doing production design, or even composing music, is giving people cues that tell a story, and those cues can steer them either in the wrong or right direction. So we talked about how not to be untruthful, and even to make the audience aware of what we are doing, so they have to wonder if we are actually reliable or not."

Time Out of Mind

While Fogelman was writing Life Itself, he was listening to Bob Dylan's landmark Time Out of Mind album, particularly the song "Love Sick." Written after Dylan's divorce from his second wife, the 1997 double album is a collection of songs that take a melancholy look at love and loss. "I thought 'Love Sick' would be the right song to start this movie with," Fogelman says.

While he was working on the script and listening to the album, Fogelman read an essay about Time Out of Mind that gave him another idea. "The writer was bashing one particular song, 'Make You Feel My Love,' saying it was too romantic and too uplifting for such a sad, beautiful, melancholy album. I decided then that it would be the end of this film and that Dylan would tie it all together."

The potential road-block would be getting Dylan's permission to use the songs. "None of us believed we could make this movie without Dylan's music," says Bowen. "There is no other version of this that would have the same dramatic impact."

Fogelman was able to connect with Jeff Rosen, who administers the rights to the music, through the film's music supervisor. Rosen liked the script and shared it with Dylan, who signed off on the use of his songs. "I wrote it all in without knowing if we could use it," says Fogelman. "And we are lucky enough to have seven Bob Dylan songs and a score based on Dylan's music throughout the film."

Life, Itself

For Bowen, Life Itself defies simple definition. "Dan has a definite point of view, but to try to articulate it is a disservice to the experience of watching it," says the producer. "Life is a complicated fabric and Dan is exploring that in a unique way. Sometimes bad things happen to good people. Sometimes good things come from bad experiences. That is the nature of the journey we all go on."

Bowen applauds Fogelman's fearlessness about confronting issues that may seem cruel to others. "He can find something emotionally uplifting in the darkness," says the producer. "Most people experience good and bad in their lives. The challenge is to try to reach for that silver lining. Dan has a way of finding that beautiful insight. He makes you think, but along the way he also makes you laugh and he makes you cry. Only great filmmakers are able to do that."

As with anything he works on, Fogelman hopes the film will move people. "I hope it reflects real life while also giving people a respite from their own circumstances," he says. "I hope that they're going to walk out emotionally drained but uplifted also. For all the people like myself who sometimes feel there's nothing really original out there, I hope this will fill that gap. It's ambitious and entertaining, something that is full of emotion and overall positive about life. If people have a good two hours at a movie theater and they feel they've seen something that sticks with them, I'll be happy."
Life Itself
Release Date: December 6th, 2018