Aussie Dads Open Up on Autism and Fatherhood in New Film Dad
Australian Dads from all walks of life have opened up about their experiences parenting children on the autism spectrum - in a new film about autism and fatherhood.

The 36 minute short film, produced by leading autism organisation Autism Awareness Australia, follows the stories of twelve Aussie fathers with children on the autism spectrum as they discover a new world of parenting and what it means to be a Dad.

Autism Awareness Australia chief executive Nicole Rogerson said the film was created to provide guidance, information, and support to fathers with children on the autism spectrum.

"When children are diagnosed with autism, the support structures in place are often tailored towards mothers – but where does that leave the Dads?" she said.

"Sharing stories and experiences is how we learn and support one another – but there are few resources out there to support Dads of children on the autism spectrum, who we know often have very different experiences to Mums.

"That's why we brought together a group of Dads of all different ages and vastly different backgrounds to tell their stories"stories of success, of struggle and of family.

"Each one of them is so different, but with one thing in common – a child on the autism spectrum," Ms Rogerson said.

Dads featured in the film include neurosurgeon Professor Brian Owler, ex-Australian Rugby representative, Titans NRL captain Mat Rogers and broadcaster Ian Rogerson.



Richard Peake, who is also in the film and whose youngest son Liam was diagnosed with autism early on, said he was hopeful that initiatives like 'DAD' documentary will create a broader more positive dialogue in society around autism.

"Being a dad to an autistic child doesn't come with instructions," he said.

"It can often be a lonely place. Not many, if any, of your mates or male family members can relate. There is no one to bounce ideas off.

"I hope the film shows Dads like me that it doesn't have to be quite so lonely, and actually talking about "it" can only help you and your child."

Dad is available, online at www.dadfilm.com.au


Lai Huynh in Dad
My experience as a father to Lachlan (8yo) who is on the autism spectrum disorder(ASD).

Lachlan was diagnosed with ASD at three and a half years old. I remember being in denial for at least 6-12months. I thought it was just a phase of language/behaviour delay and that he'll eventually catch up and grow out of it. After sweeping it under the carpet and simply ignoring it, I started thinking. Why my son? Why was he autistic? Who's to blame? I had many mixed emotions. Guilt, anger, sadness and despair. Our other child, Connor, was 6 months old at the time. I was busy working 70 hours a week. I was tired, confused and frustrated. This really put a strain on the family and the relationship with my wife.

Lachlan's language was severely delayed and there were many meltdowns simply because he was frustrated and couldn't express himself. He was inflexible with routines and often just taking him grocery shopping was a challenge. I was constantly feeling anxious not knowing when Lachlan would have a meltdown. Just driving a different route to preschool would set him off.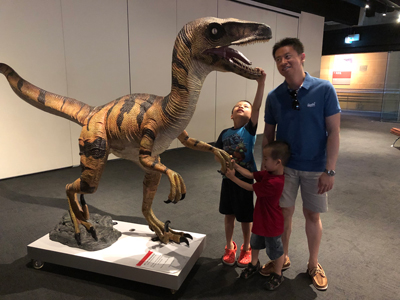 We started intense applied behavioural analysis (ABA) therapy and speech therapy with Lachlan. This helped dramatically. It really helped me understand what Lachlan was experiencing and why he had meltdowns. Learning how to help Lachlan manage his behaviour was confronting and heart breaking. This however, really helped me get a grasps of myself and gave us direction.

As Lachlan's behaviour and language improved, I felt a fog had lifted and our path, although challenging, was manageable. I found that being open and talking about my thoughts and feelings to social groups, psychologists, family and friends helped me through the struggles of parenting a disabled child. This also helped my marriage. My wife and I are now closer, stronger and work better together. We are blessed in this day and age with the support networks available - especially the better understanding of mental health.

I would encourage more fathers who are feeling lost, confused or frustrated to talk about what they're going through. This really helped myself and our family.

Looking back at the time of diagnosis, I still feel guilty and wish I could have been a better father and husband. I now try to live in the present and not dwell on the past, or worry about the future. Lachlan is autistic but this does not define him. He has many talents and has a super kind heart. It is a pleasure watching him grow and experience what life has to offer. I am very proud to be Lachlan's father and looking forward to our journey ahead.
- Lai Huynh