Like A Spark To The Global Imagination
Cast: Lily Collins, Nicholas Hoult, Derek Jacobi, Colm Meaney, Genevieve O'Reilly, Craig Roberts, Pam Ferris
Director: Dome Karukoski
Genre: Biography, Drama
Running Time: 112 minutes

Synopsis: Tolkien explores the formative years of the renowned author's life as he finds friendship, courage and inspiration among a fellow group of writers and artists at school. Their brotherhood strengthens as they grow up and weather love and loss together, including Tolkien's tumultuous courtship of his beloved Edith Bratt, until the outbreak of the First World War which threatens to tear their fellowship apart. All of these experiences would later inspire Tolkien to write his famous Middle-earth novels.

Tolkien
Release Date: June 13th, 2019


About The Production
Like a spark to the global imagination, J.R.R. Tolkien's book The Hobbit set off a wildfire, singlehandedly dominating the fantasy adventure genre in the last century. The "Tolkien effect" echoes everywhere throughout literature, television and movies. In his never-before-seen worlds and tales, Tolkien's realms of wizards, hobbits, dragons and mythical beings evoke the best parts of human nature: our love of quests, our willingness to sacrifice for others, our hopes for good to defeat evil and the strength we get from true camaraderie.

Now, with Tolkein, comes a story of how the young Tolkien transformed from a lonely orphan into one of the great storytellers of all time " a story that is itself an enchanting tale lit with the power of imagination, the bonds of fellowship and the forging of purpose in the fires of love and war. Rising star Nicholas Hoult (The Favourite, Mad Max: Fury Road, X-Men: Apocalypse) stars as John Ronald Reuel Tolkien in his formative time as a student, young romantic and soldier, long before he published The Hobbit in 1937. Raised by a devoted and imaginative mother who died tragically when he was only 12, Tolkien was left to carve his own precarious path. Everything changes when he forms a secret society with his fellow students, youthful artists, outcasts and rebels who together hope to change the world. In them he discovers steadfast friendships that will buoy him through the dark times of war and give him the confidence to try to follow the star-crossed lover he is forbidden to see and inspires him to write epics no one else could have conjured.

Tolkein director Dome Karukoski hopes to bring his idea of a trek into the wilds of Tolkien's inventive young mind. "I've been a fan of Tolkien since I was 12 years old so the most important thing to me is to bring all the emotions I had reading his books to this movie," says Karukoski. "Tolkein is a magical story of love and friendship. It's the story of an orphaned boy finding fellowship, going to war and discovering the one woman he'll love for eternity. At the same time, it is about how Tolkien, in his creative brilliance, might have been inspired to weave each of these real things"friendship, war and love"into his incredibly lively fantasy worlds."

Hoult took great pleasure in getting to know a side of Tolkien he'd never encountered before: "Though I've loved Tolkien's novels since I was a boy, I knew nothing about this time in his early life, which is so intriguing and illuminating. I never knew about his personal losses, tragedies at love and at war, or about the foundational friendships that meant so much to him. Or that he found a great love and had it taken away and struggled to find it again. I loved Dome's approach to the story, the idea that through each of these light and dark experiences, Tolkien gained the voice to create the stories we're more passionate about than ever now."

The Tolkien No One Knows

"For me, one of the biggest challenges going in was: how do you express the mind of a genius visually? I dug deep into Tolkien's stories and his illustrations, searching for how his mind operated, for ways to show how he saw the world. I wanted those who love the books to be able to trace everything you see in the film forward into Tolkien's work, but also for that to be so subtle that the story is equally compelling without knowing a thing about Middle-earth."
-Dome Karukoski

Tolkien's life began far from the incomparable characters he forged in his famous novels. Irish playwright and screenwriter David Gleeson was mesmerized by Tolkien's own story of a young man on a heroic quest. Much as he loved the soaring legends of The Hobbit and The Lord of The Rings, he was equally moved by the deeply human story of how Tolkien came of age against the odds"and how he was spurred to write lasting stories in part by a determination to live and create to the fullest.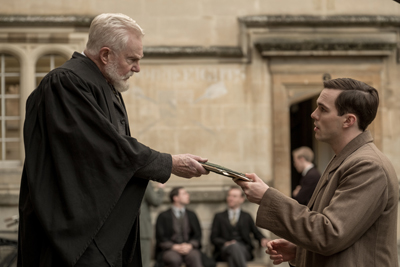 Tolkien lost his father while still a child, then was whisked from his South African birthplace to an England he'd never seen by his beloved but ill mother, who died of diabetes at age 36 in an era before insulin.

By age 12, John and his brother Hilary were penniless orphans, but Tolkien defied those circumstances at every turn. It soon became clear he had exceptional gifts, including a rare genius for inventing languages, mapping out mythology and concocting imaginary creatures in words and drawings. That genius provided him with the opportunity to enroll in the prestigious King Edward's School in Birmingham, and where his blossoming fantasy life really began to soar, thanks to the very best kind of encouragement"a circle of faithful friends who kept daring him to go further and always had his back.

Gleeson found it all so enchanting that he mentioned to the team at Chernin Entertainment that he felt there was a real potential for someone to write a movie about Tolkien.

That kicked off an intensive personal odyssey of research as Gleeson dug deeper into Tolkien's own lore, honing in on one catalytic period: from Tolkien's arrival at King Edward's School to his near demise fighting for the British in the Battle of the Somme during World War I, which remains one of the bloodiest conflicts in British military history, to the start of his life with Edith Bratt, who would become his hard-won muse.

Gleeson especially loved that Tolkien first sharpened his storytelling savvy as part of a clandestine society of teen misfits. In 1911, Tolkien joined up with Robert Gilson, Christopher Wiseman and Geoffrey Smith to create a secret club playfully dubbed the Tea Club and Barrovian Society, TCBS for short, to trade barbs, share ideas, debate everything going in the world, unleash their inner poets and support one another in their exuberant aspiration to lead lives of courage, creativity and meaning.

"I found it really revelatory to discover that Tolkien was part of this foursome of friends who really were a fellowship," says Gleeson. "They all enlisted into The Great War together, so you truly had this alliance of young men who had to confront tremendous peril, which is a theme that became so close to Tolkien's heart. Later in life, Tolkien was quite keen to separate his personal life from his works, and talked very little about it, but it's impossible now not to draw the connections."

Gleeson also became swept up in the almost Shakespearean love story between Tolkien and fellow orphan Edith Bratt. After a fiery courtship based on their mutual love of art and mischief, their link was nearly severed when Tolkien's guardian, Father Francis Morgan, banned the love-struck pair from so much as making eye contact until Tolkien was 21. Things might well have ended there, but Tolkien refused to let go of his dream. "Here was a tremendous romance between two lost souls who were torn apart just when they really needed each other, only to find each other again and make it work," Gleeson says. "It's another remarkable story from Tolkien's life."

The script by Gleeson and Stephen Beresford (Pride) was full of energy, humor and had a feeling of both physical and emotional adventurousness not often associated with the lives of writers behind their desks. Spanning from childhood dreams to a surreal vision of Tolkien at war, it also had an epic sensibility Tolkien himself might have recognized. The producers at Chernin were immediately ready to jump in.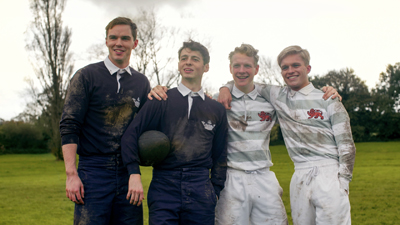 "By pulling back the curtain on Tolkien's early life, you find a story that delves into where art and stories come from," says Archery Pictures producer Kris Thykier. "For Tolkien, friendship was one of the most important things in the world and here you see why that became so central to his life and works." Producer David Ready adds: "We all got very strongly behind the idea that this story needed to be told. And we felt we could do it in a way that would be true in spirit to Tolkien's past but also tap into a larger question: where does such an incredible imagination come from? When the film opens with a feverish Tolkien roaming the trenches of the Somme searching for a lost friend, you know right away this is not going to be a standard biopic. It starts in war but then it becomes the wonderful story of these beautiful friendships that Tolkien made and that helped to make him."

Co-producer Dan Finlay notes that the appeal of the story felt far broader than anyone anticipated. "It's about things everyone finds transporting no matter who you are: friendship, love and the battle of light against darkness."

Now the pursuit began to find a director with a visual imagination unique enough to match the material. The producers handed the reins over to director Dome Karukoski whose previous Finnish films include multiple award-winners Tom Of Finland, The Home Of Dark Butterflies and Lapland Odyssey, with the two former serving as Finland's official entries for the Oscar® Best Foreign Language Film category. "When we saw the intensity of Dome's passion for telling this story, it was clear he had to be at the helm," says Ready of the choice. "His commitment elevated every element of the story. It became something very personal to him." Once Karukoski was set as director, the film was greenlit by Fox Searchlight and Thykier came on board to help produce the film in the UK.

Karukoski related to Tolkien at the deepest level, because he too grew up without a father. Born in Cyprus to a Finnish mother, Karukoski didn't meet his American father until he was 14, so he was able to instinctually tap into Tolkien's loneliness and understand why the communion and grounding he found with his friends in the TCBS and with Edith operated like a magic spell on him.

"Although I'm not an orphan like Tolkien, my early life was also as a fatherless son. Seeing Tolkien as a lost orphan trying to find his way really resonated with me. His search for friends, for love and for his own identity had an emotional core I could not resist," he says.

Being Finnish, Karukoski felt a special kinship to Tolkien, having read that Tolkien taught himself the language as a student and held its culture in high esteem. "Tolkien is thought to be almost 'Our Own Icon,'" says Karukoski. "Tolkien was apparently captivated by the Finnish language and our mythology Kalevala; He even wrote his own version of the Story of Kullervo from the Kalevala. For me it's obvious that Tolkien has taken elements from the Finnish language and Kalevala into his own legends."

Equally irresistible was the chance to mine some of the most mysterious human territory: how entire worlds can be built from the strictly ethereal, incorporeal fabric of memory, emotion and make-believe. Karukoski especially could not wait to re-create the exhilarating atmosphere and boyish fun of the TCBS secret society on screen. "It's such an exciting time in life when you find friends like that, and I wanted to show it as Tolkien's first great adventure," Karukoski comments. "He was discovering how not to be afraid of his imagination. These four young men make this bold declaration that they're going to change the world through art"and that mark on him will last forever."

The love story was also a draw, especially because the powerful Edith would come to inspire several of Tolkien's most beloved female characters. "One of my first crushes as a boy was on Tolkien's characters Arwen and Lúthien, the elven princesses from his mythologies, who Tolkien said were based on Edith," Karukoski admits. "So it was very fulfilling to try to recreate an elven princess in the flesh as Edith. I thought a lot about how pure their love must have been. They had something we all yearn to feel. But what's different about their love story is that it allowed Tolkien to write legends of love that are now eternal."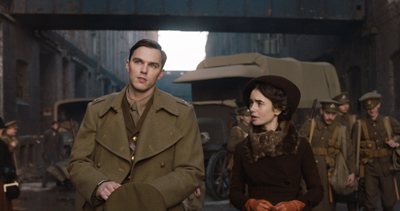 Being Tolkien

"Helheimr is what they were all after: that spirit of living in the moment and seizing the day, whether artistically, emotionally or physically. It's a constant reminder of their potential to be better."
-Nicholas Hoult

To take Tolkien from the pages of history and give him a palpable, modern life, the filmmakers would need two different actors"and both needed to be able to let the audience see inside the rolling wheels of Tolkien's imagination. The search for the adult Tolkien led to one of the most promising actors of the last several years: Nicholas Hoult, who first came to the fore as a child actor in About A Boy and has gone on to portray Beast in the X-Men series, the unforgettably intense Nux in Mad Max: Fury Road and most recently, the flamboyant Harley in The Favourite.

Karukoski immediately saw something of the Tolkien he'd read about in Hoult. "The first thing that intrigued me with Nicholas is his intelligence," explains Karukoski. "He's very smart, which you need to be to play a genius like Tolkien. The second thing is that he's very playful, also a quality of Tolkien, who was known to dress up as a knight and go out to scare people in Oxford! Nick fully embodied that. He spent months preparing, even practicing how to illustrate as Tolkien did while sitting in the makeup chair for X-MEN. Finally, Nick is an actor willing to do take after take, going for something different each time. He never stops looking for what's best for the scene."

Though he'd been in awe of Tolkien since his own childhood forays into Middle-earth, Hoult says it was Karukoski who tantalized him with his interest in excavating Tolkien's imagination as much as the unknown parts of his life. "Dome's passion made him a fantastic guy to tell this story of perseverance and finding your voice. I don't think I've ever met anyone who is such a force of nature as Dome," muses Hoult. "It felt like a huge honor to play Tolkien in a way no one has seen."

Hoult dove headlong into research, reading everything he could find on Tolkien, but also looking for ways to make the role his own. "I read all the biographies, listened to recordings of Tolkien in later life, and went through all the photographs," says Hoult. "And the more you learn about Tolkien, the more you are amazed by all his achievements and ideas. Still, as an actor you have to reconcile with the fact that when playing a real person, you can only ever play a kind of ghost of them. You can't impersonate them, so you try to capture some of their living essence."

A big part of that essence for Hoult was Tolkien's loyalty to the boys in the TCBS, who became a kind of self-created family when he needed one. "Tolkien felt so connected to the members of the TCBS because they were all equally creative, whether in poetry, music or painting, and they also all shared a kind of irreverent love of mischief. They were the kind of friends able to push each other and encourage each other to go further. And at that time, Tolkien didn't have anyone else like that," expressed Hoult.

That's also why the TCBS mantra of Helheimr had so much power for Tolkien. For Hoult, Helheimr also became an inspiration for Tolkien's tenacity and refusal to give up on what he and Edith had together. Says Hoult, "I think Tolkien saw in Edith a tough survivor like himself. But I also think they just had a lot of crazy fun together. Their relationship only became more exciting because it had to be so secretive and they had to go through so much to be together."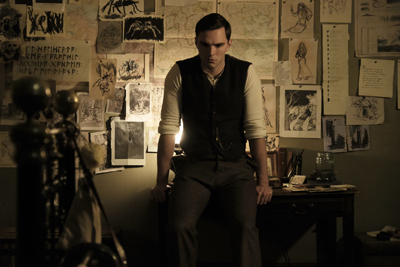 While Hoult plays Tolkien in young adulthood, it is newcomer Harry Gilby who plays the teenage Tolkien. Says Karukoski of Gilby: "When I first saw Harry, I was struck by the fact that he's almost as tall as Nick and he looks, and even walks, like Nick. He also had this sense of pure innocence that I felt captured something about Tolkien as a younger boy. I felt he brought out that playful, childlike quality that Tolkien always kept alive inside himself."

"Harry is a brilliant young actor," adds Hoult. "He was great to work with and we spent a lot of time together, learning to mirror each other's movement and mannerisms."

Gilby sees Tolkien's friendships as a life raft that pulled him to safety in dark times. "I think the TCBS became a way to distract himself from his grief for his mother," Gilby observes. "Having the outlet of the TCBS for having fun, making jokes, talking about literature and art and changing the world gave him happiness again."

The TCBS: Tolkien's Secret Society

"It was about gaining the trust of each of these young men"and also encouraging them to trust each other. You have to really feel that they not only get to know each other on that level that only best friends do but that they believe in each other."
-Dome Karukoski

Tolkien's first encounter with how much fellowship can mean begins when he arrives as a friendless newcomer at King Edward's School. Things rapidly turn around as he falls in with three mates who will develop into the rarest of inseparable friends: Robert Gilson, Geoffrey Smith and Christopher Wiseman. Together, they will form the Tea Club and Barrovian Society named for their mutual passion for sneakily sipping tea in the school library or at nearby Barrow's tea room. Each armed with a sharp wit and a desire to make a mark on the world, the TCBS will give each of these outcasts a place to express who they really are. In the privacy of the TCBS, they will share "everything under the sun," as Wiseman told an interviewer in 1987. "That was what bound us together."

Patrick Gibson and Albie Marber as "Robert Gilson"

The charismatic showman of the TCBS is Robert Gilson, who aspires to become a painter. Gilson also happens to be the son of the school headmaster, which brings him both power and despair, given that the glaring truth is that his iron-gloved father demands more of Robert than any other boy.

Taking the young adult role of Gilson is Patrick Gibson, known for his roles in "The Tudors" and "The OA." Gibson says that what unites the TCBS is "a sense of wanting to experience as much of life's most amazing and beautiful qualities as possible. Having grown up all his life in suburban Birmingham, Robert definitely has that feeling that there is a much larger world to explore."

While Gilson might be the natural leader of the group, Gibson also notes, "He's actually quietly struggling with his confidence. He's constantly trying to live up to his father's extremely high expectations, so he puts on this strong persona to cover up his doubts underneath."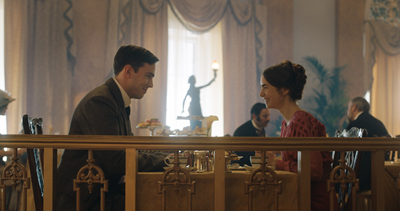 Playing the younger Robert is actor Albie Marber, recently seen in the "Outlander" series. Marber notes the young Gilson is initially skeptical about letting Tolkien join their ranks. "When Tolkien arrives that kind of disrupts the group at first. I think what they come to love about him is that he's so open and he starts to bring out really good things in everybody," says Marber.

Gibson describes the shared experience with Marber, "Albie and I spent a lot of time coming up with some subtle mannerisms that we could share. It was really great to see how the younger kids created this group dynamic for the TCBS that we then were able to jump into."

Anthony Boyle and Adam Bregman as "Geoffrey Smith"

The sensitive soul of the TCBS is found in Geoffrey Smith, a precociously talented poet and developing playwright whose family refuses to sanction his love of writing. Portraying Smith as a young adult is Anthony Boyle, a Northern Irish actor known for portraying Scorpius Malfoy in the West End and Broadway versions of "Harry Potter and the Cursed Child," for which he garnered both an Olivier Award and Tony nomination. Boyle notes Geoffrey relates to Tolkien more than the others. "I think Geoffrey's own feelings of isolation allow him to sense loneliness and that's why he engages with Tolkien, he knows that friendship can be a real beacon of light in the darkness."

Smith may not be an orphan like Tolkien, but his poetry has estranged him from his family. Only later will Geoffrey's mother (played by Genevieve O'Reilly) come to glimpse the depth of his promise. "His relationship with his mother is so difficult. There's love there but they don't know how to speak to one another," observes Boyle. "It really moved me to learn that Tolkien went to such great lengths to publish Geoffrey's poetry after the war."

Like the others, Boyle spent time working with his younger counterpart, portrayed by Adam Bregman, who recently played Pablito Picasso in the television series "Genius." "Adam's a brilliant actor so watching him gave me lots to incorporate into how Geoffrey speaks and moves," says Boyle.

Tom Glynn-Carney and Ty Tennant as "Christopher Wiseman"

The most candid member of the TCBS is the wisecracking Christopher Wiseman, who is already showing tremendous promise as a classical composer. Wiseman may have no filter when it comes to offering his opinions, but underneath is a young man confronted with his own inner turmoil.

"We're all quite different in terms of what we bring to the group," notes Tom Glynn-Carney, known for his role in Dunkirk, who plays the young adult Christopher. "Christopher is the one who just says what he thinks and doesn't consider the consequences. That gets him into a bit of trouble. But I think he also believes that the TCBS brings out the best in him."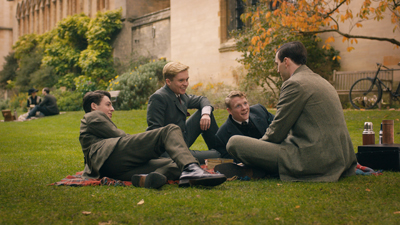 Wiseman and Tolkien develop a charged, competitive friendship full of lacerating wit and honesty. "I think Tolkien feels most threatened by Christopher at first," says Hoult. "He's already a published composer so that gets under Tolkien's skin a bit. Christopher always pushes just a little bit too far, and that brings out the anger and the fear that Tolkien has to confront."

Adds Glynn-Carney, "The sparring that goes on between Tolkien and Christopher actually builds a strong respect between the two of them. They truthfully admire each other's talents a lot." Playing the younger Christopher is newcomer Ty Tennant, who recalls that when he, Gilby, Bregman and Marber first met there was an alchemy no one could have predicted. "In an instant we all just got along," he says. "We all knew it was going to work because we had this natural kind of banter with each other that was really fun. And we saw that friendship carry over into the older actors."

Tolkien's Elf Princess: Edith Bratt

Even as Tolkien found companionship, solidarity and adventure with the TCBS, he was also finding unexpected common ground with a resident at Mrs. Faulkner's boarding house, Edith Ann Bratt, a rising young talent studying to become a concert pianist. Three years older than Tolkien, at first, she was just an intriguing housemate. But in 1909, they fell in love, which led Tolkien on one of his first and greatest quests. When Tolkien's guardian, Father Francis Morgan, decided Edith was spinning Tolkien's head away from his schoolwork, he banned them from dating. Yet even when Edith got engaged to another man, Tolkien continued to dream of reuniting.

"Tolkien and Edith had such a deep love and a connection that it could never be broken," says actress Lily Collins who takes on the vital role. "They were each other's escape but also each other's reality." Collins' recent roles include Rules Don't Apply, Okja and the upcoming BBC miniseries adaptation of "Les Miserables." At first it was her resemblance to the real-life Edith that caught Karukoski's eye.

"They look so much alike, it's uncanny," says the director. "And then I saw that Lily has that same inner warmth that I feel Edith must have had. There's so much texture to her emotions that you can see why the young Tolkien became so enraptured with her."

Says producer Kris Thykier, "We all feel Nick Hoult is becoming one of the great actors of his generation"and then we found his match in Lily Collins, who is simply luminous as Edith. Together on screen they are magnetic. They managed to tap into that sense of two lost souls who find each other and etch out a bond that's eternal."

Hoult says he found their chemistry organic from day one. "Lily brought so much grit, intelligence and grace to Edith that you could feel all this energy from her," he muses.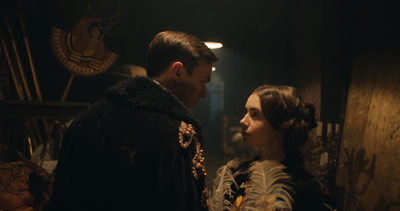 When Collins met Karukoski, her excitement level increased, realising the director aimed to create something more imaginative than a straight-ahead history of Tolkien's youth. "I saw that he wanted to take what could have been just a period drama and flip it on its head, to make it something both more creative and more human. His attitude and his ideas were just infectious," she says.

To go as deep as she knew Karukoski wanted her to go, Collins began seeking out as many personal remembrances of Edith as she could. "One of the things that really struck me was the fact that she and Tolkien truly did go to fancy places and throw sugar cubes into people's hats. That gave me some insight into what kind of spark and sass Edith must have had," says Collins.

As for why Edith would be drawn to this young man yet to accomplish anything, Collins says, "I believe she fell in love with his stories. Tolkien provided a creative escape I think she'd long been craving. They loved disappearing into his fantasy worlds together. Also, I think Tolkien had a sense of who Edith really was. He knew what it was like to be driven and creative, and I think she expanded his mind."

For Collins, the romance came to life so viscerally in part because she and Hoult share a similar work ethic. "Nick is one of the kindest, most down-to-earth human beings I think I've ever met," she says. "He also has an extreme dedication to his craft, an interest in doing everything he can to make his character better, while also really enjoying the experience. He was always so uplifting and so positive. If you decided you were going to go for something, he was right there, going for it with you."

Tolkein visits one of the most stirring episodes in Tolkien and Edith's life-long romance: when he spied Edith dancing in a grove of hemlock trees, which spurred in his vision the creation of Lúthien, the elven princess who sacrifices her immortality for the mortal Beren. Tolkien wrote of that moment: "I never called Edith Lúthien"but she was the source of the story that in time became the chief part of The Silmarillion. It was first conceived in a small woodland glade filled with hemlocks…in those days her hair was raven, her skin clear, her eyes brighter than you have seen them…"

Karukoski found it thrilling to recreate this real-life moment of elation that reverberated into Tolkien's fiction. "It captures two of Tolkien's two greatest loves and inspirations together: nature and Edith," he summarises.

In addition, Tolkein features two other well-accomplished actors playing Tolkien's guardian and mentor: Colm Meaney and Sir Derek Jacobi, who play Father Francis Morgan, the priest who became his guardian after his mother's death, and Professor Joseph Wright, the brilliant Oxford philologist who would ultimately take Tolkien under his wing as he explored the world of language.


Meaney, a Golden Globe® Award nominee for The Snapper who is also well known as Miles O'Brien in "Star Trek: The Next Generation," says the script stood out from the pack. "I wasn't very familiar with Tolkien's early life, so that alone was hugely interesting to me. But I felt also that every character, including Father Morgan, was very human and three-dimensional."

Father Morgan's real-life background intrigued Meaney. "He was quite a fascinating person who became Mabel Tolkien's friend and also her mentor when she converted to Catholicism. That's why he stepped in to watch over her two sons," he explains. "In many ways, Father Morgan was a hugely positive influence on Tolkien. Most importantly, he encouraged his education, realising that for a boy without resources, or a family behind him, going to university was extremely important."

Father Morgan though nearly blocks Tolkien from what will become one of the biggest influence on his life and work: his love for Edith. "I imagine Morgan was rather alarmed at seeing a very young Tolkien getting distracted by this older woman, so he felt it his duty to intervene," says Meaney. "Fortunately, later he realised that Edith was a wonderful person and he admitted as much to Tolkien, telling him you were right to pursue her and I was wrong. Which for a priest of that time, was quite big of him really."

Derek Jacobi, considered one of the great stage actors of our time, and a Tony, Olivier and Emmy® Award winner, brings the necessary mix of intellect and eccentricity to the role of Professor Joseph Wright, Tolkien's mentor. Jacobi admits he has never read Tolkien, but nevertheless he found the script "a rattling good story."

"Wright was an entirely self-made man," Jacobi notes. "He was illiterate in his early teens, taught himself to read and went on to become a very eminent Oxford professor." In the film, Wright first encounters Tolkien on a drunken campus rampage. When Tolkien starts ranting in a made-up but cleverly constructed language, Wright can't, in spite of his annoyance, admit this insolent student might have something special. "It turns out that they're twin souls," observes Jacobi, "with a mutual love of the meanings, feelings, poetry and power of words. For Tolkien, Professor Wright is the only other human being he's ever met who shares his passion for language and I think just knowing that encourages him greatly."

Tolkien's Real World

Karukoski worked with a highly creative team including cinematographer Lasse Frank, who also shot Karukoski's Tom Of Finland, production designer Grant Montgomery (television's "Peaky Blinders"), costume designer Colleen Kelsall (The Bridges Of Madison County), editor Harri Ylönen (Tom Of Finland) and 14-time Oscar®-nominated composer Thomas Newman (Bridge Of Spies).

At the heart of Tolkein is the way that the material world all around us"from an ancient, gnarled tree to a pastoral farmhouse to the belief in the face of a friend or lover"can spark the wildest, most evocative imaginings. Hoping to explore how that enchantment works, Dome Karukoski knew he had to first craft a very detailed reality for Tolkien. Only then could he overlay the haunting shadows and ravishing visions that could become the foundation that later might have shaped Middle-earth.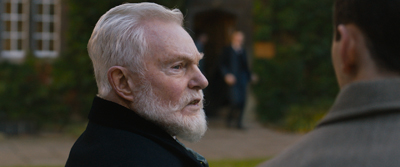 From the start, Karukoski saw the natural world, childhood memories, the horrors of war, the wonders of a peaceful home life " what must have been Tolkien's greatest influences, as the film's visual building blocks. He also saw the film as divided into three distinctive looks: Tolkien's school days are charged with color and innocence; then the war brings a swirling darkness; and finally, Tolkien emerges into the fresh light and serenity of family life.

Cinematographer Lasse Frank had an idea that the camera would feel inseparable from Tolkien. "The camera always moves with Tolkien and his emotions. So if Tolkien sits and is in peace, the camera sits. If he moves or he is in turmoil, the camera amplifies or embodies that feeling with movement. Not all of the locations allowed this, but it gave us a really close experience to our actors and our main character," the director explains. The sets also needed to have a sense of life to them, real but just a little dreamy, the way a blossoming writer might see the world, a task that fell to production designer Grant Montgomery. "I approached the film as a love letter to Tolkien and all the things that mattered to him," he says.

Though the film starts on the battlefield, it soon cuts to Tolkien's childhood home in Sarehole, which was key for setting the tone of his childhood. "Sarehole was later the inspiration for the Shire, so that was really important. Tolkien always loved the trees there," notes Karukoski. "We really wanted to bring out the idea of those trees having a life of their own in his mind."

Archival research helped Montgomery to recreate Mrs. Faulkner's boarding house, where Tolkien first meets Edith, as an atmospheric haven. "It was this huge Edwardian house that probably hadn't been redecorated in twenty years. The place had dark feeling because Mrs. Faulkner liked medievalism and Gothic revival, visual references that also echo where Tolkien went with his writing, with all the dragons, knights, magic and fantasy," says Montgomery.

Since the bombs of World War II largely destroyed turn-of-the-century Birmingham, the production utilized Liverpool, which still retains some pre-World War I architecture. There, they recreated Barrow's Bookshop, with its tempting tea room that draws the TCBS club to meet there, using Liverpool's St. George's Hall, a distinctively 19th Century building in the neoclassical style.

The Grand Hotel where Tolkien and Edith threw sugar lumps into guests' hats was recreated in Liverpool's Town Hall in gilded tones. "I wanted a rich, dream-like quality to the hotel, so that you feel you've gone from the darkness of Mrs. Faulkner's to this real sense of light," Montgomery explains. The set of King Edward's School, recreated in the Victorian-style Rochdale Town Hall in Manchester, was lined with Gothic delights.

To shoot the scenes in Oxford, Karukoski felt only the real thing would do. "Oxford was not only where Tolkien's intellectual life was centered"it's also where he and Edith made their family. There was for all of us a feeling of magic to being there," says the director.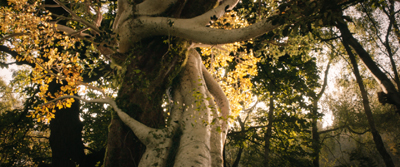 That same mix of historic accuracy and aliveness was sought in the costumes. "These young people were so full of life that I didn't want period clothes that might drain them of that," Karukoski says. "I wanted the costumes to have a modern fluidity and Colleen found wonderful ways to do that. I also fell in love with Colleen's idea to color the dresses and costumes by using the same color palette that Tolkien used in his own real-life illustrations."

Upon reading the script, costume designer Colleen Kelsall knew she had her work cut out of for her. "It's a story with four different time periods and elements that range from war to fantasy," she notes. "So we started with a tremendous amount of research and from there we really tried to pour all that we learned into the personalities of these wonderful characters."

Tolkien, ever the outsider, always stands out in his clothing. "That was a fantastic idea that Colleen had," says Nicholas Hoult. "In school, Tolkien is always well attired, as you were in that era, but not quite as well as the other boys, so you sense the difference. Then in later life, there are elements to his clothing that are quite earthy and natural."

While Kelsall's mantra was to keep everything accessible and contemporary in feel, she admits it was easy to "get quite geeky" with the mass of Tolkien lore the production had at their disposal. They could not resist adding in some Easter eggs for ardent fans. "We even added details to some of the knight's armor you see reflecting Tolkien's interests in languages, poetry and religion," Kelsall says. "Most people won't notice but it gave us great satisfaction to have Tolkien's spirit in everything."

Rounding out the filmmaking team is 14-time Oscar®-nominated composer Thomas Newman who has created scores for films including Bridge Of Spies, Skyfall, Wall-E and American Beauty.

Karukoski says of working with Newman, "Since I was 12, I've heard Tolkien's world and Middle-earth in my head in a very specific way. The ethereal and mythological soundscape that Newman often has felt just right. We worked on the music for almost a year and started even before he had screened the first cut. To watch this master create sounds with instruments I've never seen in my life was an experience I will never forget. It was pure magic."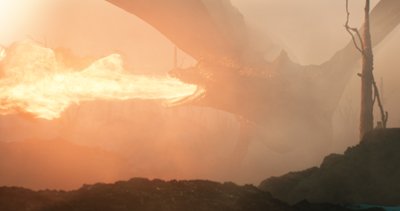 Tolkien and the Great War

Tolkein begins in a world of fire and ash so eerie, it could be straight out of a dark fantasy, but is in fact the French battlefields of World War I. In the midst of the raging Battle of the Somme, where so many promising young men will give their lives, Tolkien staggers through a maze of desolate, fog-shrouded trenches in a feverish haze, searching for a friend. It's an apt starting point not only to dive into the film's central theme of fellowship, but also because few events would have more impact on Tolkien than the unthinkably vast human destruction and personal losses of World War I.

The so-called Great War was the world's shattering introduction to industrial warfare, rife with many new kinds of explosive, rapid-fire and chemical weaponry capable of causing mass casualties the likes of which had never before been seen in history. Some 10 million soldiers, including a staggering 700,000 British armed forces, would lose their lives in the war and Tolkien himself expressed doubts in his letters that he would survive to come home to Edith.

Yet, even in the hellscape of the trenches, Tolkien's imagination was at work, as he began writing notes by candlelight on some of the characters who would become the lifeblood of the legends he would create. Tolkien was always clear that the exact events of The Lord of the Rings saga, as written, are not meant to correlate to specific events in either world war. But his experiences in the first war, and the loss of his close friends, impacted him greatly.

To probe the deep links between the war and Tolkien's work, Karukoski aimed for an otherworldly quality to the war scenes, as the infamous No Man's Land of the Somme blends with Tolkien's churning fantasies and hallucinations into something mythic. "Death was so close to Tolkien in that time," notes Karukoski. "In those moments imagination often takes over and you see into the darker catacombs of your mind. Tolkien must've felt that. Experienced the dread and darkness. I believe that him seeing evil and darkness is the emotion he took from war. I wanted to bring that into this story."

To understand that reality, Grant Montgomery immersed himself in photography from the trenches as well as first-hand accounts. Though images from the Somme are all in black-and-white, Montgomery learned that the trenches were so laced with chemicals that the air had a yellow tinge, while the water turned red with oxide, which he used to chilling effect. "The colors would have been very surreal," he says, "which works cinematically because in our film we show Tolkien having these vivid hallucinations."

Over a period of 10 weeks, the production dug a maze of trenches across 15 acres in the Cheshire countryside, just south of Manchester"then dotted the landscape with 30 foot-high polycarbed trees, treated to appear burnt, full of shell holes and hung with branches lined with rats attempting to escape the deadly gas below. As filming began, nature unleashed an unusually heavy rain, upping the authenticity. "The rain made it more difficult to work but it also replicated a bit of how it was for the soldiers in the trenches – up to your ankles in mud," says Montgomery.

Recalls Karukoski: "Everyone was really excited as the start of filming in the trenches but by the second week everybody wanted out! People were tired and exhausted because the conditions made the experience so real. What Grant and his team were able to achieve was just phenomenal."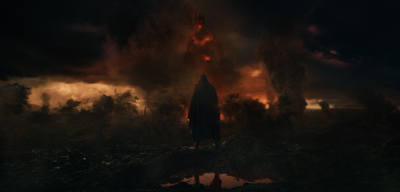 The realism of the environment also helped to evoke the urgency of Tolkien hoping against hope to reunite with his dear friends. Hoult recalls that during the scene in which Tolkien reads a letter from TCBS member Geoffrey Smith, "Dome and I both just started crying. We felt so invested in these characters."

While Tolkien was evacuated due to his severe illness, it would take years for him to recover and to absorb all that had happened. In that time, it was Edith who helped restore him not only to the joys of everyday life but also to reignite his creative fire. What emerged from his pen after that time of grief and reconciliation would keep coming back to the dualities he'd experienced: courage and fear, love and loss, peace and battle, the dark powers of evil and the light of friendship.

Summarizes Karukoski: "Creating Middle-earth took J.R.R. Tolkien nearly his entire life, but it all began in his love of childhood stories, then it blossomed through his friendships with the TCBS and was deepened by the darkness of war. With the understanding of an artist, he made out of it all an adventure of love, fellowship and creation."

J.R.R. Tolkien: The Facts

-John Ronald Reuel Tolkien was born on January 3, 1892 in Bloemfontein, Orange Free State, South Africa to an English couple: banker Arthur Tolkien and his wife Mabel.
- When Tolkien was three, he returned to England with his mother and brother Hilary to visit family. Tragically, while they were gone, his father died of rheumatic fever in South Africa. With no income of her own, Mabel and her boys were forced to live with her family in Birmingham.
- In 1896, Mabel, John Ronald and Hilary moved to the rural hamlet of Sarehole, a mill town near Worcestershire, in the pastoral fields of the West Midlands. This area of tremendous natural beauty would later inspire the Hobbit's shire and other villages in Tolkien's writing. He also spent time at his Aunt Jane's farm, Bag End, a name later used for the home of Bilbo Baggins. Mabel home schooled John Ronald and Hilary, sharing her own love of languages, stories, plants and trees.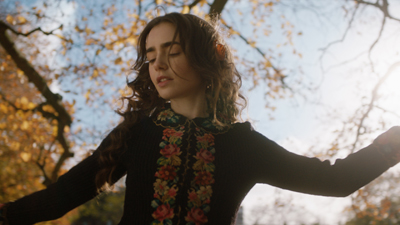 - Around 1901, Mabel moved the family to King's Heath in urban Birmingham, to a house adjacent to a railway. Tolkien soon became a scholarship student at King Edward's School (a boy's school founded by King Edward in 1552) in Edgbaston, Birmingham.
- In 1904, Mabel died at the age of 36 from acute diabetes (two decades before insulin was invented). At 12 years old, Tolkien was left without parents. Mabel's close friend and religious adviser, Father Francis Morgan, was assigned the role of guardian to the two young Tolkien brothers and would oversee their finances and education until adulthood.
- In 1911, Tolkien formed the TCBS (Tea Club and Barrovian Society) with fellow students and close friends Robert Gilson, Geoffrey Smith and Christopher Wiseman. Named in honor of Barrow's, the store close to their school where they enjoyed tea, cake, books and highbrow debate, the club became a haven for each of them to explore their aspirations.
-Tolkien met Edith Bratt at 16, when he and his brother began living at a boarding house where she also resided. Also an orphan, 19-year-old Edith was then studying to be a concert pianist.
-Tolkien and Edith began falling in love, but when Father Morgan saw Tolkien's schoolwork slipping, he prohibited them from seeing one another until Tolkien turned 21, leaving Tolkien heartbroken.
- In October of 1911, Tolkien began his studies at Exeter College, Oxford. He initially studied Classics but switched to English Language and Literature in 1913. In 1915, he graduated from Exeter with first class honors.
- On his 21st birthday, Tolkien wrote to Edith and proposed, only to learn that she was already engaged, convinced she'd never hear from Tolkien again. In January of 1913, Tolkien and Edith met at Cheltenham Station, where she agreed to marry him. Three years later, they had their wedding.
-Tolkien enlisted to serve in World War I in 1915. He was posted to the trenches in June 1916 as part of the 74th Brigade, 25th Division and found himself in the Somme in July of that year. After coming down with trench fever in the fall of 1916, he was evacuated back to England, where he later learned most of his battalion was completely wiped out in the ensuing battles.
- Two of Tolkien's dear friends and TCBS members, Robert Gilson and Geoffrey Smith, were killed in the war.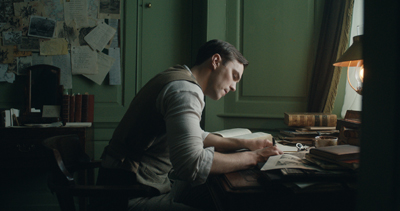 -Following a long recovery and the birth of his first child with Edith, Tolkien took his first civilian job working as an etymologist for the Oxford English Dictionary. He then became the youngest professor ever hired by the University of Leeds. He returned to Oxford in 1925 as the Rawlinson and Bosworth Professor of AngloSaxon.
- In 1937, Tolkien published The Hobbit to wide critical acclaim. In 1954 and 1955, he published the three volumes of The Lord of the Rings, which would become one of the best-selling novels ever written, read by millions in nearly every language and an enduring influence on popular culture ever since.
-Tolkien and Edith had four children and their love endured for the rest of their lives. Edith died in 1971 at the age of 82. On her tombstone in Oxford cemetery, Tolkien inscribed the name Lúthien, the name he gave the ravishing Elven princess who sacrifices immortality for love in Middle-earth.
-Tolkien died on September 2, 1973 at the age of 81. Inscribed on his tombstone under his name was Beren, the mortal for whom Lúthien sacrificed so much.

Tolkien
Release Date: June 13th, 2019