Long Shot
Cast: Andy Serkis, Seth Rogen, Charlize Theron, Randall Park, O'Shea Jackson Jr., Alexander Skarsgård
Director: Jonathan Levine
Genre: Comedy
Rated: M
Running Time: 125 minutes

Synopsis: Charlotte Field (Charlize Theron) is one of the most influential women in the world. Smart, sophisticated, and accomplished, she's a powerhouse diplomat with a talent for.well, mostly everything. Fred Flarsky (Seth Rogen) is a gifted and free spirited journalist with a self-destructive streak. The two have nothing in common, except that she was his baby sitter and first crush. When Fred unexpectedly reunites with Charlotte, he charms her with his self-deprecating humour and his memories of her youthful idealism. As she prepares to make a run for the Presidency, Charlotte impulsively hires Fred as her speechwriter, much to the dismay of her trusted advisors. A fish out of water on Charlotte's elite team, Fred is unprepared for her glamourous and high stakes lifestyle. However, sparks fly as their unmistakable chemistry leads to a round-the-world romance that becomes embroiled in a series of dangerous and outlandish incidents.

Long Shot
Release Date: May 2nd, 2019


Interview with June Diane Raphael
You've probably seen June Diane Raphael in many of the numerous comedies in which she's appeared including the movies: The Disaster Artist (2017) Anchorman 2: The Legend Continues (2013), as well as pivotal roles on the small screen in comedies such as Grace and Frankie, which she has appeared regularly since 2015, as well as Curb Your Enthusiasm, and Fresh Off the Boat.

In Long Shot she stars as Maggie Millikin, assistant to Charlotte Field, the Secretary of State (Charlize Theron) who has ambitions of becoming President of the United States. Milikin isn't fond of Field's budding relationship with a troublesome and unemployed journalist (Seth Rogen), whom she can barely tolerate.
Question: You've worked with Seth Rogen several times. Do you feel you're part of a comedy fraternity?

June Diane Raphael: In some ways, yes. I worked with Seth on Burning Love, I did a scene in Neighbors that wasn't actually in the film, and then I did Blockers. The really wonderful thing about Seth and his whole team is that they have a repertoire of actors that they return to and I am thrilled to be considered in that company. My husband (Paul Scheer) and myself started out like so many people at UCB (Upgrade Citizens Brigade) where we learned to improvise. So, there's a shared language and trust especially when you all come from literally the same school of performance. Many of the people from my class in Improv 101 are the same people now in my professional life. It's really special.


Question: Are you a fan of romantic comedies? They haven't been as popular of late - why do you think that is?

June Diane Raphael: I am a fan of romantic comedies. I loved watching them and I was sad when they went away. I think comedy went through a period where these roles were problematic for women. The idea that the woman was always going after the guy and wanting the guy so badly at the cost of everything else, deserved to be examined. This movie addresses that and has a much more modern take on it all.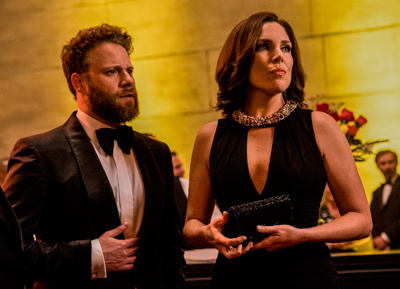 Question: Do you think romantic comedies in general can set unrealistic expectations?

June Diane Raphael: Well, I think for all of us, you have to know that what's on screen is not real life. But I do think representation does matter. And seeing women in a role like Charlize is playing matters. It's important to see women in powerful positions who also have a full range of emotions, and are flawed and not perfect. I think these things do matter and when you're growing up and looking at reflections of yourself and not seeing any reflections of yourself, it can have a negative impact. So I think all of these conversations are only a good thing for movies and TV.


Question: Can you talk about working with Charlize Theron and what surprised you about her?

June Diane Raphael: I was surprised how funny she is and how naturally gifted she is as a comedienne. But I also was surprised at just how she sets the tone on set and how warm and encouraging she was to everyone, but definitely to me. She really wants everyone around her to succeed and in that way she is a very generous person. She just really put me at ease and made me feel like I was supposed to be there and I really appreciated that. And she really believed that her onscreen team of people should not be an all-male group of assistants and minions around her, and she definitely wanted the role I play to be a woman, which of course I appreciate because I am in it! (laughs). I think she really wanted to see these two women in these roles supporting each other and not being at odds and not having any element of cattiness between them. I don't think we see great representation of female friendships and support teams, at least professionally speaking, that are portrayed in a positive manner. So I really respected that about her and her vision for what the character is and what she wanted to portray.


Question: She is quite an intimidating presence.

June Diane Raphael: Yeah, well you see her as an action star and with a gun most of the time (laughs) I was definitely very scared, I had no idea what to expect. And I think I was just so shocked at how warm she was.


Question: Would you say that the key to comedy is to not to be afraid to fail and make a fool of yourself?

June Diane Raphael: I think so. At least that's the way I do it. I think the best stuff can sometimes happen when you think, 'Oh, I am just going to try this and if they yell at me, they yell at me, and if it's horrible, it's horrible.'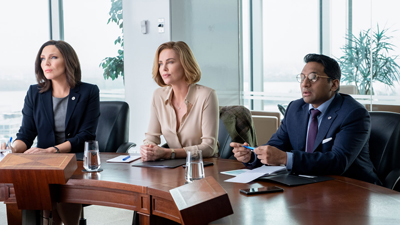 Question: As a woman, is that more difficult? Did you feel you have to try harder?

June Diane Raphael: No, I don't feel that but I am aware of being a woman and the vanity issue that goes with it in terms of having to worry about how I look. When you're doing comedy, you really have to let that go in many ways and not worry about it, and yet of course there is still a lot of pressure to look good and to look a certain way. So that is where I think I struggle, to fully let that go. It's something I want to work toward, but I wouldn't say I'm there yet.


Question: When did you realise that you were funny?

June Diane Raphael: I am waiting to realise that. (laughs) I haven't yet. Work in progress over here. I love doing comedy, I love being in comedies and I care about it very deeply and I always wanted to be good but I still feel like I am very much still working toward that. I don't think I am funny at all, but I absolutely love the feeling of making someone laugh.


Question: In this politically correct climate, is it trickier to do comedy because people are so easily offended?

June Diane Raphael: I do think it's important to create and have a safe creative space in which you can be free and be free to fail and be free to say what is on your mind and work from instinct. And also, it's important to make sure that space is safe for everyone. So I think that the conversations around whether words or actions have a negative impact on someone, regardless of what the intention might be are valuable and worth thinking about. And to me it means it will create stories that are more representative of more people and that is only a good thing. So I don't agree with the idea that it's going to hurt comedy and comedians can't say what they want anymore. I think truthfully more comedians are going to be represented to say exactly what they want, and that is a great thing.

Long Shot
Release Date: May 2nd, 2019