Relic Takes Sundance By Storm
Australia's own Natalie Erika James has debuted her first feature at the Sundance Film Festival to rave reviews. Starring Emily Mortimer, Bella Heathcote and Robyn Nevin, the film is building impressive groundswell ahead of its 2020 cinema release.

The unnerving psychological horror has swiftly garnered glowing critiques from top film critics and genre aficionados. Horror website, Bloodydisgusting.com, gave RELIC the stamp of approval with 4.5 stars, stating the film "Presents bone-chilling and devastating depiction of dementia" with journalist, Megan Navarro, describing it as "fav of the fest". While Daily Dead called it a "Monstrously impressive debut from Natalie Erika James". The film has also secured a 100% fresh rating on Rotten Tomatoes.

A story inspired by her own family's experience with Alzheimer's disease. Natalie recalls, "The original inspiration for RELIC was drawn from personal experience, of my grandmother having Alzheimer's and looking at the changing relationship between her and my mother. And the shifting dynamics within a family when the parent assumes the role of the child." At its core, RELIC explores the fear and heartbreak of dementia and ageing through a horror lens.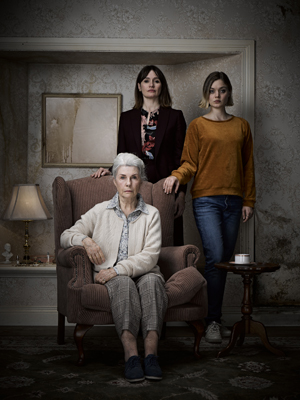 Interview with Natalie Erika James
Question: Can you tell us about Relic?

Natalie Erika James: RELIC is a psychological horror that follows three generations of women as a manifestation of dementia takes over their family home. It's a story about the heartbreak and tragedy of aging and Alzheimer's and the shifting dynamics between parent and child as people age.


Question: Where did the inspiration for the film come from?

Natalie Erika James: RELIC comes from a personal place; it was inspired by my own grandmother and her battle with Alzheimer's, as well as her shifting relationship with my mother. I think having to confront your parents' mortality – and your own by extension – is such a scary but universal concept. There's a specific tortuous quality to Alzheimer's and watching someone decline in its clutches. If there's one person in the audience who watches the film and it resonates with them on a level that helps them process their experience with the disease, I'll feel like I've achieved what I set out to do.


Question: Was it difficult to relive certain aspects of that time, when creating Relic?

Natalie Erika James: I think particularly in the writing process, there were definitely times when it felt emotionally taxing. But I think you can't help but write about what's important in your life. And usually when your own writing affects you, that's when you know you're being truthful. It's a little bit easier to distance yourself when you're on set because there are so many things demanding your attention. Having said that, there was one specific scene in the film where Robyn Nevin's performance moved me to tears aboutfour times while we were shooting it!


Question: How did you go about casting Emily Mortimer, Bella Heathcote and Robyn Nevin in Relic?

Natalie Erika James: I'd been a fan of all three of them for a while, and was lucky enough to sit with them individually while I was in the U.S. It was clear to me from those initial meetings how much they all responded to the script, and seemed to have an innate understanding of their characters and what the film was trying to say. So I really lucked out with my cast, all three of them so immensely talented and passionate, and so supportive of a first-time director.


Question: What did you learn about yourself during the filmmaking process?

Natalie Erika James: Tough question! I think I learned how to trust my instincts a little bit more during the making of the film. In my short films I'd been used to having the time to plan everything, but there were way too many variables and shifting parts on the feature to be able to do the same amount of preparation. Being able to ride the chaos and improvise a little more was something I had to learn to get used to.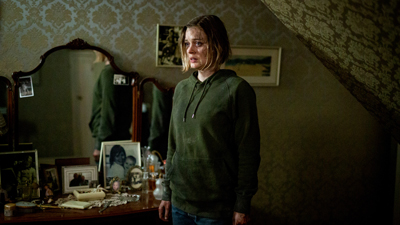 Question: How did it feel to debut Relic at the Sundance Film Festival?

Natalie Erika James: It was our first time screening it in front of an audience of more than 10 people, so it felt incredibly nerve-wracking initially. We had a full day of press interviews before our midnight screening, so it was a long and surreal day. But there was a lot of excitement and joy as well, especially being able to share it with friends and family. I remember being incredibly wired, even after the screening – I don't think I slept that night.


Question: How did it feel to have Relic receive a 4.5 star rating?

Natalie Erika James: I felt a massive amount of relief to begin with. I'd actually told myself I wasn't going to read any reviews while I was at the festival, but my friends and family kept sending me links so that quickly went out the window. Making a feature film is such a long process. You watch the film hundreds of times during post-production and over time you start to lose perspective on your own work. So after years of working on the film, it was intensely rewarding and downright emotional to get such a positive response.


Question: What's next for you and Relic?

Natalie Erika James: Next up, we're taking the film to a festival called SXSW in Austin in mid-March. We're in the Midnighters program, and I hear those audiences are particularly enthusiastic, so I'm pretty excited. As for me, I'm writing several new projects, one of which is a Japanese folk horror called DRUM WAVE.


Interview by Brooke Hunter