Naked Glow The Lift
Face Lift In A Jar
Instant lift and glowing skin is the promise from Naked Glow The Lift collagen-building, anti-wrinkle daytime treatment.
Infused with patented Skin Fabrica Complex, Biopeptides CL and Scandinavian extracts, Naked Glow The Lift works as an instant line filler, radiance booster and long-term line plumper. It's an anti-ageing breakthrough that gives instant and long-term results for smoother, more youthful-looking skin.
The true star of The Lift is Skin Fabric Silica Complex - a micronised powder derived from organic cotton fibres. The micronised cotton fibres are bonded with natural silica, resulting in a silky, smooth crème base with brilliant unique optical light scattering capabilities. Skin Fabrica Complex can provide an immediate reduction in the appearance of fine lines, by filling in the wrinkle or crease and acting as a strong light diffuser. Overall, the skin will be smoother and more youthful-looking.
A concentration of 5% Biopeptides CL in The Lift - the maximum found in any skin care product - encourage the production of collagen in skin. Collagen is one of the proteins found in the connective tissue of humans. In skin, it literally plumps out fine lines, thus decreasing the appearance of wrinkles. In fact, the biopeptides used in Naked Glow The Lift are clinically proven to reduce deep wrinkles by as much as 39% after repeated use.
The Lift uses Biopeptides CL which are made up of Ogliopeptides. The activities of these peptides are very diverse: they can play the roles of messengers, stimulants, enzyme inhibitors and neurotransmitters. Biopeptides CL also contain a tripeptide that stimulates the synthesis of collagen. Since wrinkles are nothing more or less than the depletion of collagen in the skin, The Lift helps to promote collagen production, lessening the appearance of visible imperfections, fine lines and wrinkles.
Skin Fabric Silica Complex combines with the other ingredients in The Lift (biopeptides and antioxidants - Black Currant and Sugar Beet extracts) to fill in fine lines and wrinkles and mask minor imperfections. Its natural fibre feels like a breathable, lightweight cotton sheath.
Naked Glow The Lift creator, Marita Taberman Coccaro said: "Because the amount of collagen decreases as we age, you need to use a product that has the ability to build collagen within the skin for a more youthful appearance. The biopeptides and revolutionary Skin Fabric allows us to do just that. With Naked Glow The Lift, we've managed to create a virtual face lift in a jar."
Naked Glow The Lift - connecting beauty, science and nature for perfect skin today and tomorrow. For maximum results, use daily for four weeks.
NAKED GLOW THE LIFT RRP $79.95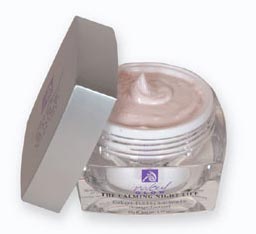 Naked Glow Calming Night Lift
The 24 hour face lift
Wake up to rejuvenated skin with Naked Glow Calming Night Lift - a collagen building anti-wrinkle night treatment.
This latest product innovation joins the innovative anti-ageing The Lift skin care line up of day cream and eye cream, giving you 24 hour face lift action.
Naked Glow The Calming Night Lift provides intensive overnight skin repair and renewal. As cell renewal works at its optimum when skin is at rest, this formulation has been specifically developed to work deep within cells to rejuvenate overnight so that you wake up to fresh, glowing, smooth skin.
Calmosensine peptide™ is the key ingredient that helps relax lines and promote tranquillity by relieving muscle tension responsible for wrinkle formation. Calmosensine™ is the first cosmetic active that acts as a messenger for the senses, helps put skin at ease, encouraging a comfortable, relaxed sensation. It also stimulates endorphins to de-stress - giving your skin some much needed relaxation.
Biopeptide CL helps activate collagen production, reducing lines and wrinkles after repeated use. Fresh bursts of encapsulated vitamin C deliver potent antioxidants to help fight free radicals.
Naked Glow The Calming Night Lift is also infused with anti-ageing botanical and vital extracts, such as Marula Oil, Aloe Leaf, Black Currant, Coconut Oil and Sugar Beet Extracts, to heal and revitalise
NAKED GLOW THE CALMING NIGHT LIFT RRP $79.95
Available at leading pharmacies, day spasand salons. For stockist information contact Total Beauty Network 1300 765 332
www.tbn.com.au