A Journey into the Heart and Soul of Michael Hutchence
Director: Richard Lowenstein
Genre: Documentary
Running Time: 102 minutes

Synopsis: MYSTIFY Michael Hutchence is a powerfully intimate and insightful portrait of the internationally renowned INXS frontman, Michael Hutchence. Deftly woven from an extraordinary archive of rich imagery, Michael's private home movies and those of his lovers, friends, and family, the film delves beneath the public persona of the charismatic 'Rock God' and transports us through the looking glass to reveal a multifaceted, intensely sensitive and complex man. For an all too brief time, we revel in Michael's Dionysian beauty and sensuality on stage and off. We listen to the range of his extraordinary voice and witness the charmed way he travels through life as he is propelled to world acclaim.

But Michael struggled with the idea of success, the creative limits of pop stardom and how to express his integrity; a longing that shaped his life and music and gave birth to a desire to go far beyond the constraints of pop.

A violent event strikes Michael and changes his life forever, fracturing his sense of self and robbing him of his connection to life. Made vulnerable, he is unable to navigate the complex challenges he faces moving forward and he has little defence against the onslaught of tabloid press that descends upon his world. Amidst the encroaching darkness, Michael's new-born daughter, Tiger, becomes his one bright light.

Richard Lowenstein directed the majority of both INXS and Michael's music videos and the 1986 feature film, Dogs in Space, in which Michael played the lead.

Mystify Michael Hutchence
Release Date: July 4th, 2019


Director's Statement – Richard Lowenstein
Michael Hutchence was an international and Australian rock and roll icon. Up to this point in time, there has been a lot of fiction written and portrayed as to who he was both as a person and as a performer. Through our continued work together, Michael and I became close friends. We connected both as friends and artistic collaborators and ended up spending a lot of social and work-related time together over the ensuing years.

Our production company, Ghost Pictures Pty Ltd and its three creative partners, Andrew de Groot, Lynn-Maree Milburn and I, had produced and directed the majority of both the INXS and Michael Hutchence solo project (Max Q) music videos, long-form compilations and live concert films throughout Michael's career. Michael also played the lead role of 'Sam' in the dramatic feature film, Dogs in Space that we produced and directed in 1986.

The narrative of MYSTIFY and in fact, Michael's entire life story, flows along the arc of a classic Greek tragedy, complete with its own savage 'deus ex machina' along with a unique musical chorus of song and freeform dance. For such a shy and private man, Michael's fall from grace was to become cruel and very public. Seemingly out of the blue, his personal life unravelled in a mess of salacious tabloid gossip, half-truths and rumour-mongering that defined his last days.

Thematically, MYSTIFY Michael Hutchence is about the connection, trials and tribulations of family. Not just the family you are born with, but the families one falls into along the pathway through the journey of life. A rock and roll band, a shared house, a partner's 'instant family', and a film crew and set all offer solace along the way. As a brother, son, and young man, Michael attempts to come to terms with the fracturing in his own family whilst trying to grasp on to the seeming stability of other families that he encounters. The drama is about the challenges of sustaining meaningful human relationships as one tread the precarious path of artistic satisfaction, celebrity and fame in the notoriously volatile, viciously cruel and exploitative world of contemporary pop music.

As the years went by after his passing, the fictionalisations and tabloid gossip grew around the real story until what was left was barely recognisable. There were fantasy-laden press releases, tabloidstyle documentaries, 'tell-all' articles, reality shows, attempted feature films, and TV dramas. None of them bore any resemblance to the man and performer I had known for over a decade. There finally came a time when I felt that the hype had calmed down and enough time had passed for someone who had known him well and respected that relationship, to physically and emotionally tell a genuine and respectful chronicle of his life.
That's when the interviews began.


The Chronological Story
Michael's childhood was glamorous and unconventional, but also fractured and dysfunctional. His early years were spent in '60s era Hong Kong, with parents Pat and Kell moving in the expat film industry social circles. Michael's world comprised living in hotels while his distracted parents entertained most evenings with actors, filmmakers, investors, and fashion icons. However, family life itself was strained and complicated and far from a supportive, open and trusting family environment – there was distance and mistrust. From a very early age, Michael was shaped by the values of fame, fortune, social and sensual pursuits.

Michael and his younger brother Rhett were close. Yet they weren't treated equally by their self-absorbed parents. Rhett became the 'black sheep' and Michael the 'chosen one'. The family moves back to Sydney in the mid '70s, and Pat and Kell's tumultuous marriage soon disintegrated. One pivotal day, Pat leaves secretly for L.A. and makes the extraordinary decision to take 14-year-old Michael to live with her, leaving the distraught 12-year-old Rhett behind at Sydney airport, in the custody of a baby-sitter. Michael would carry the feeling of guilt for being the chosen one and abandoning his brother for the rest of his life. T wo years later, Michael returned to Sydney with a head full of L.A. influences and a lost virginity. His accent was a combination of Hong Kong British and slightly Australian. He stood out like 'The Man Who Fell To Earth'. He re-united with his brother Rhett and schoolmate Andrew Farriss and with his love of poetry, books and reading firmly established, joined their Farriss Brothers band as a lead singer. Their influences were R&B, Soul, Brian Eno, Bob Marley, Roxy Music, Punk, post-Punk and Ska. The band learned their craft playing parties and pubs in the regional areas of Australia, the suburbs of Melbourne, Sydney, Perth and touring the isolated mining towns of Western Australia.


In 1977, the Farriss Brothers returned to Sydney and started to play their own original material. They renamed themselves INXS and played incessantly, developing their skills and building up a loyal following as Michael honed his performance skills from gawky and self-conscious, to the confident and uninhibited performer that he became internationally renowned for.

Despite his inherent shyness, Michael's magnetism beguiled, whilst his relaxed flirtatious charm had an honest and appealing nature to it. He easily seduced others: as a performer, a gourmand, a friend, a collaborator or a bohemian lover. He hated being alone, and it wasn't long before he met his first serious partner and poetic muse, Ananda.

After four years of paying his dues playing continuously in the pubs, parties, clubs and venues of both the east and west coast of Australia, Michael met Michele Bennett. Michael fell head over heels and their relationship was involving, exciting and honest and lasted several years. Despite the profound connection, Michele became increasingly alienated by Michael's highflying career and the inevitable trappings of success and after five years they finally separated. She was, however, to remain a long and powerful influence on Michael's life, representing stability when he was surrounded by the dysfunction of fame. They remained extremely close right to the very end.

Catapulted by the success of the KICK album in 1986, which spawned four top ten hits in the US, INXS began a two-year world arena tour and sold nearly 10 million copies of the album in only two years.

Although Michael and INXS were as inextricably connected as a n y family, there was a growing creative frustration on Michael's part. In 1989, INXS took a year off and Michael collaborated with renowned Melbourne post-punk musician Ollie Olsen who pulled together an eclectic bunch of musicians and spawned both a band and the much-praised studio album, MAX Q. MAX Q's critical success fed Michael's soul but the lack of support and its ultimate commercial failure was a huge disappointment.

As the band began to emerge from their year long hiatus Michael appeared with renowned pop princess, Kylie Minogue at his side. He was credited with the 'corruption' of the squeaky clean pop star Kylie during their two-year partnership. T h a t r e l a t i o n s h i p was c l o s e l y followed by a four-year relationship with m o d e l Helena Christensen as she rose from modelling ingénue to her peak as a supermodel.

Late one night in 1992, Michael and Helena were on their bicycles outside a pizza shop in Copenhagen when a Danish taxi driver got out of his cab and 'sucker-punched' him. Michael fell and cracked his skull on the curb. Blood ran from his nose and his ears as an ambulance rushed him to the nearest hospital. When he came to, he was acting erratically and hospital staff recognised him and thought he was drunk or under the influence of drugs. They allowed him to check himself out and for a month he lay in the dark in Helena's Copenhagen apartment unable to function.

Helena finally convinced him to allow her personal doctor to visit, and the doctor insisted that he have a brain scan. They flew to Paris, did the scans and a leading brain surgeon gave him the diagnosis. Michael had two large contusions and permanent areas of damage in his frontal lobes and the olfactory neurons that run between the nose and the brain had been severed. Along with the continued cognitive and depression difficulties brought about by the brain damage, Michael had completely lost his sense of smell and 90% of his sense of taste. It was a permanent condition called 'anosmia'.

Michael kept the dramatic effects of his traumatic brain injury (TBI) completely secret from the world. The neural structures that process smell and emotion are completely intertwined and co-dependent. Without them we cannot experience, process or express emotions, and we cannot learn and remember emotional events. For such a sensual and devout hedonist, this loss was catastrophic. The joys of food and wine, the sweaty funk of sex, the smell of his new-born child, his feelings of connection to the texture of life itself were all robbed from him. It was like he was floating in outer space. Michael began to feel trapped inside his own head, suffering a kind of body claustrophobia and disassociation.

The concussion triggered months of erratic behaviour, mood swings and debilitating depression for t h i s n o r m a l l y c a l m a n d g e n t l e m a n . The concussion wore off but the Traumatic Brain Injury (TBI) didn't. C lose friends and lovers testify to t h e emotional turmoil, the unprovoked rage, inability to express himself coherently, and dramatic bouts of uncontrollable tears. The ri sk o f s uic ide ri ses dr am atic al ly i n peo p le suf fer in g f ro m TBI and the subsequent long-term depression it brings on.

It is in this condition that he began a relationship with the vivacious and charismatic writer, TV host and music journalist, Paula Yates. By the time the infamous Big Breakfast interview between them was broadcast in 1994, Paula was 19 years into her marriage to Sir Bob Geldof with whom she had produced three children, while Michael was at the tail end of his four-year relationship with Helena Christensen.

In 1995, Paula Yates divorced Sir Bob Geldof and moved in with Michael, bringing her three daughters with her. Paula soon fell pregnant, and Michael was immediately smitten by his newly-arrived baby daughter, Tiger Lily. Yet, despite all the positive aspects of being a new father, he grew increasingly paranoid about Paula's bitter public custody battle with Bob Geldof over their three daughters.

After a small amount of opium was allegedly found inside a Smarties packet in their London home, Michael and Paula were hounded by the tabloid press and their lives quickly began to spiral completely out of control. Terrified that Tiger Lily would be a casualty of a custody battle between Paula and Bob and taken away from him, Michael's depression and anxiety accelerated, as did both his and Paula's drug and alcohol abuse. The charges in the opium case were eventually dropped, and Bob Geldof did win a temporary custody order over his own three daughters, but not over Tiger Lily.

On the eve of an upcoming world tour in November 1997, Michael arrived in Sydney and checked into the Ritz Carlton Hotel under the name of Mr Murray River. He was determined to clean up his act and he had lined up an interview for Paula to become an Australian TV presenter in Sydney, which would enable his new family to live there, far away from the grotesque and ghoulish English press. That night, Paula rang Sydney and told him that Bob Geldof wanted to delay the girls' trip to Sydney for a few weeks so they could finish their school year. Even though Tiger was allowed to come, Paula refused to leave England without all four of her daughters and Michael's plan for resettlement came unstuck. He was distraught.

On the night of 21 November 1997, Michael rang two women from his hotel room. First of all, his New York based INXS band manager and close friend, Martha Troup, and then Sydney-based ex-partner Michele Bennett, who had always remained his closest friend and confidante. Michele, now a successful film producer, lived only a few streets away. He left a drunken message on her answering machine at 6 a.m. and then rang Martha Troup in New York and left a voice-mail. "Martha? Michael here. I've fucking had enough…".

Michael made a second call to Michele Bennett at 9.54 a.m. and this time she answered. He was distraught and tearful and she told him she would come over straight away. Twenty-six mins later Michele knocked on the door of his hotel room, and there was no answer.

Michele assumed that he had fallen asleep, left a note for him at reception, and went home. At 11.57 a.m. a maid pushed open the door of Mr River's room and found Michael's naked dead body kneeling on the floor with a broken belt around his neck. He was 37 years old.

The post-mortem discovered low levels of Prozac, Diazepam and cocaine in Michael's blood "that do not suggest overdose... and the most likely effect would have been fatigue and depression". However, the level of alcohol concentration found in Michael's blood was significantly high.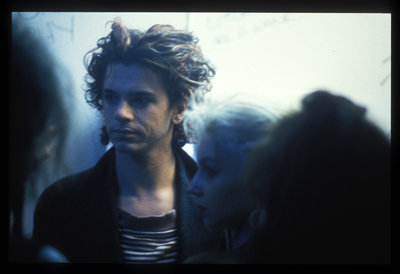 The post-mortem also revealed the two large areas of the Traumatic Brain Injury (TBI) and a softening of the olfactory bulbs, a result of the bicycle accident five years earlier. The underlying state of depression caused by this permanent injury, and the personal and professional situation he found himself in would have been exacerbated by the high levels of alcohol in his system.

On the 6th February 1998, the NSW Coroner, Derek Hand concluded that Michael had been in a "severe depressed state on the morning of 22 November 1997, and due to a number of factors, that he intended and did take his own life…"

Neither Michele Bennett, nor Helena Christensen have ever spoken publicly about Michael, until now.

Archival Materials & Audio Interviews

Michael Hutchence was filmed and photographed almost constantly throughout the 37 years of his personal and professional life, contributing to the wealth of conventional and unconventional archival riches available to draw on. The film employs an extraordinary collection of unique never-before-seen archive material and filmed imagery that represents Michael's point-of-view at key narrative junctures, including the fateful accident in Copenhagen and the anosmia that ensued.

Michele Bennett, Kylie Minogue, Susie and Kell Hutchence, Tina Hutchence, Rhett Hutchence and Ghost Pictures have opened up their extensive archive of never-before-seen personal 35mm, 16mm and home video for this film. Many other informants and sources have supplied photographs, sound recordings and rare documents seen for first time.

The Music

The score for MYSTIFY Michael Hutchence has been composed by César Award winning Warren Ellis (The Dirty Three, Nick Cave & The Bad Seeds).

Original songs and digitally-restored music have been remixed by Giles Martin in cutting-edge Dolby Atmos technology provided by the band INXS. Other songs on the soundtrack include Max Q (courtesy of Ollie Olsen and Tiger Hutchence-Geldof), Kylie Minogue and Nick Cave, and instrumental tracks by Nils Frahm and Ólafur Arnalds.

Mystify Michael Hutchence
Release Date: July 4th, 2019