Moss can currently be seen as family matriarch Rita Loud in the original live-action holiday movie, A Loud House Christmas, which is based on the Emmy Award-winning animated series. The story follows Lincoln Loud as he gears up for the ultimate Christmas, until he finds out that his sisters have plans to be elsewhere for the big day. Determined to remind his family that they all need to be together, Lincoln and his best friend Clyde McBride embark on a mission to preserve the family's holiday traditions. The film, airing now on Nickelodeon and Paramount+, is "TV's Top Kids Entertainment Telecast Of 2021" as reported by Deadline.

Moss recently launched Counter Parenting, a weekly podcast which aims to empower and inform listeners about all the charming and not-so-charming elements of co-parenting from a step-parent's perspective. After noticing that there was an abundance of resources available for co-parenting and divorce, but little for the step-parent, she wanted to step up to fill the gap. The podcast will feature interviews with people involved in all aspects of co-parenting and offer listeners tools on "how to live authentically while co-parenting on the sidelines."


Interview with Muretta Moss
Question: Tell us about your role as Rita Loud in A Loud House Christmas?

Muretta Moss: Rita Loud is a mother of eleven kids"eleven! Ten girls and one boy, so let's just say she's busy and a little unravelled at times. I play the live-action version of Rita from The Loud House. She always does the best she can in the show, and the kids are growing up pretty great, so it looks like she's doing good. It was really fun to play a character already established in the animated series. I was nervous at first because the show is so well-known, but once I got into hair, makeup, and costumes and got on the incredible set, the nerves fell away because everyone did such a great job bringing this cartoon to life.


Question: What or who inspired your love of acting?

Muretta Moss: I think my love of acting probably always existed in my DNA. I don't know why, but I feel like being an actress and artist is my journey. My first experience on set really ignited the desire that was inside of me. A film or TV set is very magical"all these talented people working together to create. When I stepped onto a set for the first time, I thought I had to have "this" in my life. It became a tangible thing and a core memory, if you will. There have been wonderful teachers along the way that have inspired me and pushed me. Also, following the careers of female comedic actors, specifically those from Saturday Night Live who then have these flourishing, dynamic careers as actresses and writers and creators, are incredibly influential on what can be done…I'm obsessed.


Question: What moment in your career stands out the most?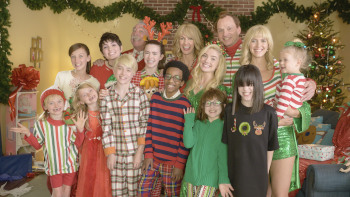 Muretta Moss: I have been acting and creating for a long time, and from my perspective, it felt like I was constantly hitting a wall. A Loud House Christmas is a pivotal moment in my career. It was amazing to be part of this collaboration and get to work with incredibly talented and delightful artists as well as the director, producers, and crew. Any project I work on is at that moment the best because anytime I get to work and create, I'm on cloud nine. The Loud House family was exceptional, and I'm so excited to see what's next for us.


Question: What's your favourite part of your job?

Muretta Moss: I love so many things about being an actor. I love the community of artists, I love performing, I even love the unknowns. I'm not sure what is my favorite part"the creating itself is wonderful, seeing the finished project is amazing, watching words I've written come to life is incredible. It's not perfect, but the job is really lovely.


Question: If you could work with any other actor or director, who would it be?

Muretta Moss: Oh, that is a good question"I don't think I have an answer. Working alongside Julie Taymor in The Glorias was pretty epic, especially when it was in a Gloria Steinem biopic. I'd like to do that again. I am currently obsessed with all things Andrew Garfield. He was so great in Tick, Tick. . . Boom. His performance in that movie is a touchstone, a reminder of why I love acting and filmmaking. Also, Lin-Manuel Miranda's direction was inspiring. I think these last couple of years I've become desensitized to a lot of things and that movie and performance reminded me to stay present, stay vulnerable, stay passionate. But let me get real real here… I want to be part of the Amy Poehler, Tina Fey, Kristen Wigg, Julia Louis-Dreyfus gang. So to break it down, I guess I still want to be a cast member on Saturday Night Live. Ahh, that felt good to get off my chest.


Question: Tell us about your 'Counter Parenting' Podcast?

Muretta Moss: The Counter Parenting Podcast is a weekly show to empower and inform you about all the charming and not-so-charming elements of co-parenting from a step-parent's perspective. A podcast for step-parents by a step-parent. I talk to people who know more than I do about step-parenting and co-parenting. I had rose-colored glasses on when I started dating the hot-single dad that is now my partner. You experience all the things as a step-parent and I am fostering a community of camaraderie and positivity, and putting to rest the "evil step-parent" narrative.


Question: What advice do you have for aspiring or actors?

Muretta Moss: There is so much advice out there that my advice for actors is to just listen to themselves for once. Also…because I just can't help but add more of my two cents: follow your heart and your dreams. There are so many ways to be an artist and an actor and there is never a destination. Go out, enjoy your life, read plays, go to theatre, make art for you and not for the "likes."


Question: What's a typical day like?

Muretta Moss: Every day is different, and I like that. There is a routine when I am home of coffee and cat snuggles in the morning, but my life as an actress and entrepreneur has made it hard to schedule out beyond that. There's usually a 15-minute meditation/nap I take midday, and"depending on whether we have the kids or not"cooking dinner or going to the rock-climbing gym, which we bike to and I love. I will say 2022 is the year I update my calendar and follow it. I used to be able to "remember," but I need to hold myself more accountable this year.


Question: What's next for you?

Muretta Moss: This year is going to be pretty great though the specifics are to-be-determined right now. I'm excited to release projects like Intersection that I've been working on the last year. I also want to put out into the universe that my TV Show, Counter Parenting, gets picked up and I get to work on that in front of the camera and behind. I am going to take up space, go on more walks, and sit in silence more"I'm really looking forward to that.


Interview by Gwen van Montfort