Mulberry Threads Co. Breaks Through with Bamboo
Mulberry Threads Co. has launched a range of luxe bedding and bath towels, made from high quality organic bamboo. The collection is designed with understated, classic elegance and features cooler colours (charcoal, stone, paloma, white, frost, platinum and nude). Organically grown and Oeko-Tex certified, the natural fibres are hypoallergenic and allow for greater air flow whilst you sleep. What's more, the natural fibres of bamboo are thermal regulating to help keep you cooler in the summer and warmer in the winter.

Mulberry Threads Co.'s bedsheets are made from 100% organic bamboo, designed with a sateen weave to create a smooth, luxe texture. Each are generously sized to accommodate mattresses with toppers or those with greater depth.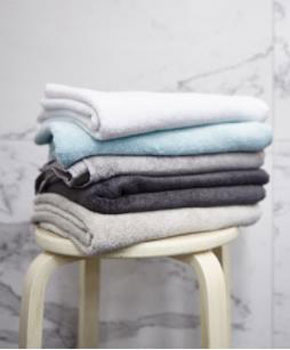 Sheet sets (RRP $149.95 - RRP $239.95) include 1x fitted sheet, 1x flat sheet and 2 x pillowslips in frost, platinum, steel, taupe and white (single- super king). Alternatively, select the Mulberry Threads Co. fitted sheet set (size queen - king) (RRP $129.95- $149.95) in platinum, steel or white. For those who just want to mix and match, individual pillowslips (RRP $19.95) are available in either white, steel, platinum, frost and taupe. For total cover, Mulberry Threads Co.'s organic bamboo quilt covers (RRP $209.05- $239.95) are available in platinum, steel or traditional white (queen to super king).

Parents will be comforted knowing their babies' sensitive skin is protected with Mulberry Threads Co.'s soft textured flat cots sheets (RRP $39.95) (140 x 160cm) and fitted cot sheets (RRP $39.95) (132 x 70 x19cm). Available in white, frost, platinum, steel or taupe, each are sold separately to fit standard Australian cot mattresses.

Made in Turkey, Mulberry Threads Co.'s towels (bath sheets, bath towels, bath mats, hand towels and face washers) are made from 50% bamboo and 50% organic Turkish cotton (four times more absorbent and 30% less susceptible to odours than cotton). The colour palette gives a nod to neutral tones: charcoal, stone, paloma, white and limited edition turquoise.

Flip it! Mulberry Threads Co.'s bath towels (70 x 140cm) and hand towels (50 x 80cm) feature a reversible design (one side embossed with a geometric diamond design). Protect your skin with Mulberry Threads Co.'s bamboo face washers (30 x 40cm). The hypoallergenic properties of the bamboo are perfect for those with sensitivities. Throw down your style and complete the set (RRP $125) with a bath mat (800 GSM), hand towel and two bath towels. Co-founder of Mulberry Threads Co., Kira Sterling says -Turkish cotton is an incredible material. It delivers amazing softness, excellent absorbency and fast drying fibres that naturally repel dust mites, mould and mildew.'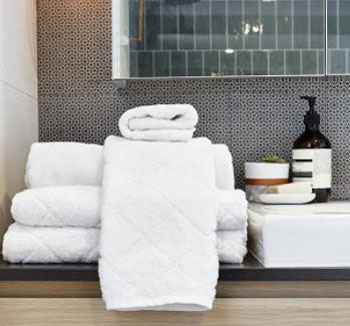 Discover Easier Ways To Improve Your Sleep

Create a bedtime routine and develop sleep associations that help prepare your body for bed. This could include a relaxing bathroom routine just before bed such as a shower or face cleanse. A lukewarm shower using good quality towels such as Mulberry Threads Co.'s bamboo and Turkish cotton towels (sets RRP $125) will leave you clean and refreshed for bed.

Make your room as restful and calm as possible. Your bedroom should be a place of tranquillity. This means dim lighting, minimal noise and soft colour tones.

Ditch the phone. It is important to create a buffer zone between the stresses of your day and your sleep in order to help increase melatonin, the hormone that makes us sleepy.

Clear the clutter. People sleep better when their room is clean, neat and without distractions. Make a habit of tidying regularly or making your bed every morning so that your room becomes a relaxing space you want to spend time in.

Build your foundation. Good quality sleep is largely affected by what we put on our bed. Invest in sheets that offer uncompromising comfort and quality. Mulberry Threads Co. achieves just that with their collection of organic bamboo sheet sets (RRP $149.95 - RRP $239.9). Nothing says sleep hygiene like thermal regulating, hypoallergic, breathable bamboo. These sheet sets are the perfect final step in your bedtime routine that will have you waking up feeling rested, calm and ready to face your day.