The TAC today launched a new campaign to encourage motorbike and scooter riders to cover up and save their skin.
The TAC's Senior Manager of Road Safety, David Healy, said the television advertisements are timely considering that in 2007, motorcycle registrations grew by more than eight percent.
"Motorcycles are a part of city living and with the rise in popularity of motorbikes and scooters, the TAC aims to help riders to make safe choices on our roads," he said.
"Riders are 34 times more likely to be seriously injured than motorists, but these odds can be improved significantly if riders purchase and always wear full protective clothing. It's an investment that could save a person's life."
"Sadly, motorcycle riders are over-represented in the state's road toll. Last year alone 45 riders were killed, representing 14 percent of the toll."
Motorcycles account for less than one percent of the kilometers traveled on Victorian roads. So far this year, there has been a surge in rider fatalities, with 16 killed compared to eight for the same time last year.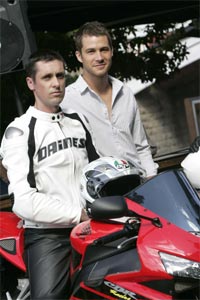 From 2000 to 2006, 337 riders died on our roads. Of those killed, 95 percent were men and just over 40 percent of all fatalities were people aged 18 to 30 years.
Director of Emergency at the Austin Hospital, Dr Fergus Kerr, said he's seen too many disfiguring injuries in his twenty plus years working in emergency departments. "When riders come off bikes at high speed without protection, it's their bodies that bear the brunt of the impact," he said.
Riders should always wear a protective helmet, full leather suit, back protector, boots and gloves. For more information on protective clothing go to
www.spokes.com.au
.
Neil O'Keefe, Chair of the Victorian Motorcycle Advisory Council (VMAC) has strongly backed the campaign saying "we have so many new riders on the road and it's important they are well trained and wear the right gear."