Left with nothing. Capable of Anything.
Cast: Jacki Weaver, Robert Duvall, Liam Neeson, Viola Davis, Colin Farrell, Elizabeth Debicki, Daniel Kaluuya, Carrie Coon, Cynthia Erivo, Michelle Rodriguez, Lukas Haas, Garrett Dillahunt, Brian Tyree Hen
Director: Steve McQueen
Genre: Crime, Drama

Synopsis: Widows is set in contemporary Chicago amidst a time of political and societal turmoil. When four armed robbers are killed in an explosive heist attempt, their widows – with nothing in common except a debt left behind by their dead husbands' criminal activities – take fate into their own hands to forge a future on their own terms.

Widows
Release Date: November 22nd, 2018
Director's Notes
I remember exactly where I was at thirteen years old when I first viewed Lynda La Plante's TV series, Widows. I was lying on the carpeted floor at my parent's house, head propped up by my hands, my usual viewing practice at that time. The show immediately transported me into a criminal world where the most vulnerable and overlooked people were women. These women were deemed incapable of anything other than being judged by their appearances, yet they took on challenges against their stereotype and transformed themselves into more than capable forces, determined to take their destinies into their own hands. At that stage in my life, I felt a strong parallel to these women as I too experienced being looked at under a similar gaze. Their adversaries considered the widows as people who couldn't achieve anything, and they did. It had a profound effect on me.

To bring the story into the now, I changed the location of Widows from London in the early eighties to Chicago of the present. This was vital for me in order to also tackle politics, religion, class, race, criminality and mourning, and to look at the locale (Chicago) and revert it like a telescope into the global.

What's so powerful for me about this story is that these four women from different racial, social and financial backgrounds came together to achieve their common goal. They understood that by working together they were capable of anything.
- Steve McQueen
About The Production
Based on the popular U.K. television series of the same name, created by Lynda La Plante, Widows is directed, co-written and produced by Academy Award®-winning filmmaker Steve McQueen, whose 12 Years a Slave won the 2013 Academy Award® for Best Picture. "I remember seeing Lynda La Plante's TV show Widows at 13 years old," recalls McQueen.

That these women achieved something no one thought they had the capability of doing left a big impression on me, especially at a time in my life when I was being judged in the same way. Many years later, when I first came to Hollywood, I was struck by how many talented actresses weren't working. I decided then that after I made a movie about slavery that I wanted to make a female-driven film."

When McQueen approached renowned screenwriter Gillian Flynn (Gone Girl) to co-write the script, she says she jumped at the opportunity. "Steve McQueen called me, which was a great phone call to get out of the blue," she recalls. "He knew I lived in Chicago, and he wanted to do a heist film starring four women, so I'm already in. Then it's going to be shot in the town I live in and love, Chicago, which is such an underused town and such a cool town. And he wanted to use all the neighborhoods and really employ the city as its own character. And you just don't see Chicago enough, the real Chicago in film. So, I was immediately, like, 'Where do I sign up?'"

According to Flynn, the story offers a twist on the typical heist film in that each character that intersects comes from different ethnic, financial and social background. "My favorite part about heist films are when the team comes together. I love that," she notes. "That's one thing I wanted to keep about that heist feel, was that these women were coming together, not because one was a jewel thief, and one was a safe cracker, that type of thing, but because they just happen to all be connected by their husbands. "

Producer Iain Canning was approached by McQueen early on about the project. "He'd grown up watching the show and it was powerful for him when it was on television, this story about this group of women, which was very rare," Canning says, "and it just sounded like an interesting, new area for Steve to move into. He's made these incredible films about incredible subjects and it just felt like it was a good moment to tell the story about this group of ordinary women in extraordinary circumstances who have to fight for their survival."

The filmmakers assembled an impressive cast of actors for the film. McQueen says it was very important to make his cast feel comfortable and at-home, so to speak. "It's very simple: they're all great actors and you need to create an environment in which they feel safe to experiment and explore. That's what I hope I provide actors, a safe space to fall on their faces, brush themselves off and try again in search of some kind of truth."

Academy Award-winning actress Viola Davis was cast as Veronica Rawlins, the lead widow of the film who must pick up the pieces of her life after her husband, Harry (played by Neeson), dies in a failed heist. Davis says it's a role that she never imagined she'd be asked to portray. "It's a huge departure for me," she exclaims. "I wouldn't imagine myself being in this. First there's a nice love scene in there. It's kind of action-packed. I don't know, I just didn't see it. So, Steve McQueen literally coming to me and saying, "I do see you in this role," was sort of exhilarating to me."

Once getting over the pleasant surprise of being approached for the role, Davis says she found herself drawn to her character as well as to the story. "I liked Veronica's journey," she relates. "I liked that she was sort of mysterious, but at the same time she was familiar to me. I liked the fact that there's a love story at the center of it. I like me in a love story, because, you know, I played a lot of lawyers and detectives and CIA directors, people like that. It's a hell of a love story."

In the film, Veronica is married to career criminal Harry Rawlins, played by Liam Neeson. When you first meet them, the couple have already been damaged by a tragic death. "They very much are bonded by grief," she notes. "And then Harry dies in a heist accident… and she's left with nothing, literally nothing. Nothing in terms of finances and nothing in terms of even emotional reserve. But she decides to live."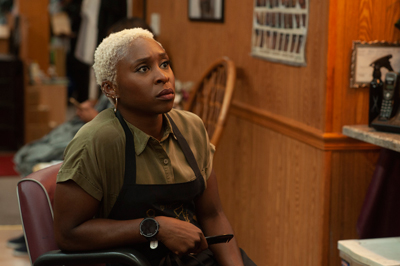 She decides to live by finishing the heist Harry was supposed to commit. Step one: employ her crew, the widows of Harry's cohorts in crime. "It just starts off with all of us being strangers," Davis explains. "But the one familiar element is that all of our men died in this fire, and they were all thieves. That's the only thing that binds us together. And, also the fact that we're all broke and we need to survive now. We're in survival mode. But other than that, we couldn't be any more diametrically opposed."

Davis notes that her chemistry with Neeson was natural, especially in the 'bed' scenes. "I felt like he was familiar to me," she observes. "It was nice and I'm thinking to myself, 'I'm in bed', and the racial implications of it. And, I mention this and I know people can roll their eyes, but something needs to be said about it, really. Because at what point in the history of cinema, have you seen someone who looks like me and someone who looks like Liam Neeson in bed together, kissing, romantic, in love, married?"

Michelle Rodriguez plays Linda, a widow struggling to keep her family and dress shop afloat after her husband's death. Rodriguez admits she was afraid to take on the role at first. "I think it was the challenge of considering the woman that I'm playing weak; my fear of that, of projecting a character like that to the world," she recalls. "I've always been all about making women as independent as I possibly could, especially the image of a Latina woman, who faces the machismo of our culture. That's my go-to thing."

Ultimately, it was her decision to face her fears of the unknown that made up her mind. "I sat down with Steve and he's just such an artist," she recalls. "So, I was like, 'Okay, I've been doing this for fifteen years. And I'm very comfortable in my little niche of making action movies. But I'm not going to evolve here. There's no room to grow.'"

Rodriguez describes her character as being naïve and trusting when we first meet her. "Linda got pregnant young in life and married her high school sweetheart, and was a mother very young. So, she didn't really have much of an opportunity to decide, really, what she was going to do with her life. I mean, her greatest manifestation was the story you see here," Rodriguez notes. "She's a woman who's loyal and loves her man and loves her family."

Elizabeth Debicki, cast as Alice – the Polish immigrant and controlled wife – says she wanted to be part of the film in order to work with McQueen. "Steve has an incredible warmth and generosity and sensitivity to him and he's also very exacting and instinctive in a fascinating way. He is rigorously in pursuit of truth in its rawest form. As an actor I am always looking for someone who is going to ask that of me. Steve did while creating an environment that is collaborative and empowering and safe. There is huge freedom in that trust. Working with him is incredibly liberating.

Debicki describes her character, married to Florek (played by Jon Bernthal), as the least savvy, most sheltered of the widows. "When we meet Alice her world is very small and repressive. She's gone from living with her mother in a controlled environment where she's her mother's doll, to being dominated and controlled by her husband. She is very submissive, she can't conceive of life being otherwise because she has internalized what others have told her about herself, that she is worthless and that she needs them in order to survive. She's told she cannot be independent emotionally, financially, socially and she believes this," she explains, "when I think of Alice's journey, it's such a huge arc for her through the course of the story. She goes from being someone who has accepted what the world tells her she is – a daughter and then she's a wife, Something to be seen and not heard, a woman who mustn't ask for what she wants or needs – to a woman taking control of her life."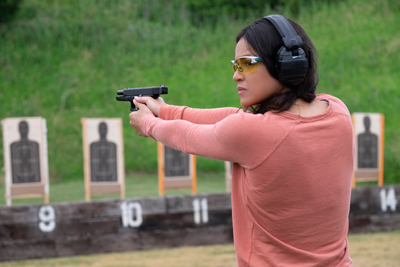 Debicki observes that the process of joining up with the other widows and taking part in the heist develops her sense of self-worth and self-esteem. Cynthia Erivo, in her first major film role, portrays Belle, an ally who steps in to help the widows in their quest. "I just think it's a massive vote of confidence for Steve to put someone who's really new at film in a role like this," Erivo says of McQueen's decision to cast her. "It's not small, it's a wonderful role to be a part of, and he trusted me in it."

Erivo loves that her character is strong and complex. "She's very straightforward. I want to even say stoic at times. She's from the South Side so she's no stranger to the danger that happens around her area," she notes. "She's a single mother, and she's a hairdresser but she's got smarts about her and she has almost no fear. She just knows what needs to be done in order to survive. That's where she comes from, so when she meets these women, it isn't a second thought that she's able to help."

A politician who figures into the widows' master plan is Jack Mulligan, played by Colin Farrell. Farrell admits he feels a bit sorry for his character, whose life was already mapped out for him based on his family lineage.

The son of Tom Mulligan, played by Robert Duvall, Jack is meant to follow in his father's footsteps by becoming the next alderman for the 18th Ward of Chicago. "So, there is obviously this very distinct lineage that I am supposed to fall in line with, and Jack Mulligan is supposed to carry his father's torch, his father who carried his father's torch, but it's not really what he wants. It's not really what he's dreamed of doing," Farrell explains. Not only is Jack dealing with his own personal demons but he is running against an enigmatic opponent. "There's a shift in the power politic that is potentially happening, and the person who's running against me is an African-American gentleman from the 18th Ward, who has a history of criminality in his life," Farrell explains. "And he's choosing to go 'straight', but he's running against me. And the ward that I'm running to represent is predominantly AfricanAmerican, and so it's not looking good for my character at all."

Farrell says he was honored to work with the legendary Duvall. "He's extraordinary and just what I've seen up close, in person, the scenes we've done, has been incredible. He's a cultural cinematic icon and I get to work with him."

The feelings were mutual, according to Duvall, who found Farrell to be an exceptional actor. "We are talking and listening, which is not that easy," Duvall says of their acting process.

"It's not that easy necessarily, and especially when it gets to certain emotional levels, but Colin's very good at that and I love to take from other actors when it's real within an imaginary set of circumstances." Duvall says not only did he relish the opportunity to work with McQueen, he was attracted to his character and the complicated love-hate, father-son relationship.

"He's an elderly guy who's somewhat ailing physically and still trying to keep some kind of control," Duvall explains. "Even though his son – they hate each other, love-hate - is really running the show, he's trying to tell his son we've got to keep this city in our hold, in our grasps. It's our city. We made it. We got to keep control and he doesn't want to hear this, but it's that relationship thing that I liked, that I like in any part that I try to take, and I figure maybe I can do something different with."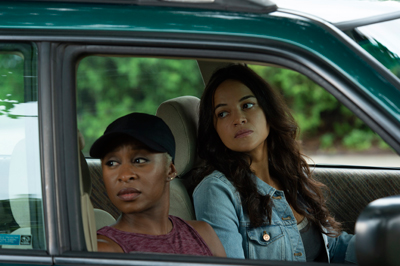 Brian Tyree Henry, best known for his work in the acclaimed TV series Atlanta, plays Jamal Manning, Jack's political opponent in the 18th Ward and a man to whom, Veronica discovers, Harry owes money. Henry says he knew he had to be a part of this 'special project'. "I definitely was attracted to the story based on the line-up and the director. But also the writing is unbelievable," he says. Henry explains it was the character's honesty that appealed most to him. "This is his home," he adds. "You know, he says that to Jack. He's like, 'You know, your family is on this ward, done all these things with this ward, but look at it. Like it hasn't gotten anywhere. What have you really contributed to us?'"

"I, however, feel like I can bring something to that. And I think that's the best thing about Jamal is that he and his brother, they're from these streets. They're from this area. They really do care about the people there. Now, you know, as politics go, you kind of got to do what you gotta do to get where you want to get."

Henry says that actor Daniel Kaluuya, who plays his brother Jatemme, truly became like family during the production. "[Daniel] is one of the most phenomenal people I've ever met," he says. "And I really do feel like he's my brother and that really informed how we could play them."

Kaluuya, best known for his role in the acclaimed thriller Get Out, is also Jamal's protector. "It's easy to think of Jatemme as the muscle, as you know, the bully or the henchman that does what Jamal wants, but I think that Jatemme really wants the best for his brother and wants to be right there," Henry explains. "Whereas Jamal loves him dearly, but I don't want to say he's using him as a pawn, but at the end of the day Jamal is going to do what he's got to do to get where he's going to get. But there is a true depth to their relationship there, 'cause it's just been us. You know what I mean?"

Kaluuya sees his character as Jamal's street alter ego. "He's Jamal in the streets," he observes.

"You basically see how they got to where they are, and Jatemme is one of the main reasons why and how they've managed to get the support of the community and the funding of the community through how Jatemme moves. And he basically does a lot of things he shouldn't be doing."

In addition to helping his brother politically, Jatemme is also responsible for muscling in on Veronica to collect the money Harry owes Jamal. "Veronica's late husband did something very not nice among brothers," Kaluuya explains. "And they want some payback. They're just not going to let things lie. But it's in the middle of a political election, so they have to do things in a bit more of a discreet way."


Chicago as its own character

The filmmakers decided early on to use Chicago as the backdrop for the story. "Chicago has so many levels of interest to me," says McQueen. "Political, racial, religion, policing and criminality and how all of these networks at some point crossover and have a relationship to each other."

When production designer Adam Stockhausen first met with McQueen, they discussed how to work Chicago into the storyline. Stockhausen recalls the conversation: "How does Chicago relate to the story of the movie? And how do we tie those two together visually and thematically and hold onto that in a way that's legitimate… in a way that doesn't feel like we're taking our ideas about what the place is, or our ideas about what it should be and laying it on top of what the city is, rather than trying to find out what's really here and finding out the truth of the place."

According to executive producer Bergen Swanson, McQueen was adamant about shooting the film on-location in Chicago and not substituting another city for the real thing. Even the cast was told to view the city as a major player. "Chicago is another character," Davis notes. "I mean, you have this vibrant city with great restaurants and beautiful high-rises on Lakeshore Drive, and beautifully manicured lawns and, God, what a great artistic scene and all of that. But, then you have the other. You have the Lawndales, the Garfield Parks, the Inglewoods, you know, the neighborhoods that have a high crime rate. You have the segregation, and that only happens with corruption."

According to Swanson, McQueen never wanted to cheat a location. "… just as we didn't cheat Chicago in Atlanta," he explains. "For example, a Lawndale apartment is in a different part of the city. And so we've actually changed the story a bit if we discovered that what was written on the page wasn't specifically accurate. "

Location manager Nick Rafferty recalls the scouting process from the moment Stockhausen landed. "We'd drive neighborhoods," Rafferty recalls. "Adam wanted to see the city. He wanted to understand when you cross lines, how things change and how neighborhoods change. Ultimately, we wanted to showcase every part of the city. And each of the characters come from really diverse backgrounds."

Creating multiple, diverse settings within the story proved to be a challenge for Stockhausen.

"What's so exciting about it is the different stories of all these different women, and also Jamal Manning and also Jack Mulligan," he expresses. "It's very challenging to say, how do you find each one of these stories? How do you keep them visually discreet from one another? For instance, with Chicago architecture, a lot of apartments kind of look the same … so saying okay, how are we going to find these really radically different looking places for these different women and make them appropriate? You know, not making those random choices but finding each character in a different kind of a place. And having it be the kind of thing that the character needs."

The Mulligan house is one location that required very particular characteristics, Rafferty says. The team scouted in Hyde Park in the Kenwood section of the city, an historic neighborhood in which former President Obama owns a home. "We were looking for a place that immediately sold the fact that this alderman was sort of part of this legacy. He was part of Chicago's establishment. He was part of the landed class. A lot of these mansions were built for Chicago's capitalists and robber barons, like the Sears Roebuck family lived here, the Wilson sporting goods company, they built their home here."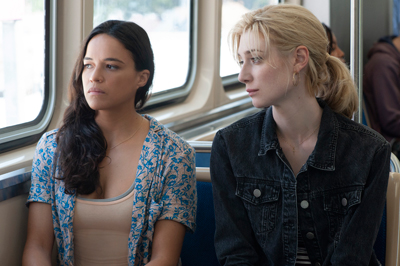 Stockhausen was also tasked with re-creating the real 18th Ward of that time period. "We ended up with the 18th Ward through a combination of the history of the actual 18th Ward, but then also the way there are incredibly fancy houses in pockets of neighborhoods next to areas where you have buildings torn down because they're abandoned and have tremendous amounts of issues. And they're really, really close to each other," he explains.

Stockhausen says a lot of discussion and collaboration went into developing Veronica's home. "That penthouse just had a great quality, these floor-to-ceiling windows let in this incredible light that could turn the place very, very warm or very, very cold," he notes. "It could be expansive and embracing the whole city, or it could be a box that was just reflecting back. And I think that quality was something that was exciting to all of us, and we ended up turning the glass windows into mirrors at different times to reflect the life held within rather than seeing out on the city."

Director of photography Sean Bobbit worked closely with Stockhausen to help cinematically translate the diverse realms. "There are lots of different subtle ways of showing the differences, 'cause the story goes from the very, very rich and powerful to the poorest and least powerful members of society," Bobbitt explains. "And, there are subtle ways within the lighting where you try and emphasize that a little bit with the richer characters having a little bit more warmth in their life and more ordinary colors. And then, as it becomes poorer, you start to get mixed colors and that chaos within that world."

What producer Emile Sherman admires most about Bobbit is his eye for portraying both action and calm on-screen. "I think that the other special thing about Sean is that it can be about movement, but it also can be about being still," he observes. "…there are moments with Viola in this film where it's a chaotic world; the world that they're in is very dangerous and very frightening, but then there'll be a moment where Sean decides to just stop the camera and let the actors play out in front of that camera and the way that the light is, the way that the world that had been created, you just fall into that frame. I think it's about restraint as much as it is about overdoing something, and Sean gets that balance perfectly."

To keep the film grounded in reality, McQueen brought in dialect coach Tanera Marshall to work with the actors on their Chicago accents. She describes the process going in: "Well, it always begins with an actual sample. So, we don't make something out of nothing. We don't truck in stereotypes. I'm interested in recreating the sounds of an actual person, so my job is to find samples for the actor and the director to listen to that match as closely as I think it might, the character we're creating. I look at issues of race and ethnicity, age, class, aspirations, lots of things that create the way a person talks. I'll find samples that match that, and then I'll play five, six, seven samples for the director and the actor, and ask them which one they think best suits the character they're portraying - that then becomes our target." She goes on to work with each individual actor, engaging in sounds, pronunciation, music intonation, resonance, and oral posture, she explains.

Costume designer Jenny Eagan, who was tasked with the challenge of designing clothing for a multitude of characters that inhabit multiple worlds, worked closely with McQueen and Stockhausen. "There are a lot of characters in different places in this movie, whether it be in Lawndale or Lake Shore Drive, which are very different socioeconomically … different ethnicities and races and then to tie that all together and being respectful to all of that and trying to get it right and keeping it seamless, in a sense, so it's not distracting."

Canning appreciates the fact that Eagan immersed herself in the worlds each of the main characters inhabit. "It's great working with Jenny," he says. "Even if you take just the four lead women, they have gone on such a journey through this film and also economically, and how their clothes change and how their characters change and how that is linked to their financial circumstances or not linked to their financial circumstances is really about character building. Jenny's come to it with such thought and process, and kept things very natural, while also allowing for a little bit of fun to poke through."

Eagan says of all the characters Farrell's Jack Mulligan was the easiest to style. "We just hit it right on the head when he came in. He's the man that was not flamboyant, but knowing that he had the money, so he had nice suits but not tailor fit," she explains. "It was off the rack, American-made, you know, that was the guy he was trying to portray, and it was so simple. [Colin] came in, and it was a very quick fitting, and he was like, 'This is perfect.'"

Henry's character, Jamal, represented a completely different design, says Eagan. "[Brian] is creating this person that he really wants to be, so what does that look like to him?" she says. "He could have gone very flashy. But we kept him in a way that he would fit the mold of what a politician would be like and how he would come up through these ranks, and people would view him and trust him. So, it wasn't too over the top. We didn't want to be outside of the neighborhood or not be able to connect with people that he wanted to vote for him. He was really open and receptive to that."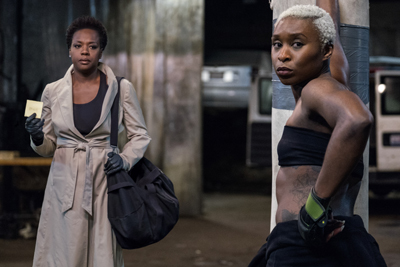 Sticking to script and keeping it real

According to Swanson, McQueen was emphatic that the film feel realistic, not marred in movie effects. "When you watch the film, you'll see there's almost a mundane-ness to some of the stunts, to some of the action that happens," he says. "There's some big stuff that happens, but it's all based in reality and that was always sort of a prime directive from Steve to all the departments."

With four major female leads, their husbands and separate worlds (some which never intersect), Swanson says the production boasts eighty-plus speaking roles, forty stunt players and eighty plus locations. He admits being impressed with how well McQueen and his team were able to handle the constantly changing schedule.

"With that many moving parts, any little movements we had to do reverberated through the entire schedule," he notes.

Canning admits there were definitely some logistical challenges, especially due to the large, international cast. "The wonderful thing about working with Steve is that many actors want to work with him. And I think that we have been really blessed by all of the different actors from all over the world, actually, who wanted to be a part of Widows. And I think with that, it becomes a little bit of a logistical challenge because everybody's so incredibly busy [with] TV shows and other films. But they're really desperate to be in this film and to work with Steve," he notes. But despite the occasional scheduling conflicts, Canning says it's been "an embarrassment of riches, because it's the most incredible actors in the world who are working with us on this film." One scene in which multiple stunts and major effects were required involves a car chase that leads to the deadly explosion of Harry's getaway van and the ultimate death of the thieves. Special effects supervisor Michael Gaspar recalls his conversation with McQueen. "He asked me to do something a little bit different than your normal explosion and typical fireball type of car explosion," he recalls.

Gaspar explains the complicated effect: "The front end comes twirling out of the warehouse on fire, which needed to be maintained so as part of the storyline … And the back end of the van also explodes and flips into a series of drums.

In addition to maintaining production safety, Gaspar and his crew needed to make sure there was no collateral damage. "The most challenging part was to get the front of that van out the door and not do any damage to the actual building," he explains. "Calculations that we made during testing were crucial … And then getting [a piece of the van] to come out and roll into the cop cars that were stationed just outside the door. Yeah, that was the most critical part."

Henry believes that Widows is going to be a real crowd-pleaser. "I think it's going to be one of those films [in which] people are never going to see anything that's coming," he states. "Like I know for a fact it's going to bring some shock and awe."

Davis says she wants people to come away with a sense of awakening. "I just always want people to believe it, be moved by it. Be transformed by the story and the people. I always want people to be shifted," she says.
Widows
Release Date: November 22nd, 2018