COVID business warriors: How some of Australia's most extraordinary business leaders pivoted and achieved great things during lockdown
Australian actor and director, Michael Budd, is being hailed as a COVID business warrior, having just wrapped filming and production on his upcoming film, Ruby's Choice, that overcame huge logistics deviations, production cuts and an entire state change for filming, all in the middle of the pandemic. Michael Budd demonstrated incredible strength, fearless leadership and overwhelming resilience throughout the entire project.

"We faced enormous challenges filming during the pandemic, and I am incredibly proud of the product that we have been able to create. Watching back the film, I am so pleased to say that the vision for Ruby's Choice wasn't just met – but it was exceeded – and that is thanks to the tireless work of the unbelievable team we had working on the project from start until finish," Budd said.

"To be completely transparent the filming almost didn't happen thanks to COVID with majority of film projects across the world being put on hold or abandoned altogether. I knew that this could not happen – not only would we be risking never seeing Ruby's Story reach the big screen, but people's jobs and the future of the Australian film industry were on the line too. This is when I had to put my directing hat to the side and takeover as a businessperson.

"The pandemic had already taken a devastating hit to the arts industry, I knew shutting down production was not the only answer. Incredibly, my team and I managed to rework all of the logistics and production requirements to get the movie filmed in Sydney over a period of two weeks in the peak of the pandemic in 2020.

"The level of pressure I felt, and I can speak for the rest of the team on, was unlike anything the film industry has ever faced before. In order to guarantee the true story of Ruby's Choice was captured and brought to life in time to hit cinemas in 2021, we embraced the condensed time period and persevered.

"It took significant additional planning, countless sleepless nights, meeting after meeting on resourcing and safety requirements, but in the end we were able to ensure filming was able to proceed with minimal risk and without impacting on the quality of production. I am so proud to say that out of one of the most challenging years of most of our lives, we managed to achieve something so positive and powerful."

Ruby's Choice, starring film icon Jane Seymour, is set to hit cinemas this year. The film has been described as uplifting, groundbreaking and confronting by those involved in its production because of the way it deals with the complex issue of Dementia and Alzheimers. The project was funded with support from the Glenn Family.

Under Budd's leadership, and extensive directing and project managing experience, the filming of Ruby's Choice was managed with logistical precision.

Budd has significant movie and directing experience in his own right. He has appeared in films such as Matrix Reloaded, The Cold Light of Day, Love of My Life and Life of the Party. He has acted alongside Hollywood A-listers such as Henry Cavill, Keanu Reeves, Bruce Willis and Sigourney Weaver.

"My company, Amazing People Pictures, is forging an enviable reputation across the filmmaking industry and I could not be more pleased. We are committed to delivering high concept films that enrich audiences with stories of human experiences and real life emotional journeys," Budd added.

"Ruby's Choice takes viewers into unchartered territory; tackling the complicated topic of Dementia. A lot of films discuss mental illness, but there aren't a lot that discuss and truly explore an illness like Dementia. It's a tough subject because it affects so many, so we were absolutely sure to do our due diligence in researching to ensure we achieved an incredibly precise and respectful portrayal of Dementia."

According to Budd, family is at the centre of his life and is the reason he is where he is today. He is a dedicated father of two young children who inspire him every day in his work and life outside of the film set.

"The issue of Dementia is very much a personal one. I have dedicated Ruby's Choice to my grandmother, who suffered from dementia before her death. I wanted to create a movie that tells a beautiful story about familial love and Dementia – something that I can show my children one day so that they can better understand what their astonishing grandmother went through before she passed," Budd said.

"My hope in producing this film is that family members, like mine, of Dementia sufferers learn more about what they can do to make the process easier for their loved one and themselves."


Interview with Michael Budd
Question: What can you tell us about Ruby's Choice?

Michael Budd: Ruby's Choice is a captivating and thought-provoking movie about Alzheimer's and its impact on family members and relationships. The issue of Alzheimer's is brought to life on screen when a teen girl is forced to share her bedroom with her grandmother Ruby, who has Alzheimer's. She goes from hating her grandmother to loving her and in the process learns more about her family and some family secrets. The film showcases the complexities and emotional issues associated with supporting and living with loved ones with Alzheimer's.


Question: What's a day on set like?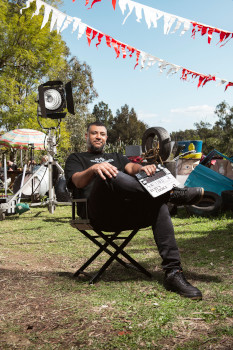 Michael Budd: No two days on set are ever the same. Sometimes we start at 6 am, other times at 11 am - depending on if we need to do morning/day scenes or night scenes. With Ruby's Choice, we had a couple of weeks at the main house location, but then there were other days to use lots of different locations, sometimes two or three locations on one day.

Each location can present its own issues; it could be noise from someone lawn mowing, access to trucks, lack of parking etc.


Question: How did you experience filming during COVID-19?

Michael Budd: Covid19 was a definite challenge! At the start, there were simply no rule books on how to deal with it. We were due to start filming in Brisbane in March 2020, but less than two weeks before the first day of filming, we had to cancel the shoot as we didn't want to put anyone's health at risk. As the pandemic progressed, we realised that the extra costs of having actors/crew from Sydney do two weeks of quarantine would blow the budget and mean we couldn't film it. We then had to make the difficult decision to shoot in Windsor NSW, which meant that we had to recast for most of the roles and production crew. This meant we had to spend extra time recasting, finding new locations and adjusting the script to suit our new locations. The Covid outbreak in Victoria/NSW meant we had trouble sourcing locations such as the nursing home and school scenes. Jane Seymour had to do two weeks quarantine, so that meant we could only shoot with her for 3 weeks instead of 5, so this meant our scheduling for our shoot days also had to change. We also had extra costs such as Employing a Covid Nurse (Caring Claire), provide sanitiser, masks, bottled water and individual meals. When faced with so many challenges, a film like this really becomes a team effort to get it made. For the cast and crew, after all the lockdowns and uncertainty of being back able to do what they love, everyone was keen to get back to work and accepted the challenge, and overall, the vibe was one of passion and perfection. And we are super proud of what we've achieved and can't wait for audiences to see it on the big screen.


Question: Do you prefer to be behind or in front of a camera?

Michael Budd: Good question. I love acting and was trained as an Actor in London, and inhabiting the role of a character is exciting to me. Still, I also love directing and became a director due to the lack of roles for people of colour in Australia; I am born in Sydney, Australia, and my father is African American, so I started producing and directing my own work.


Question: What or who inspired your love for acting/directing?

Michael Budd: I was blessed to work as a body double and stand-in for an amazing African American actor named Laurance Fishburne and the amazing directors of the Matrix film for 200 shoot days after that experience I knew it was something I had to do.-


Question: What moment in your career stands out the most?

Michael Budd: Working on The Matrix Reloaded was an amazing experience as I got to work for over 200 shoot days with the famous directors, the Wachowski's. Still, a special place in my heart will always be Madrid and Alicante in Spain. The producers flew over me to shoot an action film when I finally cast in a major role as Esmael in the Cold Light Of Day with Bruce Wills, Henry Cavill and Sigourney Weaver.


Question: If you could work with any other actor, who would it be?

Michael Budd: Denzel Washington and Russel Crowe and Cate Blanchett. A good question tough so many great actors still alive and so many greats not with us any more.


Question: What advice do you have for aspiring actors?

Michael Budd: Take as many jobs as you can. Experience is essential, whether it is working on someone's short or in community theatre. Look at every role as an opportunity to grow - there are no small roles. Be on time, be fun to work with and learn from those around you. Often, many brilliant actors are applying for the one role, so if you don't get don't despair one door closes, another one opens, an actor prepares, so you are always ready.


Question: What's next for you?

Michael Budd: After Ruby's Choice is released, I'll finish the VFX portion for a sci-fi thriller titled - Enter Sanctum.

We have a hilarious feature comedy titled Drac's Back, a drama titled The Publican and in the future I'm hoping to do some more inspirational feature films and develop a slate of projects for both cinema and tv. I'm currently looking at an amazing UK based true life story, so watch this space.


"Start with an open heart and an open mind but most of all start", Michael Budd

Interview by Gwen van Montfort