The Adaptation Of The Memoir
Cast: Melissa McCarthy, Dolly Wells, Richard E. Grant, Jane Curtin, Jennifer Westfeldt, Anna Deavere Smith
Director: Marielle Heller
Genre: Drama
Rated: M
Running Time: 106 minutes

Synopsis: In Can You Ever Forgive Me?, Melissa McCarthy stars as Lee Israel, the best-selling celebrity biographer (and cat lover) who made her living in the 1970's and 80's profiling the likes of Katherine Hepburn, Tallulah Bankhead, Estee Lauder and journalist Dorothy Kilgallen. When Lee found herself unable to get published because she had fallen out of step with the marketplace, she turned her art form to deception, abetted by her loyal friend Jack (Richard E. Grant).

Can You Ever Forgive Me?
Release Date: December 6th, 2018


About The Production
"If I were a librarian, I wouldn't let Lee Israel through the door, But I'd certainly make sure I had her latest book on the shelf."
- Thomas Mallon, New York Times book review of Can You Ever Forgive Me?

In the rogue's gallery of great American forgers, one woman stands apart: Lee Israel, a deadbroke, once-acclaimed writer who in desperate times conjured something extraordinary out of her imagination and her tiny Manhattan flat: the phony but ingeniously believable words and witticisms of the legendary figures she admired. Suddenly able to make a living by selling counterfeit celebrity letters to collectors, Israel plunged into a life of crime, theft and deception.

The story of Lee Israel's rise and fall as a literary forger is one that might seemed far-fetched if a screenwriter made it up"but it all really happened. Israel herself recounted it in the self-deprecating, humorspiked 2008 memoir of her misadventures, Can You Ever Forgive Me?. Melissa McCarthy plays the role of Israel – a part unlike any other in her comedic repertoire. Acclaimed filmmaker Marielle Heller (Diary Of A Teenage Girl), along with a large crew of female collaborators (including producers Anne Carey and Amy Nauiokas, screenwriter Nicole Holofcener, editor Anne McCabe and many other below the line talent), brings Israel's unexpected and at times surprisingly moving story to the screen.

Beneath Israel's felonious capers lies a more personal story"that of a lonely, cat-loving, hardboozing outcast whose life grew more exciting with every person she tricked. Israel, inspired with a reverence for the literary rascals she was imitating, played the forgery game with a sense of style. By finding success in the marketplace with her flawless forgeries, Israel finally gained validation for her own eccentric passions, even if the most rapt attention she garnered was from the FBI. But when her business grew too hot for her to handle alone, she brought an accomplice into her scheme, the larcenous street hustler Jack Hock. Ever the loner, Lee had to learn how to share her life with another person.

Heller loves that Lee Israel is not your typical female protagonist, that she's an anti-hero who breaks the long-standing mold of gritty male anti-heroes. "I feel like movies have all these complicated, wonderful male characters who can be very rough-edged and morally ambiguous and we don't ever question that," she says. "So to have a story featuring a woman who is complicated, who is a difficult person, who commits crimes, yet who is also feisty, smart, clever and ambitious, is exciting."

Says McCarthy of portraying Israel: "I have become so attached to Lee that I just want people to see her for everything she was: for her talent, her intelligence, her caustic, remarkable wit and to also see her difficult circumstances, her flaws, her broken heart, her anger. I want people to love her as much as I do."


Lee Israel: A Bookish Felon and Charming Forgeries

Lee Israel never envisioned a life of poverty and crime. In the heady days of 1970s Manhattan, she was a celebrated biographer with big aspirations. Her two best-selling books (well-received biographies of screen star Tallulah Bankhead and showbiz reporter Dorothy Kilgallen) won her entry into New York's swanky literary scene. But when her third book, a biography of Estee Lauder, tanked, a writer's block set in, and in the blink of an eye, Israel's life flipped upside down. In a new era of mega-bestsellers and "brandname" authors, Israel was persona non-grata. Her agent wouldn't take her calls, the fancy party invites dried up, and she couldn't get a job. Soon enough, she found herself living in squalor, surrounded only by musty books from a bygone era and her beloved cat Jersey.

As she skidded to rock bottom, Israel couldn't comprehend how a writer of her talents could have fallen so far - but then things got worse. Unable to pay for an emergency visit to the vet for her cat, Israel knew something had to give. She sold everything she owned of value including a signed original letter from Kate Hepburn. The $200 she received for the sale of that letter, planted a see in Lee's mind. Fate intervened while she was researching comic film and stage pioneer Fanny Brice for a new biography. After discovering (and then stealing) two letters written by Brice from the Public Library, which she then sold to a collector, Israel cooked up the sly idea. Creating more letters to maintain the cash flow. Thus, beginning her new career in sophisticated literary forgery.

Israel began to create faux correspondence from such literary and entertainment greats as Dorothy Parker, Ernest Hemingway, Noel Coward, Edna Ferber, Lillian Hellman, Louise Brooks, George S. Kaufman and more. She took her craft seriously, going to meticulous lengths to study her subjects, to match their writing styles to a T, even collecting vintage typewriters from all the right eras. Even to the trained eye, her forgeries were undetectable.

At times, it was as if she was channeling the illustrious authors' spirits, infusing her own life and soul with theirs. She convinced herself she was doing no harm, merely shining light on celebrity legends renowned for the wit and sophistication. She reveled in their cleverness, creating letters highlighting the sparkling, quotable adages, which had made them immortal in the first place. Meanwhile, life with a steady income grew more fun, filled with mischief, action and even admirers. But there was one major problem with it all: Israel was committing felonies left and right.

The tension between the fiercely intelligent, talented writer and her life of hoodwinking and crime is part of what drew the filmmakers to this one-of-a-kind story. Says producer Amy Nauiokas of Archer Gray: "I found Lee to be fascinating in her boldness and her abrasiveness, especially at that time since professional women were not encouraged to have any of those particular traits. She had a truth to her that was unrelenting. I read the book in a tent in the middle of Tanzania by lantern and I just couldn't put it down."

Nauiokas' partner at Archer Gray, Anne Carey, who was sent the manuscript early on by an editor friend, says: "I originally fell in love with the book because it reminded me of women I met when I first moved to New York and was working in the book-to-movie world. I kept encountering these women who were super smart, all single, had cats, lived way beyond their means, and were kind of out-of-sorts with the rest of the world. So, I felt like I knew Lee, yet I'd never seen this kind of story on screen. I loved that it is also a story about the pleasures of wit, it's a story about New York and it's a story about a friendship between two people who supported one another in their own strange, mischievous ways."

Producer David Yarnell was in fact a lifelong friend and confidante to Israel before her death in 2014 and convinced her to write her memoir. They met years before, when Yarnell optioned the movie rights to her first two books–and soon after, Israel reluctantly told him the story of her miscreant years. "I was having lunch with her and she said, 'you know, I did something in my life that I'm really not proud of. I don't even want to talk about it,'" Yarnell recalls. "And I said, 'Well, now you've got to talk about it.' So, I gave her another scotch, which eased her into telling the story of both purloining and forging the letters of very famous people concentrating on members of the Algonquin Round Table [a group of leading literary lights who met at New York's Algonquin Hotel for lunch each day in the 1920s]: Lillian Hellman, George S Kaufman, Louise Brooks and Dorothy Parker. It was an undertaking that was illegal and dangerous but she said it had also given her a deep sort of satisfaction – she was thrilled by being able to pass off her own writing as theirs."

At the time, Yarnell encouraged Israel, against her protests, to write the story of the whole sordid episode, including the surreal notion of being a bookish recluse playing catch-me-if-you-can with the FBI, in her own candid, sharp-tongued voice. Ironically, when she finally wrote her story she gained the literary attention for which she had so long hungered. Yarnell also knew the story had an inherently cinematic quality to it, even if Israel upended any typical notion of an outlaw and con artist. Prior to Israel's death, the two of them met with producer Carey, and Israel was all in.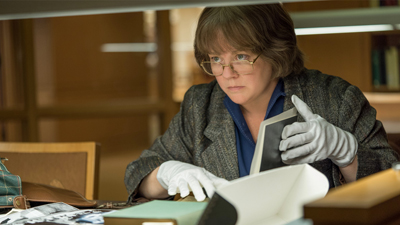 "We always wanted to see Lee's story become a film," Yarnell says. "But it was Anne Carey who really brought this dream to fruition. When we met with Anne, Lee told her, 'If you're going to make a film, David has got to be part of this.' But the major credit goes to Anne for really standing by it and making this movie possible."

Carey enlisted two acclaimed screenwriters known for their keen sense of offbeat humor to adapt Israel's memoir: Avenue Q's Tony Award-winning book writer Jeff Whitty, and acclaimed filmmaker Nicole Holofcener (Enough Said, Friends With Money), who each turned in drafts to fully realize the larger–than-life qualities of Israel while remaining grounded in the unfortunate circumstances surrounding her misadventures. Whitty, whose stage work also includes The Further Adventures of Hedda Gabler and the Go-Go's musical Head Over Heels, knows the resonance of strong female characters, having dedicated much of his career to such iconic female roles.

Holofcener – known for writing and directing a series of deeply emotional films featuring unapologetically complex women, aimed to adapt the memoir with fast-paced drama, laced with suspense and humanity. "The script totally captured Lee's fighting spirit," says Yarnell.

Both Whitty and Holofcener had the honor of meeting Israel before her death.

"I knew she was very sick at the time, and wish so much she could have seen the finished film. I got to go into her apartment and it was smaller than I imagined and had a sad view of another building.

She deserved better. She had a million wonderful books and many cat motifs on mugs and pictures... (not a surprise)," says Holofcener.

When Israel passed away from complications of myeloma in 2014, Yarnell remained at her side, even finding a home for the two cats she left behind. He feels she would be pleased to see her story come to life in the way it has, celebrating not only her knack for wisecracks, but also her spirit of survival and defiance of a world in which she was nearly invisible.

"Lee was feisty, witty, acerbic and tough," he describes. "When she lost her dignity and had to eke out a living, she fought back. We all have those moments in life when we feel rejected or that our efforts are fruitless. So, I think we all can identify with someone who was on a downward cycle, who looked like she was absolutely defeated, but instead carved out her own way to have a taste of success."

Ultimately, Nauiokas and Carey would entrust that script with rising director Marielle Heller. Impressed with her early work, the Archer Gray team helped nurture Heller's career, encouraging her to attend the Sundance Writer's and Director's Labs, and producing her debut feature, Diary Of A Teenage Girl, based on the graphic novel by Phoebe Gloeckner. Both felt Heller was a distinctive match with the material.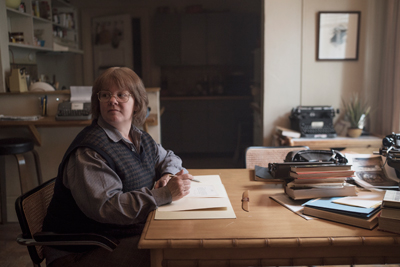 "Mari is relentless and it shows in everything she does," says Nauiokas. "She has a personal vision and a talent for moving people that really bonded everyone on this project together. Her directorial style is very understated, but at the same time she brings a big presence because she's got so much depth and passion. I find her to be incredibly brave and honest, which this movie absolutely needed. Because she so respects and appreciates women and really understands what it means to be a woman in a certain time and space on this journey, she brings something very, very authentic to it."

Adds Carey: "When we first met Mari, she had a certain quality that I think all first-time directors need to have: she just radiated 'I'm going to make my movie, no matter what it takes.' You have to have that, and she had it. Now with her second movie, it's been wonderful to see her confidence growing even stronger but also to see her becoming more grounded. "

Heller recalls that the script hit something inside of her. "As soon as I read it I was enthralled," she recalls. "I just felt so connected to Lee. I'm very much a cat person so that was something that grabbed me really quickly and also, I love old bookstores, I love that whole New York literary world Lee lived within. But I also just got really excited about a female character who can sometimes be a bit of well, an asshole. She's unapologetically who she is: a funny, tough broad."

Rarely is a woman protagonist the gruff, law-skirting antihero in cinema. "I want to be able to tell stories about women who society would otherwise ignore and not look at closely," Heller summarises.

"And Lee is somebody who was certainly very flawed, but also really resourceful and ingenious. Whether or not you agree with what she did"because there's no doubt what she did was criminal"she used her brains and her gifts to achieve something when all looked lost. She figured out a way to survive and to keep going, and most of all, she had some real fun while doing it."

Melissa McCarthy In A Different Role

"There's a real joy in playing someone opposite to you, in trying to become your best version of who they are."
-Melissa McCarthy

"I believe Melissa has actually channeled the spirit of Lee," says Amy Nauiokas, "I never had the pleasure of meeting Lee but a lot of people who were on set knew her and everyone felt Melissa was just breathtaking. This is such a difficult character, not always likable, and the honesty and courage she has brought to it is something special. Playing someone like Lee is not only a challenge for an actor but it's a challenge generally, because we're all so caught up with being liked all the time." From her Oscar®-nominated role in Bridesmaids to such films as The Heat, Spy, Tammy, The Boss and Life Of The Party along with her numerous hosting gigs on "Saturday Night Live" (for which she received an Emmy Award). McCarthy has carved out a place as one of today's most original in demand actor. She first took on a dramatic supporting role in St. Vincent as a struggling single mom. For David Yarnell, McCarthy was almost supernatural. "From the start, my feelings about Melissa doing this were beyond enthusiasm," he recalls. "And then when I saw her on set, I thought, 'this is Lee Israel redux. We now have her back.' She has embodied physically all of Lee's nuances, as well as her way of being so snarky and wily. She has truly captured her persona."

Adds Anne Carey: "Melissa truly understood Lee Israel as a certain kind of woman who isn't going to suffer fools, and I think that's exactly what Lee was. Her approach was very exciting to us. She's really interested in telling stories about women the world doesn't always see."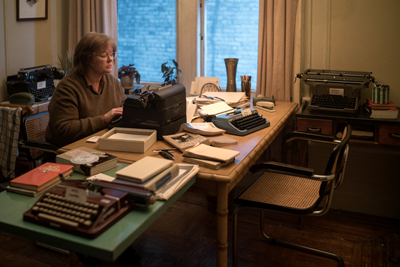 McCarthy was drawn to the character precisely because of role's inherent dilemma: the challenge to peel the layers off a consciously off-putting surface. "What I loved most about playing Lee was looking for the redeemable in a person who is perhaps not the easiest person to get along with," she explains. "I was always looking for the motivation behind why Lee was so grouchy and caustic and in the process, I really fell for her. I think you see dimensions in her that you don't often see in female characters. She's not all shined up and floating through life making everything wonderful. She kind of storms in and leaves a path of destruction."

There was no temptation to soften Israel's razor-sharp corners. "Part of what makes Lee so mesmerizing is that she was exactly who she was," McCarthy elaborates. "Her wit and her bite could come on strong so it had to be that way. But I also think it was somewhat of a pose where she acted as if she didn't care at all about the outside world. So, I was always trying to balance who she really was with how much of her standoffishness was also a defensive maneuver or a bluff."

McCarthy acknowledges she is nothing like Israel, but that only increased her drive to understand her antisocial ways. "Lee was always in her own head and very no-nonsense and I found that really interesting to explore because I don't get to be that in my life. There's something about how she kind of barrels through her life, even if it's a bit of a front, that was compelling to me," she says.

When director Marielle Heller first met with McCarthy, they bonded quickly over their mutual fascination with what made Israel tick. "Melissa and I were immediately on the same page about Lee: we were both a little in love with her and we really wanted to pay our due respects. We agreed we were not going to be making fun of this character in any way. The portrait for both of us came from a place of thinking she was a really intriguing, worthwhile person we see too rarely. We also connected on this idea that part of why Lee almost gets away with her crimes is because nobody's really looking at her."

That bond continued onto the set. "Mari set a great tone," says McCarthy. "We all felt protected and taken care of and able to really let go knowing that Mari was watching over us with her eye for specificity. She has a way of guiding you ever so gently so that a whole scene takes on a different feel to it. I think she's tremendous. It was one of the best shooting experiences I've had in my life and I've had a long list of really fun ones."

As McCarthy dug deeper into Israel's cunning forgery work, she began to understand the appeal of the crime, especially given that Israel's livelihood depended on it. "Lee was someone who was all about the work," she observes. "Words and language were everything to her. So, she was proud of being able to imitate these great writers, proving she could be every bit as witty and singular as they were. It was fun for her to play at that and she always said she thought of it as some of her best work. Lee really didn't care so much if people liked her, but if people liked her work, that was meaningful. She loved that people would say 'no one else can write like Dorothy Parker' and yet Lee Israel was thoroughly believed as Dorothy Parker."

Another focus for McCarthy was Israel's devotion to the one thing in life that never disappointed her or let her down: her cat. "With Lee's cat, you see that even this grumbly, stubborn, difficult person really does love something," she notes. "It's also that love which starts the whole ball rolling when she needs money for the vet. Lee didn't just wake up one day and say, 'Oh I think I'll use my talents to commit crimes.' To her, at first it was a matter of life and death."

The decision was made early on for McCarthy to wear very little makeup and to sport unattended gray roots in her hair, both to mirror Israel's decline and her unflinching honesty. That raw physical presence became part-and-parcel of a performance McCarthy hopes will shine a light on fascinating lives that are often lost in the shuffle.


Richard E. Grant as Jack Hock

The story of Can You Ever Forgive Me? is also a story of two lost souls coming together, a rather unlikely friendship of a flamboyant rebel and a surly loner that is transformative in subtle yet emotionally profound ways. That friendship begins when Israel runs into Jack Hock, a large-hearted petty criminal who, sharing Israel's insubordinate disposition, became her accomplice for a period of time.

Taking on the role is an actor who loves to sink his teeth into colorful characters: Richard E. Grant, known for his many indelible performances in Withnail & I, Gosford Park and Twelfth Night.

"Casting Richard as Jack was such a dream come true," says Anne Carey. "Withnail And I remains one of my favorite movies of all time, so the idea of having him play Jack to me was just perfection."

Adds Marielle Heller: "Richard is such a good foil to Melissa as Jack. They're an odd couple because Jack is not literary at all. Yet they get along because both have a defiant, slightly criminal sensibility to them where they giggle at the many ways in which they can say 'F you' to society. It's that attitude that I think makes you want to root for them. They're both such misfits, they never really judge one another. Jack never takes offense at Lee's crankiness. It just doesn't ruffle his feathers. And Lee has spent so many years not letting anybody in, yet something about Jack's personality works for her."

The closeness that unexpectedly unfolds between the two was mirrored McCarthy and Grant's relationship. "Melissa and Richard had so much fun together, running around the city causing havoc and mischief, it was just delightful to watch that develop," Heller continues. "They really liked each other to the point that I said to one of the producers, 'If they become any better friends we're going to have a hard time shooting because they're just having such a great time chatting before we even call roll.' The other thing is that both of them are able to go from jovial, dynamic scenes to really serious moments that take us into the inner world of these two people who are also lonely and in pain."

McCarthy says she was instantly smitten with Grant. "It took about 3½ minutes for us to feel like we'd known each other for years. I think maybe everybody feels like that with Richard," she muses.

"There's a warmth, a humor and a kindness to how he played Jack that was just dreamy. He makes him a true bon vivant, and at the same time Richard plays moments so vulnerable they were heartbreaking."

That both characters are gay was also unusual. "This was an interesting time for two gay characters to come together in New York," notes Heller. "A friend of mind told me that historically the lesbian community and the gay community in the city were pretty separate, but when AIDS happened they kind of connected. A lot of gay women ended up becoming caretakers for a lot of gay men and the communities came together in a new kind of way. Lee is someone who often drank at a male gay bar and I think gay culture is part of their story in a lot of ways."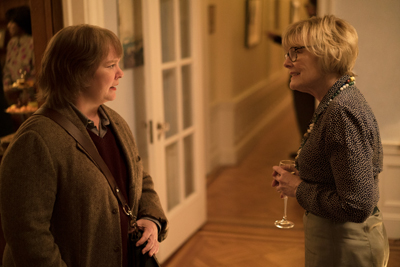 Grant was drawn to the humanity in Hock. "Jack seems to me to have the personality of a Labrador Retriever. He just assumes that he might go up to anybody and they'll like him, but he's also sometimes kicked-about and he's lonely. He was a coke dealer and probably a kleptomaniac, banned from Duane Reade drugstore for shoplifting. But when he falls in with Lee Israel, they develop this very unusual love-hate relationship, which seemed to me to be the core of the story," he explains. "Despite Lee's curmudgeonly ways, they actually get on together, partly because he just insists on it."

As for what draws Israel to Hock, Grant offers an insight: "Jack treats Lee in a very courtly way, with a respect and courtesy that I think is unusual in her experience. He's also completely comfortable in his skin, happy to be flamboyant, while she's so introverted and reticent, which can be a combination that works. Of course, he oversteps the mark with her, but that is also what she likes about him most. He doesn't have any boundaries or believe in any rules and he's willing to live outside of acceptable society and take her into what becomes a kind of Boho, borderless country of their own."

Adds McCarthy: "I think Lee and Jack come to truly need each other. She has no one and he has no one and yet suddenly these two intensely, intensely lonely people have each other."

Much as Grant enjoyed Hock's free spirit, he also had to open himself up to the character's flaws, which he admits are not few. "He may be non-judgmental but he's also completely unreliable," Grant laughs.

"He's an absolute flake, always on the make, and very little in his life works out. I think we all know people like that. They can be very attractive and magnetic, yet also always scamming for something, always with a plan to do something fantastic, yet it never quite happens for them."

There was little information that Grant could find on Hock's life. "I found out one thing on Wikipedia: that he had a very short cigarette holder because he believed he wouldn't get cancer if he smoked through that," Grant recalls. "That was all I could find--and that he'd been to jail. I had no picture. But when I started using the cigarette holder it suggested to me somebody with a certain élan and self-confidence and that influenced my idea of someone who would just take on the city in his own way."

Most thrilling of all for Grant was building this one-of-a-kind friendship with McCarthy. "She's a comic genius, but she is also very truthful," he comments. "Of course, chemistry is a weird thing. You have no idea if it's going to work with somebody or not until you meet. It felt like a big risk to put us together in the beginning, but the minute I met Melissa, I found her to be so open and there was no game playing or status-pulling whatsoever. She made me laugh, and I made her laugh. And our friendship has turned out to be a real gift."

Playing Jack Hock has been among favorite movie experiences for Grant, he confesses. "The chance to be so out there and exuberant and willing just to say and do whatever you want is something that I never get to do in my real life. There's also something beautifully sleazy about Jack, too, which I really like, because I lead a much more sort of moral, upright life. But there is also enormous pathos and poignancy in how things end up for him and his story is quite moving."


Supporting Cast

As Lee Israel's letter-forging career took off, she was suddenly given a chance at love and acceptance that she hadn't had in years, if ever"albeit a chance she couldn't take without exposing her ruse. Chief among those in the film is her link with a vintage bookstore owner who buys her first letters: Anna, who recognises and admires Israel in a way that bolsters her flagging confidence. Sparks between them are visible, but Lee's known deception of Anna stifles them. Taking the role is Dolly Wells, the British actress best known for co-writing and starring in HBO's comedy series Doll & Em.

Says Heller of Anna: "It's the most heartbreaking relationship in the story because this woman truly adores Lee and adores her most for her writing. She sees Lee in the way Lee has always wanted to be seen, but meanwhile Lee is in the middle of conning her. There are all these missed opportunities between them and Dolly is just incredible at evoking that, with a very real subtlety. She and Melissa had a beautiful ease with each other; yet, you can also understand why each of their characters has such a hard time being in a relationship. They just can't quite say or do anything right, but they're trying and it's almost happening and I found it wrenching but in a lovely kind of way."

Well's take on the role astonished McCarthy. "I feel now that no one but Dolly could be Anna. There's such a delicate, loving, timid quality to her that I think it compels everyone to root for Anna and Lee on some level. You want that love story to work. But Lee just will not get out of her own way, even though you can see that it might have been wonderful for both of them. They could have been so right for each other and it was so close."

Wells sees Anna as someone who has always lived vicariously through books. "Anna inherited her father's bookshop," she explains. "She adored her father, so she runs it exactly as she believes he would want it to be. I don't think she has the courage to step out and change any of it; she's just very loyally continuing what he started. She's very bright and very sweet, but I think very unconfident and she has never had any lasting relationships. Her whole life has been spent in the world of her books."

That's why Anna is so impressed by Israel when she walks right off the book jacket and into the store to sell her seemingly quaint and charming celebrity letters. "She admires Lee, she's also attracted to her and I think Anna would love to just talk endlessly about Lee's work and writing and literature, so she's all the things Lee could ever want," notes Wells. "But, because their relationship starts off based on a lie, any attention Lee gets from Anna just fills her with more secret self-loathing."

They share not only a passion for the written word, but a belief that women writers have something significant to offer. "They have similar feelings on how literature is becoming all about these big, outspoken, well-paid men and it's all about celebrity and money rather than talent and insight. There's a real sweetness to that part of their connection," Wells observes.

On McCarthy's take on Israel, Wells says, "It's such a lovely performance that it makes you sympathetic to Lee, even though she can be so self-absorbed and awkward. The way Melissa brings her to life I felt I could understand her," she says. "It's also amazing to me because Melissa could not be more different from Lee–she's so warm and effusive."

Ultimately, Wells sees the duo as star-crossed; two people tragically kept from a potential vital connection. "Anna could have made Lee's life so much more comforting. But even if they had met under other circumstances, I think Lee might have found some other reason to not allow herself to be loved. If Lee just liked herself just a tiny bit more, they might have had something beautiful."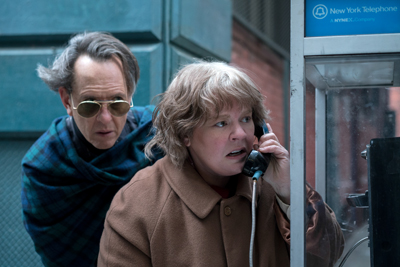 Rounding out the main cast are distinctive actors with expansive careers: original SNL cast-alum Jane Curtin (The Heat) as Israel's elusive agent; playwright, actor and professor Anna Deavere Smith (Black-Ish) as Israel's ex, and Stephen Spinelli "The Knick" as Paul and Ben Falcone (SPY) as Alan Schmidt – bookstore owners who are all duped by Israel. Says McCarthy: "Every person in this cast has been so spot on. It's the thing that you always hope for when you start a film but you never really know until you get there and here, everyone seemed to just click."

A Literary New York: Designing the Film

Shot on location in New York City, Can You Ever Forgive Me? is a view into a hidden side of the city. "The film is a window into a very specific New York, a dusty, musty, literary New York that the excesses of the 1980s never touched," describes costume designer Arjun Bhasin. "It's a world of libraries, bookshops, studio apartments and dive bars."

Assisting Marielle Heller in making that world feel vibrant is a team that includes cinematographer Brandon Trost, production designer Stephen Carter and costume designer Bhasin. They collaborated to create a unifying palette and ambience for a New York of both high literature and gritty street life. All of the filmmakers felt it was a must to shoot on the West Side of Manhattan where Lee Israel was long a fixture. "Lee was the embodiment of a certain kind of New Yorker, the Westside intellectual. She was so proud of being a New Yorker," says Yarnell.

Adds Heller: "We visit a part of New York that has almost disappeared"both the New York of the bookstore culture but also that gritty 90s New York, when AIDS was at its terrifying height and the gay community was under so much pressure. We also wanted to really explore the specific feeling of the Upper West Side and Greenwich Village in that era, and I feel proud of how we've done that."

The film's lovingly true-to-life depiction of New York also meant a lot to McCarthy. "I used to live in New York, too, and I love that the city is a huge character in this movie and that it's the New York I love most – the one with grit and soul to it," she says.

A key location in the film is famed Julius' Bar on West 10th Street in Greenwich Village. A tavern as early as 1864, Julius' is one of the oldest bars in Manhattan"having survived Prohibition as a speakeasy"and it is also one of the city's longest-lived gay bars (the location has attracted a largely gay crowd since the 1950s.). Lee Israel haunted it when she was alive and perhaps still.

"I think Lee liked going to a male gay bar so there would be no chance of her meeting someone," muses McCarthy. "I was told she would often sit alone with headphones on; but people that knew her also said that when she was in the mood she would move to a table and suddenly, she'd hold court. I loved that," says McCarthy. "I just loved that she actually was like, 'and now I'll speak.'"

Production designer Carter, known for his work on the Oscar®-winning Spotlight and as art director on the intricately designed Birdman, welcomed the chance to take moviegoers into Julius' Bar. "Julius' happens to be a bar that I love to go to and drink with designer friends of mine," he notes. "It's such a great location and it was sort of a touchstone for me in thinking about the rest of Lee's world."

Carter's work also involved scouting out and working with a number of New York's most venerable vintage bookstores, the few still clinging to life in the age of Amazon. Notes Heller: "We're capturing a point in time just before bookstores started going away and we realized we had the chance to get some of these gorgeous old bookstores on film before they might be in danger of closing down. We definitely wanted to pay homage to these stores that used to be so much more frequent all over New York City and to use several of the real places where Lee sold her letters."

Adds Carter: "It was a bit of a challenge trying to find not only the few vintage bookstores that are left but also find the ones that still feel like they would have felt in 1991. You have the East Village bookstore, on St. Marks Street, which had a little more of an underground punk rock vibe in those days and you have Argosy in Midtown, which is a higher-end store. Each one has its own personality."

For Anna's bookstore, the team meticulously recreated the interior of an existing bookstore. Dolly Wells says the set immersed her into her character's world. "I loved that Anna's store had that musty, fusty smell of old books and knowledge. It was so fun for me to be filming surrounded by so many great books I'd like to read. I started thinking it would be heavenly to actually work in a bookshop. I wish I'd done that when I was younger."

Literature also influenced the film's color palette, says Carter. "I had an early idea that we might use the muted colors often used on old book jackets from the 40s and 50s. That was a reference point we started from and after lots of conversations with Mari and Arjun the look evolved from that." To bring Israel's declining studio apartment to life, Carter and his team scouted pre-war buildings and renovated an apartment full of character. Says set decorator Sarah MacMillan: "There was a lot of layering involved. A lot of Lee's collected objects reflect styles of the 30s and 40s because of her interests in writers of that period. We focused on a classic American elegance for the stuff she would have bought during the time when she had money from her first big book success. But then layered over that is a time of having no money for upkeep."

Bhasin, known for his cutting-edge work on Monsoon Wedding and Life Of Pi, contributed a lot to the characters. Says Carey: "Arjun brought that same feel of old books, leather, wood, scotch, prewar apartments and stuff that's been around a while into the costumes."

To create Lee Israel, Bhasin homed in on the look of a woman in tough times holding on to the remnants of a more prosperous past. "Lee once had a life in which she was doing quite well. She had clothes that were special to her but they have since fallen into disrepair even though she keeps wearing them. In fact, both she and Jack are in a state of disrepair, although in different styles," he muses.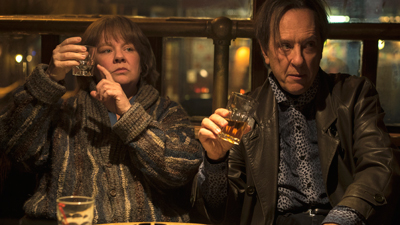 There was little research for Bhasin to utilize. The few pictures of Israel were all posed photos for book jackets or magazine articles. "It felt to me like those pictures weren't really what her life was," he says. "We had to kind of start from scratch to imagine her wardrobe. We created a certain masculine, tailored quality to Lee's clothes, clothes that were probably made for her when she was on a book tour ten years ago but by now, she has worn again and again and again. Her clothes are also very layered in a way so as to hide herself, to hide her personality."

Jack contrasts completely with his flashy, seductive style. "Jack has a wilder side to him and is more experimental with his clothing. He has capes and colors and he's kind of a peacock. He wants people to like him, to be attracted to him, and he works very hard at it, even if he doesn't fully have the resources for it. There is a mix of sweetness, sadness and sense of humor I wanted to see in his look."

Says Grant of Bhasin's designs: "They absolutely matched my conception of the character. Even though it's the 90s, Jack wears clothes from the early 80s, very much influenced by the New Romantic look of Duran Duran and all those bands at that time. Actually, I think he's probably stolen lots of his clothes.

He's very prone to that and some of his clothes seem to have cost more than the actual money that he doesn't have." Adds McCarthy: "When I was in Lee's clothes I could really feel her tenacity and her no-nonsense take on life. I loved how the team expertly aged them so that they felt like things she had been wearing for 20 years straight."

Throughout every part of the production"not only the costumes, sets, and photography, but every line spoken, every performance, every direction from Heller"Lee Israel was present, and Heller never for a moment stopped thinking about her.

Heller wishes Israel could have seen the final film, noting: "I think Lee would be very pleased to know a movie of her life was made and that this much attention was being paid to her work and especially to the success of her forgeries. Because deep inside I think she was really proud of what she did -not so much proud of being a criminal but of writing so beautifully that for a time, people believed in her."

"There are so many people in the world who just want to be recognised, to be seen for who they are and for their work to matter," McCarthy says. "They want to know their time on this planet meant something and they meant something to someone. This story is a reminder that people we pass every day, maybe without really seeing or acknowledging, have all these amazing things going on in their lives."
Can You Ever Forgive Me?
Release Date: December 6th, 2018