Meegan Warner Scare Campaign Interview
Cast: Meegan Warner, Ian Meadows, Olivia DeJonge, Josh Quong Tart, Patrick Harvey, Cassandra Magrath, Steve Mouzakis, John Brumpton, Jason Geary, Sigrid Thornton
Directors: Colin and Cameron Cairnes
Running Time: 80 minutes

Synopsis: TV show, Scare Campaign, has been the gold standard in prank entertainment for five seasons, but with darker and more daring reality horror shows turning up on the Internet, the format is starting to look a little old fashioned.

Scare Campaign's ruthless director, Marcus, is delivered an ultimatum by the network: push the show into darker territory or face cancellation. Not to be outdone when it comes to scaring a new generation raised on torture porn and borderline snuff, Marcus comes up with an idea that will completely turn horror-themed prank television on its head.

Their next episode is set in an old abandoned asylum and Marcus has handpicked the stooge; a man with a dark past called Rohan. An edgy new format calls for a fresh approach to casting.

Marcus calls on his favourite actress (and recently ex-girlfriend), Emma, to play the key role of the asylum administrator. But Emma's been having misgivings about the show (and her director) since a near-fatal mishap on the set of their last prank. She eventually agrees to take part after Marcus appeals to her compassionate side: the jobs of the tight‐knit Scare Campaign crew are on the line here.

So all is in readiness for what will be the most elaborate Scare Campaign prank to date. Cameras are hidden. Gags are set up. And then there's Marcus's ace in the hole – Abby. This talented teenager promises to be their most convincing 'ghost‐girl" yet.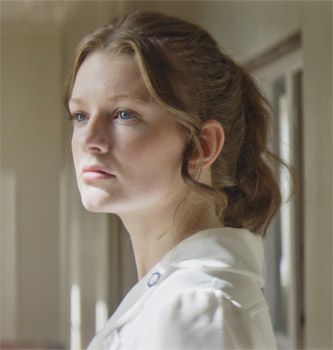 When prank victim-to-be, Rohan, arrives at the asylum, Emma immediately senses there is something not quite right about him. And when she discovers that he was once a patient at the asylum, and that Marcus is preying on his past, she fears that continuing the prank could be dangerous.

But Marcus refuses to shut it down. However disturbed this Rohan might actually be, this is turning out to be a horror prank for the ages.

Events take a frightening turn during the climactic scare, when Rohan turns on Abby. The prank victim is now the one orchestrating the scares and the cameras are capturing it all. Emma can't just stand by and do nothing. She goes to stop Rohan, who is out of his mind and out for revenge.

The Scare Campaigners have unwittingly unleashed a psychopath and it's now up to Emma, Marcus and the rest of the team to outsmart this monster – before they are all killed.

Scare Campaign
Release Date: March 12th, 2016



Interview with Meegan Warner
Meegan Warner is one of the original cast members in the successful AMC spy drama, Turn: Washington's Spies, which is now in season 3. She stars alongside Jamie Bell and Daniel Henshall.

Meegan's most recent feature film credits include the upcoming Jason Blum / Universal Studios horror, The Veil opposite Jessica Alba, Thomas Jane, and Lily Rabe. She is also the lead in Portend, an award winning thriller directed by Jeff Prugh.

The young actor first came to the industry's attention after playing the title role in the short film, Emily. Emily went on to win multiple festival awards across the globe, including a nomination for the 2012 Student Academy Awards Foreign Film Award and was an official selection at the 2012 Official Selection Cannes Cinephile, Cinema des Antipodes, Cannes Film Festival.

Meegan was a finalist for the Australians In Film's annual Heath Ledger Actors Scholarship, and is a graduate of Screenwise in Sydney. She is currently listed as '...one of the Top 20 Most Interesting up and coming Australian actors in Hollywood."

Check out Meegan Warner in action, on YouTube.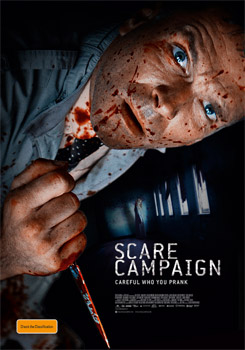 Question: Can you tell us about Scare Campaign?

Meegan Warner: Scare Campaign is the story of a TV prank show forced by producers to up the ante in order to complete with the extreme pranks being pulled by their online competition. But things soon start to go very wrong.


Question: What attracted you to the script of Scare Campaign?

Meegan Warner: I hadn't actually read the full script when I was offered the role. I'd only read the two audition scenes for Emma. It was more the team involved that got me excited about working on Scare Campaign. 100 Bloody Acres is such a clever film so to have the opportunity to work with that creative team sealed the deal for me.


Question: How would you describe your character, Emma?

Meegan Warner: Emma is an actress working on Scare Campaign. She's been having a bit of a morality crisis about the work they do on the show and how it's been affecting their past stooges. She's in an on again off again relationship with Marcus, the shows creator and director, and he ultimately keeps pulling her back into staying on the team.


Question: Are you able to relate to your character, Emma, in any way?

Meegan Warner: Sure. I think as an actor you have to find something in every character you play that you can relate to. I've obviously never been in the extreme situation that Emma finds herself! But I can relate to her determination to protect the people she cares about.


Question: What was the biggest challenge you encountered whilst filming Scare Campaign?

Meegan Warner: I injured both of my feet running around in shoes that probably weren't suitable for the task. I have no idea what I did to them but they swelled to the point of me needing a larger pair of shoes. There are scenes in the film where my running looks more like a fast hobble then a race for my life! But besides my feet betraying me I had an absolute ball. Such a great group of people to work with.


Question: Can you share with us some information about Turn?

Meegan Warner: We just finished filming the third season, which I think is our best season yet. It's a story about the formation of America's first spy ring during the Revolutionary war. I play the wife of a farmer who is recruited to spy for Washington. I've had such a fun time playing my character this season. She's very unpredictable. It'll air April 25th on AMC.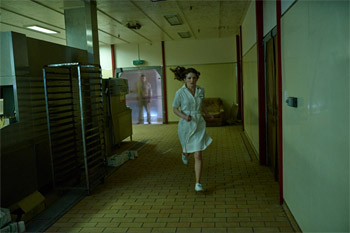 Question: Who or what inspired your love of acting?

Meegan Warner: I did the school play in year 7 because my friends were doing it. And I didn't want to do indoor cricket or indoor soccer or indoor basketball again (It was always indoor sports and I could never understand why considering the school had an outdoor area to do all of these activities!) I ended up loving it. I liked that for a moment I could be someone else without any real consequences.


Question: How does it feel, to see yourself on the big screen?

Meegan Warner: I get so nervous. It's always awful seeing yourself on camera. I always think I look and sound so different. A glass of wine helps! But I do enjoy seeing how everything comes together in the end.


Question: If you could work with any actress, who would it be?

Meegan Warner: I have such a long list of women I'd love to work with! But if I'm only allowed to name one, let's go with Cate Blanchett. I think she's amazing.


Question: What's next, for you?

Meegan Warner: At this point I'm just waiting to hear if TURN is picked up for a fourth season.


Scare Campaign
Release Date: March 12th, 2016
Interview by Brooke Hunter