Matt Leacy's Top Tips For Autumn and Winter Landscaping Success
With cooler weeks and months fast approaching, now is the perfect time to get outside and start preparing your outdoor space for autumn and winter.
There are plenty of cost-effective options for property owners wanting to get their landscapes looking great for autumn and winter – some are garden-focused while others have more to do with construction features. But it all starts with knowing what steps you can take to ensure your outdoor space is seasonally durable.
With this in mind, Matt Leacy, founder and creative director of Landart Landscapes and president of the LNA Master Landscapes Association, shares his top tips for getting your outdoor space ready for the chilly seasons.
Landscape construction
Enclosed outdoor areas
'Autumn and winter often signal more wind and rain, which can make outdoor living spaces less inviting," says Matt.
'Building enclosed walls around some key outdoor areas is a great way to combat this – especially the likes of outdoor living rooms, patio areas and outdoor kitchens, which you ideally want to make full use of year-round.
'Walls and ceilings can serve to create privacy, define space, control sun, shade and wind and also frame views," says Matt.
'For example, a backyard pavilion can provide the perfect space for outdoor gatherings and entertaining. Not only do they protect tables, chairs, pots and plants, but they also mean less ongoing maintenance as the walls offer protection from dirt and dust."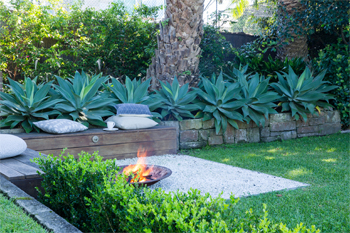 Warm up with a fire pit
'Fire pits are very popular with consumers year-round, but they take on a whole new level of purpose as we move into autumn and winter," says Matt.
'As the cooler weather sets in and temperatures drop, fire pits become a really stylish and functional way to warm up outdoor areas and keep them suitable for entertaining. You can chat and cook next to the flames with family and friends, relax in the outdoors and dispose of your leftover tree branches in the process – there are multiple benefits," Matt explains.
'You can also get an abundance of light from fire pits, which enables you to continue making full use of outdoor furniture pieces – and they're much better in terms of ambience than portable lights and heaters," he adds.
'That said, if you're looking at a fire pit, it's important to consider how its size and style will fit within your overall outdoor aesthetic and space," Matt says.
'You might consider a built-in fire pit that doubles as a coffee table beyond the cooler months or just a basic iron or steel bowl – the important thing is to look at your outdoor space and consider what will work best for you in terms of functionality, budget and look."
In the garden
Aerate and water your lawns
'As the seasons cool, the need for lawn-mowing decreases, which can make many green-thumbs happy," Matt says.
'The need for maintenance doesn't disappear, however – it just changes," he explains.
'As lawns become less active they can lose their lush greenness. But you can take steps to avoid this by supplementing their natural loss of air, water and light," Matt says.
'Aeration of the turf zone, in particular, is key. This will help to open up the soil and increase its capacity to accept water, nutrients and oxygen.
'To achieve this, you can hire a motorised aerator for larger areas, or for smaller areas, a garden fork or even a pair of spiked aerator shoes can work really well.
'If you go with a garden fork, try poking it half way into the lawn and give it a little wobble, approximately every 150 - 200mm. And if you are really keen, you can do it more than that as it won't do the soil any harm. But ensure there are no irrigation lines running underground before you start spiking the lawn"
'The next important step is to fertilise," Matt says. 'Where possible, try to use organic compost and slow release fertiliser as these will increase nutritional value. This is best done in March."
'Just keep in mind that fertilising will make the pH levels of the soil more acidic, so it's always good to monitor the pH levels with a test kit every other season," Matt adds.
'If the soil becomes too acidic, try adding some dolomite lime as this will help to get the soil back to a more neutral pH reading."
Remove weeds, thatch and leaves, and then mulch, mulch, mulch!
'Thatch is the buildup of dead grass leaves and all lawns create this," Matt says. 'The problem with thatch is that it reduces the ability of air and water to get through to the soil's root zone.
'To remove thatch, get a good catcher on your mower, or a stiff plastic rake to scratch it out of the spongy soil areas."
'It's also critical to remove weeds," Matt adds. 'If they're at the flowering or seeding stage, ensure that you put them all in a garbage bin and keep them out of your compost bin or the vegetation recycle bin to stop them growing and spreading further.
'Mulching is the next key step," says Matt. 'Think of mulch as the blanket that keeps your garden warm over autumn and winter.
'It's an important tool for helping the soil retain warmth, moisture and nutrients – and it can reduce the need for watering by 60 percent.
'Mulching will also help suppress weed growth, which means less weed removal!"
Mow higher to increase light
'When mowing in the cooler months, I recommend raising the blades a little higher to keep the grass slightly higher," Matt says.
'With the days getting shorter, the grass naturally gets less sunlight; but if you keep the grass a little longer, you'll get more photosynthesis.
'It's also worth keeping an eye on overhanging tree branches that may be blocking sunlight. Trim these back if they're creating too much shade," Matt says.
Pruning is key
'Pruning is a really important step for trees and plants, especially in the cooler seasons," says Matt.
'Pruning helps to remove dead or diseased wood which can stifle growth, and it also helps to maintain the architecture of a tree, which leads to a more attractive and shapely plant.
'In addition, pruning decreases the likelihood of branches falling and creating damage during wind and storms," says Matt.
'If you're not quite sure how much you should be pruning, err on the side of caution and don't cut off more than a third."
Co-founder of the award-winning Landart Landscapes, Matt Leacy, has 20 years' experience in design, construction and maintenance services across landscaping and pool installation for both residential and commercial properties.
Matt is a qualified horticulturalist and the current President of the LNA Master Landscapers Association (the equivalent of the Master Builders Association for the landscaping industry).
Matt has also worked with City of Sydney in recent years, spearheading their Living Colour installations to bring life and colour to inner-city streets.
Matt is a regular media commentator, writing weekly and monthly columns for newspapers and magazines, and did three seasons of Domestic Blitz, as well as more recently co-hosting Channel Nine's Garden Gurus.
A selection of Matt's work can be found at www.landart.com.au