Matilda Lindell has released her idyllic cover of ABBA's classic hit, "Dancing Queen." The experienced singer puts her twist on the legendary disco track by adding vulnerability and a fragile sound. "Dancing Queen" is being released in honor of Women's History Month and is now available to download and stream on digital platforms worldwide.

Matilda Lindell's rendition of "Dancing Queen" goes beyond the happy lyrics and upbeat groove. "My version is about female empowerment and encouragement," Lindell says. "Through the struggles, we need to believe in ourselves and also support each other. A celebration to women!" The track is a perfect complement to Women's History Month and International Women's Day. Lindell creates an almost filmic tone allowing listeners to create classic dancing scenes in their minds and offer a potentially new experience. "The familiar melodies are discovered in a new way," she adds. "The essence of the original song is there, but I have created a new perspective, and I hope, a new emotional journey for the listener." Powerful vocals intertwined with an emotional effort to capture the listener pose a level of relatability in "Dancing Queen." It's raw and genuine. Lindell created the updated arrangement for the single, while she co-created the string arrangement alongside Erik Arvinder, whose father played violin on the ABBA original. The song was co-produced and mixed by Andrew Lipke at The Studio Lounge in Philadelphia, PA. A music video for "Dancing Queen" will be released later this month.

Matilda Lindell was born and raised in Stockholm, Sweden. It was singing that made her most happy early on in life. "I have been singing since before I could talk," Lindell admits. "I have always expressed myself through music, singing, and performance. I have never had anything else than a singer in mind for a profession." At the age of 26, Lindell began touring the United States as one of the principal singers in the tribute act "ABBA THE CONCERT." She has performed at various venues, including The Hollywood Bowl in Los Angeles and Wolf Trap Performing Arts Centre just outside of Washington D.C. She's also had one of her original songs nominated for CARA (the A cappella world's Grammy equivalent). Lindell's time on tour sparked the desire to create something personal for herself as the classic songs became such a monumental part of her life. Her upcoming EP is a fascinating deep dive into ABBA, and includes interpretations of a selection of ABBA songs that have brought special meaning to her over the years. With a solo EP, It Should Be Easier (2017), and a handful of original singles already under her belt, Lindell continues on her journey as a solo artist.

Listeners are bound to be drawn in by Matilda Lindell's captivating presence and earnest sound. Her unique version of "Dancing Queen" is available now for download or streaming on digital music platforms.
Interview with Matilda Lindell
Question: How would you describe your music?

Matilda Lindell: My music is often born out of an emotional event or an observation in life. Even though the lyrics tell the story, I often start with the chords and melody, so the feeling I want to express already is in the music. It's hard to put a label on it, but the genre would probably be singer/songwriter topped with soulful vocals :)


Question: Can you tell us about your rendition of "Dancing Queen"?

Matilda Lindell: It's very different from the original, but you will still recognize the familiar melodies and feel the ABBA essence. My version is stripped down and vulnerable. While creating the arrangement I had different scenes playing up in my head of a girl who is struggling but gets inspired and supported by the women in her life and then finally finds freedom - becoming the Dancing Queen. It's a celebration to women of all generations and about female empowerment and sisterhood!


Question: Is there a particular message you hope listeners take from your music?

Matilda Lindell: That it's ok to feel and embrace emotions! Everything will be ok.


Question: Has moving to the US influenced your music?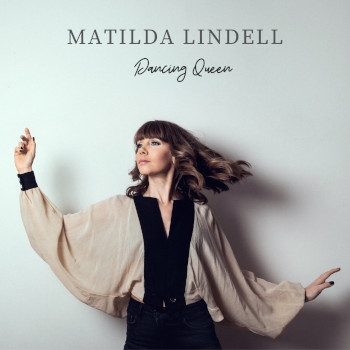 Matilda Lindell: I'm sure! Sweden and the US are very different cultures, and the differences must have made an impact on me and then also my music. I wouldn't have met the same people, traveled the same places and I'm certain that reflects on my songwriting. And I would not have learned the language as well of course, which probably makes a big difference. I'm not American (yet!) and I'm still limited in some of the nuances of the language, but hopefully this limitation allows the perfect touch of Scandinavian in my music!


Question: Tell us about the tribute act "ABBA The Concert?

Matilda Lindell: I'm one of the principal singers in this tribute act and we mostly tour stages across the US, but also perform shows internationally. The band and I have worked hard to perfect our performance and make it a very unique experience combining both the ABBA sound and costumes to make it bring you back to the 70s. Not a show goes by without us performing "Dancing Queen". It must be the song I've sung the most times in my life!


Question: Do you prefer performing live or recording?

Matilda Lindell: Definitely live! I love both, but the connection with the audience at live performances is hard to beat.


Question: Which is your favourite song to perform live and why?

Matilda Lindell: During our shows with "ABBA The Concert" it's probably The Winner Takes It All". It's a very intimate and powerful moment in the show. But I must say, it's always fun when I get the opportunity to perform my original music. When the words and melodies come from me, that brings something extra.


Question: If you could have anyone, in the world, attend a show, who would it be?

Matilda Lindell: I'd probably wish for Sara Bareilles, she is a great inspiration of mine. And maybe we could write a song together afterwards :)


Question: What motivates you most when writing music?

Matilda Lindell: My drive is based on the desire that writing music will make me connect more with myself and deep reflection on life while at the same time create music that hopefully others can feel and connect to. And that for every song I write, I will become a better songwriter.


Question: Which music/artists are you currently listening to?

Matilda Lindell: After recently seeing the movie I Am Woman about Helen Ready, I've been discovering her music. And there is always time for some Sara Bareilles :)


Question: What or who was your inspiration to go into the music industry?

Matilda Lindell: I always wanted to sing and there was never a different plan. But I definitely had experiences that got me even more convinced. Everything from my first performance as a kid to being deeply moved by many concerts.


Question: What has been your favourite part of becoming a music artist?

Matilda Lindell: That I get to express myself through my voice and music and make so many connections while doing it!


Question: What's a typical day like?

Matilda Lindell: I always set an alarm, I don't want to miss out on the day! I have plenty of tea, catch up on emails and work, have breakfast and very often I teach voice in the mornings. I'm a voice coach as well and some of my students are in Sweden and for them, my morning is their afternoon. :) Every day I get in some exercise and depending on what's coming up, I spend time working by the computer or by the piano preparing for a performance or creating music. I am a hard-working entrepreneur, so a lot of time is spent in front of the computer. But when I find the right balance of piano and computer - I'm the happiest.


Question: What's next, for you?

Matilda Lindell: Bringing "Dancing Queen" and the ABBA Uncovered EP out into the world and hopefully go on tour in the near future! I miss it! I have exciting things happening in my voice studio as well which I'm looking forward to!


Question: Can you share your socials? (links please)

Matilda Lindell: Instagram
Facebook
Twitter
Website


Interview by Gwen van Montfort