Marny Kennedy Conspiracy 365 Interview
At only 18 years old, Marny's screen credits already span several years. She made her professional debut at 12 in the lead role in the acclaimed ABC series 'Mortified' which earned her an AFI for Best Young Actor in 2005. Other leading roles include 'A gURL's wURLd' for Southern Star and the top rating Australian/Canadian tween series 'The Saddle Club.' Marny also recorded several songs for the accompanying Saddle Club albums. Other credits include a guest lead in 'Rush' for Southern Star and the short 'Golden Girl' directed by Grant Scicluna for Film Victoria.
Most recently Marny shot the co-lead role of Winter in the action series 'Conspiracy 365' which is currently airing on the FMC Network in Australia. Marny's training extends beyond acting to dance, including RAD Classical, Tap, Jazz, Acrobatics and Hip Hop.
October
episode of Conspiracy 365 is set to premiere on Saturday 6th October, 7pm on FMC.
Cal wakes in the forest very much alive. Why did Kelvin spare his life? And what are the numbers written on Cal's arm? Cal, Boges and Winter hatch a plan to get rid of one of their foes for good. Cal makes his way back to Winter's place. With Boges back on board, they now have a chance to get back everything Oriana took. Meanwhile, Sligo gets in touch with Oriana and asks her join him in going after Cal. But they have no idea that a little birdy is listening to their conversation. Will Oriana's ego be her undoing?
Cal, Winter and Boges are on a mission to expose their enemies. But sometimes the truth can be as unfavourable as a lie. When Winter finds her father's will, she gets closer to uncovering what happened between Sligo and her parents. And it isn't what she expects.61 days to go…
For more information see:
www.femail.com.au/harrison-gilbertson-conspiracy-365-interview
For more information Conspiracy 365 visit
www.girl.com.au/conspiracy-365
Interview with Marny Kennedy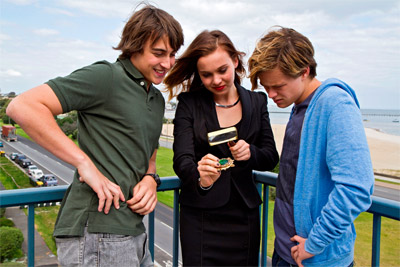 Question:
What should audiences expect from the October episode of Conspiracy 365?
Marny Kennedy
: As far as October goes, the stakes are getting very, very high as we come towards the end of 365 days. Cal is at his wits end as his making decisions that no teenager should have to and his been pushed way past the limits that he initially thought he would have to confront. Quite literally he is pushed to the limit of his balcony!
Question:
Had you read the books by Gabrielle Lord before you began filming Conspiracy 365?
Marny Kennedy
: I didn't actually I had heard of the books because they were quiet popular in my school library but I hadn't read them, myself. Once I got the audition for Conspiracy 365 I wanted to know more about the series and I read the first books to get an idea of what to expect. It was very interesting reading the script knowing it was based on books.
Question:
How are you similar to your character of Winter?
Marny Kennedy
: When you're portraying a character you always put some of your own personality into it but as far as Winter's journey and her story I think we are quite different in that respect. I don't think a lot of teenagers would be in Winter's position, family wise, as not a lot of kids can say they live with the man that potentially killed their parents. In saying that we do have a lot of similarities in the sense that we look similar (laughs) and I'd like to think I was as focused as Winter is as she is adamant and stands for what she believes is right. Winter has a dry sense of humour and I really enjoyed that because I have the same kind of sense of humour. There are not too many similarities but there are little things that I put into the character of Winter.
Question:
How does it feel to see yourself on the screen?
Marny Kennedy
: It's very strange actually although I don't normally get too weird about watching myself on screen! Normally with the shows that I do, I look similar on screen as I do in real life but with Winter we underwent a transformation as my natural hair colour isn't the chocolate brown they went with for Winter. My hair was down to my hips when we began shooting and they cut that all off - Winter's look is very, very different to mine. Conspiracy 365 is the first time I've watched back a project of mine and was confronted by what I saw because I don't look like me!
Question:
Can you talk about the filming process of Conspiracy 365?
Marny Kennedy
: When you're filming a television show you don't generally shoot chronologically as you may film a scene from May and then go back to a scene in January and in that respect we had to keep in mind the characters journey from month to month; a month is a long time in comparison to a normal characters timeframe which may be a couple of days. When we were filming and jumping back and forth to different months it was quiet hard to make sure that we were in the right mind-frame for each month because it is such a fast paced show where there is so much information to be taken in, especially because of the nature of Conspiracy 365 where there is all these different pieces of information that characters are find out. It was difficult to go from month to month and make sure we were getting the chorological order correct.
As far as the filming process itself, it wasn't too complicated but in saying that it was very different process to what I'm used to because we filmed 12 x one hour episodes.
Question:
What did you enjoy most about being on the set of Conspiracy 365?
Marny Kennedy
: I always love the crew and the cast the most; it was a difficult and intense six months for me because I was doing year 12 along with Harrison Gilbertson and we'd go from a 12 hour shoot to school the next day and try to catch up on what we'd missed out on. I really did rely on the support from the cast and crew because I only saw my family at night and because of that you cannot rely on them to provide a support ground when you're spending the majority of your time with the crew and cast, like I was. Forming bonds and friendships was definitely the highlight for me and it always is; my favourite thing about going onto different projects is the family that you meet and make.
Question:
What/who was your inspiration to go into the acting industry?
Marny Kennedy
: My mum is a dance teacher and she had a dance school for the majority of my childhood and because of that I grew up in a theatrically based household and I was always a drama queen as a little girl, as most girls will say. My love of performing grew from my background and I continually said to my mum "I really want to be on television" and she took it with a grain of salt because every child says that they want to be on television but it got to the point where 6 year old Marny was a little too persistent. I ended up signing up to an agency and it went from there, I was never influenced by a certain actor or actress; I was a kid who would happily dress up by myself and act out little scenes without knowing it because of my wild imagination and I wanted to take that into my future career.
Question:
What are you working on now?
Marny Kennedy
: I've recently returned from overseas as I have spent most of this year travelling. In January I spent a month in Fiji for a volunteer program and in April I left for Europe with my best friend, for three months and I returned at the end of July. Since then I have been auditioning and there are a few projects in the pipeline which is exciting although nothing is set in stone it is definitely going to be an exciting couple of weeks.
Interview by Brooke Hunter