Retelling the Three-Day Siege in Mumbai's Taj Mahal Palace Hotel
Cast: Joseph Mahler Taylor, Sukhraj Deepak, Mihika Rao
Director: Lliam Worthington
Genre: Drama , Thriller
Rated: MA15+
Running Time: 133 minutes

Synopsis: A group of international travelers struggle to survive when Islamic extremists besiege their luxury Indian hotel. Inspired by true events.

One Less God
Release Date: November 1st, 2018



Special Event Screenings:
Sunday 21 October: Q & A Red Carpet, 3.30pm: Event Cinemas, Tuggerah
Tuesday 23 October: Sydney Red Carpet, 6.15pm: Hoyts, Entertainment Quarter
Wednesday 24 October: Q&A, 6.00pm: Event Cinemas, Parramatta
Friday 26 October: Q&A, 7.30pm: Avoca Beach Picture Theatre
Saturday 27 October: Q&A, 8.00pm: Real Film Festival, Newcastle
Monday 29 October: Q&A, 2.00pm: Avoca Beach Picture Theatre
Sunday 18 November: Q&A, 6.30pm, Avoca Beach Picture Theatre


Interview with Lliam Worthington, Writer, Director and Producer
Question: How would you describe One Less God?

Lliam Worthington: One Less God is a multi-award winning Australian Independent film, featuring a highly diverse all Australian cast and crew. The film distills the many hundreds of stories of those caught inside the infamous 2008 Mumbai Terrorist attacks and explores deeper questions around why such tragedies occur and how we can hope to move towards greater unity.


Question: What inspired you to write One Less God?

Lliam Worthington: One of my Co Producers. Nelson Lau and I both had friends who lost people close to them in the attacks, so we felt a strong personal connection to the events. I'd also travelled to India and Mumbai as a young man, and have long held a great admiration for India's people and her spiritual traditions. Above all I really wanted to try and understand this great tragedy and unravel where the fault lines lay.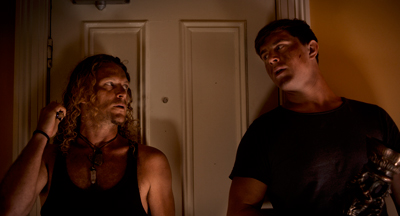 Question: Why was it important for you to tell the story from the perspective of the victims and terrorists?

Lliam Worthington: Terrorist organisation believe in destroying what they call the grey area. They want to paint the world as black and white. As us vs them. And those who are prejudiced against Muslims, also believe there is no grey area, and us vs them. So it seemed to me to be very important to craft a story that could walk between the mine fields of a demonisation and apologetics, and be a genuine movement towards greater humanism and compassion. After years researching it became clear that to do that, we needed to get beyond what fills the news cycles and get to the heart of the tragedy, and beyond it, to the people on both ends of the gun. And that's vital, because while the actions of the terrorists were unforgivably monstrous, if we only imagine such acts can be committed by monsters, then we're at real risk of failing to understand the full nature of the problem. And how do you hope to solve a problem, if you don't first truly understand it?


Question: Can you tell us about the research that went into writing One Less God?

Lliam Worthington: I began by extensively researching the events and listing to many many stories of people caught up in or affected by the attacks, but as more and more information emerged month by month year by year, the rabbit hole grew deeper and deeper. And I realised to understand the attacks, they could not be separated from the geo-politics between India and Pakistani, or the agenda of the terrorist organisation behind the attacks, or the rising wave of terrorist attacks and Jihadist organisations around the world, nor our belief systems and human nature itself. I delved deeply into all these areas.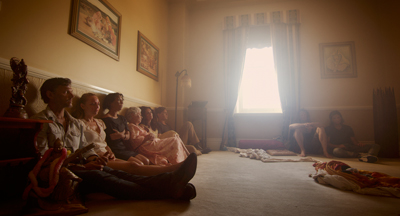 Question: How is the film dialogue based on the real events and comments during the siege?

Lliam Worthington: A very unique occurrence in the 26/11 attacks was that the phone calls between the terrorists on the ground and their handlers directing them from back in Pakistan, were intercepted by the police. I've listened to those tapes and read the transcripts many times. It's chilling, and deeply revealing. Some of the elements even border on the comical, but it was what was actually happening.


Question: What do you hope audiences take away from the film, One Less God?

Lliam Worthington: Ultimately, everyone will decide for themselves what One Less God means to them, but for my part, One Less God is less a story about terrorism, tragedy and pain, than it is about shining some light into a very dark place, and questioning in the light of such suffering, is there anything more important than letting go of the things that separate us from each other and love. Mahatma Gandhi once said… "In a gentle way, you can shake the world." That in some small measure, is what we have tried to do.


Question: Can you talk about the difficulties associated with being the writer, director and producer for this film?

Lliam Worthington: Yes! I can write you a very long and boring book!! Making a feature film, especially your first, is like climbing your own personal Everest for most film makers. It is a long and gruelling climb and many never even leave basecamp, let alone make it to the top. Given our subject matter, we have made this film on a budget that has literally stunned audiences and festival jurors where ever we go. We're very proud of that achievement, as there is a tremendous amount of love and work that has gone into this film by many amazing people, but keeping that engine rolling for so long takes enormous amounts of motivation, energy, and not just sustained effort, but continually renewed effort. Oh and love. Lots of love!



Question: What did you learn during the One Less God process?

Lliam Worthington: I would say more so than learned, I was constantly reminded that if you hope to make something meaningful, that you can be truly proud of… then forget about cameras, stars, budgets and awards. What really matters is people. Good people. Just as in life, the people around you are everything.


Question: What's next, for you?

Lliam Worthington: My father, Martyn Worthington, is a famous airbrush artists in the surfboard industry, so I grew up at the epicentre of the Australian surf scene. We have a powerful story called TORN, that is both a shark thriller and a deep exploration into Australian surf culture, men's violence and predation, and how we can hope to master and transcend it.


Interview by Brooke Hunter