Leslie Birkland Big Rich Texas Season 3 Interview
Big changes are in store for the Woodhaven Country Club with old tensions reigniting and new alliances forming when the third season of "Big Rich Texas" premieres Monday, December 17th at 9:30pm AEDT only on Style.
This season, the dynamics of the group shift once again when a new mother/daughter duo enters the picture. Single mother Cindy lives off a lucrative trust fund spending her days shopping, and her nights partying forcing her daughter Alex to take on the 'responsible' role. While her brash personality upsets most of the other women, Cindy finds a friend in Leslie who has recently returned to the club after travelling around the U.S with her new, wealthy boyfriend, Rip. Cindy empowers Leslie to take on longtime rival Melissa and confront Bon about their rocky friendship.
In the premiere episode, Melissa makes a scene at Cindy's Botox party, when she accuses Leslie of lying about her exit from the 'Fashionistas' social group. Tensions escalate further at the country club's 'Casino Night' event when Melissa questions Leslie's new relationship and calls her a 'gold-digger'. Meanwhile, the country club's new social chair, DeAynni has just had her 'arms' done and Bonnie is struggling to keep her wild daughter Whitney on the right track. Whitney has a new tattoo-covered boyfriend, Brandon, who has asked her to move in with him. Whitney readily accepts, much to Bonnie's dismay.
Catch all the action in the third season of "Big Rich Texas" premiering December 17th at 9:30pm AEDT only on Style.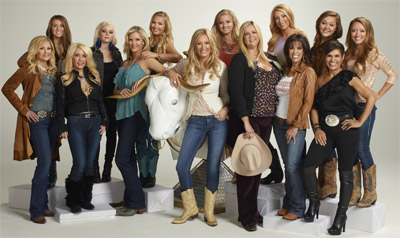 Interview with Leslie Birkland
Question:
What should we expect from Season three of Big Rich Texas?
Leslie Birkland
: I think you can add season one and season two together and times it by ten to get season three! There is a lot of craziness and a new cast member, her name is Cindy and she is a hoot! In the last season, season two, there was a cast member named DeAynni and she has gone completely wild. It's crazy and to be honest it's quite vicious which is pretty bad.
Question:
Why did you decide to return to the series, for season three?
Leslie Birkland
: You don't know what is going to happen until you enter the season. Season one was pretty mellow and season two was a little crazy but when I entered season three I didn't know if it would be the status quo and then I was in it and you can't get out, but I am very happy!
Question:
Tell us about newcomer Cindy and her daughter, Alex.
Leslie Birkland
: Cindy is really funny, she's a drinker and she owns it and you have to admire that. Cindy is a woman without dial, she really doesn't mean to be mean, vicious or say anything and she is always constantly apologising for things that she didn't even do because she figures that she probably did do it. Cindy amuses me because there is something about her as she is a woman without dial, she isn't mean, and she loves to have a good time and loves to have a cocktail!
Question:
What can you tell us about your boyfriend, Rip?
Leslie Birkland
: Rip is not on the show, I talk about him and there is often times when I am doing things, with him where I have to leave an event and everyone knows that I have a boyfriend. A couple of the Big Rich Texas cast members have met him, off camera, as he may pick me up, when we're done shooting and the cameras are down so they know he does exist. Some of the other cast members and part of the theme of the show is that I am in some fantasy world, apparently and he doesn't even exist and he is a figment of my imagination (laughs) but they're just being stupid.
Question:
Can you tell us about your favourite event, featured in season three?
Leslie Birkland
: I have wanted to have Kalyn baptised, she is has always been my Goddaughter unofficially as I've known her Mum for years and she's always called me her Godmum, so I have her baptised. To me it was beautiful, I was taken that this child was actually baptised and of course there was a big party and you can imagine there is drama that happens (laughs). Kalyn is a remarkable girl and has decided to turn a new leaf, change her attitude and moral compass; she astounds me as to how much she has grown and matured over the past year.
Question:
What made you decide to start training Kalyn for pageants?
Leslie Birkland
: I started training Kalyn years ago and that's how she started calling me her Godmum. I love working with teenagers because it is a time in their life when they need to make decisions as to which way they're going to go and I think pageants gives them a focus. There is a lot of public speaking involved with pageants and a lot of volunteering and I think it is very important for young people to experience what it is like to volunteer and to expect nothing back.
Question:
Do you do a lot of volunteering yourself?
Leslie Birkland
: Yes, I do. I love animals and I give money and raise money for No Kill Shelters which are self-funded; not state of federally funded and they really rely on support so the animals can live their days out at these shelters until they die a natural death and these are the shelters that need the extra funding.
Question:
What's a typical day like, for you?
Leslie Birkland
: I don't want to bore you (laughs) but I usually get up and exercise. I own properties and my business, which you don't see on the show at all, is managing the investment properties that I own. My priority is to spend a lot of time and be involved with my family; my mother, sister and my brother as well as my three boys. The kid's dad passed away four years ago so it warms my heart when they call and ask me a 'guy question', instead of calling their Uncle, I may not always have the answers but they have confidence in their mum. I taught my 22 year old how to drive manual, which is something normally a father would do but of course after I taught him he said "I could have done this without your help" (laughs).
In a typical day I maintain my properties, I have two homes and I do a lot of appearances, charity work and host events. I like to host pageants and I do a lot of volunteer hosting especially if it is a scholarship pageant or a pageant that is connected to a charity; I will host the event at no charge and any fee I would make, I want to go directly to the charity.
Question:
Would you be prepared to commit to season four of Big Rich Texas?
Leslie Birkland
: From what I've been hearing Big Rich Texas is a number one show so I can imagine we'll be doing a season four show. We just finished filming season three so we have a couple of months off which I'm enjoying because I have been travelling with Rip and things I don't normally have time to do. I am guessing we'll probably roll into season four in the next couple of months because people really like the show and I like being on it and entertaining people.
Interview by Brooke Hunter