Unseen. Undivided. Unstoppable.
Cast: Djimon Hounsou, Sam Claflin, Kristen Stewart, Naomi Scott, Patrick Stewart, Ella Balinska, Nat Faxon
Director: Elizabeth Banks
Genre: Action, Adventure
Rated: M
Running Time: 118 minutes

Synopsis: Director Elizabeth Banks takes the helm as the next generation of fearless Charlie's Angels take flight. In Banks' bold vision, Kristen Stewart, Naomi Scott, and Ella Balinska are working for the mysterious Charles Townsend, whose security and investigative agency has expanded internationally. With the world's smartest, bravest, and most highly trained women all over the globe, there are now teams of Angels guided by multiple Bosleys taking on the toughest jobs everywhere. The screenplay is by Elizabeth Banks from a story by Evan Spiliotopoulos and David Auburn.

Charlie's Angels
Release Date: November 14th, 2019


About The Production
"There are so few films with multiple female leads out there. I felt like Charlie's Angels was a way to tell a story involving more than one female lead " three great, powerful women that have agency over their lives, and are the driving force behind the story," says Elizabeth Banks, who helms the latest iteration of the iconic franchise. For the actress/co-writer/director/producer and so many women, Charlie's Angels was a beacon. "These characters were women who worked in a man's world and had to make their own way. You just hadn't seen women kicking butt in any genre before – it was revolutionary. They really stood for something."

"Elizabeth was attracted to the idea of being able to do an action movie," says producer Max Handelman. "The idea of being able to create a new world of spies and be able to work on that canvas was exciting to her. She also felt at that point, and even more so now, that it's the right time to be modernizing this global brand"creating a fun film that has a great brand underlying it, but also to be able to talk about women fighting for women and themes of female empowerment and positivity, beyond simply going on to do a comic book movie or comedy."

Doug Belgrad and Elizabeth Cantillon join Banks and Handelman as producers of the film. Before Belgrad formed his company 2.0 Entertainment as an independent producer, he was President of the Sony Pictures Motion Picture Group. "I had been at the studio over 20 years, and I was around for the first series of films. I had a young daughter at the time who became a big fan of Charlie's Angels, watching the movie over and over again, so I knew that Charlie's Angels was an important aspirational property for women. And I also felt, from conversations with many other female executives, that it was time to reinterpret these great characters for a new generation."

"Our first choice to do that was Elizabeth Banks," Belgrad continues. "She had a proven track record as a director and producer, launching the Pitch Perfect franchise in a way that was so entertaining and fresh. From that first meeting with Elizabeth in my office, it was clear that she was the absolute perfect person to bring the new chapter of the story to life."

"Elizabeth Banks built a franchise for women and girls in Pitch Perfect – it became a destination viewing for girls and women," says Cantillon. "It seemed organic to apply that to Charlie's Angels – her voice is the perfect tenor for what the franchise should be now.

"Every generation should have their own Charlie's Angels," says Cantillon. "The first round was reflective of that era of women's liberation and unlocking the potential of women. The second, the earlier films, were a celebration of women and women working together. Liz Banks' version is building on both of those ideas – women can do anything if given the opportunity, it's about women supporting women at work. It's a sisterhood, it's inclusive, and it's something that all women dream of – to be part of something – but we don't see a lot of movies about. Expressing that was important to Elizabeth Banks, and it was important to me."

As Banks took on helming responsibilities, she also signed on to write the script. To modernize the story, she first went back to the basics. On September 22 1976, Charlie's Angels aired for the first time on ABC in America. Created by Ivan Goff and Ben Roberts and produced by Aaron Spelling and Leonard Goldberg, the show followed the crime fighting adventures of three beautiful women working for a private detective agency, The Townsend Agency, headed and bankrolled by a mysterious millionaire, Charlie, whose identity was never revealed.

The first episode was an instant hit, and the show ran for a total of 5 seasons, 110 episodes and gave birth to two major feature films.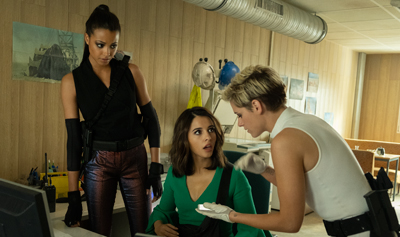 "Charlie's Angels was the beginning of female empowerment on TV," says Banks. "So, when we started the process of continuing Charlie's Angels, we wanted to incorporate everything that had come before."

But relaunching the brand was not so much about reinventing as reinvigorating. The starting point, and this lies at the heart of Banks' vision for Charlie's Angels, was to imagine where The Townsend Agency would be now, over 40 years later. In this new era, the company has gone global, activating an international network of Angels and Bosleys"their handlers. "I wanted to answer the question: what had Charles Townsend built over the past forty years?"

"Elizabeth wanted to play the mythology straight," says Handelman. "The idea being this is the next chapter in the mythology of the Charles Townsend Agency. It's as much about the Charles Townsend Agency as it is Charlie's Angels. It's about extending the story." This connection to its heritage is an important point.

"Liz took this world that we've all gotten familiar with and just expanded it," says Kristen Stewart, who plays Sabina Wilson, one of the Angels. "She hit fast forward and thought: where would we be circa 2018, '19? There's more of us. We're louder. We are stronger in numbers. And that really goes along with this distinct sense of self that we're developing in this particular generation. It's not always the people that are the most assertive or physically strong. It's genuinely about how you work as individuals together and how you become a formidable unit as a group. We don't glorify our characters as if they're heroes, as if you couldn't be one of them. The whole point is that if you know how to approach something with compassion and intelligence, it's not about doing a bunch of pushups and pulling a gun on a bad guy. It's about outsmarting someone and doing it for a good reason, and that will genuinely be what prevails."

The important thing about this film, says Banks, is how grounded it is. "It's about real women doing extraordinary things. There are extraordinary women around me every day, and that's what this movie is about, the everyday heroics of women who trust other women, who believe them and who want them to succeed in life."

At the same time, the movie is still Charlie's Angels: It's action-packed and full of the disguises, levity, and ass-kicking fans have come to know and love. "I wanted to make a movie that didn't take itself too seriously," she says. "I think having fun at these movies is the most important aspect of Charlie's Angels. We want to make sure audiences enjoy themselves the entire time."

"What Drew Barrymore did, bringing together that incredible cast and McG to make the first movies"she inspires me so much. She's one of the women that I look to when I think about how I want to conduct my career," Banks continues. "She just really went for it. And they had so much fun together. You really felt a sense of sisterhood. And even in the original TV show too, that's what mattered the most to me, the idea that women do it together. There are so many heroes out there, whether it's Jason Bourne or James Bond, who are very singular, you know: they've got it handled. Charlie's Angels is an opportunity to work together as a team, and I think that is really how women like to work. We're very collaborative, and so that speaks to me. I love being able to bring all the different skills together, the different women together, put them on a team and then send them off to be successful."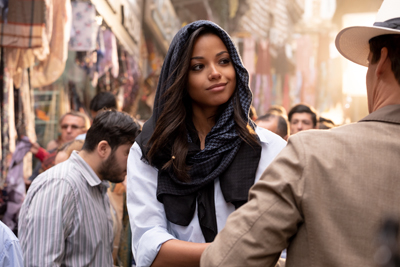 21st Century Angels (and Bosleys)

As the Angels have evolved, so too have their missions. In this movie, we meet Elena Houghlin (Naomi Scott), a brilliant scientist and engineer who has created Calisto, a sustainable energy source designed to revolutionize the way we power things. When her bosses rush her invention to market, she warns them there is a flaw in the system: in the wrong hands, it can be used as a deadly weapon. Unfortunately, her bosses turn out to be The Wrong Hands, so Elena turns to The Townsend Agency for help. A contemporary whistleblower story worthy of the 21st Century Angels, Elena's fight for justice ignites a globe-trotting adventure to get the device back before something terrible happens.

But espionage is espionage, so when we first meet our Angels, they're naturally in the midst of a mission on a glamorous roof-top terrace in Rio de Janeiro. Sabina, going Full Angel in a sultry disguise, is making sure that her mark is wrapped up in her ruse"and ultimately in the curtains in a very Cirque du Soleil moment.

As the free-wheeling, free-spirited hot shot of the team, Sabina is a total wild card. "I feel like if Sabina was a dog, she would be the mutt at the shelter that was definitely going to take a bullet for you, and I wanted to bring this levity to the character. In the beginning of the movie, Sabina seems the most social, outgoing… like she has all the friends in the world," says Stewart. "But really, she's just trying to find her team. She would do anything to have friends, and she just wants her family."

Kristen was Banks's idea from the very beginning, says Handelman. "Both Liz and I and Elizabeth Cantillon always loved the idea of Kristen Stewart as an Angel. It's so unexpected for her, and that for us really stamped that idea that this is totally different than any Charlie's Angels you've seen before."

"We always wanted Kristen Stewart," says Cantillon. "If you've seen her in interviews or on 'Saturday Night Live,' you know there's something subversive about her sense of humor. She's a little sneaky. And on top of it all, Kristen is the actress of her generation – she's accomplished so much and she's not even 30 years old.

Stewart was immediately taken with the project"and her character, a real departure for the actress who's known for more dramatic turns. "The dopest people you meet in life usually see aspects of yourself that you don't, and Liz was so convinced that I was like Sabina," she says.

"Kristen will be the biggest surprise for audiences in that I don't think people are expecting how funny she is or how incredible she is as an action heroine," says Banks. "She kicks ass and does it with a huge smile on her face. She really is like the rock and roll of the movie and the heart and soul of it too, and she ends up being team leader in that she's like the sister that wants everybody to be together all the time, and to be enjoying their life the most."

As Sabina continues enjoying her life by keeping her villainous dining companion tied up, the doors open to reveal Jane Kano (Ella Balinska), an Angel with the heart of a soldier. And we watch as the two of them destroy a room full of criminals.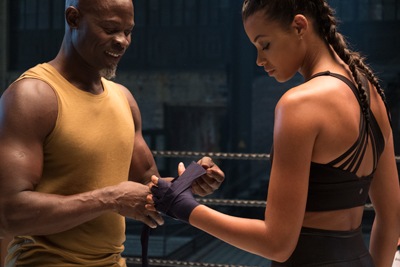 A former MI-6 Agent, Jane is everything Sabina is not: "Straight-laced, determined, focused," says Balinska of her breakout role. "She finds her strength in physical activity, she's very disciplined, and never fails to get the job done."

For Banks, casting newcomer Balinska was exciting. Not only was the actress trained in everything from weapons to hand-to-hand combat, she was also a perfect match for the role. "Jane is just like a get after it, do what needs to be done kind of character, and Ella is exactly that as an actress, especially as a physical person," says Banks. "I just felt like the perfect meld of actress and character when Ella took on the role of Jane."

Stewart agrees. "Ella is one of the most pragmatic people I've ever met. She's incredibly type A and to get from Point A to Point B is one direct line. To squiggle would be ridiculous, and I'm literally dancing all over the place to get to B and that's what I love. What she brings other than just her energy, which is adorable, she would do anything for this movie. She worked harder on the stunts than anyone. She's just embarrassingly sincere. She's so face value, sweet and present, and a very good friend".

While Sabina is a lone wolf looking for a family, Jane is determined to prove her independence. She doesn't need anyone and she certainly doesn't want anyone to need her.

"None of the elements of our group work well together in the beginning, because we're so individual and we've just developed independence in the way that women have to, but almost to a fault," says Stewart. "You think, I can do it myself. I'm fine on my own. As the movie goes on, my energy is like, I think we could do so many crazy things if we just never separate and become a very solid unit."

Enter Elena, the brilliant scientist the women are charged with protecting. While audiences have come to know Naomi Scott as Jasmine in the live-action Aladdin, this role is a whole new world.

"Naomi is such a perfect blend of brains and ebullience"she's got just a sparkle about her all the time," says Banks. "You really feel her having a lot of fun, and when she finally does get to fight in the film, she's very clever about it. She's kind of the brains of the operation, and the things she does to fight off a guy twice her size provides one of the most fun set pieces in the whole movie."

Elena is an expression of the potential that every woman carries inside of her, a key theme in the film. "Elena represents the type of girl that may not be someone that you would think would necessarily be an angel"the idea being that anyone can be an angel," says Scott. "It's about honing your own skills and being the best you can to actually do good."

As powerful as each of the Angels are, they wouldn't be a cohesive team without their Bosley"the conduit between the trio and their mysterious employer, Charlie. For our globalized Townsend Agency, Bosley has become a rank. Angels have their own Bosleys in cities all over the world. When we first meet Sabina and Jane, we also meet the original John Bosley, played by Sir Patrick Stewart, who represents the iconic but old world, old school iteration of the role.


"We had some fun considering who would play his character, and Patrick was always our first choice," says Handelman. "Bosley is such an iconic role and I think he was excited by that, and stepping into a film that felt a little more playful and fun."

Stewart was happy to be part of this adventure, especially under the watchful eye of Banks. "Elizabeth is very prepared to begin with, but then really free," he says. "So there are always moments for improvisation and a little bit of invention."

As Stewart's Bosley reluctantly retires, we meet Djimon Hounsou's Edgar Bosley, as he listens to Elena's predicament in a Berlin coffee shop. After a frantic and insane action sequence with our villain's sociopathic muscle Hodak (Jonathan Tucker) that takes Bosley, the Angels, and a shaken Elena on a wild car chase, Hounsou's Bosley is tragically killed. Hodak, however, is just getting started.

"The movie has the humor and the hard action that previous stories told. So it's an update, but it also is an homage with nods and winks and quite a few fists in the face," says Tucker, who was excited to build his character with Banks, the ultimate collaborator. He also got to show off his real-life MMA skills. "Getting to find the right tattoos, picking out the jewelry, seeing how this character is going to move and walk and stalk, how he sees the world…. Actors find this to be a meaty meal to eat."

When our first female Bosley "Boz" "an ex-Angel, played by Banks"steps in, she begins to lasso the Angels into a cohesive unit. As the Bosley responsible for creating this new team, Banks embodies the modern take on female empowerment and strength in numbers.

"I wanted to make something that felt important to women and girls that was a celebration of their potential in the world today"and what women can accomplish, especially when they work together," says Banks. "That these women work together, complement each other, that they cry on each other's shoulders, have each other's backs, that's the thing that I think is most appealing."

Saint (Luis Gerardo Méndez) is quite literally worthy of sainthood. He's their guru, their nutritionist, their healer… and their Jewish mother. "Saint is who you want to run home and just be like, "Look after me, too," says Banks. "He takes care of our health care, probably does our taxes. He helps us with our training, our diet plans"and probably a lot of therapy after a hard day's work."

As Elena's assistant Langston, Noah Centineo was already the internet's boyfriend (thanks to rom-com To All the Boys I've Loved Before) when he signed on to the project. So it's fitting that he and Jane awkwardly hit it off. "People were all stoked about Noah, sighing and stuff," says Kristen Stewart. "And I was like, he's cool but who is this kid? They had to tell me. An oh man, he is seriously charming. It's no joke."

The joke, it turns out, is on Elena who finds out that her bosses Peter Fleming (Nat Faxon) and tech-bro CEO Alexander Brok (Sam Claflin), backed by a mysterious partner, do plan to use Calisto for evil. Faxon and Claflin had fun satirizing the tech industry stereotypes, but also recognized the importance of their storyline.

"Peter is a chauvinistic executive, someone very identifiable for a lot of women who will say, I deal with that jerk on a daily basis. At work, in their community" someone who is constantly belittling or patronizing them," says Faxon. "As an actor, I will say there's something fun about playing a despicable character and pushing the boundaries in ways that are grounded enough that they feel relatable. This is fun because it points a finger at guys like this."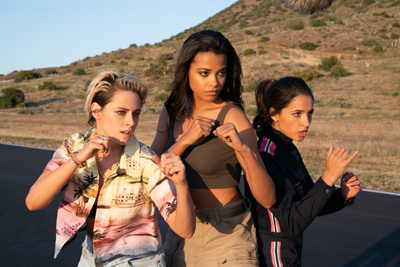 The Look Of The Angels

From the beginning, it was important to Elizabeth Banks to keep these Angels grounded in reality. Sure they could beat up the bad guys, but really, given the right tools " brains or Krav Maga training or a rocket launcher " couldn't any woman?

"Elizabeth's version of Charlie's Angels definitely has all of these women executing incredible feats and overcoming difficult odds in normal, but very fashionable street clothes that all girls want to wear and can relate to," says Costume Designer Kym Barrett. "I think it's important that the costumes have a kind of levity; they're not too 12 serious but not too jokey. We definitely walked a balance to try and keep the spirit of other Charlie's Angels girls alive."

"We love fashion," agrees Banks. "We felt like the Angels would have the most beautiful, cutting-edge clothes, and they do."

Creating the angel look of 2019 was much less of inventing the next great catsuit and the glitziest make-up but diving into the characters first. Rather than developing fancy looks, the team thought about the characters' individual traits and their arcs. Then they focused on how the Angels looked when they came together as a team.

"They used to just mostly only be in high heels and a lot of lashes, and we've gone beyond that," says Makeup Department Head Melanie Hughes-Weaver. "It's about seeing women, broadening who they are and what they look like, that there can also be strength in their appearance. I think that that's really important when you design an action movie for women like this. It's changed a lot. There's times when there's going to be some really great beauty and some kick-ass fighting looks that are strong and smart and beautiful."

Our new Angels are from different backgrounds, so they bring different looks, attitudes, and experiences to that table. For the creative team, this lent itself to a lot of fun in designing their characters.

Sabina, a chameleon who's always game for everything, much like Stewart herself, is more rebellious and shows off a lot of leg, a lot of clavicle, says Banks. "Sabina"and Kristen" have fun playing with how they can be a really different version of themselves," says Barrett. "She definitely gets a chance to show that she can transform into all kinds of versions of herself."

Jane, on the other hand, is more buttoned up"literally. She wears a lot of suits and structured clothing. For Jane, Key Makeup Artist Maha Lessner created a warrior look 13 that Hughes-Weaver thinks is, "an incredible statement: The warrior look is strong and smart, sleek and powerful, but not overdone. At the same time, we have beauty looks and soft looks."

For Naomi Scott, the team created an arc that develops from softer looks into stronger looks, reflecting the development of her character Elena. "At times she is soft and business-like and later she is tough and fighting and her make-up is broken down," says Hughes-Weaver. Banks agrees: "Elena has the biggest transformation because, of course, she starts out not as an Angel, just a science nerd basically. And we take her under our wing, give her the whole closet to choose from, and upgrade her look as we go along."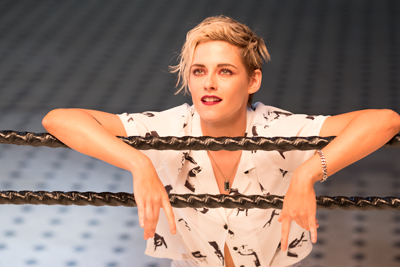 But Charlie's Angels wouldn't be sartorially complete without the disguises the women wear when they go undercover. And this modern take tackles them with aplomb. ""Look, everyone knows that a woman's hair is the most important thing that's going on for a woman. Hillary Clinton will tell you that," says Banks. "You can't make Charlie's Angels without wigs and disguises."

Hair Department Head Camille Friend had a field day with the various wigs and hairstyles"including one stunningly clever scene in which all three women dress as the same character. While Barrett really dove into the challenge of creating beautiful and fun disguises that weren't too outrageous and left the actresses free to handle most of their own stunts.

The opening scene was everyone's particular favorite. "I wanted Kristen to feel like a chameleon in the movie, that she could be anyone, do anything, which I actually believe about her as an actress anyway," says Banks. "But more importantly, I wanted to play with her image a lot in the film. I felt like starting the movie in a blonde wig"I said I want her to look like Barbie, in a pink dress, pink lips, pink nails, everything. I want her to look like the girliest girl in the world, so that when she transforms we really see this distinction and we understand that she's been playing this character the entire time."

Stunts

Female empowerment? Check. Clever disguises? Check. Fashion-Forward costumes? Check. State of the art weaponry, aerial moves and acrobatic fight scenes, high speed car chases, high impact action sequences that puts the Angels head to head with highly equipped assassins, throwing their enemies off balconies, into rock crushers… Yup, now we're talking the full 360 Charlie's Angels. The team responsible for creating the look for the fight sequences have experience of working on combat styles from around the world so the intention from the get go was to create something that was cinematically unique. It's a highly physical role for all the actors involved.

For the three leads, it was crucial that they perform as many of their own stunts as possible"which meant a lot of training. "I was very impressed with how fast they pick things up. It's unbelievable," says Stunt Coordinator Florian Hotz. "We had them for a couple of weeks before prep, and they never forget one part of choreography."

Early on, Banks and Hotz agreed that character development would drive every stunt the actors in the movie perform. "Sabina is the raging bull; she's wild. She's screaming before attacking. So it's like a boxer meets a bar fighter," says Hotz. "Jane is more precise, you know, it looks effortless. She's trained, she is skilled in various martial arts. So that's a whole different technique that comes with her. Elena is developing during the story. She's very intelligent, so she can pick up fast and she's just a quick thinker. So that means she has basic fight skills. But during the story, she's growing. At the end, she is not a Jane and she is not a Sabina, but she can keep up. So she's not just the one they have to protect, she is all over the bad guys and attacking them too."

Though everyone " from the Angels to our villains " really brought it, Ella Balinska was a little more prepared than her co-stars.

"I come from a massive [performance] combat background, which was an amazing foundation for me to build on to really get into the character of Jane," Balinska says. "Jane is ex-MI6, she knows her stuff"you see her fighting with a tranquilizer sniper, with firearms, I do a massive knife fight as well. We spent a lot of time in the stunt room with the amazing stunt team and stunt coordinator and fight choreographer."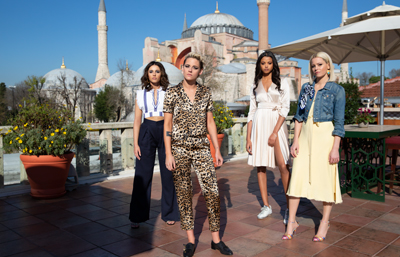 It may come as a surprise to learn that the team took inspiration from many unexpected quarters of choreographed movement, including Cirque du Soleil and ballet. "We tried a ballet sort of movement where you see a lot of dance movement. It's intimate, like watching two dance partners. We even played Fred Astaire when we were working on the movements and then we would update it, getting closer to modern day hip-hop," says Hotz. "We were trying to feel like this is a dance between two wonderful partners except I'm getting my ass kicked! The idea is the stronger my character is, the better and stronger she looks as it's a stronger adversary. Ultimately, what's really exciting about contemporizing the Angels is that these women are singularly strong characters, more than they were 20 years ago. They are the true physical heroines."

Production Design

Elizabeth Banks' Charlie's Angels is a celebration of the original brand, with nods to the film's heritage throughout, that the more keenly eyed will see in the gadget room, the closet and in Townsend Agency offices. As The Townsend Agency has gone global, so too have the locations in the film. When it came to shooting, the team did not mess around, traveling around the world"shooting in exotic locales like Istanbul and Germany.

"One of the themes of the film that we talked about from the very beginning was the old world meets the new " the idea that the women of the Townsend Agency are creating a new world within the context of the old," says Production Designer Aaron Haye, who recently helped to create the acclaimed looks of Blade Runner 2049 and Bohemian Rhapsody.

As the cornerstone of the film, the Berlin office of The Townsend Agency was particularly important. "We found a location that was an old power plant in Berlin and 16 modernized it, going for a contemporary loft living look, and referencing contemporary architecture as well as some of the older '70's ideas," says Haye. "This very much represents the modern extension of the Angels. This particular set and location is indicative of how they have expanded and set up outposts around the world."

His team had five days to build the Townsend Agency Berlin outpost set, a huge undertaking considering its size, and for Aaron and his team certainly not a one off. Charlie's Angels is filled with big set pieces that kept them busy. The spectrum ranges from the interior Berlin Agency, filmed in the former power plant in Berlin, aptly named Kraftwerk, to the grandeur of Moritzburg Castle near Dresden, to the dusty harshness of a rock quarry located somewhere in the outskirts of Istanbul.

The creative team succeeded in bringing a fresh look to Charlie's Angels, not only in terms of the brand, but also cinematically. "We shot at some places that either have never been seen on camera, or have not seen in many years," says Haye. Moritzburg Castle, for example, was last used as a location in the 1970's for a Czech-German production of Cinderella, but is being morphed into a state-of-the-art home of a tech billionaire. "We've transformed it into a haute couture vision party. Brok is a tech billionaire that surrounds himself with beautiful people, so we got to have a lot of fun with his environment." The castle plays host to one of the more spectacular fight scenes, the Angels dressed in light catching, eye dazzling party outfits ready to crash the party and save the day.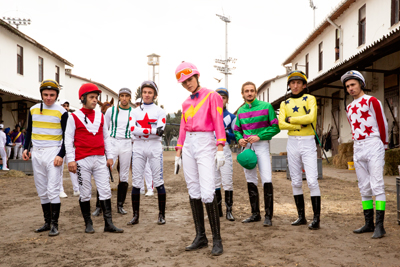 The Music

One of the hallmarks of Charlie's Angels is that each film has featured a hip, contemporary sound on the soundtrack, including Destiny's Child on the original film and Pink on the sequel. It was important to Elizabeth Banks to continue and expand on this legacy, which is why she tapped superstar Ariana Grande to provide five songs for the all-female soundtrack of the film, including the lead single, "Don't Call Me Angel (Charlie's Angels)," for which Grande teamed up with Miley Cyrus and Lana Del Rey.

"As a huge fan of the original Charlie's Angels, the idea of an all-female soundtrack for this new film was so exciting to me," says Grande. "I'm so proud to have been able to work with so many amazing women on it. It's a great opportunity for me to experiment with and support and empower my fellow female artists in a new, unexplored way."

In her five songs, and while serving as an executive soundtrack producer for the film, Grande worked with Banks to find the songs that would underscore the key moments of the movie. "Elizabeth has been super supportive and extremely influential throughout the process. She helped pick all of the songs, and was very vocal about pairing specific records with specific scenes in the movie," says Grande. Though this was the first time that Grande was writing for a film, she says that she found the experience collaborative and artistically invigorating, largely because of Banks' open and welcoming leadership. "I was honored that she trusted me to help provide the soundtrack to support her vision. It has been such a different experience as an artist to tell someone else's story rather than my own and serve someone else's needs musically."

Banks also called on composer Brian Tyler to compose the film's score. "Together we endeavored to create a score that enhanced the mystery, action, fun, and power of the movie while giving a nod to the movie's 70s roots," says Tyler. "I composed new themes for the film that would feel nostalgic yet fresh and also work playing alongside the theme from the original TV series. The sonic elements of the score conjure up a variety of musical styles: symphonic, hip-hop, and 70s groove."

Tyler performed many instruments on the score himself, including guitar, vintage drums, Rhodes piano, vibes, and electric bass, then recorded and mixed those elements in a way that would sound like they were sampled off vintage albums – "it's a technique often employed in hip-hop," he says. Tyler also provided two nu-disco songs, "Euphoria" and "Neon Sky," under his electronic music moniker Madsonik.

For Grande, the songs provide the perfect backdrop for the movie. "The energy the songs showcase is exactly on par with the energy of the film – they are so reflective of 18 the scenes and of the cast," she says. "I love the way so many different female voices came together to tell a strong, female-driven story."

Charlie's Angels
Release Date: November 14th, 2019