(photo source: architectureartdesigns.com)
Shine Bright: Latest Pendant Trends
In the ever-evolving world of interior design, lighting is no longer just about functionality; it's the secret sauce that sets the mood. With each passing year, the world of interior design gets a fresh makeover, and lighting is at the forefront. As we move closer to 2024, the interior lighting landscape is ablaze with innovation. This year, it's all about marrying functionality with aesthetics.
If you're planning a kitchen upgrade in 2024, you're in for a treat. We've scoured the design landscape to bring you the scoop on the 2024 pendant lighting trends. These contemporary pendant light designs will have your kitchen glowing with style. Let's dive in!
Must-Have Pendant Light Styles
Sculptural Pendant Lights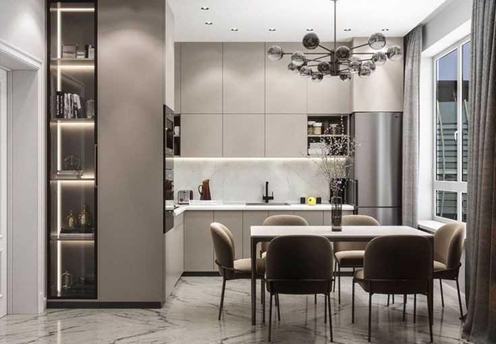 (photo source via Pinterest)
Picture eye-catching fixtures that not only provide focused lighting in prep areas but also bring a touch of modern elegance to your space. Well, get ready for 2024, a fresh wave of kitchen pendant lights is embracing bold aesthetics – the sculptural pendant lights. They've been around but will continue to be a must-have over kitchen islands.
And this time, they're going beyond just functionality - they're becoming works of art.
Rather than sticking to plain and simple shapes, these lights are now taking on more sculptural forms. As a result, they light up kitchen spaces in a captivating way and it's by casting diffused light or creating intriguing shadow patterns. Their eye-catching and alluring designs are guaranteed to give your kitchen a trendy and elegant makeover.
Geometric Pendant Lights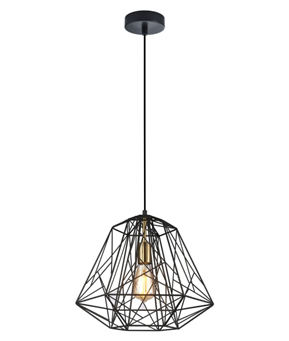 Modern pendant lights in 2024 will not be just about the illumination; it's about the shapes that captivate and elevate your kitchen's aesthetics.
In trending pendant light shapes, Geometry takes center stage as sleek and angular pendant light shapes dominate the scene. Hang these sphere, cube, pyramid, and diamond-shaped pendant lights in your kitchen space, and experience how these simple yet sophisticated shapes have a way of elevating any space. They blend effortlessly with contemporary design, creating a clean and uncluttered look.
(photo source: Zest Lighting - Mars Black Diamond Cage Pendant Light)
Cluster Pendant Lights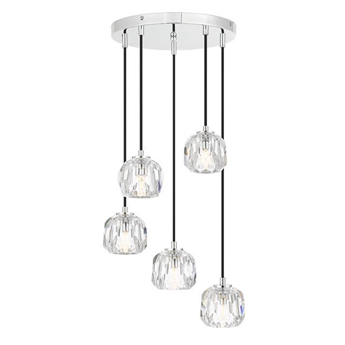 In the world of design, the "rule of three" has always held a special place as a guiding principle. It's the idea that things grouped in threes (or odd numbers in general) just look right. It creates this visual balance that's pleasing to the eye. It influences various aspects such as colour palettes and accessory arrangements.
Interestingly, the popularity of cluster pendant lights perfectly embraces this concept. You can see that this design approach is clearly seen in how pendant drops are arranged, often in sets of three or other groups with odd numbers. The outcome is you will have a kitchen that effortlessly radiates both sophistication and contemporary style.
There are two distinct approaches to achieving this effect:
● the first involves a single fixture with multiple pendant drops, elegantly united under a single ceiling rose. Imagine, for instance, a luxurious marble-clad kitchen illuminated by this striking arrangement of pendant light (as shown in the image above). This is the Zara 5 Light Prism Sphere Crystal Chrome Round Cluster Pendant Light.
The LED twinkle globe illuminates each sphere, highlighting its cut surface. This family of lights offers pendant lights, table lamps, and wall lights in various colours and sizes to suit different preferences.
● the second approach entails individual pendant lights, meticulously wired into the same circuit and arranged in a tight-knit cluster.
(photo source: Zest Lighting - Zara 5 Light Prism Sphere Crystal Chrome Round Cluster Pendant Light)
Nature-Inspired Pendant Lights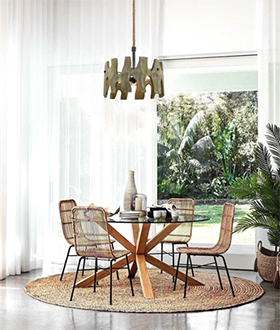 The whole nature-inspired vibe is having a moment in the world of pendant lighting! It's all about imitating organic shapes and using natural materials. And there's more to it than just rattan shades.
Imagine pendant lights that look like delicate leaves, casting a gentle, dappled light like sunlight filtering through the trees. Or picture wooden chandeliers with intricate designs that make you feel like you're dining under a rustic forest canopy.
That's the kind of magical atmosphere this pendant light design aims to create! Just like this pendant light showcased in the photo, Zest Lighting's latest pick – Henry Weathered Grey Round Wood Pendant.
This trend effortlessly complements different styles, from contemporary to bohemian, adding a touch of nature's harmony to your decor.
(photo source: Zest Lighting - Henry Weathered Grey Round Wood Pendant)
Brass and Black Finish Pendant Lights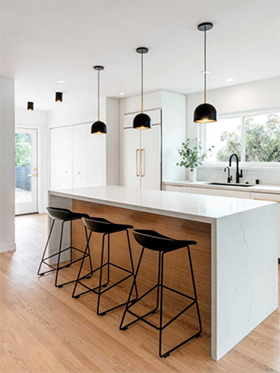 There's just something about the fusion of brass and black that screams timeless elegance. The rich, warm hues of brass paired with the sleek, modern vibes of black, it's a match made in decor heaven. These two stylish pendant light finishes complement each other so perfectly that they can transform even the simplest kitchen into a showstopper.
If you want a more industrial look, they will also fit right in, adding that perfect hint of opulence. Even in a bohemian or eclectic kitchen, they manage to strike a balance between trendy and timeless.
(photo source: contemporist.com)
Stylish & Efficient Lighting Choices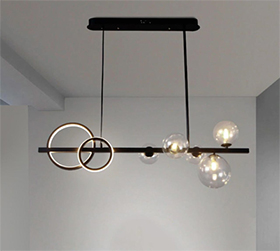 Lighting trends in 2024 are all about sustainable living and we have some seriously stylish pendant light ideas to give your kitchen a glowing makeover in the coming year.
Now, let's dive into something equally important – pendant lights that not only look great but also work efficiently. In this case, LED technology keeps advancing to offer energy-efficient options. Take this Loco Matt Black Decorative Bar Pendant for example. A playful and artistic design that features a built-in LED.
Why should you care about energy-efficient pendant lights? Aside from saving money and being kind to the environment, they offer some other benefits too. Not only do they emit less heat, which keeps your kitchen cool during all those culinary adventures, but they also won't significantly increase your monthly bill. And, their long lifespan means you won't have to deal with the hassle of frequent replacements.
(photo source: Zest Lighting - Loco Matt Black Decorative Bar Pendant)
Smart Lights, Smart Kitchens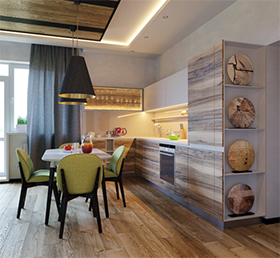 Smart lighting systems are set to become more prevalent in 2024, bringing convenience and efficiency to our homes. You'll be amazed at how these smart lighting systems can effortlessly respond to your voice commands, smartphone apps, or motion sensors. They bring a whole new level of convenience and adaptability to your kitchen space.
Having smart pendant lights that you can easily dim is perfect to create a romantic dinner ambience or brighten them up for a lively cooking session. In the coming year, kitchen lights aren't just fixtures; they're intuitive companions that adapt to your daily routine.
(photo source: home-designing.com)
Where to Buy Modern Pendant Lights
Now that you're all set to transform your kitchen with the best pendant light designs in 2024, the next question is: Where can you find these stylish and efficient pendant lights? Look no further than Zest Lighting.
Explore a wide range of modern pendant light styles that showcase sleek minimalism, organic inspirations, and artistic expressions at affordable prices. Their selection caters to diverse tastes! Making sure you will find the perfect pendant light to complement your kitchen's design and align perfectly with the trends of 2024.