Nothing To Lose is Screening at the 6th Queer Screen Film Fest
The 6th Queer Screen Film Fest hits Sydney screens next month with tickets now on sale at queerscreen.org.au The full program runs from Tuesday 18 September to Sunday 23 September at Event Cinemas George Street, and includes a free outdoor Rainbow Families screening of of the animated film How To Train Your Dragon 2 at Sydney Park, St Peters on Sunday 16 September in the lead up to the festival.

Queer Screen Film Fest showcases a diverse range of LGBTIQ stories across narrative features, documentaries and shorts and the 2018 edition is the largest festival to date, with 29 films from 12 countries, including 15 Australian premieres and a massive 55% of films directed or co-directed by women.

"I'm incredibly proud that Queer Screen continues to champion the work of female filmmakers. The fact that we have increased our screenings again this year, up from 20 films last year, but have also managed to increase the percentage of female filmmakers is quite exciting. Having a film festival with over half the filmmakers identifying as female is rare. It shouldn't be, but it is and I am honoured that Queer Screen can be seen as doing it's part to address this in balance." says Festival Director, Lisa Rose.

Another key element of the 6th Queer Screen Film Fest is the launch of a brand new filmmaker initiative, Queer Screen Pitch Off, which will see Australian LGBTIQ filmmakers battle it out in a public pitch off event for $10,000 in short film production funding.

"Queer Screen is thrilled to have a real hand in adding to representation of LGBTIQ films and filmmakers. In the current climate of arts funding cuts, it is so vital for us to offer an opportunity to filmmakers that will see queer films made. This fund, that is proudly supported by St.George Bank will help not only queer filmmakers but it's also a chance for a queer audience to see themselves represented on screen." says Queer Screen President, Cheryl Kavanagh.

Amongst the program that includes Sydney Premiere of George Michael Freedom: The Director's Cut, there's a tantalising array of films that cover a broad range of the LGBTIQ experience and there is sure to be something for everyone.

Opening the festival is Sundance Award Winner And Breathe Normally, about a struggling Icelandic mother and a persecuted refugee from Guinea-Bissau who form a delicate bond. Set amidst the sweeping vistas of an inhospitable Icelandic winter and told through the urgent lens of the global refugee crisis, it is a poignant and vital film.

Closing the festival is the star studded Sydney Premiere of A Kid Like Jake by trans filmmaker Silas Howard, who directs Claire Danes, Jim Parsons, Octavia Spencer and Priyanka Chopra in a very of the now tale about a gender non-conforming child determined to be themselves. A highlight for the boys is the Australian Premiere of Mario a powerful story about two professional soccer players in Switzerland, that sensitively examines love under pressure, and what we are willing to compromise for the heart.

Nothing To Lose is one of two Australian films in the mix and is a thought provoking documentary from queer artist and fat activist Kelli Jean Drinkwater that chronicles the making of Force Majeure's hit dance production of the same name. From open auditions and workshops to a triumphant performance at the 2015 Sydney Festival, it is an inspiration.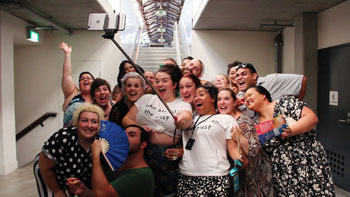 For something completely different, how does a documentary full of adorable dogs sound? You won't want to miss the Australian Premiere of Life in the Doghouse a moving and inspiring doco about a gay couple who have turned their entire house over to rescue pooches.

Winning the Teddy Award for Best Documentary at Berlinale comes Bixa Travesty, an intoxicating, pulsating and politicised documentary centred on performance artist and inspiring transwoman, Linn da Quebrada. Linn's provocative work explores gender, the body and what it means to be a queer woman of colour in Brazil.

This is just a taste of what is on offer, see queerscreen.org.au for the full line up. Queer Screen Film Fest 2018 is proudly supported by The Star Sydney and Event Cinemas George Street.

Tickets for all films are on sale now, including flexi passes to 5 films. Please visit queerscreen.org.au or the Queer Screen app to book or call (02) 9280 1533 to become a Queer Screen member for discounted tickets and priority entry.


Interview with Kelli Jean Drinkwater
Question: What do you love about Queer Screen Film Fest?

Kelli Jean Drinkwater: As a filmmaker I've had a long-standing relationship with QueerScreen and I have always found their ethos and support invaluable. There is a nurturing of independent filmmakers and emerging artists in both the programming and with the My Queer Career workshops. Also being awarded the completion fund last year has been crucial to getting Nothing to Lose onto the big screen.


Question: How does it feel to be involved in a festival where 55% of films directed or co-directed by women?

Kelli Jean Drinkwater: It's a wonderful feeling! We are so excited to be in this year's festival. And I think its super important to proactively address the gender representation in any kind of festival. And I strive to address this within my work too. My producer Jain Morale and I constantly prioritise working with queer women/gnc/trans people across every stage of production, because we need to create opportunities for each other across the board. Nothing to Lose had a predominantly queer female crew, as did our recent short Monsta Gras.


Question: What inspired you to participate in the Queer Screen Film Fest?

Kelli Jean Drinkwater: It was a no brainer for us to have the Australian Premiere of Nothing to Lose with QueerScreen as the festival has supported us the whole way. And the film is such a Sydney story, shot here, with a cast and crew from here about a show that was a massive hit for Sydney Festival. So many people worked on this production and I have been dreaming about having a big red carpet premiere with everyone involved to be able celebrate all the hard work we did!


Question: What other films are you excited to catch at the Queer Screen Film Fest?

Kelli Jean Drinkwater: I am really looking forward Bixa Travesty, about the Brazilian performance artist Linn da Quebrada , it looks incredible as well as White Rabbit, which is a comedy from the USA.


Question: Can you tell us about Nothing To Lose?

Kelli Jean Drinkwater: Nothing to Lose is a behind the scenes look at dance theatre company Force Majuere's stage production which explored the movement potential of the fat body. But it's so much more than a traditional making of documentary. While the film is witness to the creative process of making the live show from the auditions up until opening night, it is also an intimate portrait of the extraordinary cast of fat and queer performers, their relationship to themselves and how they navigate the world.


Question: What inspired the story of Nothing To Lose?

Kelli Jean Drinkwater: When I was approached by Kate Champion to work with her on a dance theatre production exploring the fat experience I jumped at the chance. I also realised that the fact that this production was even happening was extraordinary and that making the show was not only a rare and wonderful experience it would also be fascinating to watch. The film was also an opportunity to get to know the cast on a more intimate level and hopefully expand audience's ideas of fat people's experiences.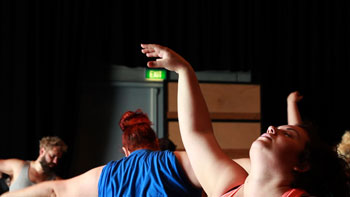 Question: Are you able to talk us through the process of creating Nothing To Lose?

Kelli Jean Drinkwater: – Creating this film was a journey for everyone involved. We started filming at the first auditions way back in 2012! We didn't have any money and just knew we needed to capture as much as we could, that it would be worth it. We filmed at various points over the 3-year creative development and rehearsal process. Many, many people worked on this project throughout its creation. One of the most incredible parts of making this film is as it was predominately self-funded so many people volunteered their time, skills and equipment to help bring this film to screen. After filming we were in post-production for two years because we had to make it in our spare time between jobs. Making a film takes a staggering about of time (and money). It still continually blows me away that so many people believed in the project to help make it happen. It has been the most humbling experience of my life.


Question: What do you hope audiences take from Nothing To Lose?

Kelli Jean Drinkwater: I would love people to come away with a sense of relief. Relief that they are seeing a nuanced representation of fat people on screen, who all have vastly different experiences. That not all fat people are the same. That self-love is a journey that constantly changes. I'd also love for people to be gentler towards their own and other people's bodies.


Question: What's next, for you?

Kelli Jean Drinkwater: I'm really looking forward to taking Nothing to Lose on tour and sharing this with as many people as possible. We have some super exciting film screenings coming up.


Interview by Brooke Hunter