Based On True Events
Cast: Friedrich Mücke, Karoline Schuch, David Kross, Alicia Von Rittberg, Thomas Kretschmann
Director: Michael Herbig
Rated: M
Running Time: 125 minutes

Synopsis: 1979, East Germany during the height of the Cold War.

Two ordinary families yearning for freedom secretly form a great escape plan to get across to the West. With courage and ingenuity as their main weapons, they build a hot air balloon with small pieces of cloth for their eight family-members to fly over the Iron Curtain. But an initial failure puts their entire plan in jeopardy, setting off a dangerous race against time for a second attempt, with the State Police now hot on their heels…

An incredible and gripping true story of resistance, Balloon flies into cinemas October 31.

Balloon
Release Date: October 31st, 2019


About The Production
The most spectacular escape from East Germany

On 16 September 1979, the Strelzyk and Wetzel families fled from East Germany to West Germany in a self-made hot air balloon. Under cover of night the four adults and four children took off from a piece of forest land between Heinersdorf and Oberlemnitz, flew over the East/West German border and, after 28 minutes and 18 kilometres, landed in a field near the East Franconian town of Naila. The very next morning, East , Stern immediately secured itself the exclusive journalist rights; the American Disney Company made a film adaptation entitled Night Crossing and released it worldwide in 1982.

I was very young at that time, but I still thought: if Hollywood make a movie with American actors about a story that took place in Germany, that must be something really exciting and spectacular , says Michael Bully Herbig, who was born in Munich in 1968. Many people tried to escape from East Germany. They hid in boots, dug tunnels, tried to hijack planes or swam across rivers , says the filmmaker, listing the kinds of things people did, but to sew together a giant balloon, squash yourselves into a windy gondola with a few ropes around it and climb to a height of 200 metres in it is incredibly audacious.

The years passed, Michael Bully Herbig wrote German TV history with his comedy show bullyparade (1997 - 2002) and made movie history with Manitou (2001), Dreamship Surprise Period 1 (2004) and other hit comedies. At the same time, I was always wondering how I would approach a movie thriller , says Herbig. But this vague idea did not take shape until 2011, when the director, author, producer and actor was asked by the German Film Academy (Deutsche Filmakademie) whether he could make himself available for a so- : I sat in front of about 20 Film Academy members; and at some point someone asked me if I could imagine doing something outside the comedy genre, like a film such as The Lives of Others. I said there was one thing I could not get out of my mind: the story of the two families that escaped to the West from East Germany in a hot-air balloon. All at once I heard coming from the rear left, shouting twice: It was Kit Hopkins, the screenwriter. Hopkins remembers: This is exactly the story I had been working on for years with Thilo Röscheisen. Which is why I jum During the break I then got talking to Bully. He asked me to send him our material. The two authors had written a treatment for a two-part TV miniseries, which has different dramaturgical rules from those of a movie made for the cinema. Although the story was based on the true events of 1979, it used different names and locations.

Talking To The Witnesses
Consultancy contracts for the families

I wanted to make the film for the cinema and it was crucial for me to get the real families involved , says Michael Bully Herbig. The attraction for me was to get as close as possible to the actual events and adapt viewing habits. So Kit Hopkins, Thilo Röscheisen and I contacted the Strelzyk and Wetzel families. Peter and Doris Strelzyk moved back to their previous house in Pößneck in Thüringen a few years after the reunification of Germany; Günter and Petra Wetzel lived in Hof, in Upper Franconia. For reasons that are none of my business both couples had completely severed ties many years before, , says Michael Bully Herbig, but none of them said anything bad about the others when we interviewed them separately. Herbig saw his visit to Pößneck as a living history lesson: We were at the Strelzyk house and saw the cellar in which the balloon was sewn together. Günter and Petra Wetzel came to Munich for their first interview and brought historical photos and sketches of the balloon and its two predecessors with them. Because before the successful escape the families had already made two other balloons: a faulty design made of gas-permeable lining and a working balloon that had crash-landed in a forest on the East German side, close to the West German border, when the Strelzyks made their first attempt to escape.

I was really happy about the trust both families extended to me , says Michael Bully Herbig. The talks were very informative and gave the project a real push. We concluded consultancy contracts with both families so that we would always be able to access their knowledge while we were making the film. Screenwriter Thilo Röscheisen adds: It was very important for us to take every detail into consideration and also capture the attitude towards life in this dramatic time for the families properly. But we also wanted to portray the other side, i.e. the Stasi, as authentically as possible. With the help of both the families we were able to view more than 2000 pages of Stasi files from the former Gauck Commission that had been written about the Strelzyks and Wetzels after their successful escape.

Help From Hollywood
Roland Emmerich s contacts

that the families had sold the , says Kit Hopkins when describing the start of a three-year period of uncertainty that also strained Michael Bully Herbig s nerves: I had asked Peter Strelzyk to send me a copy of the contract with the American studio so that we would not have any problems. But this is exactly when the problems started, because both families had sold the film rights exclusively and in perpetuity to Disney. I showed the contract to three different lawyers - but there it was again: For two years I tried to get the rights, but to no avail. At one point we got very close, but four weeks later we received a rather matter-of-fact mail and the sobering realisation going to work. That meant the end of the project.

But Michael Bully Herbig did not give up and a few weeks later he made one last-ditch attempt. I thought: Now I want to settle this and flew to Los Angeles to contact Roland Emmerich. I had met him a few years before. So, I called him and got to visit him, and he understood immediately what sort of film I had in mind.

As chance would have it, two of his previous production partners from Sony and Warner had just gone over to Disney. Then Roland said this incredibly casual sentence: I . One week later I had a meeting with Sam Dickerman at Disney. To cut a long story short: with Roland Emmerich s help I managed to get the German language remake rights.

Kit Hopkins and Thilo Röscheisen started working on the screenplay again immediately. The fact that the audience would already know what would happen at the end of the film did not stop the two authors from telling a gripping story: The path is the goal , says Kit Hopkins. Even though we know the families manage to escape, the question of how they managed to do it in such adversity remains exciting. The most important decision was to dispense with the year-long preparation for the escape in the story and dive straight into the first attempt. This gives the film a high tempo right from the start and makes it a gripping thriller , says Thilo Röscheisen. When the screenplay was as good as finished, Michael Bully Herbig also got Leander Haußmann involved, who directed the historical tragicomedy Hotel Lux (2011), in which Herbig starred. I wanted to know what Leander Haußmann thought of our portrayal of East Germany in 1979. He knows the regime from experience and as a filmmaker and theatre director has his very own perspective of the East/West German past. That was a massive inspiration to me.

The search for partners who could implement the project with Michael Bully Herbig s production company herbX film quickly proved to be fruitful. Just one dinner with Studiocanal made it clear that they wanted to do it , says Herbig. Studiocanal are the biggest studios in Europe and they will also be distributing the film worldwide from their base in France.

The Ideal Cast
Four young leading actors

Friedrich Mücke and Karoline Schuch play Peter and Doris Strelzyk. David Kross and Alicia von Rittberg play Günter and Petra Wetzel. They are exciting roles, for which our casting manager Daniela Tolkien suggested the most ideal actors , says Michael Bully Herbig. And Friedrich Mücke and Karoline Schuch also come from Berlin and Thüringen respectively. I thought that the more of their own experiences the actors and team members could put into the film the better it would be for the film.

In preparation for his part, Friedrich Mücke not only read the script, but also the non-fiction work Schicksal Ballonflucht Der lange Arm der Stasi [The fate of an escape by balloon and the long arm of the Stasi] , which Peter and Doris Strelzyk wrote in 1999 in collaboration with the journalist Gudrun Giese. The actor also watched long extracts of the interview Michael Bully Herbig had had with the Strelzyk family. The opportunity to meet and talk to Peter Strelzyk personally had sadly passed. His role model died at the age of 74 in March 2017, after a long illness. Peter Strelzyk is a hero in the classic sense , Friedrich Mücke emphasises. It is fascinating that a family father dares to undertake such an adventure so that he, his wife and exactly the age that Peter Strelzyk and have three children. I have to ask myself whether I would take this risk myself. There was not only the danger of the balloon crashing. They could also have been caught. The parents would have gone to prison as deserters of the Republic and the children would have gone into care. But they would not be deterred from their aim.

Karoline Schuch sees an important support for Peter Strelzyk in Doris Strelzyk. I think their relationship was filled with a great deal of love. It had to be that way for this crazy project to take place. Because you can only undertake such a bold adventure if you have mutual trust. Doris Strelzyk is a strong woman who, while not taking complete control, is firmly convinced that her husband is not carelessly playing with the fate of the whole family. Jonas Holdenrieder as the 15-year-old son Frank and Tilman Doebler as his eleven-year-old brother Andreas, who was nicknamed Fitscher, complete the Strelzyk family.

David Kross learned everything about the technology and operation of a gas burner during a balloon trip with Friedrich Mücke and a professional pilot. But he was also trained in the art of operating an oldfashioned sewing machine. I fiddly work and lost my patience after the first hour , says David Kross. balloon casing from bits of material day and night.

You need incredible discipline and motivation to stick to this idea. David Kross sees Günter Wetzel as the head of the team who designed and calculated it all. Michael Bully Herbig agrees with him: Günter Wetzel was quieter and maybe more circumspect than Peter Strelzyk. He was the planner, the cool calculator, while Strelzyk was a swashbuckler and an absolute optimist. The combination of these two men could not have been created any better if this had been a work of fiction, just like the story of this escape by balloon as a whole. David Kross describes Günter and Petra Wetzel with their young sons as a happy family in unhappy circumstances: They felt as if they were imprisoned in this regime and wanted to escape to the West to live a free life there. Executing this plan despite all the risks involved shows a strong will and a great deal of courage. When I read the screenplay I was very impressed.

Petra Wetzel is played by Alicia von Rittberg. Petra Wetzel is a very young mother with two children aged five and two , says Alicia von Rittberg, The plan to escape in a self-made balloon puts her in an extreme dilemma: on the one hand she is afraid that something might happen to her young children but on the other she knows that she will never see her sick mother in the West again if she decides not to go along with the escape. Just like Doris Strelzyk, Petra Wetzel also gets more and more active as the film progresses: At first she plays the role of the mother more than anything else, but when she knows that the new balloon has to be finished in a few weeks because the Stasi are on to them, she and Doris Strelzyk get more actively involved immediately , says Alicia von Rittberg. They drive across East Germany, taking turns to go into shops and buy small lengths of material so that they do not look suspicious.

David Kross and Alicia von Rittberg also met Günter and Petra Wetzel during the shooting. That was incredibly exciting because they both said they had the feeling they were watching their younger selves , Alicia von Rittberg remembers. I was in awe at the prospect of playing a real person. This is why I immersed myself in the story and read and watched everything I could find about East Germany in the late seventies. I wanted to know how the people lived and thought.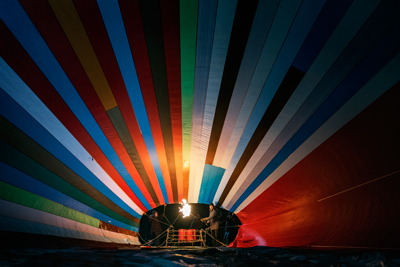 Costume And Makeup
Living everyday chic

The costume and makeup also helped the leading actors to get into their roles and the times they were set in quickly. There was no place for new fashion in East Germany; you would get noticed very quickly if you tried , says costume designer Lisy Christl. But that does not mean that absolutely everything was grey in East Germany either: That is a misconception that has taken root in the West in particular , Lisy Christl corrects. Of course there were colourful things, because people knitted and sewed a lot of things themselves. There were shops in which the corresponding fashion was available, and there were relatives in the West that would send such clothing to East Germany.

The costume designer familiarised herself with the fashion of 1979 months before the shooting started and put together picture folders that she discussed with Michael Bully Herbig and the actors. While the clothing for many of the extras and supporting actors came from the stock of the Babelsberg Studios, most of the items were made specially for the main actors. The appearance of the Strelzyks and the Wetzels should be lively and have a kind of everyday chic that fits in with the times , says Lisy Christl. Makeup artist Tatjana Krauskopf agrees completely: The characters should look authentic but at the same time be cool and attractive. This is why when designing the main characters we did not stick rigidly to the appearance of the originals, but tried to do justice to the zeitgeist force fancy dress onto the actors because the audience would not take the characters seriously.

The Original-Sized Balloon
1245 square metres of material and a gondola held together with a washing line

The eponymous hero and secret star of the film is the hot-air balloon in which the Strelzyk and Wetzel families succeed in escaping to the West. It would theoretically have been possible to recreate the balloon digitally , says Michael Bully Herbig. But the director decided against it. 25 years ago it was possible to dazzle movie audiences with digital dinosaurs, but cinemagoers are oversaturated these days, because there is virtually nothing they have not seen on the big screen. The trained eye can spot whether something has come from a computer or has been made and shot in real life. A real balloon of this size just impresses me more than a computer-generated one would have. And I also wanted the actors to be able to touch this onster .

Michael Bully Herbig agreed with production designer Bernd Lepel and cameraman Torsten Breuer to build the balloon in which the two families managed to escape and a second balloon, in which the Strelzyks crashed during their first attempt to escape, in their original sizes despite all the disadvantages that resulted from this decision: The costs are massive, they are not easy to handle and you have to depend on the weather , says Herbig. A shooting schedule like this is not ideal, especially when you are filming at night and with children. Too much wind would make this wall of material uncontrollable and the shooting would become even more dangerous. There is a lot of fire involved, too, everything wobbles and it all goes up to a height of 30 metres, which makes things more dangerous for all those involved.

External property manager Johannes Wild immersed himself in the mammoth task of having the two would have to be absolutely safe and suitable for film purposes. He did his research at the Naila Heimatmuseum, in which the original escape balloon was on display until 2017 (it is currently being restored and will be moved to the Museum of Bavarian History in Regensburg at the end of 2018) and discussed every last technical detail with Günter Wetzel. The balloon company Wörner in Augsburg, which had already restored the original escape balloon in 1979, was given the order to prepare the two balloons. The first one was 28 metres high and made up of large-area lengths of material in white and beige. The second balloon was 32 metres high and made up of 1245 square metres of colourful material that weighed 150 kilograms and had a capacity of 4200 cubic metres of hot air.

For practical reasons, the balloon construction company Wörner did not use the taffeta that was used in 1979 due to a lack of alternatives, but balloon silk instead. It does not absorb water as quickly when it is spread out on the wet grass and always has the same weight , says Johannes Wild. This improved controllability and had a positive effect on our nocturnal shooting schedule. But taffeta was always used whenever the camera showed it at close range: whether it was when it was being bought in various fabric shops, sewn in the Strelzyk sion was examining the first balloon that had crash-landed near the East German border to the West.

The gondola for four adults, four children and four large gas cylinders was 1.4m by 1.4m, like the original, and the outer demarcation consisted of four vertical rods with washing line tied around them. We had to make the gondola more stable for the film than it was originally , says Johannes Wild, otherwise we would have not been given permission to use it for transporting actors or stunt people. The Federal Aviation Authority banned both balloons from any free movement in the air. The reason for this was not the way they were made or the materials used, which would have been approved by the TÜV , as external property manager Johannes Wild swears. The problem was more that both attempts to escape took place at night, but the German Federal Aviation Authority does not permit any hot-air balloons to take off at night. So both balloons were always operated as captive balloons and were never permitted to rise higher than 30 metres above the ground. This was guaranteed by four tear-resistant ropes, which were secured to screw-in ground anchors and also thick tree trunks, all of which made it virtually impossible for the balloons to fly away. The burden on this safety system easily reached tonnes because even low wind speeds were sufficient to make the gigantic area of material difficult to control.

After all, the film is called Balloon and accordingly it was important to me that all the scenes with the balloon should appear authentic, impressive and dangerous. The actors were only allowed to be a maximum of three metres above the ground in the gondola; for any shooting that took place at a height of four to 30 metres the experienced balloon pilot balloon pilot Stefan Dolpp and several stunt people would be sitting or standing in the gondola. Stunt coordinator Torsten Jerabek was responsible for safety. He decided in which cases the actors had to be replaced with stunt people or lifesized dolls. The people in the gondola were protected only by a rope rail and some by seatbelts. There were no additional safety measures: T , says Torsten Jerabek. But we do, of course, also carry out load tests with weights beforehand. All of the individual components of the gondola were welded together by qualified people. We rely on them doing everything right.

Torsten Jerabek finds it hard to imagine the risks the Strelzyk and Wetzel families exposed themselves to when escaping in 1979: Building a balloon without any previous knowledge and using it to escape to the West was an insane thing to do. The chances of nothing going wrong were remote. But Peter Strelzyk and Günter Wetzel were always convinced that it would work. I think it was also the prerequisite for their success. A number of close-ups of the actors were shot in a mock-up, for which only the lower part of the balloon casing was built along with the gondola. A crane held this above the ground, either at the location in Dietramszell or against a night-black background in the studio on the Bavaria premises. Although it had been agreed that we would not be allowed to float around at a height of more than three metres, I really had to overcome my weak will power for the many scenes in the balloon , says Friedrich Mücke, who only conquers his fear of heights and flying for professional purposes: Since I flew back from America from the shooting for Friendship! eight years ago . Nonetheless, he used the opportunity to take part in a balloon trip with David Kross and an experienced pilot before the Balloon shoot started: It had a really therapeutic effect. It came as a surprise to David Kross during this balloon trip to find out that the self-made escape balloon from 1979 was even bigger than the balloon he and Friedrich Mücke had taken out for a test drive: means and an old sewing machine, had sewn all this little pieces of material together to make what was, at the time, the biggest hot-air balloon in Europe. The more time you spend with this story, the crazier it becomes.

The Antagonist
Thomas Kretschmann

Any thriller can only be as good as the opponent. In Balloon, Thomas Kretschmann plays this part grandiosely: as Stasi Lieutenant Colonel Seidel, who wants to stop a second escape attempt by hot-air balloon at all costs. Seidel is the hunter, the bloodhound , says Thomas Kretschmann. After the first escape attempt fails just before the border and the balloon casing is found, the Stasi puts its entire machinery in operation. The film is set up like a crime drama, and Seidel is the inspector who wants to track down the supposed villains. He is pretty cunning, an analyst, a tactician; he has no scruples and knows how to dissect people very precisely. Thomas Kretschmann weighs up the authenticity of the story: When I read the screenplay, I could smell the fear that this Seidel spread among the people. I experienced people like this for myself in East Germany. One sat opposite me once during the entrance exam for the Ernst Busch acting school. To top it all, he asked me right at the end if I would prefer to do three years of national service rather than just one and a half. I knew that if I contradicted him the next one down from me would get my place.

Thomas Kretschmann indirectly suggested himself as a candidate for the role of Lieutenant Colonel Seidel: I once said to Michael Bully Herbig at an event that I would like to appear in something directed by him because I thought he was so great. But I had actually been thinking of a comedy. Herbig immediately recognised the chance for him and his first thriller to cast movie stars who are established both in Germany and in Hollywood, and who all have an East German past. I invited Thomas Kretschmann to a screenplay talk, and we realised very quickly that our view of Seidel was pretty much identical , says Michael Bully Herbig. Thomas Kretschmann calls it an irony of fate that he of all people plays a Stasi man who wants to prevent East German citizens from escaping: I fled East Germany in 1983 and ran across the Hungarian border to Yugoslavia on my 21st birthday. They could have shot me there, up because there were no mines on that particular border.

Thomas Kretschmann sees the role of the Lieutenant Colonel as a gift: The further a role is away from me, the more secure I feel as an actor. I know much better from my own past. Seidel is not only evil. The film shows why he is as he is: he has a mission. He is one of those who tells others what to do and grinds them down until they no longer have any will of their own. Michael Bully Herbig and costume designer Lisy Christl decide not to give the Lieutenant Colonel a uniform. The Stasi only usually wore uniforms on anniversaries and special occasions, but they would have been an obstacle for them in their daily work , says Lisy Christl. Seidel wears suits and overcoats that are reminiscent of traditional inspectors.

Thomas Kretschmann . Michael Bully Herbig remembers: He called from Canada, where he was working on a film with Mel Gibson, and sent a photo that showed him with very short hair and a full beard.

start with. After the shooting had finished, he kindly didn t shave off his beard completely but stood in front of me two days before his first day of shooting here with a moustache and short hair. This is exactly how I wanted Lieutenant Colonel Seidel to look in the film. We had already made the first scene with a long dialogue and a lot of extras when the historical adviser, who we always had on the set, came up to me and said: Herr Herbig, I would just like to draw your attention to the fact that moustaches were banned in the Stasi. What? Moustaches were not permitted in the Stasi or the NVA (Nationale Volksarmee, the National rmy). Now, there were 50 people from the team all looking at me and waiting to know if we should carry on or send Thomas Kretschmann to makeup for a shave. But Herbig did not want a type change for his antagonist and started to prepare mentally for a beating from the critics: After that day of shooting Leander Haußmann and told him I thought I had made a massive cock-up because I had filmed Seidel with a forbidden moustache. Suddenly, Leander Haußmann shouted: No! That was OK! There was an exception. What exception? If you had a hare lip, the moustache was permitted!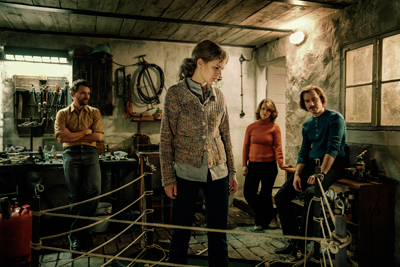 Pößneck IN BAVARIA
The rebuilding of East Germany

Pößneck has a very nice, beautifully restored town centre , says production designer Bernd Lepel about the Strelzyk and Wetzel families . What was a pleasure for the 12,500 inhabitants of Pößneck was a problem for the filmmakers: We could no longer film the Pößneck Pößneck

because the town has been so well restored , says Lepel. His search for alternatives took him to the other side of the previous border, to Nordhalben in Bavaria. The slate roofs were built in the same style as they were in neighbouring Thüringen , says Bernd Lepel. The population of Nordhalben has decreased in recent decades from 2200 to 1700 because major employers have left the area. The production now benefited from the empty properties; it also supported the Bavaria effect , i.e. it allowed the sponsorship money from FilmFernsehFonds Bayern to be spent directly in Bavaria.

An empty bakery in Nordhalben was converted into a pharmacy, inside and out, deserted Volksbank became the East German Sparkasse. Other deserted businesses were converted into the textile shops in which the families bought the taffeta for the balloon. Plenty of patina and rotten window frames served to age the facades of many houses artificially, plain signs, parked Trabants and Wartburgs, an old telephone box and propaganda posters with messages such as Socialism humanity in word and deed made the journey through time back to 1979 perfect. We changed entire streets in a way that we can only normally do on the reconstructed streets at the studios in Babelsberg or at Bavaria , says production designer Bernd Lepel and praises the patience of the people of Nordhalben: The mayor and the people there were incredibly helpful; they even let us close the high street for ten days.

Michael Bully Herbig praises the perfect filming conditions in Nordhalben and gives just one example of : In one scene, the textile seller is being questioned by a Stasi man while the shop window reflection shows another one standing in front of the shop smoking. The camera had already been set up, the sunlight was just perfect, but then, of all things, I noticed that a sign with an iron rod set in concrete was ruining the beautiful shot. We just called the town hall and immediately got approval for this rod to be removed. I or be so supportive of a film production.

Gartenstraße in Nordhalben was another main motif of the film because the Strelzyks' house is located there and - just opposite - that of Stasi employee Erik Baumann. I went to see the original street in Pößneck , says Michael Bully Herbig. The Stasi man actually lived on the Strelzyk , but I gave myself a little poetic licence for the film and put him on the other side of the street. I thought that would provide more suspense, because the Strelzyks e in the film would be even more in focus. From the Stasi point of view, it was particularly tragic that the hot-air balloon house unnoticed while at the same time a search was going on across Thüringen for evidence of an impending desertion of the Republic.

The Strelzyk fam arage were composed of a kit from several motifs. The outside shots were in Nordhalben; the inside ones in a house in the Upper Bavarian parish of Baierbrunn and recreated sets at the Bavaria Studios. These rooms are very small , says production designer Bernd Lepel, who had the Strelzyk semi, complete with its cellar, rebuilt to scale. The further the sewing of the balloon progresses, the more the cellar gets buried in material , says Bernd Lepel, whose team of ten managed to procure an original Gritzner sewing machine from the 1950s. Günter Wetzel sewed the hot-air balloon together in the Strelzyks cellar with this model from the former Gritzner works in Durlach, a suburb of Karlsruhe. , leading actor Friedrich Mücke says enthusiastically.

Every day of shooting recalled countless memories of things that shaped my childhood, starting with the lids of the jam jars and finishing with the Trabis and Wartburgs that went through Nordhalben, rattling loudly and stinking. The historical cars all came from private collectors, as did the blue and white Wartburg the Strelzyk family drive in the film: Our little lead actor went through a lot , the director says in praise. We even drove over the fields in it when the first and second balloon launches were being prepared. Of all times, it decided to break down at the entrance to the hotel in Berlin, which we had spent hours setting up. The camera sweep was ready, the actors and extras were ready, but then the engine roared and nothing would work anymore. Fortunately, we had decided to film the first rehearsal. This is then what made it into the film itself.

Little Berlin And Berlin
Further film locations

The beginning of the film shows the failed escape attempt of a young East German citizen, who tries to get through the border fence using a step iron. Michael Bully Herbig and cameraman Torsten Breuer shot this scene in a real former death strip, which belongs to the Deutsch-Deutsches Museum in Mödlareuth. The town, located near Hof, was once nicknamed Little Berlin because it was divided by a heavily guarded border. The fence, built provisionally from wood and barbed wire in 1949, was extended continuously after 1961, the year the Berlin Wall was built, so that there was no legal means of crossing from the east part of Mödlareuth to the west part. It was not until 9 December 1989, exactly one month after the wall fell, that a border crossing was set up; six months later the concrete barrage in the centre of the town was largely taken down. Local politicians and private persons gave support to the idea of preserving part of the border as a museum and memorial. It is uncanny filming the fatal failure of an escape attempt at such a historical location , says Michael Bully Herbig. But we are grateful that we were allowed to do the filming in Mödlareuth and those in charge trusted us to do it. The team, spearheaded by production designer Bernd Lepel, cleared parts of the overgrown ditch, special effects supervisor Dirk Lange extended the border fence by rebuilding an SM-70 ( Splitter Mine Model 1970 ) spring gun, of which East Germany placed more than 70,000 along a total of 447 kilometres of border fencing between 1971 and 1984.

The film team also received a filming permit for the Stasi Museum in Berlin. Its centrepiece is the office floor, which has been preserved in its entirety, of Erich Mielke, who was in charge of the Ministry of State Security from 1957 until the end of East Germany. Most people have an image of Stasi interrogation rooms being furnished and decorated in a grey and sombre manner , production designer Bernd Lepel says, referring to a commonly held prejudice. But very often they just used whatever wallpaper was there, sometimes even three different types in one room. These were the kind of wallpaper patterns you could also find in a living room. The sets department worked in close cooperation with the Stasi Museum in order to be able to organise the smallest logos and stamps as used by the Stasi in 1979 correctly. Even the costume and makeup departments immersed themselves deep in the Stasi world. Tatjana Krauskopf talks of the Stasi employees having a uniform look : Witnesses of the time have told me that you could often recognise Stasi people from a hundred metres.

Harry Fakner was the military historian who accompanied the shooting. It was not only the weapons, uniforms and the smallest insignia that were subjected to his critical eye. Fakner also drilled the actors in the appropriate behaviour which was very different in 1979 from that of the Bundeswehr in West Germany.

The Stasi and NVA undertake massive personnel and technological efforts in the film to make sure a second escape attempt by balloon cannot be made. They even deploy a fleet of Soviet MIL Mi-2 helicopters. There is only one functioning example of this type of helicopter in the German-speaking area; the helicopter is subject to the War Weapons Control Act and may no longer be imported. The owner of this rare helicopter in Germany is leather goods manufacturer Valerian Kießling, who imported the multi-purpose helicopter from Poland and uses it for just-in-time deliveries for his clients. The helicopter scenes were shot at the airfield in Kulmbach, which Michael Bully Herbig has chosen on account of its retro look as a military starting field of the National . Visual effects company ScanlineVFX then used their computers to guarantee that the showdown had not only one helicopter, but an entire fleet that would chase the airborne balloon along the East/West German border.

The very first day of shooting, 18 September 2017, started with a crowd scene at the Ernst Thälmann High School in Pößneck: the youth initiation ceremony of Frank Strelzyk. The ceremony meant a lot of work for all groups involved, because 30 , 60 parents, 18 siblings, five teachers, seven SED functionaries and a 20-str of Thälmann Pioneers had to be kitted out. Most of the female extras, who had made themselves up very nicely for their appearance in the morning, were immediately sent to remove their make-up again: in quality between the East German make-up of 1979 and our make- , says make-up artist Tatjana Krauskopf. Whenever possible, we used original old East Germany stock for the female extras, because it did not hold as well and did not create an even colour.

Another escape attempt After their first, failed escape attempt, the Strelzyk family go to Berlin. Some people were so desperate that they clutched naively at every straw and thought to themselves: maybe it will work somehow , says Michael Bully Herbig. When Herbig heard of this unconventional escape attempt during his first interviews with the family, he could hardly believe it: The deeper I got into it, the more incredible the stories I heard became. It was actually the Chinese embassy. But as we were working on the screenplay, it became much too 17 complicated for us to bring the Chinese into things now. To make it a bit more understandable audiences, we decided on the American embassy. The Old Town Hall in the centre of Berlin, a typical early 20th-century administration building, was used as the American embassy for the film. The capital is also home to the Stadt Berlin Interhotel, in which the Strelzyk family are accommodated for a few days and nights. Production designer Bernd Lepel and his team set up the foyer and the front of the listed radio station in Nalepastraße. Where the East German Broadcasting Company once had its headquarters, there was now the bustle of businesspeople, suitcase carriers, receptionists and tourists from all over the world. Along with the youth initiation ceremony, the hotel scenes, were the days of shooting that involved the most people , says costume designer Lisy Christl, who along with her team fitted 75 extras and minor actors for this scene alone: The international flavour of this scene has a lot of colours and conspicuous fashion elements , says Lisy Christl.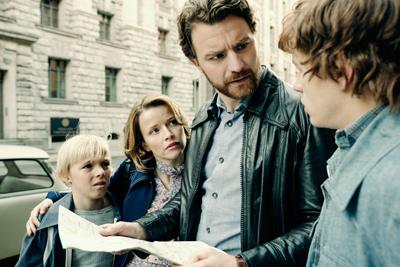 The Clock Is Ticking
Post-production

Alexander Dittner, who has so far edited all the films directed by Michael Bully Herbig has directed, was also on board again with Balloon and put together the film material from a total of 50 days of shooting. The cooperation with ScanlineVFX, which has been ongoing for nearly 20 years, was also continued. Although with the balloon itself only the safety ropes had to be removed digitally, there were all kinds of other visual effects to process. Composer Ralf Wengenmayr, companions since his first movie, wrote and arranged the music for the film. After I had watched the first edited version, I said to Bully: Trust your film! It is so exciting that we should only make limited use of the music. Michael Bully Herbig agreed with Wengenmayr but expressed a decisive wish: The film needs a pulse. The audience must subliminally perceive a ticking clock that inconspicuously but effectively makes the protagonists heartbeat palpable. Ralf Wengenmayr adds: A central element of this score is a pulse generated by analogue and digital percussive sounds that goes through the entire film right from the start. In combination with the in part unsettling, distorted sound arrangements, the music makes what our protagonists feel palpable.

The director and composer agreed to dispense with the orchestral sound character that had permeated Michael Bully Herbig s films so far for the first time. We wanted to create a score that was modern but timeless, which would capture and enhance the protagonists , says Ralf Wengenmayr. That gives the film an additional emotional level that is oppressive and driven by fear but also hope. Ralf Wengenmayr and the Babelsberg Film Orchestra recorded the music on July 3, 8 and 9 at Studio Babelsberg. We only recorded the string section for this score , says sound levels were created on the computer or produced with analogue synthesiser technology.

Balloon also uses well-known songs from East Germany and from the 70s. At the beginning of the film, the Pioneer song Unsere Heimat is played, sung by a children youth initiation ceremony. Of course the song has been heard in many films already, but that was no reason for me not to use it , says Michael Bully Herbig. es with a certain song and therefore sounding authentic. In my view there was no alternative to this Pioneer song. Brummi Brumm, der Brummbär was also in this category. Petra Wetzel said in her interview that she sang this song during the balloon escape in order to calm the children down , says Herbig. At that time it was the East Germany, and everyone who knows it will experience a lot of emotions, just as we go for emotions in a big way in the film. Several rock and pop songs that were originally planned for in the screenplay ended up on the cutting-room floor after post-production.

Ballroom Blitz stayed in: The song was a big hit and brings a massive dynamic into the scene in which Frank Strelzyk sits on his bed, frustrated, and listens to loud music. Furthermore, the music has a political dimension: Although listening to Western music was not completely banned , says Michael Bully Herbig, when you have a neighbour who works for the Stasi and you are sewing a hot-air balloon to escape from East Germany in in your cellar, loud Western music is perhaps not the best idea.

Incredible Adventure
A German-German story

Looking back, Michael Bully Herbig is actually glad that there was a gap of over five years between the first idea and the start of the shoot. I learned a great deal about the former East Germany during this long preparation time. There was no black and white, but several nuances. Of course there were also people who learned to live with this system or even felt well within it. We show them just as much as those people who suffered under it. In all his interviews with the Strelzyk and Wetzel families Michael Bully Herbig always asked one particular question: was there one specific moment when you decided to flee East Germany? The answer was always no , says the director. It had just built up over their four lives. For Peter Strelzyk it was the fact that you were not allowed to state your opinion freely and you could go to prison for three years for telling a political joke. Günter Wetzel was not allowed to study what he wanted to. He felt hemmed in and wanted to get out. Petra Wetzel had a mortally ill mother in the West she was not allowed to visit. And Doris Strelzyk had a brother who had wanted to flee when he was young, was sent to prison for it and lost all courage to face life. Just these four protagonists in our film had four completely different motives, but in their sum they say a lot about the former East Germany.

Michael Bully Herbig has enormous respect for the bold action the families undertook nearly 40 years ago: What they experienced was an incomparable adventure. We tell of courageous people who wanted freedom and had an unshakeable belief that they would achieve their aim. This is the fascination of their story, which is also a piece of East/West German history. Without getting too moralistic, Michael Bully Herbig also wants to clarify a few things with Balloon: There is a young generation that hardly know or care to know anything about East Germany. I compare that with my generation who could hardly fathom why, 39 years after the end of the Second World War, they were confronted with the atrocities committed by the National Socialists. I thought that at the time too: hell, I w to do with me? It was another generation who screwed this up. But the older I become, the closer history gets to me. The temporal distance no longer matters then; I just judge what happened and how it influenced people. This is why we did everything we could to make this East/West German history authentic but also keep it entertaining and exciting at the same time. I would be delighted if Balloon were seen by audiences of all ages, both after its release and 30 years on.


Statements From The Leading Actors
Friedrich Mücke
The balloon escape was definitely the most spectacular escape from East Germany. I details of the story. I thought there was one family, one balloon and one escape attempt. But there were two of each of those. I have often asked myself whether I would dare to fly off to a new life in a self-made balloon with my wife and children.

We can see and feel this Stasi apparatus in the film. I know stories from my parents who were observed by the Stasi. never know if a friend is really a friend. I am impressed by these two families who took their fate into their own hands. The plan may have been dreamt through rather than thought through, but they were absolutely determined to go through with it.

Karoline Schuch
Two families flee East Germany in a self-made balloon. T definitely serious material for a movie. And the more I got into it, the greater my desire to take part in this film became. The question that always preoccupied me was: danger? As a mother of two children - thinking and lavish world. in no position to make a judgement. But placing myself in the emotional world of the two families was a special experience. The more I occupied myself with it, the more admirable I found the courage they mustered nearly 40 years ago.

David Kross
Friedrich Mücke and I took a trip in a modern balloon as preparation. We thought: this is a bloody big thing! But then we were told that the self-made balloon had been even bigger. It is incredible how two families sewed this monster together from a bunch of rags in a tiny cellar. It was a masterful achievement, especially as the entire project was accompanied by great fear the whole time. The families might not just have crashed; they would also have ended up in prison if the escape had failed. But they felt trapped in a political want to live.

They had great motivation to lead a free life in the West. That involved an incredible amount of courage and I find it heart-warming that they made it.

Alicia von Rittberg
I have great respect for the courage and achievement of the two families. You must have a clear vision and determination to implement such a daring plan. The balloon that was used for the shooting was just as big as the balloon the families built. I stood in front of it in amazement and suddenly realised the miracle the Strelzyks and Wetzels had performed. Every detail had to be right because the lives of both of these families depended on this balloon.

Thomas Kretschmann
After every day of shooting I felt completely whacked and emotionally exhausted. I take that as the best indicator that the East Germany in this film is being shown realistically. I fled from this system at that time representing it in my role as a Stasi Lieutenant Colonel. I have always had problems with people who shamelessly abuse their positions to exert power over other people. The Strelzyk and Wetzel families also wanted to get away from this system. I reckon three quarters of all East German citizens would have fled if they had had the opportunity and the courage. Of course there were also people who did not achieve happiness after successfully escaping. And in my opinion that was absolutely down to their having false expectations of life in the West. It was different in my case: I did not go to anywhere. I just left"

Balloon
Release Date: October 31st, 2019