Kaia and Golden8 Skincare, a Natural Fit
When she's not performing her ambassadorial duties for Crocodile Oil beauty brand Golden8 (or co-writing an upcoming novel for Penguin Random House and applying her creative talents at an Ad agency in Darwin - busy lady), Kaia Wright often accompanies her husband Matt Wright – the star of the international adventure television series Outback Wrangler – on some of his incredible location journeys.

The Wrights, who met in Western Australia and married after a whirlwind courtship, live on a big block of land in the Northern Territory with their 18-foot pet crocodile Tripod, three pigs Pepsi, Truffle and Cola, two dingoes Ernie and Albie, seven snakes and a menagerie of green tree frogs.

In 2018 Kaia was named as the global brand ambassador for golden8 skincare. Given Kaia's uniquely Australian lifestyle surrounded by nature, this was a natural fit. And whilst she loves her beauty products for special occasions, Kaia's signature beauty style is more minimalist, beginning with effective skincare. The harsh light and outback environment, plus frequent travel, calls for products that can deliver.

Super-ingredient crocodile oil, is a natural product from sustainably farmed Australian crocodiles. Crocodile oil is one of the rare sources with an abundance of omega 7.

Check out the golden8 brand here: https://golden8skincare.com


Interview with Kaia Wright
Question: Why did you become a golden8 Skincare ambassador?

Kaia Wright: My mum taught me the importance of looking after my skin from a very young age so I've always been a fan of hydrating skincare products. I like things that give me a glow – especially oils! Finding the golden8 products 
and the anti-ageing serum in particular was incredible. My skin drinks it, it's super-hydrating without being greasy.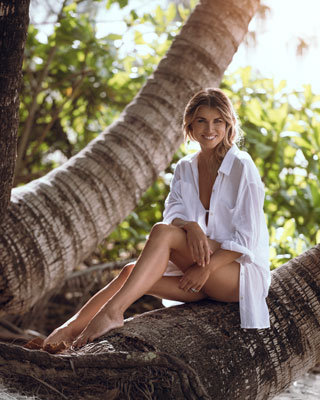 Question: Why do you love the ethos of golden8 Skincare?

Kaia Wright: My husband and I live a uniquely Australian lifestyle surrounded by nature, so for me golden8 was a natural fit. And whilst
 I love beauty products for special occasions, my signature beauty style is more minimalist and calls for products that deliver and protect against harsh light, the outback environment and frequent travel.


Question: Which of the Golden8 Skincare range, is your favourite and why?

Kaia Wright: golden8 Serum. It delivers all the goods – it's hydrating, anti-ageing, leaves your skin plump and dewy; It's the bomb! 



Question: How do these skincare products keep your skin fresh during travel?

Kaia Wright: The golden8 Serum is a multi-tasking miracle, it hydrates the skin, aids dry hair ends and is antibacterial (soothes and heals mosquito bites, cuts and rashes) so great for travelling!


Question: Can you tell us about your upcoming novel?

Kaia Wright: I'm helping my husband Matt (who is the star of adventure television series Outback Wrangler) write his next life experience book which is being published by Penguin Random House.


Question: What's a typical day like, for you?

Kaia Wright: My husband and I live on a big block of land in the Northern Territory with our 18-foot pet crocodile, three pigs, two dingoes, seven snakes and a menagerie of green tree frogs so every day is an adventure. When I'm not playing mum to our animals and performing my ambassadorial duties for golden8, I work at an advertising agency in Darwin and when time permits I get to accompany my husband Matt on some of his incredible location journeys.


Question: Do you have a morning routine? Could you share it with us?

Kaia Wright: My signature beauty style for daytime involves the golden8 Serum, followed by zinc, lip balm (mascara on a good day) and a low bun (so my hair doesn't get knotty in the doorless chopper)!


Question: What's next, for you?

Kaia Wright: More outback adventures!


Interview by Brooke Hunter