What are we without our memories and most-treasured possessions?
Cast: Catherine Deneuve, Chiara Mastrioanni, Alice Taglioni
Director: Julie Bertuccelli
Rated: M
Running Time: 94 minutes

Synopsis: What are we without our memories and most-treasured possessions? That's the question that we're invited to contemplate in Claire Darling, the thoughtful and affecting new film from Julie Bertuccelli (Since Otar Left), based on the best-selling novel by Lynda Rutledge.

On the first day of summer, reclusive millionaire Claire (Catherine Deneuve) lays all of her worldly objects out on the front lawn of her mansion, impulsively determined to sell everything. As a horde of curious bystanders and opportunistic neighbours fight over the ridiculously underpriced antiques, each object stirs vivid memories for Claire of her flamboyant life. But soon, her long-estranged daughter Marie (Chiara Mastroianni) arrives, determined to stop these proceedings by any means.

Emotional, subtle and elegantly directed, Claire Darling is a deeply personal film for Bertuccelli, filmed in the estate of her own grandmother, and Deneuve is remarkable as always as the largerthan- life heiress, playing opposite her real-life daughter. This is a poignant story of emotional attachment, mis-remembered pasts, and the complexity of mother/daughter relationships.

Claire Darling
Release Date: June 20th, 2019


Interview with Julie Bertuccelli
Born in 1968, Julie Bertuccelli studied philosophy then worked for a decade as assistant director on a string of feature-length films, TV movies and short films, working with Otar Iosseliani, Rithy Panh, Krysztof Kieslowski, Emmanuel Finkiel, Bertrand Tavernier, Jean-Louis Bertuccelli, Christian de Chalonge, René Féret, and Pierre Etaix, among others.

Following a documentary course at the Ateliers Varan in 1993, she made around 10 documentaries for Arte, France 3 and France 5, including Un métier comme un autre, Une liberté!, La Fabrique des juges, Bienvenue au grand magasin, Un monde en fusion, Otar Iosseliani le merle siffleur, Le Mystère Glasberg, and Antoinette Fouque - qu'est-ce qu'une femme?

Her first feature-length fiction film, Since Otar Left…, won more than 20 awards in France and abroad, including the Grand Prix at the Semaine de la Critique in Cannes in 2003, the César for best first film, the Prix Marguerite Duras and the Prix Michel d'Ornano.

The Tree, her second feature-length fiction film, shot in Australia and starring Charlotte Gainsbourg, screened in the Official Selection at the Festival de Cannes in 2010 (Closing Film).

She has directed two theatrical documentaries, La cour de Babel in 2014, and Dernières nouvelles du Cosmos in 2016, both nominated for the Césars.

She is the president of the rights collection body, SCAM, the first woman to hold this post. Claire Darling is her third feature-length fiction film.

Question: Claire Darling is adapted from the novel Faith Bass Darling's Last Garage Sale by Lynda Rutledge. What did you like about the book?

Julie Bertuccelli: I'm a great collector of things; I feel uneasy in apartments that are too sparse. And I'm a big fan of garage sales and flea markets. The people who selling their stuff there lay themselves bare without realizing it. These objects are a window into their family history. They are shot through with experience, they have flesh and a soul.

A close friend gave me this book, saying it made her think of me. She was right, I lapped up this story which encompassed many themes that I identify with: The complex rapport between mother and daughter; how the dead haunt us; objects and furniture which engulf us and act as a memory substitute; lies, secrets and things left unsaid in families, distorting our relationships; our impending demise; the memory we construct, which both imprisons and suffocates us; and being forgotten, which makes us sad but also liberates us.

In my defense, my attachment to objects stems from several generations of ardent collectors. The houses in my childhood were full of incongruous souvenirs from voyages, family heirlooms, lucky finds and collections – so many metaphors, emotional ties, memories, feelings, symbols of a time or place that we miss, and reflections of our lives from which it is hard to break free. Despite my objections as a child to this pathological folly and obsession with bric-a-brac, I caught the bug.

This was the moment for me to rummage through these demons, and reflect on all this clutter that was part of me. And my producer, Yaël Fogiel, encouraged me to do this.



Question: Your heroine's last folly is to hold a garage sale to sell everything in her house.

Julie Bertuccelli: I know how accumulation and acute "collectionitis" has a deep psychoanalytical meaning. They say that collecting is a way of banishing death – always pushing it away, because you can always find another piece to an endless puzzle. And this infinite edifice, through its accumulation and composition, becomes a work in itself, a knowing reflection on the incongruous world of our human fabrications. So selling these objects is an even bolder act for Claire Darling since, as she tells the priest, they helped her through the trials in her life. Accepting that all these objects she bought and cherished will outlive her and can have another life is nothing less than accepting her death.


Question: Her action also evokes indifference and liberty.

Julie Bertuccelli: That idea of letting go was something I liked a lot in the book. By selling her things for almost nothing, Claire Darling frees herself, not wanting to leave anything to anyone. That said, she's careful to tell the buyers the story attached to each object. For her, it's not about selling things off, but passing on a story. For me, that final act of liberty echoes the frustrations of her life. It's a release. Claire Darling lived her life somewhat out of step with the times, and she wasn't always kind and attentive to those around her, especially her daughter. That was her way of protecting herself, a sort of carapace. Without that, she'd have gone to pieces. In her ultimate folly, she accepts her flaws, her excesses, her mistakes, and is reconciled with her daughter.


Question: The objects are central to the plot, but are not frozen in the imagery of antiques.

Julie Bertuccelli: I wanted to feel their beauty, their place as part of a story, like those automatons, which are all the more emotionally charged for me, given that some in the film belonged to my grandmother. But from the writing stage onwards, I was careful not to slip into estheticism and made sure the objects were intertwined with the story, always seen from the point of view of one of the characters. Each of them provides the opportunity to tell a piece of the puzzle of this family's life, with its issues, its lies, and dramas.


Question: Just like the objects, the past is not frozen in a reconstruction, but part of the present.

Julie Bertuccelli: My co-writer Sophie Fillières and I played with the different temporal levels; the confused, disordered structure of memory, and the single thread of a 24-hour day. We wanted to bring to life the intrusion of phantom memories, that strange impression of simultaneousness, of presence-absence which arises on the occasion of a new situation, from seeing a silhouette, or the vision of an object steeped in memory.

The important thing wasn't the past as such, but the memories of the past, which resurfaced in fragments for Claire, for her daughter, or Martine, the childhood friend who runs an antique store. This was not necessarily exactly how things happened, but no matter. That's how she remembers them, like concentrated moments of the past.

To us, this parallel narrative seemed to illuminate, complexify, and enrich the linear account of a day, the last day of this lady who sees her life flash by, as they say it does in a fleeting moment for people who suffer an accident.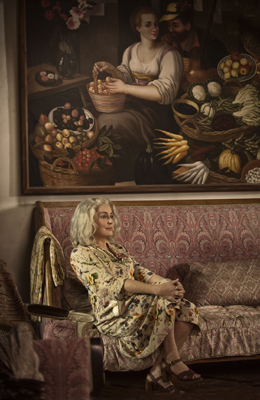 This effort to flatten out the various temporal threads was the basic principle that I carried through to the directing, while avoiding any obvious artifice. I wanted to achieve total subjectivity, but without resorting to blurry images, or changes of lens or colors. That's how I and the director of photography, Irina Lubtchansky, proceeded. I wanted the temporal shifts to occur very subtly, so there would be some doubt: Did that really happen? When Claire Darling goes out into the garden and the garage sale is gone, one may well wonder what is real and what is not.

And I added some dream-like visions which weren't in the book, like the children's dance, the bicycles in the tree, and the bumper car. I wanted the spectator to be able to project themselves into the various levels of reality, to shift between the marvelous, the fairytale, and realism. When Claire sees all those brides and we suddenly see her in the middle of them, you think it must be a memory. But who are those other women? Maybe all those generations who have fantasized about love and held out so much hope. And some of them have perhaps lived lives like Claire Darling, full of disappointments, tragedies, and disillusionment.

I continued this intertwining all the way through, with the editor, François Gédigier, and the composer, Olivier Daviaud.


Question: There's also that little girl who comes out of nowhere and observes all the excitement around the house.

Julie Bertuccelli: The little girl who appears from time to time was more explained in the book. She's a sort of wild child who lives in the village. In the film, her apparitions are more magical and mysterious. Is she a girl from the village who comes nosing around the garage sale? Is it Claire Darling or her daughter Marie when young? Or the image of childhood? The same goes for the farandole in the garden. Is it made up of children who now live in the village, or of children who have been through this house over the centuries? Are their clothes dressing-up costumes, or clothes of the time?

In her little shack – which one can imagine was Marie's or Claire's when they were children – the little girl invents a magical world with all those objects that may be loaded with drama and tension, but which also embody the pleasure of playing and telling stories.


Question: Did your wish to inject some oneirism into this story come from the fact that you direct lots of documentaries?

Julie Bertuccelli: Reality itself is incredibly cinematographic. I enjoy filming it, and I know how wonderful it can be and that there's no need to invent anything; it's already so rich. So when I shoot a fiction film, what would be the point in making a fake documentary? I'm very attached to realism in films; I want people to believe in them. I don't like actors over-acting, or too many effects. That said, I think it would be pointless to make a fiction that was a pure reproduction of a reality. Even if one is inspired by a true story, the aim is to go beyond, to add another dimension. The filter of fiction must transcend reality, otherwise you might as well film a true story with real-life protagonists. In this film, I loved playing with the fictional and dramatic side of the plot, blending it with the real. Like having Claire and Marie, mother and daughter, played by Catherine Deneuve and Chiara Mastroianni, but also playing with my childhood memories by reconstructing something real.


Question: The story between mother and daughter also plays out in the real-time of that one day.

Julie Bertuccelli: By holding the garage sale, Claire Darling – knowingly or not – made her daughter come home for the first time in 20 years. These objects, which crystallize the tensions between them, provide the opportunity to discuss the past, to relieve certain memories and re-examine them, change them, reappropriate them. Until death comes and one can no longer talk, anything is possible. This can be talking to each other, but also looking at each other, touching physically, and through the intermediary of objects, like children having fun or squabbling about toys or dolls.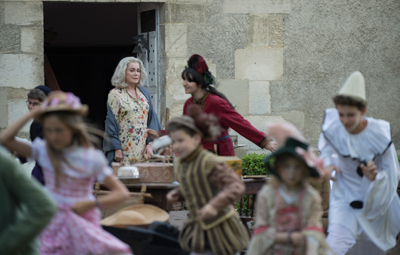 Question: Did you think about Catherine Deneuve right from the start to play Claire Darling?

Julie Bertuccelli: I didn't write the screenplay with an actress in mind. I wanted to create a character inspired by the book and fed by my own imagination. Once the script was finished and I started to think about the cast, Catherine Deneuve seemed the obvious choice. She has a stature, a fantasy side, and great freedom. And I knew that she loves nice things and is a great collector. It seemed obvious to offer her the part. Catherine is an outstanding actress and I loved working with her. She was very involved, coming up with ideas without being intrusive, taking an interest in the film as a whole, not just her own role. An actress of such intelligence, with that much experience in cinema, is a real gift. I love her silhouette, which is at the same time totally her and the perfect incarnation of Claire Darling. Knowing that she is living her last day gives this woman a burst of energy and a gleeful malice. You don't really know if she's lost her mind or if she's just pretending. Catherine is terrific at expressing that complexity, that half-way state.


Question: It's the first time we've seen Catherine Deneuve with gray hair…

Julie Bertuccelli: I wanted to change her familiar image. She has such a young demeanor, bursting with life; I had to age her. Claire Darling was something of a recluse. She had to give up on her desire for seduction. She continued to hold herself upright and put on a nice dress for her last day, but she's on the verge of going under and Deneuve's lovely blonde locks would have seemed wrong. I was afraid she'd refuse, but she understood the importance of it and agreed without fuss. She is still sublime and radiant, but it was important for me that she accept her character's age.


Question: What about the choice of Chiara Mastroianni?

Julie Bertuccelli: This was also a kind of obvious choice. But she's such a presence that I hesitated at first. I was afraid that the reality of life would be too present and would overshadow my film; that all you would see was Deneuve and her daughter. In the end, I offered her the role and it was great. I loved those moments working together, all about finesse and complicity. Chiara opened up, acting from somewhere deep inside. That makes her very moving, between melancholy and anger.

Chiara and Catherine had already played mother and daughter before, but not in such an intense way. I think they both really wanted to do it and it was fascinating for all of us to work on this dual level, on a complex relationship different to their own. It was terrific seeking out a sadness or anger that isn't there for them in real life, having to rework reality.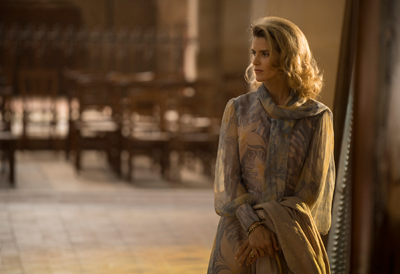 Question: What about Alice Taglioni playing Catherine Deneuve's character when younger?

Julie Bertuccelli: Finding a young Deneuve was an almost impossible task! Catherine Deneuve is an icon we grew up with. We know what she was like at 20, 30, or 40; we saw her, and we can still see her in the films from back then. To begin with, the casting director, Stéphane Batut and I wondered if we shouldn't seek someone who resembled her not so much physically, but more in terms of their presence, what they evoke, the class. But I was looking for something more concrete, which is I think what you get with Alice, who has a dazzling beauty very much like Deneuve.

I think it was a huge challenge for her to play a young Catherine Deneuve and she was very excited about doing it. We tried to get a good physical resemblance to the character, along with Nathalie Raoul, the costume designer, and the make-up artist and hairdresser, who all work regularly with Catherine. We had to find the right haircut, the right clothes, the right silhouette. And in terms of acting, we accentuated the resemblance through the movements and diction, without going as far as imitation. Alice Taglioni is a very subtle actress; she was totally in the role, but in an understated way, without ever overacting.


Question: How did you choose the rest of the cast?

Julie Bertuccelli: I've known Samir Guesmi for a long time. When he was young, he used to work with my father, and we've kept in touch. He's sensitive and moving. I was delighted to finally be able to offer him a part. I liked the character of the gendarme, with his uniform, but I was also a bit afraid. I didn't want to slip into caricature.

As for Laure Calamy, I like her comic potential and the fact she's very down-to-earth. She's a loose cannon, she brings an energy, a cheerfulness that we softened a little so she'd fit in the with the tone of the film. Laure is brilliant in the role of this antique dealer who has a different take on these objects, approaching them in another way.

Olivier Rabourdin is also a fabulous actor. In a handful of scenes, he manages to convey a whole period, a social class in which the character does not feel at home. You can clearly see that Claire's husband is not at ease with his life. He inherited a company, the money comes from his wife. He wants to be the successful guy, but he exudes the malaise of someone whom success has eluded.

As for Johan Leysen, his charm, his sweetness, and pragmatic calmness were perfect for evoking – without giving too much away – the idea that there was some sort of romance between Claire and the priest. And it was a great pleasure to find the younger actors, who were amazing, what with their resemblance to their elders and their interesting temperaments, like Colomba Giovani, Simon Thomas, and Morgan Niquet.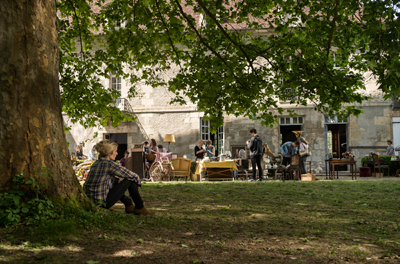 Question: Did you take part in "casting" the objects?

Julie Bertuccelli: It's true, it was almost like casting! I loved working with set designer Emmanuel de Chauvigny, who is an old friend. He captured the atmosphere perfectly, from the grand sweep right down to the details which would give life and flesh to this story. I had a wonderful time digging around with him and his team to pick the objects. The elephant clock and the Tiffany lamps were in the novel, but I also put in a lot from my collections, like the stuffed animals or the automatons. I also looked to photos and memories of family objects.

And then we filmed in my grandmother's house. The novel is set in a village in the United States, but I quickly decided I wanted to set the film in France and make it in French, and it seemed obvious to use the family house; I couldn't have imagined filming elsewhere. As if I needed that proximity to have a better grasp of the story.


Question: What was the circus doing in the village?

Julie Bertuccelli: The circus, the animals and clowns weren't in the novel. I made the most of this village fete to include this universe, of which I'm a big fan. I liked the fact that there was this other circus on the village, as well as the one that was playing out at the house. These are my little nods to Iosseliani, Etaix and Fellini.


Question: Was the episode with the exorcism in the novel?

Julie Bertuccelli: Yes, and what's more, it was one of the elements that I found most intriguing. I'm not a believer, although I was vaguely brought up in the Catholic culture, but I love those incredible words uttered by the priest during the exorcism to drive the bad spirits out of the house. They echo the different quests the characters in the film have undertaken, which culminate and come together in the present of the fairground: The antiques dealer hesitates to take home the objects, the gendarme is in his plane, the fireworks begin, the house goes up in flames, and so on. I wanted an ensemble ending, with a countdown to concentrate time, whereas the rest of the film is scattered over several periods.


Interview by Claire Vassé

Claire Darling
Release Date: June 20th, 2019