Holly Must Do Everything In Her Power To Avoid The Family's Downfall
Cast: Julia Roberts, Courtney B. Vance, Lucas Hedges, Tim Guinee, Kathryn Newton
Director: Peter Hedges
Genre: Drama
Rated: M
Running Time: 103 minutes

Synopsis: On Christmas Eve morning, 19-year-old Ben Burns (Lucas Hedges) unexpectedly returns to surprise his family at their cozy suburban home. His mother Holly (Julia Roberts) is thrilled to be reunited with her son but wary about his ability to stay clean, while Ben's distrustful sister Ivy (Kathryn Newton) and common-sense stepfather Neal (Courtney B. Vance) fear he will wreak havoc on their lives as he's done so many times before.

After Ben launches a charm offensive that wins over his young half-siblings, Holly agrees to let him stay for the holiday on one condition: For the next 24 hours, she will personally monitor his every move.

That evening the family returns from a church Christmas pageant to find that their house has been ransacked. Worse still, their beloved dog is missing. It's a message that Ben's past has caught up with him and old debts must be paid. Heading into the frigid night, Ben and his mother embark on a quest to recover the dog from whichever of Ben's former associates may have taken him. Along the way, as he tries to make things right and she learns unsettling truths about her son's life, Holly does everything in her power to keep Ben safe.

A gripping drama fueled by powerful performances from Academy Award®-winning actress Julia Roberts and Lucas Hedges, one of the most accomplished young actors working today, Ben Is Back is an intimate look at a mother struggling to protect her son from himself.

Ben is Back
Release Date: January 31st, 2019


About The Production
Oscar-nominated writer and director Peter Hedges has made a career of telling compelling and complex stories about flawed families of all shapes and sizes and the unique struggles they face. In films including the 1993 cult classic What's Eating Gilbert Grape, which he adapted from his own novel; his feature directorial debut, Pieces of April; and About a Boy, which he co-wrote based on Nick Hornby's novel, Hedges has presented audiences with moving, often funny tales of imperfect families doing their best in an imperfect world.

Hedges' latest film, Ben Is Back, opens on a family that seems at first glance to have little in common with the ones populating his previous films. Affluent, attractive and loving, with their talented teenage daughter singing in the choir and their adorable younger children dressed up for a Christmas pageant, the Burnses evoke a modern version of a Norman Rockwell painting. But the deeply conflicted look on Holly Burns' face when she arrives home to find her oldest son Ben on her doorstep makes it instantly clear that this family faces a profound challenge of its own " one that cuts across economic and social strata.

"I come from a family that has been deeply impacted by addiction, both alcohol and drugs," says Hedges. "Some in my family recovered, some did not make it, and some family members are still struggling. So after I suffered the loss of someone close to me and watched another person I knew in recovery, I wanted to make a film that explores how one broken, hurting person can impact all the members of his family."

As he looked for a way to effectively dramatize this ripple effect within the timespan of a feature film, Hedges decided to compress his story into a single 24-hour time frame. "I got the idea of starting the movie on Christmas Eve morning. I wondered what could happen in one day if a young man in recovery comes home when it's probably too early for him to return," explains the filmmaker. "The story became more compelling when I approached the issue from the point of view of one ordinary family on one extraordinary day."

Hedges was excited at the opportunity to return to his indie filmmaking roots. "I felt an ache to get back to making the kind of films I made early in my career, something urgent and raw," he says. "I'd spent a number of years helping other people realize their ideas. Now I wanted to shift back to doing something original. I wanted to see what happened if I took that old fearlessness I had and married it with whatever wisdom I've accrued over 35 year of being a writer."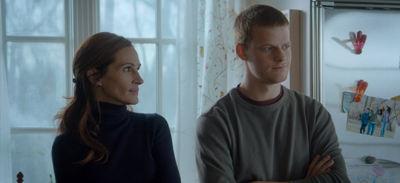 After mulling over the idea for several years, Hedges sat down to write Ben Is Back in earnest in late May 2017. He surprised himself by finishing a draft in less than six weeks. "It didn't feel like I was telling this story," he recalls. "It was more like the story was telling me. I wrote it in a white heat, and that rarely happens for me. I just tried to get out of the way."

One of the aspects of the script Hedges was proudest of was the role of Holly Burns. "I've written some pretty interesting mothers," he says. "From Gilbert Grape to Pieces of April, but when Holly Burns emerged, I felt like she was the most complex, full and fierce mother I had ever imagined. That's not to say that Holly does everything right. She makes a lot of questionable choices. But she never makes them with malicious intent. They always come from this aching hope to be a protector and a provider for her children."

After a couple of revisions, Hedges sent the script to his friend, entertainment industry powerhouse Nina Jacobson. Formerly the president of Walt Disney Motion Pictures Group, Jacobson has gone on to produce blockbusters including The Hunger Games and Crazy Rich Asians under her Color Force banner. "Nina is one of my favorite people in the film business," Hedges says.

"Although I felt Ben Is Back was too small for the kind of thing she does, I wanted her to see what I was up to before I went to other producers. Within 90 minutes of getting the script, Nina called me and said, 'You wrote a real page-turner. I have to produce this.'"

Julia Roberts, meet Holly Burns

Over the summer, Jacobson's team sent Hedges' script to Oscar winner Julia Roberts to gauge her interest in the role of Holly. Roberts responded immediately to the material. "The story was very touching," says the actress, who received her fourth Academy Award nomination in 2014 for her supporting role in the domestic drama August: Osage County. "Peter's script really spoke to the myriad ways addiction can impact a family."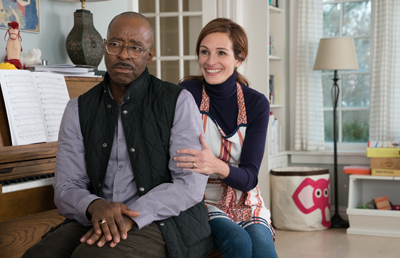 Roberts took time out of a family vacation to meet with Hedges at her home in Malibu. "We had a great meeting," says the Brooklyn-based filmmaker. "Julia really connected with Holly as this mother who will not give up on her child no matter what. But it's a big deal for Julia to be away from her kids, so she wanted to discuss the movie with her family before making a commitment."

A few weeks later, Hedges received a text from Roberts saying she had accepted the role. "My heart was pounding I was so excited," Hedges recalls. "First of all, Julia Roberts has been my favorite movie star for my entire adult life. She's incredibly smart and passionate, and as I would learn later, she's also the most prepared actor I've ever worked with. One of my hopes is that this film reaches as many people as possible, and Julia Roberts is an actor whom so many people root for. And this part gives her an opportunity to go places emotionally, physically and dramatically as she tries to save her son. So it was an amazing day when she said yes."

Hedges & Hedges

Roberts didn't ask for any changes to the Ben Is Back screenplay, but she did have one request regarding the film's casting: Impressed by Peter Hedges' son Lucas' Oscar-nominated performance as a newly orphaned teenager in Manchester by the Sea, she urged the writer-director to cast him in the title role.

There was just one problem: "For my entire life, I've always made it clear to my dad that I would never act in a movie of his," says Lucas. "The thought of doing it has always made me really uncomfortable because it just seemed awkward and weird. I knew my dad was making this movie but I didn't even know there was a part for a person my age " although he later told me he wrote it for me."

The actor's reticence evaporated, however, once he learned that Roberts had championed him for the role. "When I found out that Julia Roberts wanted me to play Ben in this movie, it was crazy," says Lucas. "She seemed like somebody from a far-off land. The fact that she wanted me to act with her was incredibly flattering. Then I read the script and I was really blown away by it."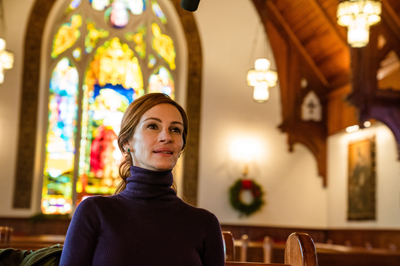 In case Lucas needed further persuading, Roberts sent his father a photo of herself with her oldest son, a redhead. "The note said something along the lines of, 'I just want Lucas to know that handsome red-headed men feel comfortable around me,'" recalls the ginger-haired actor. "Julia took the pressure off my fear that if I did this movie it would be all about me and my dad. While my relationship with any director is obviously important, an even bigger part of it for this movie was my character's relationship with his mother."

Once he agreed to take on the role, Lucas threw himself into learning about the affliction that drives his character. "I tried to get as much information as I could about what it's like to get to the point where you do these really harmful things to yourself just so you can get high," he says.

Lucas also found inspiration closer to home. "Some of my best friends from high school have been living Ben's life: going in and out of rehab, struggling" he says. "When I was growing up, a lot of kids were being prescribed Adderall and other drugs that they had no business taking on a daily basis. So I already knew drug use among teenagers was a huge thing in Brooklyn. What I didn't realise was that it is just as prevalent, if not more, in suburban and rural parts of America."

Completing the Family

With the film's two central roles filled, Peter Hedges cast Kathryn Newton as Ben's younger sister Ivy. For her audition video, Newton chose a desperate phone-call between Ivy and her mother, which takes place late in the movie. "It broke my heart," says the filmmaker of the young actress' performance. "I was completely shattered because it was very important that Ivy not just be the bratty perfect sister. She's disappointed in Ben but at the same time she loves her brother and cares deeply about him. That was the core of their relationship and Kathryn brought it to her performance in every way."

Newton and Lucas had already struck up a friendship from their time acting together in Lady Bird and Three Billboards Outside of Ebbing, Missouri " in which they also played sister and brother " but neither had worked with Roberts before. During pre-production on Ben Is Back, director and cast gathered at Roberts' home to rehearse and get acquainted. "We spent three or four days working, eating meals together and talking," says Peter. "It was a great way for everybody to get comfortable with one other."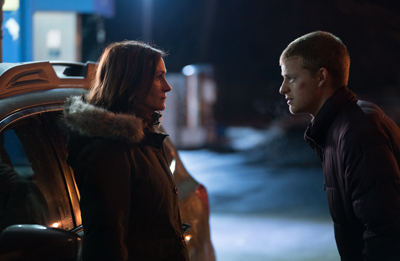 For the role of Ben's level-headed stepfather, Neal, who has two young children with Holly, the writer-director turned to Courtney B. Vance, winner of a 2016 Emmy® for his portrayal of attorney Johnnie Cochran in "American Crime Story: The People v. O.J. Simpson." "Courtney's not only a great actor," says Hedges. "He's also a devoted father, a great husband, an amazing son " and he's thoughtful about the work he chooses to put into the world. All of those qualities emanate from him. His character sees what's going on in this family with the most clarity, and Courtney felt solid and unwavering so I was thrilled when he said yes to the role."

Vance describes his character as "very salt of the earth," adding, "He loves his wife and loves his family, so the question becomes: Is tough love the best solution? Are we enabling Ben, or protecting him, or saving him? We have to make some very tough calls."

For Lucas, playing the two-time Tony Award nominee's stepson was a thrill. "I went to drama school for a year and we studied the play 'Fences,' in which Courtney originated the role of Cory, and James Earl Jones played his father," he says. "We used to watch a clip of this one amazing scene over and over again. So it was such a beautiful moment for me that I got to work with somebody I'd admired for a long time in a similar capacity."

An Upstate New York State of Mind

With principal casting completed, the project moved forward swiftly after Black Bear Pictures President & CEO Teddy Schwarzman read Hedges' script at the 2017 Toronto International Film Festival. "We were incredibly enamored with Ben Is Back and I made an offer the next day," says the producer, who earned a Best Picture Oscar nomination for The Imitation Game. "Sitting with Peter, I understood this wasn't about, 'How do you put two movie stars in a film and generate interest?' It was about telling a story that would resonate for any parent who's trying to do the right thing for a child."

For all its topicality, Ben is Back also succeeds as sheer entertainment, observes executive producer Jane Evans. "It's a thriller with lots of twists and turns, lots of surprises, lots of gasping.

Above all, Ben Is Back is a really good yarn and very moving."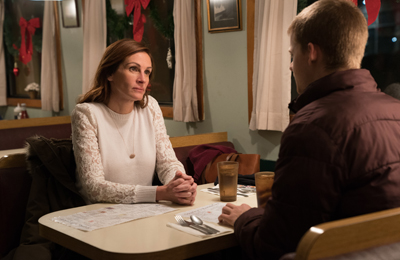 With the goal of getting cameras rolling by December, Schwarzman and Evans fast-tracked the pre-production process. "We moved really quickly to line up financing, close everybody's deals, get the budget down and firm up the film so we could go make it," Schwarzman says. "As the creative producers, Color Force looked to us to oversee logistics and brass tacks. That led to Black Bear and Color Force linking arms to co-produce this film, because we all felt Ben Is Back was too important to risk not being made."

On December 5, 2017 " a little more than six months after Hedges started writing the screenplay " filming began in upstate New York with Oscar-nominated director of photography Stuart Dryburgh (The Piano) behind the camera. "Stuart and I talked a lot about a shooting style that would be loose enough to give the actors some freedom but would also be beautifully lit," Hedges says. "Younger DPs sometimes do interesting camera work but they don't know how to light. Stuart can do it all."

Dryburgh, who'd handled additional photography on Hedges' 2012 movie The Odd Life of Timothy Green, convinced Hedges to shoot Ben Is Back in widescreen anamorphic. "I'd never shot in the 2:39:1 format, but Stuart made the case that we'd actually feel closer to the characters using widescreen," Hedges says. "Anamorphic gives you a narrow depth of field, which means the focuspuller needs to be spot-on, but by softening the focus behind the characters, the scenes feel very filmic and rich."

Production designer Ford Wheeler was brought in to craft settings that ranged from the Burnses' gracious upper-middle-class suburban home to a drug dealer's warehouse lair. "Ford is one of the most interesting people I've ever met," says Hedges. "He has exquisite taste and a quirky eye for details. In the Burns house, he's not just dropping in generic furniture. Every piece of art he puts on the wall has a story that he's worked out in his head."

Wheeler, whose credits include the Showtime drama "The Affair" and Rachel Getting Married, enjoyed playing up the contrast between Ben's wholesome family life and the gritty subculture in which much of the film's third act takes place. "As a designer," Wheeler says, "it was a good story because you have these nice all-American family sets, and then you also get to create a homeless tent city."

Melissa Toth's costume design helped reinforce the film's naturalistic aesthetic. "Melissa had already done Manchester by the Sea with Lucas as well as Three Billboards," Hedges says. "One of her signatures is that her costumes never feel like costumes. It just feels like people wearing clothes. She was on my wish list and fortunately turned out to be available."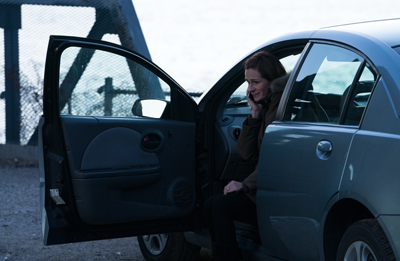 Locations play a key role in establishing the suburban backdrop for Ben Is Back. Shot mainly in Westchester and Rockland Counties, the picturesque upstate New York settings, scouted by location manager Rob Streim, included such small towns as Haverstraw, Larchmont, Sloatsburg, Garnerville and Mamaroneck, where the Burns family home was filmed. Those sites enabled cast members to immerse themselves in the world of their characters. "Just being on location and seeing our house, I immediately got into the vibe of the family and what it would be like to live near a small town," says Newton. "That really helped me get into the story."

Bomb Cyclones and Sub-Zero Temperatures

Setting Ben Is Back on Christmas Eve provided the film with a rich metaphorical framework, but the wintry holiday backdrop also required cast and crew to endure bitter weather conditions. "Exterior. Night. Winter. Those are three words I may never type again in succession," Hedges laughs. "Honestly, it got very hard. The nights were long and very cold, which starts to do a number on your psyche. And it's not like we were doing playful banter or comedy. Nearly every scene was very intense."

Schwarzman remembers soldiering through a "bomb cyclone" winter storm that shut down all roads in New York City as well as Yonkers, where filmmakers had scheduled a scene. "It was a very tough shoot because of all this freezing-cold weather," recalls the producer.

Roberts, who lived in New York for 18 years, says she had never experienced an East Coast winter like the one that befell the Ben Is Back production. "This was like a whole new level " minus 30 degrees in January," says the actress. "It was hilarious to find ourselves in the Arctic Circle " aka Westchester " because truly, there were times where I thought, 'It's so cold I can't go on another second out here.' But one does. And getting to spend time in all these quaint locations helped balance it out."

A Mother and Son Bond

Despite the frigid conditions, Lucas Hedges and Roberts developed a warm rapport on set. "Julia was just amazing," says Lucas. "She's so maternal and caring and humble. I was really shocked that somebody who has spent decades in superstardom could be so grounded and lovely. She was there for me in all of the off-camera moments as well as the on-camera moments. I've worked with some big actors who won't do that."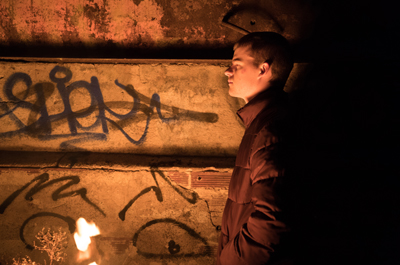 Roberts cherishes the professional and personal bond the pair formed on set. "Lucas is very special and we grew very close," says the actress. "He's just so talented, and such a beautiful available person. There were some challenging scenes, so it was our good fortune to have that true connection."

Most of the daylight scenes in Ben Is Back were filmed before the production broke for the holidays. In January, filmmakers shot night scenes as the darkness sets in to the storyline, both literally and figuratively. Peter Hedges observes that his stars exercised great sensitivity in portraying the increasingly intense mother-son conflict. "There's so much emotion in the movie, the question becomes, where's the levity? Where's the breath? Julia and Lucas can't be sobbing and screaming in every scene. They both had really smart instincts about when to crack open and when to hold it together:"

So looking back, what did Lucas think about having his father as a director? "Sometimes having him around really helped, and sometimes it was annoying," says the actor, who turned 21 during the shoot. "But even when it was annoying that helped too, because there's a lot of frustration in the characters' circumstances. So whether he was giving me a great note or doing something that triggered me just because he's my dad, it was always something I could use. Don't get me wrong, he did an amazing job. It's just natural that sometimes I still feel like a grumpy teenage boy around him."

Don't Give Up

Combining Hollywood star power with a tightly scripted and profoundly emotional drama, Ben Is Back forces audiences to put themselves in the position of a parent who would do anything to help their child, but doesn't know how " or if " they can. "There are a hundred different narratives for every family," says Roberts. "But the one concept we're trying to put across in this movie is just to not give up on each other."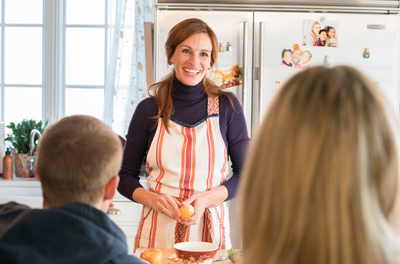 Her co-star Lucas Hedges sees Ben Is Back as a non-judgmental portrait of characters who are each suffering from a disease that's often perceived as a moral failing. "There is a stigma around people who struggle with addiction," he says. "Hopefully we can create some sense of understanding around how hard it is to be dealt that hand. I hope people who see the film might walk away with a greater sense of compassion."

Rather than offering simplistic answers, Ben Is Back aims for a nuanced look at how wellmeaning people often respond imperfectly to situations beyond their control. "I'm the son of a minister so I know the job of a sermon is to tell people how to live," Peter Hedges says. "I don't think that's the job of the filmmaker. My favorite film experiences leave me feeling like I've gone on a great ride, that I've felt a whole series of emotions run through me, not because I was being manipulated but because I was told a story that felt true. The kind of movie where when you leave the theater, you feel more alive and more open to other people's experiences and you're reminded of the fragility and beauty of life. That's the kind of story we tried to tell in Ben Is Back."


Ben is Back
Release Date: January 31st, 2019