Cast: Mia Wasikowska, Damon Herriman, Benedict Hardie
Director: Mirrah Foulkes
Genre: Comedy, Crime, Drama
Running Time: 105 minutes

Synopsis: It's the mid-17th century in the tiny town called Seaside (incidentally, nowhere near the sea). Worn out and ruined by poverty and neglect, the lives of Seaside's town folk have spiralled into violence, mob rule and God-fearing hysteria. Amongst the chaos, one glimmer of artistry remains: Punch and Judy's marionette puppet theatre.

While the townspeople revel in the drama and brutality of trials and executions, the charismatic Punch (Damon Herriman) and his prodigiously talented puppeteering wife Judy (Mia Wasikowska), endeavour to use their show to escape with their new baby to loftier means – a sentiment that is pushed by Punch and accepted by Judy. Judy is clearly the superior puppeteer and possesses the skill and dexterity of a great artist, but it is Punch who owns the limelight. A loveable narcissist with a dangerous penchant for the bottle, his ambition and egomania are the antithesis of Judy's gentle, practical nature.

Punch and Judy's first marionette show back from a hiatus is a triumph but Punch, spurred on by the show's success and the brutal celebration of witch stoning day, succumbs to Seaside's temptations and the local McDrinky's tavern. Fuelled by ale and adulation, he is caught out by Judy in the tavern, heavily drinking and in the company of apparent mistress, Polly (Lucy Velik).

The next day, a slapstick chain of events comes to a tragic end while Punch continues his drinking binge. Hell bent on vengeance and retribution, darkness descends over Judy, who must right the wrongs of Punch and the entire town of Seaside in an act of vengeance befitting her true nature.

Judy & Punch
Release Date: November 21st, 2019

Director's Statement

Judy & Punch is a dark, absurd fable treading a line between fairy-tale, fantasy and gritty realism, all of which work together to establish a unique tone while upsetting viewer expectations.

When Vice Studios' Eddy Moretti and Danny Gabai approached me with the idea of making a live action, feminist revenge film about Punch and Judy, they encouraged me to let my imagination go wild and take the story wherever I felt it needed to go. It was a rare opportunity to write freely without a prescriptive sense of where the narrative might eventually lead. The great challenge lay in taking an iconic but loose and messy historical story based on stock characters and giving it a muscular structure that worked as a feature film.

I was drawn to using this strange, misogynistic puppet show to explore our contemporary obsession with violence. In doing so, I wanted to reappropriate and revivify its meanings and resonances with our current climate.

My hope is that this epic female driven vengeance story incubates a wholly original and unique world, speaking volumes through its feminine inversion of the traditional hero's journey. Judy & Punch is bat-shit-crazy and fun!
-Mirrah Foulkes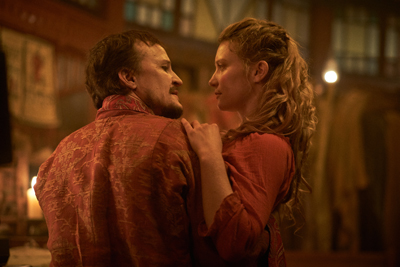 The Genesis Of The Film

The famed 'Punch and Judy' puppet show has its origins in 16th century Italian 'commedia dell'arte', theatre shows characterised by regular characters that would live within a world of improvised humour. With the wave of migration from Italy to England around this time, the character of Pulcinella made its way to UK shores. Evolving over time to Punchinello and finally Punch, he had a wife named Joan and finally, Judy. Performed originally as a marionette show, 'Punch and Judy' grew into a show most commonly performed by a single puppeteer, which is how it is usually seen today.

One of the constants in the show is its slapstick nature, with characters often meeting violent ends as a result of the club that Punch typically wields. It was this puppet show, which planted the seed at Vice Studios that a live-action imagining utilising these characters would make for an interesting feature film premise.

The task of creating the world of Judy & Punch was taken on by writer and director Mirrah Foulkes. Foulkes had been introduced to Vice Studios through producer and director Nash Edgerton. They had collaborated on many projects together and are both part of the filmmaking collective, Blue-Tongue Films which includes Joel Edgerton and David Michôd.

Edgerton knew Head of Vice Studios US, EVP at Vice Media, Danny Gabai, as they had licensed some of Edegerton's shorts to play on their YouTube channel. Gabai was asking Edgerton for recommendations of short films, and Edgerton pointed him in the direction of Foulkes.

Vice Studios began licensing her shorts and when the idea for Judy & Punch came about, they approached Foulkes. Foulkes says, "Danny Gabai and Eddy Moretti from Vice Studios called me in and wanted to talk about a project that their former Vice colleague, Tom Punch and his sister Lucy Punch had, which was to make a live-action Punch and Judy movie. They basically just wanted to know if I was interested in being a gun-for-hire to write it."

So began the process for Foulkes of writing the screenplay. Going through many different incarnations, she settled on it becoming an origin story about two marionette puppeteers, utilising the very first origins of the famous show. Foulkes wryly notes that, at the time she thought of the story she had weaved, "Someone else is going to have to deal with all this crazy shit I've written since I'm not directing this movie."

Vice Studios had other plans and asked Foulkes if she would like to direct it. Edgerton came on board to produce and the task of finding a suitable location begun. While initially it felt that Eastern Europe was the obvious choice to Foulkes, Edgerton suggested he and Foulkes' home country of Australia, citing among other things the great support Screen Australia had given Foulkes' shorts. Foulkes felt that shooting in Australia did have many benefits and had never imagined the film to be period strict, but rather "Totally other-worldly; I wasn't interested in being bound by period. So, I thought let's see what we can find in Australia and just lean into the weirdness of that."

Michele Bennett, long-time collaborator with Edgerton, was also attached to the project and worked with Foulkes to find locations that would work in Australia. She then pulled together financing from Australian screen financing bodies. Screen Australia loved the script and once suitable locations were found in Victoria; the film found the support of Film Victoria as well.

During this process, the filmmakers turned to casting and Mia Wasikowska was touted very early on as a great candidate for Judy. Through mutual friends, Foulkes approached Wasikowska, explaining, "I asked her if she'd like to have a read of the script and she responded to it really well and loved it. We then did an impromptu read-through with a few people and I just felt that Mia's innate strength, presence and truthfulness would work so well for Judy."

Wasikowska was immediately drawn to the language of the script and after also watching Foulkes' shorts said, "I loved the story, I thought it was just so original and I was also really excited about Mirrah's vision for it."

The search for Punch began, and it was a matter of auditioning a number of people before finding the right one. Producers Edgerton and Bennett had not only worked with Damon Herriman a number of times, but Foulkes as well, so he was an immediate consideration for all. Herriman explains, "I've known Mirrah for quite a few years as a friend and an actor. I'd heard a few years ago that she was writing a script called 'Judy and Punch' and that it was based loosely on the Punch and Judy puppets of times gone by, and I remembered those vaguely from my childhood so was intrigued."

Asked to audition, initially Herriman assumed Foulkes was using the role of Punch to cast him as another character, but Foulkes thought differently. "I love Damon. I've worked with him as an actor a few times, but never directed him. He put down an audition, and from the first two seconds I just went, 'Oh, wow! He gets it! He's very brave and bold and makes amazing choices.' I've seen him do so many supporting roles where he blows everyone off the screen and I just really wanted him to have this big, meaty lead to play with."

The rest of the cast includes Benedict Hardie as Derrick, the town constable, Brenda Palmer as Maid Maude, Judy and Punch's housekeeper with Terry Norris as her husband Scaramouche, Lucy Velik as Polly and Tom Budge as the town bully Mr. Frankly. Bennett notes Foulkes' background in acting as an asset to casting saying, "The supporting cast are all equally talented and it's been an opportunity for Mirrah to utilise her background as an actor as she's got a lot of knowledge about some gems of actors that are not necessarily well recognised. It's makes for a very strong, skilled cast."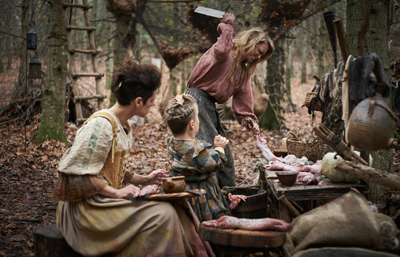 Mirroring many other cast, producers and screening bodies' attraction to the script, for Herriman it was the script that really made him want to get onboard as well as the character of Punch. "I immediately fell in love with the script as a whole and the idea of playing the character in particular. It's just an extraordinary piece of writing in every respect and the role of Punch is, I would say, the best role I've ever had the opportunity to play, so I feel very lucky."

Reflecting on the story and world being married to the characters, Foulkes says, "Judy & Punch is ambitious, there's no doubt. However, behind all the madness it's a very simple story about justice and oppression. Telling that story, in a way that fully engages an audience through their submersion into the world and empathy with the characters is most important to me."

From Punch And Judy, To Judy & Punch

The filmmaking team were always intrigued by the puzzling phenomenon of a puppet show that had endured for centuries, and in most recent times been often performed for children, despite its violent and misogynistic themes.

Foulkes explains, "The idea was to turn it on its head and so I set out to create a fictional origin tale that, rather than focusing on Punch, chooses to focus on Judy: a talented, smart heroine at the centre of an incredible, revenge tale."

Thus, 'Punch and Judy' became Judy & Punch, a dark, violent, anarchic fable that treads a line between fairy-tale fantasy and gritty, unexpected realism.

The key in Foulkes' creative drive was that she didn't want the themes to overpower the narrative, but to rather sit underneath a more interesting and dramatic story.

This led to a nuanced and well thought out approach to the basis of the key characters' relationship, which Foulkes worked through with both Wasikowska and Herriman.

"In the beginning, Mirrah and I always discussed that Judy is holding on to the fantasy of her relationship with Punch and really trying to believe that it's still great despite the obvious flaws in their relationship," said Wasikowska. "Obviously it takes something incredibly unfortunate for her to see it for what it is, what his true nature is, and decide what she's going to do about it."

Reflecting on the relationship that Judy has with Punch, Foulkes says, "Their relationship is creatively co-dependent, but underpinned by violence and abuse. I didn't want to portray a heavy-handed tale about a domestic violence relationship; it was important to me that she still felt strong within it and was choosing to be there because of the life they'd built together around this puppet show. Underpinning this was an unravelling sense of violence and doom, that was only going to end badly."

Herriman takes this further saying, "Something Mirrah really wanted to make sure of was that we didn't just present a case of 'Oh, here's Judy who's the victim wife and here's Punch who's a moustache-twirling villain husband,' while noting that Punch does of course interestingly twirl his moustache."

Herriman and Foulkes created a back-story, whereby Punch had come to Seaside, and latched onto Judy, a younger woman who has come from affluence. He impresses her with his charm and showmanship, the version of himself that he likes to project. There is a glimpse of the tenderness they may have once had, but as Herriman notes, "Punch can be incredibly emotionally and physically abusive, and that's really the man he is today. Judy is hanging on to this relationship by a thread and likely trying to keep it together for the sake of the baby."

Foulkes expresses this sentiment, "Our need to empathise with Judy's plight was paramount, but it was also essential that Punch wasn't portrayed as a black and white villain. The early scenes of Punch and Judy's relationship, while dysfunctional, needed to have a real sense of warmth and creative collaboration, but due to Punch's excessive drinking, self-doubt and narcissism things take a violent and sudden downward turn. I wanted the characters to feel complex and flawed; these are damaged people inhabiting a broken world, each searching for their own kind of peace and redemption."

While a sequence of horrible events causes a shift in Judy's temperament, it was very important to Foulkesthat this felt truthful to the character. "I didn't want her to then turn into Punch and to behave in the way that he would. It was important to keep it truthful to her own self. Then through the course of the film, she's able to find a different way of being."

Underpinning this was the importance of history and while it comments on the place of women in a society such as Seaside, Foulkes notes that, "It is larger allegory about the struggles of women throughout history and the all-too-common phenomenon of patriarchal societies reading female power as transgressive threat."

Wasikowska touches on how the film through dealing with a historical story, also comments on the role of history and looking beneath them can expose the layers of meaning. "In terms of the origin of something and where it comes from, if you look beneath the surface there often can be a very complicated history or a complicated place that it has come from."

Wasikowska does hope that this, along with the themes, will have an impact on the audience noting. "It comments on so many things that seem to be timeless issues unfortunately."

Of course, to have dark themes while still captivating audiences can be a tonal challenge and Bennett reflects on Foulkes' accomplishment. "I think Mirrah's been able to deal with this beautifully. Because it has some very dark underlying themes and yet she's created a piece that is essentially very entertaining and playful."

With the film set against a unique and wholly original world, the importance of ensuring the film had a strong narrative shone through for the cast with Herriman expressing, "I think first and foremost it's incredibly entertaining; it plays just as an entertaining story. It's one of the best scripts I've ever read; not only one of the best Australian scripts or one of the best recent scripts, I think one of the best scripts I've ever read. Every single scene adds something either story-wise or character-wise."

Foulkes certainly felt that her two leads fulfilled the promise on the page, saying of Herriman, "He's got such great range, he can be the kind of crazed clown but then he hits those truthful, honest, emotional notes so beautifully. He's amazingly technical as well, and he's a real kind of craftsman. Whereas Mia is incredibly intuitive and emotional, so they come at it from different places, both equally as interesting."


Herriman says of working with Wasikowska, "Mia is amazing. We actually worked together quite a few years ago on a short film ("Len's Love Story") and have crossed paths occasionally in that time. There's a reason she's had the career she has; she's an incredibly brilliant, intuitive actor and just an awesome person. You know she's an awesome person to work with and she really, I think, in her performance really centres the whole film."

"You need Judy and you need someone like Mia playing Judy for the audience to enter this crazy world with, and kind of see it through her eyes because she's kind of almost the only entirely sane person there, and I think having someone with Mia's talent makes a hell of a difference to pulling that off."

The enormity of taking on this story as a director was not lost on many involved with Wasikowska noting about Foulkes, "She's doing such a good job. It's an epic thing to take on as a first feature, between babies and dogs and period and on top of that she's been really, really great to work with."

Seaside And The World Of Judy & Punch

With Judy & Punch, the dialogue, performances and visuals needed to go hand in hand, as writer director Foulkes expressed that, "Marrying the visual storytelling with performance style is absolutely essential in this film; finding a gentle balance between its heightened nature and the dark realism."

Foulkes needed to combat the "historically loose and messy narrative", ensuring that the story and characters fit a feature film.

There are few constants in the narrative structure of the famous puppet show, though Foulkes adopted some for Judy & Punch. Characters and props that are often historically used in 'Punch and Judy' that audiences will see weaved through the film include the Baby, the Constable, Polly, a Crocodile, Scaramouche and Toby the Dog that consistently steals a string of Punch's sausages.

The setting is of course a fictional place and Foulkes decided to therefore create some rules, but not wholly adhere to the 17th century setting they found themselves in when it came to the language, look, feel and design of the film.

Foulkes elaborates, "It felt important to anchor it in a particular time but I also wanted the film to feel other-worldly and for it to feel like no time and no place. It was both creative and a practical choice because we couldn't make it here in Australia for the budget we had if we were going to be strictly period, but also it was very much a creative choice to say, "We're world-building and I don't want that to feel weird; I want it to feel exciting to enter into a world that doesn't feel specific in any way."

"The idea was that we'd set ourselves parameters and ground rules and there's certain things we never see, there's certain things we do see, but everything else within that is flexible and it's a conversation to be had. For example, I wanted the film to be full of lots of different accents, but I didn't want there to be any Australian or American accents."

Herriman talks specifically about the accent he uses in the film and how it informs his character, "Initially Mirrah was open to accent stuff and then we settled on a general Irish accent. It's nonspecific, it's not regional, it's not Belfast or Dublin or anywhere in particular; it's a generalised Irish accent because she liked the idea of him being an outsider when he came to Seaside."

The language was a key element that drew Wasikowska to the film. "I loved the language that Mirrah used; I thought it was really unique for a so-called period film because you can't quite pin it down even though it is (set in) 17th Century; it has its own kind of fantastical language and I thought that was really great, the way that the characters speak and that it's an amalgamation of different periods and not locked into one time."

Foulkes, with her creative team that included Director of Photography Stefan Duscio, Production Designer Jo Ford, Costume Designer Edie Kurzer and Hair and Makeup Designer Kirsten Veysey, looked to 17th century European history and other references as stylistic springboards for the visual world of Judy & Punch, while continuing the fluid rules structure.

Kurzer said that Foulkes initially had done a look book and sizzle reel, and that "The main thing we were talking about was that we were setting the whole film in the 17th century but that it was our own world."

Citing that the advent of photography had not yet arrived, Kurzer as well as many of the creative team, looked to the Dutch Masters portraiture, which had its own challenges. "It's a much harder period to find research-wise, because in this film it's the lower classes that we were setting it in, and while there's a lot of upper-class portraiture and references, people who were doing the everyday jobs weren't recorded in the same way. I did go to the Art Gallery of New South Wales that was having a big Dutch Masters' exhibition. And that was very relevant to our period, so you could see some fantastic whiskers and the ruffs and big collars. I just began immersing myself in the world of the 1600s on lots of different levels."

Production Designer Jo Ford developed her own rules in the Art Department that complimented the Costume Department, "I think one of the major rules for the Art Department was 'Let's keep all our lines straight. Let's not do curvaceous lines.' Because people couldn't build in curves then; the technology meant everything was straight and cut at right-angles or on the diagonal. So, Edie, has all the sinuous shapes of the pantaloons and the fabulous waists and then we in Production Design went for more straight lines to contrast all of Edie's really beautiful, sensuous figures against."

A key consideration was shooting a film with its basis in 17th Century European culture, in a country that didn't have a 17th Century European culture.

Foulkes explains, "I wanted it to kind of look like Europe, but I didn't want it to feel like the English countryside or Australia; there couldn't be any gum trees but there could be anything else."

Montsalvat, in Eltham, Victoria was identified as a great set for not only the town of Seaside, but also interiors for other aspects of the film. Australia's oldest continuously active artists' community, it was in many ways perfect for Judy & Punch. The creative team had been looking at places where Europeans had come in and introduced architecture or European gardens or forests. During the interwar years, many had come through Australia, and trained architect and the creator of Montsalvat, Justus Jörgensen was one of them. Bennett explains, "It's such an eclectic place; it's an artists' colony, and a lot of the rooms and buildings are mud brick, daubed, and there's a lot of the details that are medieval or French Provincial. There's a real mess of features that speak historically European, as opposed to Australia's architectural history which is really colonial."

The aim for the town of Seaside was for it to be dark, bleak, dirty and visceral. How Foulkes describes the inhabitants was an important catalyst for how the whole team approached the world visually "I wanted it to feel like kind of an anarchic, broken town that was sort of descending more and more into mob-rule and a lust for violence. To be directionless, rudderless and spiralling down into something dark and shitty, while also feeling maniacally fun. There are all these self-appointed people in town, Mr. Frankly is kind of this self-appointed Town Mayor, and the Preacher is the self-appointed spiritual leader."

In terms of costuming, Kurzer said, "Mirrah and I began by talking about the world being very grubby and to the extent of we start at grubby and then we go to double-grubby! It was decided that every person in the town was a very self-made person." This meant that the preacher has religious robes on to signal his self-appointment and Mr. Frankly his mayoral robes.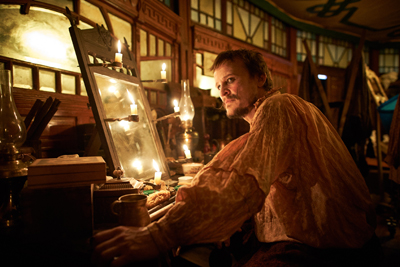 Interestingly Kurzer also notes that, "The policemen at that period of time kind of existed but they didn't have uniforms. So, our policeman wears something that's along the lines of a uniform that we're familiar with that says, "You're a policeman." He's a good example of stepping out of the 17th century, because he's got a hat that's closer to a much more 20th Century style of policeman's hat, but for me that made the whole uniform into a uniform. There was something that we discussed as being able to step out of the constraints of the period."

For the cast, the result was viscerally exciting, described by Herriman, "Seaside is an incredible invention of Mirrah's. She's come up with this crazy world that feels like it's right out of a fairy tale. There's an incredibly eclectic mix of people. They tend to all be a little odd or a little damaged, certainly quite paranoid. Within this town they have created paranoia about anybody sort of stepping outside what is considered 'normal' - which is not normal of course but what they've decided is normal."

This incredibly eclectic mix of people that Herriman describes was part of careful planning from the filmmaking team. Bennett, noting in regard to the extras, "Normally that's the first area you end up cutting back on when you've got budgetary constraints, but we made sure that we didn't compromise here. We had a great Extras Casting Coordinator (Sarah Murphy) and we had 130 extras come on many of the exterior days, the big set pieces, and they just kept coming back in wind, rain and horrible conditions, getting up at 3.00am.

"They've all been given jobs to do and I think they've just become personally invested in the story and in their performances as well. It's been really enjoyable to watch what they've brought to the film; it's more than just background, they're front and centre in a way."

The supporting cast and extras, extended to the Heretics camp, which is set in a place called the Black Forrest, hidden outside of Seaside. Foulkes calls it a "gentle counterpart" to Seaside, where the outcasts who likely had to flee for their lives have gathered.

Bennett explains the camp further saying, "The Heretics' camp is loose and wild and it's where Judy finds her strength and her inner resolve, as she's supported by this band of women, and some men. They are people that don't conform to the norms of society at that time, and that's symbolic of societies and communities here and the world over."

Wasikowska said the Heretics camp was one of the best parts of the shoot for her, in a moment where life seemed to imitate art "There was such a great bunch of women that Mirrah cast in the Heretics' camp and we had a little bit of rehearsal together; we all did a Tai Chi class and they all sang a song they had found. And it just felt very bonding and all the things that we did together were really fun and connecting."

In describing the look of the Heretics camp, Foulkes says that the "visual elements of the Heretics and their camp in the Black Forest shift subtly into a more fantastical vein, than that of Seaside. I wanted the camp to feel like a kind of feminist Utopia without taking it so far that it felt like it was outside the world that we created in Seaside."

Elaborating further on the tone and how this relates to sound, Foulkes says, "The sound design too echoes the tone, underpinning our visual elements with a sense of disquiet and foreboding."

The conversations that Foulkes and DOP Stefan Duscio had were crucially important to capturing the right tone of the various settings and emotions in Judy & Punch.

Foulkes explains, "We talked a lot about shooting style and how what we'd do with camera would change from one place to another; how it should feel in Seaside versus how it should feel in the Heretics' camp. I wanted the film to feel very composed, operatic and grand at times and then at other times giving it a real sense of realism through handheld. Stefan and I were both interested in being economical and minimal with the camera moves when we could."

Foulkes was keen to capture a painterly effect, and Duscio was excited by the discussion of natural lighting and candlelight, "I think because I've done a lot of modern-looking work before, I was interested in playing in the arena of more natural light or at least recreating natural light and candlelight. A lot of modern cinematographers are using sharp lenses and modern lighting fixtures like LEDs and I thought the cool thing about this film was we could use old lenses, use the oldest lights possible whenever we can, use candlelight whenever we can, recreate daylight whenever we can and steer away from anything modern."

Using ARRI Alexa cameras, Duscio paired them with old, anamorphic lenses from the '60s and '70s. Duscio embraced the unpredictability of such lenses, "Sometimes they flare the image in very bizarre ways or the edges of the frame are very soft, but I love what it did to the texture of the film, as it feels like it's from another time because of those lenses."

Duscio presented to Foulkes and the producers the prospect of utilising LiveGrain, a realtime texturing tool that mimics the look of shooting on film. They agreed and DUSCIO further explains, "We basically apply the look of shooting on film and the colour-grading that I'm applying, to every day's footage. Mirrah edited with very finished colour-graded images, with grain so it looks as much like the final film as possible. It's not like she just saw it at the end of the production; she got to see it every day on set."

Edgerton mentions the challenges they battled with weather during filming, by noting the positive result it had "There were challenges with weather, but they suited the setting. Logistically it's been a bit of a nightmare, but it's also been a blessing, as the rain and the cold really fits the movie."

Bennett credits Foulkes overcoming these challenges and more saying, "I've admired the fact that she hasn't just become overwhelmed by the enormity of it. Every film is challenging in its own way; it's just that this has got a combination of logistical challenges and creative challenges."

She adds wryly, "Though I don't know that in her next film she'll be writing-in so many animals and babies and stunts and visual effects and shooting exteriors in winter."

The result is a wholly original piece with intriguing characters and incredible design, fulfilling Foulkes' ambition for it not to feel like anything else. This is articulated by Herriman, "The look of the film is amazing. I can't think of another film that looks anything like it. All the departments have done a brilliant job, and everything visually along with photography is just stunning. When you walk onto one of the sets, you're immediately taken to this place whether it's because of the actual set design and layout or the crazy costumes that people are wearing, you really are transported to another world.

"And we never quite find out where this is or when this is, which just adds to the fairy tale quality and whole experience."

Judy & Punch
Release Date: November 21st, 2019