March, 1918.
Cast: Sam Claflin, Paul Bettany, Asa Butterfield, Toby Jones, Stephen Graham, Tom Sturridge
Director: Saul Dibb
Genre: Drama, War
Running Time: 107 minutes

Synopsis: March, 1918. C-company arrives to take its turn in the front-line trenches in northern France led by the war-weary Captain Stanhope (Sam Claflin). A German offensive is imminent, and the officers (Paul Bettany, Stephen Graham Tom Sturridge) and their cook (Toby Jones) distract themselves in their dugout with talk of food and their past lives. Stanhope, meanwhile, soaks his fear in whisky, unable to deal with his dread of the inevitable. A young new officer, Raleigh (Asa Butterfield), has just arrived, fresh out of training and abuzz with the excitement of his first real posting –not least because he is to serve under Stanhope, his former school house monitor and
the object of his sister's affections. Each man is trapped, the days ticking by, the tension rising and the attack drawing ever closer…

Journey's End
Release Date: 8th of November, 2018


About The Production
The Genesis

Getting R.C. Sherriff's celebrated 1928 play Journey's Endto the screen was a journey in itself. The play was previously adapted in 1930 – the feature debut of James Whale, no less – and remade in Germany the following year as Die Andere Seite (The Other Side).

"The idea to adapt the stage play came initially from our executive producer Sir Anthony Seldon," says writer/producer Simon Reade. "He suggested it to Guy [de Beaujeu], my fellow producer, after he had seen another First World War movie we made, Michael Morpurgo's Private Peaceful. He believed Journey's Endcould be a totemic First World War film."

The Script

Reade, at this stage, had no intention of writing the screenplay. While he had previously written both films that he had co-produced with de Beaujeu – Private Peaceful and Shakespearean mockumentary What You Will – he says, "The idea of turning a brilliantly crafted play into a screenplay wasn't something I'd usually entertain."

Seldon pointed the producers in the direction of the little-known novel that R.C. Sherriff had penned with Vernon Bartlett.

"The play was so successful and the James Whale film was so successful, that Sherriff was persuaded to novelise the play," explains Reade. "I started to read it and it was a goldmine. Not only did Sherriff and Bartlett move stuff outside the dugout, to go along the trenches and over the top, but they also went into more subtext. Sherriff actually wrote it, I think, with the eyes of a film writer, because he was writing a screenplay adaptation at the same time of The Invisible Man, and as we know he famously went on to do The Four Feathers and The Dam Busters and Goodbye, Mr. Chips."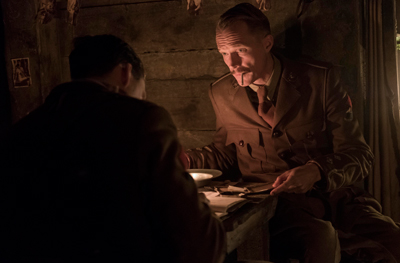 Reade set about the adaptation, always mindful to strike the correct balance between scenes set in the officers' dugout and scenes that take place with the men in the trenches. The action also spills over the top into No Man's Land on one harrowing occasion, while a couple of sequences set back at the Company HQ further open out the story. All of this is done without ever lifting the lid to allow the simmering tension to escape.

"Sherriff's working title was 'Waiting'," says Reade. "They're waiting for this bombardment and they've got six days and it's a ticking time bomb. When you're waiting for something to come to the boil, you feel under attack from everywhere whether you're in a confined space or out in the open."

One of the biggest challenges adapting Sherriff's play was in tweaking the language, which is as much a snapshot of West End theatre at the end of the 1920s as it is an authentic history of how they actually spoke during the First World War.

"One of the key things for me was to not be religiously slavish to Sherriff's dialogue," says Reade. "Without overly modernising it, I didn't want it to sound old-fashioned and alienating: 'Top hole!' and 'I say!' could put off a younger audience, and I found it a little caricatured. What we could do that Sherriff couldn't " because he had to consider the sensibilities of the era " was to tease in the language that was used in the front line – the swearing and the sometimes aggressive, sometimes blunt speech authentic for that time."

The Director

Although Saul Dibb had already directed a couple of period films (The Duchess and World War Two drama Suite Française) it was Bullet Boy and his recent adaptation of Zadie Smith's NW, along with a background in documentary filmmaking, that proved to the producers he could bring an invigorating modernity to the screen. "We clicked on day one because his vision really did chime with ours," says de Beaujeu.

"I felt it just had this incredible ring of truth to it," explains Dibb of what attracted him to the material. "A really honest, really human account of what it was like to be there. Sherriff was a brilliant writer and he was writing from personal experience. We had the opportunity to make a very truthful account. The First World War was just a waste. It wiped out this whole generation, and for what? These people have been sacrificed. We just wanted to make it clear from the start that these are dead men walking. It's not about slowly coming to understand it. All they come to understand, really, is what day it's going to happen."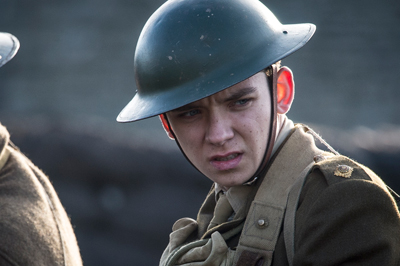 The Cast

Heading up a terrific cast of British talent is Sam Claflin as the officer in charge of C-Company, Captain Stanhope. Admired by his fellow officers and men alike, Stanhope is, nonetheless, a shell of the man who joined up three years before. He suffers from Post-Traumatic Stress Disorder (PTSD), and can face up to his daily duties and ceaseless fear only with the help of large quantities of whisky.

"Sam Claflin signed up right at the very beginning, when we were developing the project and stuck with us all the way," says Reade. "He had seen it at drama school and said: 'One day I want to play Stanhope.'"

"It blew me away," says Claflin of the production he saw while training to become an actor. "Not only is it a really emotional piece, it's a really physical one, and psychological one. Since then I've familiarised myself with the play and was nearly going to perform in a version of it in 2011, which didn't work out. So it's been a real pleasure to be able to come on board and explore it more deeply with an amazing cast."

Claflin, giving the performance of his career, is offered stellar support by the actors playing the characters around him: Paul Bettany, Toby Jones, Stephen Graham, Tom Sturridge and Asa Butterfield. The secret to enticing such talent, says Dibb, is easy: the quality of the material. "It's really, really strong," he says. "Some things are hard to cast but this was relatively straightforward, it's that kind of film – they wanted to do it. Sam was there when I joined the project, and Paul Bettany was very interested. He's someone I've always wanted to work with. He had this amazing connection with the character; he felt like he knew him."

Bettany plays Osborne, who is Stanhope's closest friend and confidant. But it is Raleigh who provides our eyes and ears in this claustrophobic, dread-drenched world, for he arrives fresh out of training, assigned to C-Company because he has pulled strings with his uncle, General Raleigh (Rupert Wickham).

"Stanhope and Raleigh grew up together," Claflin explains. "They were at school together. Stanhope was three years Raleigh's senior and Raleigh somewhat hero-worshipped him. Stanhope is [now] a very, very different man to the one that Raleigh knows, and when Raleigh arrives in the dugout on the front line, there's an immediate shock. Stanhope is aware of the horrors that are to befall them and is aware that Raleigh is coming to his death."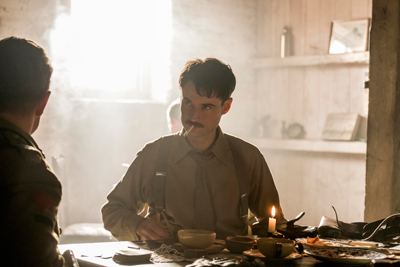 To prepare for their roles, the actors met with veterans suffering from PTSD. "Having the opportunity to talk to people living through the experience that your character is feeling is invaluable," says Claflin. "It's a wound that people can't see and therefore struggle to relate to, so to have people divulge their secrets and [reveal] the psychological darkness is so helpful. I can only hope that I do it justice."

It is how these frightened men deal with the horrors of trench warfare and with the knowledge of the imminent German offensive that makes for the meat of JOURNEY'S END's drama.

The Shoot

The production moved quickly, taking only six weeks: shooting for two weeks in an existing trench network in Ipswich, two weeks in a dugout recreated at Pinewood Studios in Cardiff, a week on various locations (many of the ruined buildings were in Wales) and a week in a trench in a car park. Dibb had spent time before the shoot talking through the screenplay in detail with the actors to eradicate any issues that might arise; he further paved the way by blocking the more complex scenes in advance. On set, mornings were spent rehearsing and then, such was the calibre of the cast, relatively few takes were usually needed. For Dibb's part, he sought to aid his actors by ensuring the authenticity of their environment.

"Nothing was faked," he says. "We started early each morning and embraced whatever weather was thrown at us because that's what happened with the men at war. Two days before we started shooting there was an enormous downpour, so the mud you see in the film is just the mud we found on set; we didn't add to it. The actors didn't go off to trailers. Everyone stayed on set and by the end of it, their feet were frozen, they were covered in mud, it was uncomfortable. With the dugout, we built it to scale in a studio but we went in and shut the doors. It was lit only with candlelight."

The ethos of seeking truth at all times extended to Laurie Rose's remarkable camerawork. "We had a very clear idea that the camera was the extra officer in the dugout," says Dibb. "It was assuming the position of Sherriff, in a way – of somebody who was there and present with all these people at all times. We would never be too far from them. It would always be handheld or on an Easyrig or Steadicam so we were hugging close to our main characters and the action."

Even the frantic, terrifying forays into No Man's Land were shot for maximum verisimilitude.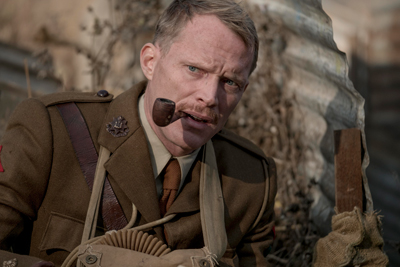 "We tried to do everything for real as much as possible," continues Dibb. "The explosions you see them running towards are in-camera; they're not visual effects. They are dynamite exploding as close as we were allowed to put it. We did the whole scenes in one take. We ran across with them. Crawling up, getting over, the bombs blasting in front of them, jumping into the trench and soldiers shooting…"

"We weren't trying to make a Hollywood version of World War One and we didn't want any sort of glorification of war," adds de Beaujeu. "We didn't want people being gung-ho. In fact we only see one German being shot in the entire film, and the raid scene is one of chaos and fear – it's the antithesis of most war films."

Reaching Modern Audiences

Journey's Endwill hope to entice not just cinephiles or those aware of the cultural significance of Sherriff's play, but also a younger demographic even though it is being released at a time when superheroes, sequels and reboots hold sway.

"This is packed full of heroes and is an action movie, in embryo," argues Reade. "It won't be a disappointment from that point of view, in fact I think it will be a revelation because the audience will quickly see that our characters have more psychological depth than many blockbuster characters do.

"As a director, Saul is happy to share his early cuts. So we were able to invite audiences in from a range of backgrounds and young women responded incredibly well to the material even though they might not have necessarily have thought it was the sort of story they would have been drawn to."

De Beaujeu agrees. "Sam and Asa are our conduit to younger audiences who will know and recognise them. Our real excitement about the promotion of the film is how we can market it particularly to younger women. I think it's an audience that has been somewhat overlooked in the centenary and in much of the commemorations. Once they've been to see it, I hope they will be deeply and emotionally involved in the film. I can see social media being absolutely abuzz."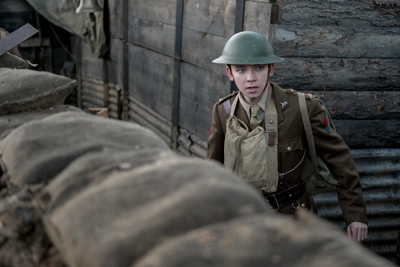 Claflin, meanwhile, insists that Journey's Endis as relevant now as it has ever been. "It's a real insight into war," he says. "War is still happening; people are still losing their lives. This is hopefully an opportunity to channel some of that frustration. Captain Stanhope is someone who's in war and is highly affected by what he's seen and what he's been through. We know it as PTSD, and it's something that so many people suffer from, and so many people are afraid to talk about. Hopefully it shines a light on that."

As for Dibb, he has no trouble locating the position of Journey's Endwithin both the current cinematic landscape and among today's headlines.

"Journey's Endis much more like The Hurt Locker than a traditional blockbuster war movie, where we are talking about the authentic experience of war not glorifying it." He pauses and then suggests another reason that Journey's Endis essential viewing. "I was sent the script soon after the whole Brexit referendum, where it seems like people are naively tampering with alliances and allegiances that have been built up over decades to avoid precisely this kind of thing," he finishes. "It felt like there's a real relevance to it."

Journey's End
Release Date: 8th of November, 2018