"This city, this whole country, is a strip club. You've got people tossing the money, and people doing the dance."
– Ramona
Cast: Jennifer Lopez, Julia Stiles, Constance Wu, Keke Palmer, Cardi B., Lizzo , Lili Reinhart
Director: Lorene Scafaria
Genre: Drama
Running Time: 110 minutes

Synopsis: Inspired by true events, Hustlers is a comedy-drama that follows a crew of savvy strip club employees who band together to turn the tables on their Wall Street clients. At the start of 2007, Destiny (Constance Wu) is a young woman struggling to make ends meet, to provide for herself and her grandma. But it's not easy: the managers, DJs, and bartenders expect a cut– one way or another – leaving Destiny with a meager payday after a long night of stripping.

Her life is forever changed when she meets Ramona (Jennifer Lopez), the club's top money earner, who's always in control, has the clientele figured out, and really knows her way around a pole. The two women bond immediately, and Ramona gives Destiny a crash course in the various poses and pole moves like the carousel, fireman, front hook, ankle-hook, and stag. Another dancer, the irrepressible Diamond (Cardi B) provides a bawdy and revelatory class in the art of the lap dance.

But Destiny's most important lesson is that when you're part of a broken system, you must hustle or be hustled.

To that end, Ramona outlines for her the different tiers of the Wall Street clientele who frequent the club. The two women find themselves succeeding beyond their wildest dreams, making more money than they can spend – until the September 2008 economic collapse. Wall Street stole from everyone and never suffered any consequences. Now, Ramona, Destiny, and two dancers who've joined their little family – the unstoppable Mercedes (Keke Palmer) and the young and innocent Annabelle (Lili Reinhart) – look to turn the tables.

They cook up an inventive scheme to get their lives back on the fast-track to success. The game is still rigged against them, so to even the playing field Ramona devises a special drug cocktail that leaves their customers helpless against the ladies' charms. Nobody's really Internal use only getting hurt, they reason; it's just like robbing a bank, except the men are handing them the keys. The foursome create a bond tighter than any family"until things get out of control. From STXfilms, Hustlers stars Constance Wu, Jennifer Lopez, Julia Stiles, Keke Palmer, Lili Reinhart, with Mercedes Ruehl and Cardi B. The film also stars Lizzo, Mette Towley, Madeline Brewer, and Trace Lysette. The film is written and directed by Lorene Scafaria, inspired by the article published by New York magazine entitled "The Hustlers at Scores," written by Jessica Pressler. The producers are Jessica Elbaum, Elaine GoldsmithThomas, Jennifer Lopez, Benny Medina, Will Ferrell, and Adam McKay.

Hustlers brings together a compelling mix of humor, spectacle, social commentary, and a group of disparate women who team up and look for ways to even the odds that are stacked against them. In addition, says Constance Wu, it's about a relatable issue that affects so many. "I had been looking to play a character who was deeply lonely, because of how our culture causes such loneliness," she explains. "We need stories about that. Destiny is so beautiful to me because of her solitude, and the ways she tried to pretend her way out of it seemed counter intuitive, but also so very human."

Jennifer Lopez, who portrays Ramona and serves as a producer on the film, says she was drawn to the fact that Hustlers is about "greed, power, and the American Dream and what a certain group of women, who work in a field where they are discounted, will do to achieve it. It's an amorality story about the slippery slope of the hustle. These women did not invent the game; they just tried to level the playing field. It's about right, wrong, and how far you'll go to hustle for your dreams."

"We're presenting a world we may have seen in many movies and TV shows, but from a different perspective – that of the dancers," says writer-director Lorene Scafaria. "It's an epic mix of crime drama, stripper movie, and an exploration of the economic upheaval that upended the lives of so many, including our characters'. Jessica Pressler's article was a compelling story of fascinating characters who are constantly facing judgment and living with a stigma about their profession, and about deep friendships that can sometimes get you into trouble."

Producer Jessica Elbaum, a principal at Gloria Sanchez Productions, which optioned Pressler's New York magazine story, observes, "I found these women's journeys to be fascinating. It's a slice of life and a cautionary tale about what happens when your ambition is bigger than the reality of your situation."

The producers and cast are unanimous in their praise of Scafaria. "Lorene was the right filmmaker for Hustlers for so many reasons!" Constance Wu enthuses. "Because she treated each character as a human, not an archetype/caricature. Because she is very plugged Internal use only into the culture. Because it wasn't about the male gaze; it wasn't about any gaze at all. Lorene goes deeper than the surface level of a gaze. She gets into the heart, the guts."

Adds Elbaum: "Lorene had an incredible take on how to tell this story. She truly respects the characters and what they were trying to do. Lorene makes the women authentic by neither victimizing nor celebrating them, and by understanding how what was happening in the world at the time helped make them who they are."

Keke Palmer calls Scafaria "one of the most intuitive and kind directors I have ever worked with. She's humble yet always confident and assured in her vision for the film. Lorene made sure we all felt protected, and I think that's important because it's the opposite of what our characters are experiencing.

Hustlers
Release Date: October 10th, 2019


About The Production
A Sisterhood Of Hustlers

According to producer Elaine Goldsmith-Thomas, the filmmakers sought an inclusive cast, which "lends itself authentically to the world, while also being a lot of fun." All the actors, like their on-screen counterparts, bonded instantly, and understood but didn't judge their characters. "They really inhabited them," Goldsmith-Thomas continues. "They understood who these women were and what it meant to be an exotic dancer. Hustlers is a celebration of sisterhood, and what a tight-knit family of women have to do for a fighting chance." Scafaria reveals that, through that sisterhood, she felt a kinship with the characters. "I relate to everything they go through, including grappling with loneliness and searching for independence," she says. "They are moms, friends, sisters, and daughters, who forge these incredible bonds that transcend their differences."

Constance Wu was especially intrigued with the relationship between her character, Destiny, and Jennifer Lopez's Ramona, and likens it to a pairing in one of her favorite novels. "What Ramona is for Destiny reminds me of this quote from Patricia Highsmith's The Talented Mr. Ripley: 'The thing with Dickie... it's like the sun shines on you, and it's glorious. And then he forgets you and it's very, very cold...When you have his attention, you feel like you're the only person in the world, that's why everybody loves him so much.' Destiny's dream come true is for Ramona to love her."

Scafaria states that Destiny's sensitivity and vulnerability were beautifully captured by Wu, "whose soul really runs deep." Moreover, the filmmaker immediately saw a kind of big sister / little sister dynamic between Destiny and Ramona, even though their individual approaches to the world are very different. She further notes that Destiny's motives can easily Internal use only be misunderstood. "You can look at her in different ways," she explains. "She enjoys the money but is really in it more for the camaraderie than she is for the cash."

These personal connections are so important to Destiny, because, says Wu, "Destiny's mother abandoned her when she was very young, so she has trust issues. She hasn't let a lot of people in. The lack of meaningful relationships with women in her family life makes Destiny's longing for female friendship so much greater."

Wu did extensive research for the role, the most important of which, she notes, was "becoming close with different women in the profession and getting to know them as people." Destiny's friendship with Ramona is the heart and soul of Hustlers, while also being rich in nuance and surprises. "Ramona is endearing but also complicated and damaged, and her ambition threatens to cloud her sense of morality and connection with Destiny and the rest of the women," says Lopez. "She's on a slippery slope and seduces people to her own agenda. Ramona is always reaching further than she should."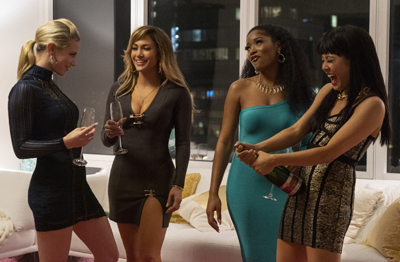 "Ramona is everything at once – the sun that shines brightly on you, but which can also burn you," Scafaria notes. "She's a Mama Bear and Gordon Gekko, at the same time. That dichotomy is what makes her an anti-hero."

Like Wu, Lopez got to know several dancers and visited strip clubs, where she observed their routines. "I then met with them backstage and listened to what it was like to have a career as a dancer," Lopez recalls. "I soaked up the atmosphere and wanted to learn how to do things authentically, including pole dancing. I think it would surprise people – although it shouldn't – that most of these women are just trying to get by. Their struggles are 100 percent relatable. They want to take care of themselves and their families, and we wanted to make sure we brought that all to life."

For Scafaria, Lopez's participation in the film seemed destined. "I don't write characters with specific actors in mind, but the minute I completed the script it was obvious that Jennifer's voice was on the page even before I imagined her as Ramona. It was fate. Jennifer so embodied Ramona it was almost scary. She brings a wink and tongue-in-cheek flavor to the character, as well as a grounded reality."

Another member of the crew, Mercedes, is portrayed by Keke Palmer, who says, "Mercedes is fearless and always says what's on her mind. But I also loved that she has a sense of humor about almost everything."

Equally important to Palmer was that the ladies become a crew – a family. "They learn to depend on one another and know they're in a tough spot that requires them to hustle. Yet they find a sense of hope together. Mercedes thinks of Ramona, Destiny and Annabelle as sisters.

Internal use only Mercedes is loyal and down for the ride – she's definitely one of those ride-or-die type of people – but at the same time she's not afraid to run when shit get crazy because she will always protect herself."

Palmer also appreciated the opportunity to work with and learn from Wu and Lopez. "I've always wanted to work with Jennifer because she has inspired me with how she has evolved her career throughout the years, and I wanted to see that up close. Constance was awesome as well; she gives Destiny subtleties that ground the film in a great way. I'm also happy to be part of a film written, directed, produced by and starring women!"

When casting the role, Scafaria and the producers considered the fact that Mercedes can always make Ramona laugh and bring her joy. Mercedes is also cool and put-together, even when trying to make ends meet and deal with a boyfriend who's been imprisoned for much of their relationship. "After a two-hour lunch with Keke, I knew she had to be Mercedes, and that she'd make Jennifer laugh," Scafaria recalls.

The youngest member of the quartet is Annabelle, a striking combination of innocence and allure. "Your heart goes out to her," says Lili Reinhart, who takes on the role. "I liked the idea of playing a woman who is innocently provocative and a little clueless – and who has a lot to learn. Annabelle is in an especially vulnerable place when we meet her; she's living without her family, which has rejected her because of Annabelle's profession; and trying to get by the best way she can. Annabelle responds to Ramona's motherly care and immediately bonds with her."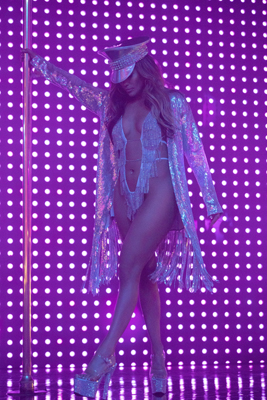 In addition, the women coming together as family was a big draw for Reinhart. "These girls are from different backgrounds," she offers. "Each has her own baggage, traumas, family problems... and they find solace in being together through all of that. They provide a sisterhood for one another that looks like it won't falter, even in a competitive and nasty world." Scafaria calls Annabelle "the beating heart of the sisterhood, the one that they all love, and its odd duck – and Lily has that lovable quality."

One of Annabelle's defining traits is her penchant for vomiting whenever she's under stress. The Riverdale star was more than up to the task, aided by a special recipe. "Luckily, Lorene didn't ask me to do it 20 times – but I would have!" she says, with a laugh. "Crushed graham crackers mixed with sprite was the winning magical concoction to create the perfect throw-up."

Another dancer, Diamond, is lovable in a very different way. As embodied by the legendary rapper, singer, songwriter Cardi B, Diamond is a tough girl from the Bronx who's worked at the club for a year. She's a little more hardcore and acerbic than the other dancers – only "Diamond doesn't take shit from anyone," says Scafaria – but, thanks to Ramona, she eventually connects with Destiny and joins the ladies in celebrating their new bonds. She even provides a hilarious lap-dancing lesson for Destiny.

Scafaria, a longtime Cardi B fan, says she knew the artist had to be in Hustlers. "I started sending Cardi messages on Instagram in 2017," she relates, while acknowledging that it was Lopez and her team that ultimately convinced Cardi B to join the project. "She's such a transcendent personality and artist, I knew she'd bring authenticity to the role."

Lizzo, the celebrated singer, rapper, actor, and flutist, makes her feature film debut as an ebullient stripper, Liz. The acclaimed artist loved playing a pole dancer, because, she declares, "I love shaking my ass, and I think they are among the most confident and strongest women on the planet. And it was important to me to represent for the big girls out there."

"Lizzo is an unbelievably gifted performer," says Scafaria. "I wrote the role of Liz for her, and I even wrote a scene in which she's carrying a flute, so there was no mistaking who I wanted in that role. Lizzo is all about joy, and I wanted that same kind of joy in the club scenes. She really stepped into that world."

Trace Lysette portrays the dancer, Tracey. Lysette, who became one of the first trans actors to appear on a prime-time television series in a speaking role, with her work on Transparent, actually made a living at a strip club. "I danced at [the popular New York strip club] Scores for over eight years," she explains. "I remember when the money was flowing – and when it stopped coming after the 2008 financial crisis."

When Lysette learned of Hustlers, she sprang into action to be a part of it. "The story and character were so personal to me, that I decided to send a tweet into the universe. Lorene saw it and asked me to lunch. We hit it off and I told her about my experiences as a stripper. I was incredibly pleased that the story humanizes the profession, which is often reduced to a trope. These characters work hard hustling for their money to provide for themselves and their families. Their camaraderie is priceless and necessary for their survival, and that is something almost any woman can relate to."

During that lunch and subsequent conversations, "Trace provided insight into what it was like for these women to experience the high times of the pre-2008 world, and the aftermath of that financial meltdown," Scafaria says. In addition, the filmmakers consulted Jacqueline Frances, aka Jacq the Stripper, a noted Canadian stripper, comedian, artist, and author. Jacq served as the production's comfort consultant, ensuring that everyone on set felt safe. She also painted a vivid picture of the world of stripping, for the cast and filmmakers.

Mette Towley portrays Justice, the only stripper with a tagline all her own: "Justice is served!" Towley, a dancer known her for her hypnotic and improvisational hip-hop moves, calls acting "a new frontier," adding how much she appreciated being directed by Scafaria. "Lorene made me feel comfortable doing something – acting – that I would never have thought was possible for me."

Another key figure in the story is neither a stripper nor a part of this newly-formed sisterhood. A reporter, Elizabeth, is chronicling the story of these women through interviews with Destiny and Ramona. Scafaria intercuts those moments with the unfolding narrative of the ladies' hurly-burly lives and relationships. As played by Julia Stiles, Elizabeth is "a reality check on the fantasy of what these women pulled off," says Scafaria. "And Julia brings a weight and strength to the character, which is so vital because she resets the tone of the story and brings Destiny and the audience back to reality."

Stiles had read Jessica Pressley's New York story, which, notes Scafaria, "has obsessed Julia even longer than it has me. She was fascinated by Jessica's process of writing the article and her investigation and understanding of the truth of the situation, that it was all about the shifting dynamics of who was actually in control."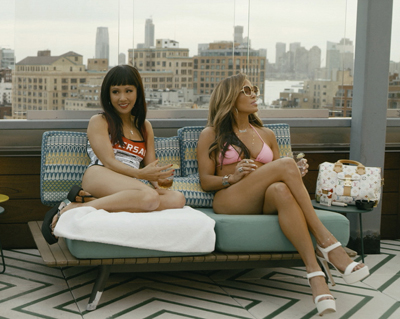 Hustle – Or Be Hustled

The ladies' journey of elaborate cons is their response to a broken system that has left them at the bottom of a patriarchal hierarchy that's been in place since, well, forever. Their struggles to overcome and break through these circumstances resonate because, like everyone, they're looking to take care of themselves and their families and live that American Dream that feels out of reach for them and so many others.

Their ingenious, if ethically questionable tactics include spiking the drinks of their targets – a never-ending stream of Wall Street kingpins who have long treated the ladies like their playthings. Moreover, these tycoons have long been making money off the broken dreams of everyday Americans, and, the ladies' reason, it's time to turn things around.

Still, the quartet's actions are not heroic. "They are definitely anti-heroes and survivors in a game that is rigged," says Lopez. "It all began with the idea that they would get back at the Wall Street big shots who turned the country upside down in 2008. But just as it is with any hustle, once you start playing it's hard to find the courage to stop."

Hustlers also has fun upending gender conventions. "There's a line in the film about how few men would admit they had been scammed by a woman," Lopez continues. "Their Internal use only sense of pride prevents them from reporting it. These men aren't interested in getting to know who these women are; they are more interested in making them into who they want them to be. I certainly don't think they see these women as capable of turning the tables on them. That would ruin the fantasy. These guys feel untouchable, and they don't see it coming."

The ladies' methods, says Goldsmith-Thomas, further points to the skill in which the actors and Scafaria drew the characters. "They are doing some things that you would immediately judge as being wrong, but Lorene and our cast really make you care about them." "Everyone in this film is hustling and just trying to get by," adds Elbaum. "What the ladies are doing mirrors what men had been doing to them."

Scafaria interjects that she includes herself in that category of "hustler." "I know what it's like to hustle – to 'dance' for the money to make these movies!" she says, with a laugh. Though Destiny enjoys the bounties coming from the groups' larcenous schemes, she sees the true benefits as transcending dollars and material things. "I don't think Destiny tries to justify her actions. I think she just gets caught up in the loving feeling of family, the feeling of being a part of something. An us-against-the-world type thing," notes Wu.

Scafaria's empathy for the dancers even extends to their customers. "I didn't want to villainize any job or gender," she explains. "Though these women work in a value system that can be insidious, I feel for the male characters as well, because they're valued most for their wealth and power, as women are valued for their beauty. The system is broken for both."

Learning The Pole

There were many challenges awaiting the actors who portray the exotic dancers, but certainly learning their way around a strip club pole was at the top of the list. "My muscles have never been so sore as when I trained on that pole," Wu succinctly describes her experiences while training to learn the precise and specific moves.

Even Lopez, a longtime skilled dancer who works out every day, says it was one of the most difficult things she's ever done. "I trained for almost six months in preparation for this film," she relates. "I had a portable strip pole in every city I visited, so I never missed a session. I was using a group of muscles I hadn't ever tested before, so I walked away with fresh bruises after every session. My shoulders and back are still recovering!"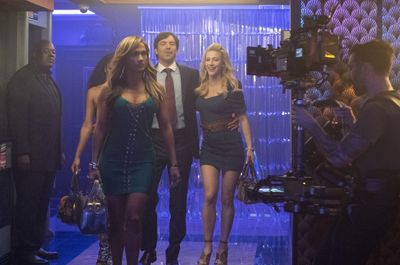 Wu, Lopez and all the actors required to learn pole dancing, credit pole choreographer Johanna Sapakie with making it all possible for them. "Johanna is really talented," says Lopez, "and we couldn't have done it without her expert guidance."

Internal use only A former Cirque de Soleil performer and acrobatic dancer, Sapakie says it was important that each actor be able to feel what it's like to be dancing on a pole. "It's their environment, and part of their characters' development," she says.

Sapakie was fascinated by how each actor came from a different background. "Jennifer, for example, is extremely physical, very athletic, and a gifted dancer who picks up choreography beautifully, but she had never before worked with a pole," she explains. "So, we approached it from a dance and choreography perspective, as well as from a character perspective, which was critical. That really helped Jennifer master the art form, including spins and basic inverted movements."

"Jennifer's pole dancing depicts her power and ownership of the character of Ramona, and of her stage," Sapakie continues. "We created the moves together to introduce Ramona to the audience."

Sapakie found a different kind of fulfillment in training Wu. "Constance doesn't have a movement-based background, so we approached her sessions a little differently from Jennifer's," she notes. "I used different cue words to explain the movements, so Constance could really take it in and use it with her body. I was really impressed with how she mastered a reverse backspin on the pole, and Constance looks beautiful doing it. The moves really open up her chest to the sky with a smooth and sensual flow."

Mette Towley is an acclaimed dancer but admits she wasn't prepared for the demands of this unique form. "It requires an athleticism I don't have, and I'd never done apparatus work as a dancer. So, I bought a stripper pole – which my dad put up in my garage," she says with a laugh.

Palmer had already had some experiences with strip clubs – as a visitor – but she says the rigors of pole dancing was something she could not have anticipated. "The dancers at the club I went to in Atlanta are unbelievably talented, and the one thing I realized when I tried to start pole dancing is that they're really doing a lot of work. It's much more than dancing and involves a lot of acrobatics. You need a lot of strength to do those moves and tricks. I have even more respect for them now."

Designing Hustlers

Veteran production designer Jane Musky (Maid in Manhattan) says that she wanted to help audiences experience the world of these women's lives, their journey, and level of sophistication, through the design of the sets and color palette. "Lorene, director of photography

Internal use only Todd Banhazl, and I had the same vision for the characters – the rawness of moving forward to possess things they never had and getting what they want out of life their self-esteem, as it's tied to their profession; and their survival instincts. It's about the power of seeing how far you can go when people underestimate you."

Research was a key tool in shaping Muskey's designs. "I looked at the social media accounts of some strippers, and was so impressed," she recalls. "There were images of their knees bleeding; their work is very demanding and strenuous, but they make it look so beautiful." While realism was the watchword, "We did make some changes," Muskey says.

"Usually, a club's dressing rooms lockers store all the dancers' belongings. But we wanted to see them prepare to go on stage, with all their makeup, garments, and grooming tools filling up the frame."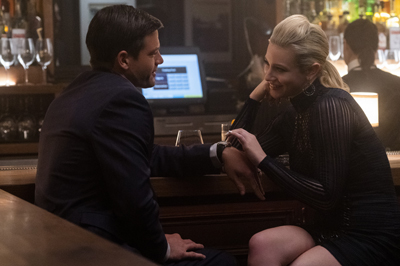 Muskey's color palette is muted, at first, as we are introduced to Destiny and experience the hardships of her day at the club. "But after she meets Ramona and the other ladies, and they become a crew, the stripping comes alive and we add more and more color and glamour, especially in the private rooms, where the lap dances happen," notes Muskey. "We really went all out to show how sultry and crazy it could get in that kind of environment."

Later, as the ladies become increasingly wealthy, Muskey says she removed much of the color, "to heighten the contrast as they break through an economic barrier and a new level of sophistication."

The scenes set in the gentlemen's club were captured at an actual New York strip club, Show Palace, which Muskey and her team made their own. "It was important that we create a look, so we transformed that venue," she explains. "We made it more visually dynamic, with reflections, color, and neon – giving it a little more life." The club's owner was so pleased with the changes, that he retained them after filming had wrapped at the site.

One of the most memorable moments filmed on that set came when a celebrity visits the club, unleashing a torrent of unbridled excitement, spectacle, music, dancing, celebrating – and cash – as the dancers and customers revel in their special guest's star power. The scene was captured in just one day. Says Goldsmith-Thomas: "All the characters are dancing – it must have been over 300 people working that day – and coming alive as if we had time-warped back to 2007. Those of us observing the filming were amazed: We weren't watching Jennifer, it was Ramona; and the woman dancing next to her wasn't Constance, it was Destiny. It was crazy and amazing, a very real moment, joyous and free, that we were eavesdropping on."

"I was looking to capture something that was interactive and alive, and very real and in the moment," adds Scafaria. "The girls are athletes, and I filmed them dancing that way."

"It was no big deal – just twerking for [the huge star]!" adds Lizzo, with a laugh, of the experience working opposite the visiting celebrity, amid the scene's music, dancing, and electricity.

The dancers' wardrobe, according to costume designer Mitchell Travers (In the Heights), was all about "the difference between the way women dress for each other, and the way they dress for the male gaze."

"There's a family quality when Destiny, Ramona, Mercedes, and Annabelle are together; they could even be wearing pajamas," he elaborates. "But for their male customers, they weaponize their style, using their hemlines, cleavage – whatever is available to them. We often see male action characters donning accessories like bullet-proof vests or wielding guns; our ladies' accessories are just as formidable."

For each character, Travers researched period trends and those making them. "Ramona is successful when we meet her, and the celebrity, circa 2007, we were tracking for her was … Jennifer Lopez," he says with a laugh. "For Destiny, I looked at Tila Tequila, Fergie, and Ashley Simpson; Mercedes' look was all about Ashanti and early Beyoncé'; and for Annabelle, I created a backstory where she came from a family in the South, and appreciated the attention she was getting at Moves, and the friendships she was forming with the other dancers. For her, I looked at Miley Cyrus from that period."

Travers also got a kick out of designing for some of the notables from the world of music, who play supporting roles. "I really loved working in a different light with globally recognized figures, like Cardi B and Lizzo," he offers. "I would think about details like what goes in their purses, how big are the purses, and do they take the subway or travel by taxi?"

For Lizzo, the stripper garb was a highlight of her experience making the film. "It was a dream to wear thotty-ass clothes, spandex, mesh, fish-nets – and pasties!" she exclaims. Looking at the era in which the story unfolds, Travers explains that the high-flying early and mid-2000s saw the rise of "gown clubs," where the dancers donned expensive-looking frocks. "It was a time of Trumpian faux wealth and high golds. But after the stock market crash in 2008, they transitioned to 'character clubs,' where each dancer played a role that worked best for her."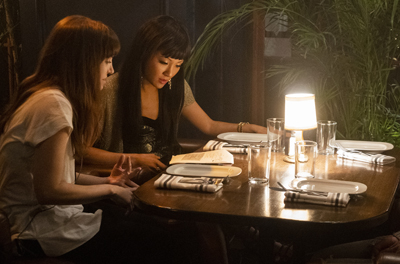 That period's style trends were, Travers admits, a little cringeworthy. "If there's a little space between two timeframes, you can appreciate period fashions," he explains. "But since 2007 is so close to the present, it's still embarrassing to dive back there and look at some of those fashions and hairstyles. It's amazing how different the world looked even then – the only eyebrows, cut of the trousers, earrings the size of dinner plates. So, we just decided to go for it and embrace it all."

The outfits, designs, and period context play integral roles in shaping the characters and narrative. But at the film's center are the bonds forged between the women. "I hope audiences care about them," says Wu. "Not because they're perfect, because they're not, but because they're trying their best to get through life in a world that has been unfair to them."

"I think everyone deserves respect, consideration, and the ability not to be judged based on choices they've made, even bad choices," adds Lopez, pointing to one of the film's key themes. "The truth is we're all hustling, negotiating, striving to get through the day to win the battles we must fight. Women are constantly sexualized, but when they find a way to profit from that, all of the sudden it's a problem. In movies, strippers are painted as throwaways or just background characters. Hustlers digs into the stories of these women's lives and shows the good, the bad, and the ugly. I think people are going to appreciate the realness of this movie and its characters."

Scafaria concludes that she hopes "audiences have so much fun and enjoy a big story. For me, it's an event to bring this club and these characters to the big screen. At the same time, I hope the film leads to deeper conversations – about empathy, and about a specific occupation and those who work at it, most of whom have long been misunderstood or underestimated."

Hustlers
Release Date: October 10th, 2019