New Hit Single: Woman
Jack began his musical career at the age of 15 with acoustic performances on stage over the course of the past 8 years.

In 2017, Jack joined a male singing group who attained popularity on the reputable television program - Australia's X-Factor.

Commencing in 2018, Jack independently shifted toward a more electronic production style whilst still incorporating his pop roots. He has also showcased his talent in the USA and the Philippines for Wish FM Bus. During the course of 2018, Jack commenced work on his 12 track album, "Mind Games" which is due for release in 2019.

Now 2019 and currently touring with 8 Time ARIA nominees Justice Crew.
Jack has released 3 debut singles to date with his 1st Debut Single, "Pull Me Closer", Debuting at #40 on the iTunes Pop Charts. Jack has continued to consistently build and maintain this momentum.

After the Debut of "Pull Me Closer", it was shortly followed by his Official Music Video which is now available on Youtube. Next up was his 2nd Single, "Summer Fling", which gained popularity on an Italian Spotify Playlist shortly after release. "Dancing In The Dark", Jack Errington's 3rd and latest single gets you moving within the first 10 seconds. Losing Control charted at #52 on Pop 200 charts and #115 on overall all genre Top 200 chart upon release.


Interview with Jack Errington
Question: Can you tell us about Woman?

Jack Errington: This track is about the need for women in the life of men, but how it can be a constant intense battle. Something that can be switched on and turned off at any time, but the fight takes a toll resulting in the want for women but also the opposite; like some sort of bipolar relationship.


Question: Where did the idea for the track, Woman, come from?

Jack Errington: Well I'm a hopeless romantic that played the field a little too hard, and this is like a combination of experiences with past relationships. With the added imagination of some cartoon references to explain the fighting, but the story telling part is coming from a bad kind of time where I was angry because nothing was working with the people who I thought were right, also there were people who weren't right for me that I was wasting my time with that had me frustrated. There are little references here and there to the girls I was talking about in the song, but so little that they can be related to most girls that guys deal with or just women in general that haven't done wrong.


Question: What motivates you most when writing music?

Jack Errington: The thing that motivates me the most, is writing something that people can connect with, sing along and think that they aren't the only ones going through an experience. That's how I felt growing up listening to music and still to this day when I listen to songs, if I can connect with it, it can change the way I think and the way I approach new situations in life. Another part that motivates me to write is just expressing my thoughts in ways I could have never done before.


Question: How would you describe your music?

Jack Errington: I would say it's a very experimental version of commercial music being played, mainly due to me writing in a commercial structure because that's how I like to write. It's fun and shouldn't always be taken so serious, even though I can sound like a sad boy. The people I take inspirations from are mainly pop based, with the occasional urban twist and R&B influence swell, so to sum it all up I would say I'm very commercial pop sounding with little flavours of what inspires me.


Question: Do you prefer performing live or recording?

Jack Errington: I honestly prefer performing live hands down; mainly because of the energy it can give you. When there is a crowd who are bumping along to your tracks and vibing with you while you're on stage doing what you love, honestly no better feeling in the world. Although I love being in the recording studio because it gives you such a creative feeling, the energy on stage when you have an awesome crowd is just unreal, something you just can't take for granted.


Question: Which is your favourite song to perform live and why?

Jack Errington: I haven't performed Woman yet so I wish I could say that, it's one of my favourite tracks to date. The main song I like singing is 'Summer Fling', that just goes off. It's a good vibe track that people can bounce to, I can dance to, and everyone can just have a good time because it's upbeat as well.


Question: If you could have anyone, in the world, attend a show, who would it be?

Jack Errington: This is a hard one because there are a lot of people I'd like to meet/ perform in front of to hear their opinion, but if I had to choose one it would probably be Charlie Puth; hopefully we could get a collaboration happening after he sees me perform, fingers crossed (laughs).


Question: Which music/artists are you currently listening to?

Jack Errington: I'm currently listening to Charlie Puth, still quite a bit of Bieber's stuff, Blackbear is a must. Shawn Mendes is great as well; he's always inspiring me to be better. And, can't forget the ginger God Ed Sheeran with his music from his Plus album to his recent collaborations album. Lauv has been a massive inspiration for my music lately, his sound and lyric writing blows me away. Also been pumping some PRETTYMUCH music, they have a great energy in their music. Love me some Logic and Eminem. Lately I've been jamming Joyner Lucas.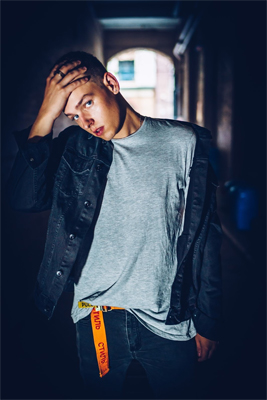 Question: What or who was your inspiration to go into the music industry?

Jack Errington: My mother got me into all the creative side of things, she saw that I really liked dancing/ acting/ and singing along to songs in the car. She pushed me to try it out and gave me all the resources to pursue it, which ended in me finding a love in it all and following my dreams. That's the person I get my saying 'Always Follow Your Dreams' from, so I tell people the same thing because it inspired me to go out of the box and do something different, something that not a lot of people have courage to do.


Question: If you could collaborate with another artist, who would it be?

Jack Errington: Charlie Puth, Justin Bieber, Shawn Mendes, Jonas Brothers, Blackbear and Ed Sheeran.


Question: What's a typical day like?

Jack Errington: Always thinking of songs to write, topics that I live through daily. Hanging with friends when I get the chance. I work as casual job to support the dream but other than that nothing too out of the ordinary.


Question: What's next, for you?

Jack Errington: More music and just progressing with my career in any way possible, touring, merchandise, but mainly more content.


Question: What has been your favourite part of becoming a music artist?

Jack Errington: My favourite part has been getting fans who appreciate what I'm doing, people that have told me I inspire them to follow their dreams. Best thing is when someone messages you that they are pursuing a dream because they saw you pursuing yours, because growing up I had a lot of people telling me I couldn't do this as a career or in general, and now I have people telling me I insured them to follow their dreams and do something that's out of the normal for most people in today's society.


Question: Can you share your socials?

Jack Errington: You can find me on Instagram and Facebook @JackErringtonMusic, or on streaming services such as Spotify and Apple music at Jack Errington. I also have Twitter which is @jerringtonmusic. Interact with me because I'd love to know your thoughts about my music!


Interview by Brooke Hunter