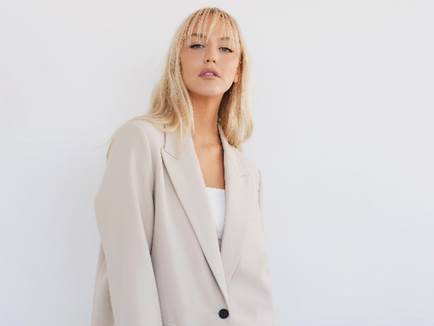 Paige is originally from Birmingham, Michigan and remained on the East Coast for college, attending Pace University in NYC for musical theatre. She got her start in the entertainment industry at a young age, appearing in small roles in television shows such as Gossip Girl and Socially Awkward. Paige's major break came in 2016 where she was a contestant on America's Next Top Model for cycle 23. This exposure into the scene led her to larger opportunities such as being a spokesperson and correspondent for companies and shows such as The Ellen Show, Access Live, Apple and Xfinity.
Home renovation has always been a big part of Paige's life, with her parents working in the home renovation industry flipping houses. Paige spent her whole childhood completely immersed in the world of remodel and design, living in about 20 different homes by the time she graduated high school. Her background and experience in home design as well as her fandom on America's Next To Model led her to one of her most notable roles yet, a series regular in Netflix's Instant Dream Home, which premiered in August 2022. As head of special projects, Paige isn't afraid to get her hands dirty. Her inspiration and passion for home remodeling is felt through the screen, with her bubbly personality and determination to create her clients' dream home. With both brains and beauty, Paige exudes confidence, skill and a charismatic on-air presence in this role.
Most recently, she booked a lead role in the upcoming film Love Virtually, expected to release later this year! Off-camera, Paige is the cofounder of Eastend Entertainment, a film and television production company that champions female story telling.
Paige currently resides in Los Angeles and when she's not acting or remodeling a home, Paige enjoys watching basketball, cooking, baking, Pilates, and musical theatre.