Creating A More Positive Internet
More than 320 million people go to Pinterest every month to do something–decorate a room in their home, plan a trip or their wedding. But people also come to feel something. Quotes are the third most popular search term on Pinterest, as people are looking for ways to feel more inspired or motivated, or less alone or down. Because life isn't always inspiring. According to the World Health Organization, one in four people will be affected by mental health issues in their lifetime, and more than 300 million people today suffer from depression. Nearly two-thirds of people with a known mental disorder never seek help from a health professional.

We see this reflected online, too. As people look for ways to cope with their emotions, searches for anxiety quotes increased 8x year-over-year, and searches for how to support someone with depression have doubled. Sometimes, you need more than an inspirational quote. That's why we're going a step further to offer tools people can use on a regular basis to help manage their emotions, and we hope they leave Pinterest feeling a little bit better.


Interview with Ifeoma Ozoma, Public Policy and Social Impact Manager at Pinterest
Question: Are you surprised that people are using Pinterest to cope with their emotions?

Ifeoma Ozoma: Honestly––no. Pinterest is deliberately designed to give people the space to focus on themselves and visualize the things they want to do in their lives. It's a personal media service, not social media. So, it's not surprising that people are exploring their feelings and interests on Pinterest, including their emotions or how they express themselves.



Question: What are some of the top searches that represent this data?

Ifeoma Ozoma: Everyone knows that Pinterest can help you plan a holiday or decorate a home. But, people aren't just coming to do something, they're also coming to feel something. Regardless of whether they're feeling happy and optimistic––or if they're not––people come to feel more inspired. This is reflected in what people search for on Pinterest. For example, "quotes" is our third most popular search term. People want to feel more inspired ("inspirational quotes" is number 22), more motivated ("motivational quotes is number 38) and more human ("life quotes" is number 34). People also look for ways to cope with their feelings of anxiety (searches for quotes about anxiety are up 8x year-over-year) or support a family member or friend going through hard times (searches for how to support someone with depression have doubled year-over-year). That's why at Pinterest, we built a more compassionate search experience that tries to address a broader range of emotions and give people tools to manage them through evidence-based practices.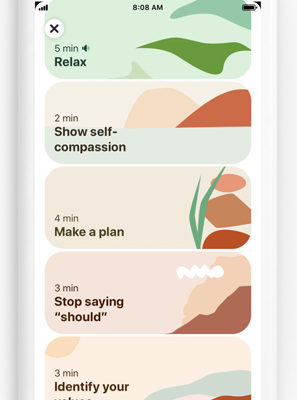 Question: Can you tell us about the tools Pinterest offers to users to help them feel better?

Ifeoma Ozoma: Each activity offers an evidence-based way for someone to improve their mood, including steps to help someone relax, feel self-compassion or manage difficult emotions. People will see a prompt to explore these practices if they search for things like "stress quotes," "work anxiety" or other terms that indicate they might be feeling down. They can also be accessed any time by searching #pinterestwellbeing.


Question: Why did Pinterest implement these emotional well-being activities?

Ifeoma Ozoma: We wanted to create a more compassionate search experience for our Pinners and address a broader range of emotions people may be feeling. According to the World Health Organization, one in four people in the world will be affected by mental health issues at some point in their lives. More than 300 million people, 4.4% of the world's population, suffer from depression, can happen at any age and in any type of person. We've worked with experts over the years to connect people in distress with support resources, and together we thought we could create a more actionable experience for our Pinterest users.


Question: How does Pinterest inspire users?

Ifeoma Ozoma: People use Pinterest to get inspiration for their lives, which includes everything from renovating their home to planning a wedding to designing a surfboard. Pinterest is a place to collect the things that make you happy, the things that bring you joy, and ideas that inspire you. At Pinterest, we believe in a more inspired internet. We want to create a positive place online where people can focus on themselves and visualize all the things they want to do or try or be.


Question: What is your favourite inspirational quote?

Ifeoma Ozoma: Toni Morrison is one of my favorite authors and this quote from her has stuck with me for years, "When you get these jobs that you have been so brilliantly trained for, just remember that your real job is that if you are free, you need to free somebody else. If you have some power, then your job is to empower somebody else."


Question: What's next for Pinterest?

Ifeoma Ozoma: We're excited to bring this experience to Pinners in Australia and other places around the world. In the short term, we're continuing to improve the experience and make these resources available to even more people around the world. We're also continuing to develop our technology and policies so that everyone feels welcome and inspired on Pinterest. For example, we're using AI to prevent harmful or unwelcome content from being seen by Pinners, and we're creating compassionate policies, like not allowing body-shaming ads.


Interview by Brooke Hunter