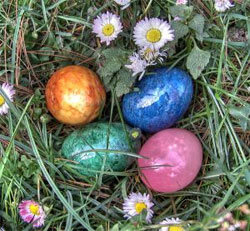 EASTER ACTIVITIES KICK OFF SCHOOL HOLIDAY ENTERTAINMENT PACKED WITH FUN AND FITNESS

This Easter, from Friday 10th to Monday 13th April, 2009, Hunter Valley Gardens will be a highlight for families and people of all ages with lots of fun activities, entertainment, give-aways and great prizes to be won. The action packed schedule will kick off the April School Holiday KidSpace program themed "Fitness Fun" which will run from Tuesday 14th to Sunday 26th April 2009.

Kyle McKendry, General Manager of Roche Group Leisure and Hospitality Division said, "Our school holiday KidSpace program is proving to be very popular with families. This April our guests will have a great time enjoying Easter activities, and during the holidays, children will learn about fitness and how to incorporate it into their everyday life in a fun and educational way."

Activities to be held during Easter will include:

Easter Bonnet Craft
Children will be able to make their own Easter Bonnet with the help of the court jester. Craft materials will be supplied and children can model their Easter bonnet around the Garden.

Giant Parachute and Games
Children can come and play under the giant parachute which will be fully supervised by a fitness instructor. A 13 metre wide bright parachute will keep the children enthralled as they work as a team to keep balls and other items in the air.

Egg and Spoon Races and Sack Races
Join in the fun of these long established family fun activities which will take place in the Formal Garden daily. There'll be races between parents and kids with lots of photo opportunities and memories to be made.

Easter Sing-Along Show
A daily Sing-along show will be performed in the Amphitheatre at 2pm where kids will get to join the host for some favourite 'Candy and Easter' tunes such as: Little Peter Rabbit, Good Ship Lollypop and Eggbert the Easter Egg.

Hatching Chickens
Come and watch real baby chickens as they hatch from their eggs and take their first steps.

Court Jester
The entertaining and fun court jester will be overseeing craft activities and leading the children in fun Easter games.

Colouring competition
Kids will have the opportunity to colour in one of the gardens Easter pictures for a chance to win a Hunter Valley Gardens kids merchandise pack.

On Easter Sunday, 12th April 2009, there will be additional activities taking place to celebrate Easter including:

Giant Easter Egg Hunt
Hunter Valley Gardens has been hosting its Giant Easter Egg Hunt for 5 years and it has proven to be a day of fun and adventure as children participate in the search for thousands of brightly coloured plastic eggs. Every child receives a gift of Easter chocolate at the completion of the hunt. Egg Hunts run every 45 minutes between 9.00am and 2.15pm.

Easter Bunny
The Easter Bunny will be on site all day and will show up at the hunt and organised activities, so keep an eye out for him!

Easter Hat Parade
A huge hit with over 150 children having participated in 2008, Hunter Valley Gardens will be hosting its Easter Hat Parade again on Easter Sunday. Children can bring along their decorated Easter bonnet for the morning parade with great prizes to be won.

Giant Jumping Castle
The Giant Jumping Castle will be a fun activity for kids up to 12 years old.

From Tuesday 14th April to Sunday 26th April 2009, the "Fitness Fun" School Holiday activities will take place. The theme is aimed at encouraging children to lead happy and healthy lives, and will teach children a number of activities that are both fun and good for the body and mind. Activities will focus on different areas such as flexibility, balance, confidence and healthy eating, and will include:

Gym and Fitness Class
Each morning a trained coach will be on site between 10.00am and 2pm to lead children in a kid's gym program. Equipment will be supplied and classes will be run in groups at regular 30 minute intervals. The classes will teach basic fitness in a fun and interactive manner. All children will be fully supervised and an emphasis will be placed upon picking up good exercise habits now for later in life. The instructor will teach children basic exercises involving strength, speed, flexibility and balance whilst educating them on maintaining a healthy mind and body.

Sporting Games
Sporting equipment will be available on a grassed area of the Gardens for use by children and their families. A volleyball/badminton net will be set up at the Formal Garden, along with other pieces of equipment which will have one and all playing games throughout the day. Hula hoops, skipping ropes and parachute games will also have everyone entertained. This activity will run between 10am and 2pm.

Interactive Exercise Show
A fun and educational 30 minute show will be held daily at 2pm in the Amphitheatre. The performance will incorporate music and dance and will teach and promote the benefits of physical activity. Children will be encouraged to participate in the show.

Free Prize Draw
Each day a free prize draw will take place following the afternoon show. Children will have the chance to win fitness and sporting equipment such as small weights, skipping ropes, and soccer balls to enjoy at home.

Entry to Hunter Valley Gardens is $19.90 per adult, $12 for children between 6 - 12 years of age, with under 5's for free. For further information regarding Easter and/or School Holiday activities at Hunter Valley Gardens (Broke Rd, Pokolbin), visit www.hvg.com.au or call 02 4998 4000.