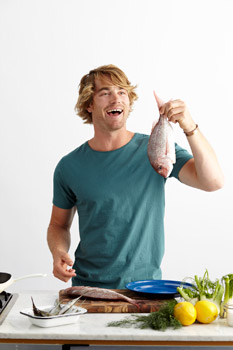 Hayden Quinn Christmas Tips Interview
Whilst we all love Christmas it's often a time of high stress – especially if you're the one hosting the main meal.

But it doesn't need to be that way. A little forward planning and thinking ahead can save you from the dreaded Christmas stress and keep you'll keep feeling merry throughout the holiday period. See some of Hayden Quinn's recipes, below:


Prawn And Avocado Rolls With Homemade Seafood Sauce
Preparation Time: 15 minutes
Makes: 8 rolls

For me, these rolls are the ultimate summer snack. There's nothing better than coming home from a surf with sand still on my feet and sitting down in the shade to tuck into a few of these things. These rolls are super simple to make and best with the freshest prawns you can buy. Make sure you get the flour-top bap rolls and super-ripe avocados. If you're feeling extravagant you could substitute the humble prawn for lobster.

Ingredients
8 flour-top bap rolls (see note)
2 ripe avocados
32 cooked king prawns (shrimp) or 64 cooked school or bay prawns, peeled and deveined (see note)

Homemade seafood sauce
300 g (101/2 oz/11/4 cups) Kewpie mayonnaise (see note)
11/2 tablespoons tomato sauce (ketchup)
1 tablespoon Worcestershire sauce
11/2 teaspoons Sriracha chilli sauce (see note)
lemon juice, to taste

Method
For the seafood sauce, simply combine all the ingredients in a small bowl. Taste and add a squeeze of lemon if desired, then refrigerate until needed.

For the rolls, you can assemble these as you please. I tear open the rolls, lay down a bed of avocado, then layer the prawns on top followed by a good drizzle of sauce and some freshly ground black pepper.

Notes
Flour-top bap rolls are made at most local bakeries. They are super-soft and fluffy and have a little flour dusted on the top. They're a perfect choice for this dish.
Both school and bay prawns are very sustainable options.
Kewpie mayonnaise can be purchased at Asian grocers and some supermarkets. If you like, you can use freshly made mayo but for some reason (I think it's the sweetness) Kewpie works best here.
You can pick up Sriracha chilli sauce at your local Asian supermarket or substitute with Tabasco.



Grilled Ginger Prawns Served With Yuzu Mayo, Soy Beans And Roast Ground Rice
Preparation time: 5 minutes (plus 20 minutes marinating time)
Cooking time: 10 minutes
Makes: 10 canapés

This is a fun little canapé that I bet none of your guests will have tried before. For me, that is what food is all about, trying new things, meeting new people while you are doing so and then sharing and remembering that special moment again when you eat a similar dish. Get out there, eat some incredible food and make your friends smile with this simple little treat.

Ingredients
80 ml (21/2 fl oz .⁄. cup) light soy sauce
2 tablespoons mirin (rice wine)
2 tablespoons cooking sake
1 teaspoon sesame oil
21/2 tablespoons sugar
2 tablespoons fresh grated ginger
2 garlic cloves grated
10 raw prawns (shrimp) (or any large and locally caught prawn), peeled and deveined, tail intact
1/4 cup frozen shelled soy beans (edamame) (see note)
sea salt flakes
roasted ground rice (see note)
baby coriander and purple basil
cress, to serve

Yuzu Mayo
120 g (41/4 oz/1/2 cup) Kewpie mayonnaise (see note)
1 tablespoon yuzu juice (see note)

Method
Combine the soy, mirin, sake, sesame oil, sugar, ginger and garlic in a mixing bowl, stirring to dissolve the sugar. Reserve 1–2 tablespoons for serving. Add the prawns and toss through the marinade to coat, cover and then place in fridge to marinate for 20 minutes.
Meanwhile, combine the Kewpie mayonnaise and yuzu juice in a small mixing bowl. Taste and adjust by adding more yuzu if needed. Cover and place in the fridge until needed.
Heat a barbecue or chargrill pan to a medium–high heat, along with a medium saucepan of salted boiling water for the soy beans. Once the barbecue or chargrill is hot, cook the prawns for 3–4 minutes each side, basting the prawns with the marinade every minute or so. Add the soy beans to the boiling water and blanch for 30–60 seconds. Remove from the heat and drain.
To serve, place a prawn on a serving spoon along with some reserved dressing, a dollop of yuzu mayo, soy beans and a grind of roasted rice and dress with the baby leaves.

Notes
Frozen shelled soy beans can be found at specialty Asian supermarkets or Japanese grocers. They can also be known as edamame.
To make and grind the roasted rice, roast two tablespoons white rice in a pan until golden and roasted. Transfer to an empty pepper grinder and grind over each canapé.
Kewpie mayonnaise is a Japanese mayonnaise which can be found in specialty Asian supermarkets or Japanese grocers. It is slightly sweeter than regular mayonnaise and therefore works well with the tart yuzu.
Yuzu juice can be purchased at Japanese grocers.



Asian Crab Salad With Betel Leaves
Preparation time: 20 minutes
Cooking time: 10 minutes
Serves: 4 as a main meal, or 8 as an entre

Crab is a real delicacy and a special treat, partly because so much effort goes into extracting the beautiful sweet white flesh. The best way to involve your mates in cooking is to let them get their hands dirty in preparation and this recipe is perfect " it's always worth getting a spare pair of hands in to help with the crab.

Ingredients

2 live spanner crabs (about 350 g/12 oz cooked, picked meat)
2 tablespoons lime juice
1 tablespoon fish sauce
2 tablespoons light soy sauce
1 teaspoon peanut oil
11/2 teaspoons caster (superfine) sugar
1 bird's eye chilli, sliced
1 long red chilli, halved, seeded and thinly sliced, plus extra

To serve
1 carrot, julienned
2 red Asian shallots, thinly sliced
60 g (2. oz/1/2 cup) bean sprouts
1 cup (firmly packed) small mint leaves
1 cup (firmly packed) small coriander (cilantro) leaves
2 kaffir lime leaves, finely shredded, reserving some for garnish
21/2 tablespoons roasted peanuts, crushed, plus extra, to serve small, young betel leaves (or perilla leaves) (see note), to serve

Method
Dispatch the crab humanely (see note). Drop the crabs into a large saucepan of salted boiling water over high heat. Once the water returns to the boil, cook for 10 minutes, then remove the crabs and immediately refresh them in iced water. Break open the shells using the back of a large knife or a crab cracker.
Remove the crabmeat, shredding the meat slightly with your fingers. Make sure you remove any bits of shell or cartilage from the meat. Refrigerate until needed.
Whisk together the lime juice, fish sauce, soy sauce, peanut oil, sugar and bird's eye chilli. Check the seasoning. You want salty, spicy, sour and sweet, adjust with any of the above ingredients to get it just right. Set aside until needed.
Place the crabmeat, red chilli, carrot, shallots, bean sprouts, mint leaves, coriander leaves, kaffir lime leaves and roasted peanuts into a large stainless steel bowl and toss gently together with the dressing. Lay out the betel leaves on a serving dish and spoon the crab salad onto the centre of the leaves, then garnish with the reserved shredded kaffir lime leaves, and the extra chilli and crushed peanuts.

Notes
Best practice for humanely dispatching a crab is to place the live crab in the freezer for approximately 45 minutes until it is asleep. Make sure you haven't frozen the flesh, but the crab should no longer be moving. Once chilled, the crab should be dispatched quickly by either immediately placing it into rapidly boiling water (as in this recipe) or by sectioning the crab with a sharp knife or cleaver.
Betel leaves are dark green, glossy, heart-shaped leaves and can be found at Asian grocers. Look for medium to small leaves, rather than the larger ones which can tend to be tough. Perilla leaves are large fragrant leaves that are dark green and purple in colour. They're also known as shiso leaves in Japanese cooking.



Persian Lamb With Pomegranate, Pistachio And Orange Couscous
Preparation time: 25 minutes (plus 5 hours marinating time)
Cooking time: 15 minutes
Serves: 4

Lamb has a special place in my heart, and I think nearly every mate of mine would have the same fond memories of cooking lamb on the back deck at my house when we were growing up. My old man loves it, and loves sharing it with all our friends. This is a lamb dish that I have given my own little twist. The beauty of the couscous salad is that it can be served warm or cold and it will impress no matter what. If figs are in season, you could substitute them for the fresh dates.

Ingredients
4 lamb backstraps, about 250 g (9 oz) each, trimmed
1 pomegranate
250 ml (9 fl oz/1 cup) chicken or vegetable stock
200 g (7 oz) couscous
2 tablespoons olive oil
2 cups (firmly packed) watercress
75 g (21/2 oz/1/2 cup) roasted pistachios, coarsely chopped
115 g (4 oz/1/2 cup) fresh dates, halved, pitted and thinly sliced zest of 1 orange
sea salt and freshly ground
black pepper
chargrilled flatbread and yoghurt, to serve (optional)

Persian marinade 2 garlic cloves, bruised
1 cm (1/2 inch) piece ginger, finely grated
1 tablespoon unsprayed dried rose petals, coarsely chopped (optional)
1 teaspoon ground cardamom
1 teaspoon ground cinnamon
1 teaspoon ground cumin
80 ml (21/2 fl oz/1/3 cup) extra virgin olive oil

Method
For the Persian marinade, whisk all the ingredients together in a large bowl. Add the lamb to the marinade and turn to coat. Cover and refrigerate for 5 hours or overnight.

Meanwhile, using a sharp knife, cut the pomegranate in half. Over a large bowl, hit the back of one half with a wooden spoon " the seeds will fall out easily. Discard the shell and white pith. Squeeze the juice out of the other half " you'll need 2 tablespoons.

For the couscous, bring the stock to the boil in a small saucepan over high heat. Transfer the boiling stock to a large heatproof bowl. Stir in the couscous and olive oil, cover with foil and stand for 5 minutes or until the stock has been absorbed. Fluff the couscous with a fork to separate the grains, then add the reserved pomegranate seeds and juice, the watercress, pistachios, dates and orange zest. Season with sea salt and freshly ground black pepper to taste and stir to combine.

Preheat a lightly greased chargrill pan or barbecue chargrill plate to high. Cook the lamb, turning frequently, for 2–3 minutes for medium or until cooked to your liking. The cooking time will also vary depending on the thickness of your lamb pieces. Rest the lamb for 5 minutes before slicing to serve.

Divide the couscous among serving plates and top with the



White Peaches, Ricotta, Honey And Rose Petals
Preparation time: 15 minutes
Cooking time: 5 minutes
Serves: 4

I love this dessert, it's a bit Middle Eastern, a bit summery, and completely delicious. The bonus is it's quite a healthy dessert.

Ingredients
20 g (3/4 oz) unsalted butter
3 ripe white peaches, quartered
240 g (81/2 oz) firm ricotta
1 teaspoon rosewater
11/2 teaspoons lemon juice
3 tablespoons honey
2 tablespoons slivered almonds, toasted
1/4 cup fresh, unsprayed rose petals (see note)

Method
Heat a heavy-based griddle pan over medium–high heat. Place the butter on the pan and spread evenly on the surface. Place the peach quarters on to the griddle so you get nice char marks. Caramelise the peaches on each flesh side for 1–2 minutes.
In a bowl, combine the ricotta, rosewater and lemon juice.
To serve, spoon a dollop of the ricotta onto a plate, delicately place the white peach quarters around the ricotta, drizzle with a tablespoon of honey and garnish with almonds and rose petals.

Notes
If you can't find fresh unsprayed rose petals you can use dried baby rose petals, available at some Asian grocers and certain delicatessens.





Interview with Hayden Quinn
Question: What are your Christmas plans?

Hayden Quinn: I'm actually heading over to the US so I will be spending Christmas day with really good family friends in New York, hopefully I'll get a White Christmas, which I'm super excited about!


Question: What will you be serving your family on Christmas day?

Hayden Quinn: Being in New York this year I most likely won't be taking the lead on Christmas cooking, but always happy to bring a dish – my personal favourite is also an Aussie favourite, prawns! So if I can source them I might try to bring a touch of Australia to NYC this Christmas.

When I'm home for Christmas it's a pretty chilled affair in my family – with fresh seafood, salads and delicious deserts. My uncle cooks up a big salmon, my grandparents head off to the Sydney Fish Markets at 3am to get prawns and oysters and my mum does the salads/desserts, Dad makes sure the beers are chilled!


Question: How can we prepare for the hectic Christmas period?

Hayden Quinn: Prepare ahead, shop ahead, have lists and delegate! Check out the top tips I recently created for Vicinity Centre's -Christmas of Oz' below.

If you've bravely put your hand up to host Christmas for family and friends this year, here are my top tips for getting it done without a fuss:

1. Formulate A Game Plan
Get started early! If you're busy like I am, it's a great idea to start planning your Christmas a few weeks out. Ask yourself these simple questions:

How many are you catering for?
What dishes do you want to serve and what do you need?
Are there any dietary requirements you need to cater for?

If you've answered the above before you head to the shops and have a clear shopping list prepared, I guarantee you'll be in and out much faster. It also keeps you focused on buying what you need during the busy Christmas rush.
2. Prep The Area
To help with the first point it also helps if you take a step back and look at what you already have. Clean your fridge and cupboards out of unnecessary clutter and take stock – do you have enough napkins, is your tomato sauce bottle reaching the end of its life? If so, add them to the shopping list. You may also be surprised to find that you have many of the ingredients to whip up Christmas feast, potentially saving you time and money doubling up, as well as precious space in the kitchen cupboards.

3. Team Work
Whilst you may have put your hand up to host this year's Christmas meal, don't feel like you have to go it alone. Ask family and friends to each bring a plate.

Their contribution can be as small or as large as they want – from a side salad to a leg of ham. Anything that will relieve some of the pressure on your time on such a busy day is always welcome. You'll also find that more often than not, people are happy to help as it makes them feel involved in the occasion.

Personally, I love to bring dessert.

4. Share It Around
Regardless of what time of the day your Christmas meal is taking place, it doesn't have to be an extravagant affair with all the trimmings. Being in Australia means that our approach to Christmas meals is a lot more laid back. So rather than trying to prepare a fine dining experience, make life easy by making it a -help yourself' affair.

Pop all of your delicious dishes onto one table and let people serve themselves. You've cooked the food; you don't have to serve it too!

5. Shake Things Up
I love getting recipe and hosting inspiration before I start planning what I am going to make, and how I am going to serve it. Some of my go‐to spots include heading to Pinterest, or this Christmas why not check out your local Vicinity Centre Christmas Hub for recipe and hosting inspiration. Head to www.vicinity.com.au to check it out.

Whilst we all love the classics at Christmas, there's also room on the table for new family favourites. You're in charge this Christmas so why not get creative and have fun!


Question: How do you beat pre-Christmas stress?

Hayden Quinn: I do all my shopping early - I need to with such a busy schedule! My best advice is to find a place where everything can be bought in one hit – from fresh produce to table settings. Head to www.vicinity.com to find your closest Vicinity Shopping Centre for all your shopping needs.


Question: What's your alternative to the traditional Christmas pudding?

Hayden Quinn: A delicious Pavlova! Nothing beats the one my Mum and Nan make, however my recipe for Mash Up of Passionfruit, Sponge and meringue is also a close second. You can check out the recipe below!


Mash-Up Of Passionfruit, Sponge And Meringue
Preparation time: 1 hour
Cooking time: 1 1/2 hours
Serves: 6

Desserts aren't a massive part of my repertoire but they're something I am working on, and I like to come up with fresh and zingy dessert ideas. This one is a twist on Dad's two favourite desserts " pavlova and passionfruit sponge. The meringues can be made ahead of time as they take a long time to make and cool in the oven.

Ingredients
6 scoops passionfruit sorbet
6 scoops vanilla ice cream
3 passionfruit
1/4 cup mint cress

Meringue
4 egg whites, at room temperature
220 g (73/4 oz/1 cup) caster (superfine) sugar

Sponge
5 large egg yolks
110 g (33/4 oz/1/2 cup) caster (superfine) sugar
3 egg whites
pinch salt
40 g (11/2 oz) plain (all-purpose) flour
20 g (3/4 oz) cornflour (cornstarch)
zest of 1 lemon
40 g (11/2 oz) butter, melted and cooled

Passionfruit curd
1 sheet gold-leaf gelatine
2 free-range eggs
75 g (21/2 oz/.⁄. cup) caster (superfine) sugar
50 g (13/4 oz) unsalted butter, softened
50 g (13/4 oz) tinned passionfruit pulp

Method
For the meringues, preheat the oven to 120C (235F/Gas .). Line two baking trays with baking paper.

Place the egg whites in the clean dry mixing bowl of your electric mixer with a pinch of salt. Whip the egg whites on medium–high speed until soft peaks form. Turn the motor to high and continue whipping while slowly adding the sugar one tablespoon at a time, incorporating each spoonful fully, before adding the next. When all the sugar has been added you should have glossy and stiff peaks (see note).

Use a tablespoon to spoon the mixture onto the lined baking trays. Each little meringue should be two tablespoons worth of mixture. This quantity makes about 12 mini meringues.

Place the meringues into the oven and immediately reduce the temperature to 95C (200F/Gas .). Cook for 1 hour, then turn the oven off and leave the meringues to cool inside the oven. When cool, store the meringues in an airtight container until needed.

For the sponge, preheat the oven to 160C (315F/Gas 2–3). Grease and line a 20 cm (8 inch) spring-form cake tin.

Using an electric mixer, beat the yolks and 50 g (1. oz) of the sugar until thick and pale. In another clean dry bowl, beat the egg whites and a pinch of salt until soft peaks form. Gradually add the remaining 60 g (2. oz) of sugar and whisk until stiff peaks form.

Sift the flours into the egg yolk mixture and gently mix together along with the lemon zest. When combined, add in one-third of the egg whites with a large kitchen spoon and gently incorporate these. Once you have loosened the mix slightly, add the remaining egg whites, folding them gently to combine. Finally fold in the cooled melted butter.

Gently pour the mix into the prepared cake tin and bake for 18–20 minutes or until golden and cooked. Set aside to cool

Dish it up:
To make the passionfruit curd, soak the gelatine leaf in iced water for a couple of minutes to soften. Place all the other ingredients in a microwavesafe bowl and mix well. Heat the curd in the microwave on high for 30 seconds. Squeeze out the gelatine leaf and add to the mix after the fi rst microwave. Continue cooking the curd in 30 second bursts, whisking well in between each burst. The curd will bubble and the egg will begin cooking.

The entire cooking process should take no longer than 5 minutes to achieve a perfect curd (see note). Strain through a fine sieve, then pour into a small bowl, cover tightly with plastic wrap and refrigerate until set.

Now it's time to get creative! Think about how you want the different textures and elements to look on the plate and how they are going to come together. For each portion, I just smash up one or two of the meringues, tear up the sponge and place a couple of pieces of it on a large plate. Then I scoop the ice cream and sorbet into quenelles, top with spoonfuls of the curd and cove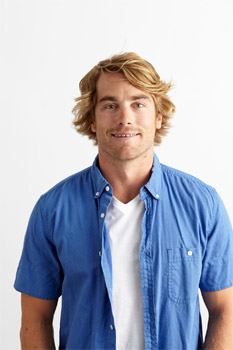 r it all with fresh passionfruit and mint cresses. But you can serve it anyway you like " even in a martini glass just like an Eton Mess.

Notes

When making meringues, starting with your egg whites at room temperature will help you incorporate a greater amount of air and result in fluffy meringes. Be careful when separating eggs to ensure that there is no yolk caught up in the whites. It is important that your mixing bowl is clean, dry, and free of any oil or egg yolk " water, fats and oils are not friends of egg whites. -Stiff peaks' are when the egg whites stand on their end and do not fl op. At the -stiff peaks' stage check to see that all the sugar has been incorporated into the mix by rubbing some meringue mix between two fingers. If the mixture is smooth the sugar has been fully incorporated.

I think the microwave does a great job cooking curd, but if you prefer to do it the oldfashionedway, just place all the ingredients in a small saucepan and stir over low a heat until the mixture thickens enough to thickly coat the back of a wooden spoon.


Question: What do you do with Christmas leftovers?

Hayden Quinn: Leftovers? No such thing in the Quinn household!

However last year I had some extra ham left over so I cooked up some ham and eggs and gave it to a homeless guy that lives near my home - he was very appreciative.

If Aussies have left overs this Christmas I'd encourage asking friends and family to take a plate home or invite them around on Boxing Day for round two! Food wastage is a crime in my books!


Interview by Brooke Hunter