It's absolutely no surprise that Grapevine Yarra Valley sold out, in record time, with a line-up featuring The Wombats, The Jungle Giants, Miami Horror, Tkay Maidza, MK, Dom Dolla, Lovebirds, Joy and Arroyo – all in one luscious location! I was lucky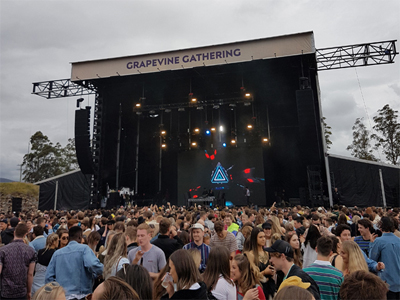 enough to be amongst the friendly and enjoyable crowd experiencing all the event had to offer.

Grapevine is an outdoor music, entertainment and food experience in the heart of the wineries of the Yarra Valley where greenery surrounds the stage, food vendors and the ample bars serving the most delicious local wine, beer and cider.

Not even the threat of continual rain could keep Melbournians away and whilst flicks of muds complemented sparkling faces there was truly a summer vibe despite the Victorian weather. As the incredibly entertaining Tkay Maidza took the stage the sun came out. The vibrant Tkay set produced the ideal combination of fun music and sun that warmed the large crowd.

With a wine in one hand and a delicious bowl of paella in the other, I, along with many others, was grooving to Miami Horror's crazy set with a huge smile on my face.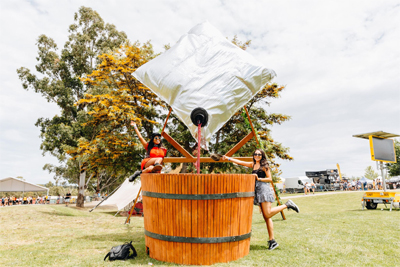 As The Jungle Giants' took the stage the sunset beautifully behind them and anyone who wasn't already in the pit facing the stage, flocked to the sea of khaki, fluro, denim and velvet. Despite a small technical difficulty, that I'm sure was a Bad Dream for the guys, the set was magical and certainly a live performance to remember. The setting was perfect - amongst a crowd of those wearing their dancing boots we moved through every remarkable song.

Although choosing a relaxing start to the day, sitting on a picnic rug, we finished dancing (and singing, a smidge too loudly) into the night with The Wombats – who absolutely killed it with an almost intimate set. The unbelievable performance was one I'm honestly so very grateful I experienced. The Wombats truly summed up their set describing Turn as a "goosebump moment" and it was for all, as we moved in awe of their incredible sound and the amazing atmosphere their music creates. As the whole crowd sang along to favourites Lemon to a Knife Fight, Let's Dance to Joy Division, Tokyo and Greek Tragedy the festival ended on an immense high.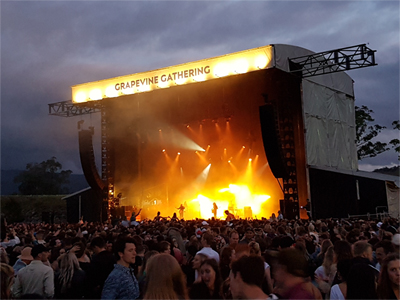 Not only did Grapevine fill me with gratitude, it was a relaxing event that was truly fun until the very end, setting us up for the crazy month of December. There is no raison why you shouldn't be at Grapevine Hunter Valley; with all the grape-ness you could desire who could say no?
- Brooke Hunter

For tickets visit
https://www.grapevinegathering.com.au/