Based on R.L. Stine's 400-Million-Selling Series of Books.
Cast: Ken Jeong, Jack Black, Odeya Rush, Wendi McLendon-Covey, Chris Parnell, Madison Iseman
Director: Ari Sandel
Genre: Adventure, Comedy

Synopsis: Halloween comes to life in a brand-new, family adventure comedy based on R.L. Stine's 400-million-selling series of books.

Goosebumps: Haunted Halloween
Release Date: October 25th, 2018
#Goosebumps2Movie
About The Production
After 25 years, the acclaimed, beloved Goosebumps series is obviously nothing to shiver at.
Over 400 million books in print.
Translated into 35 languages.

Countless haunts, spooks, thrills, and laughs, for millions of kids and adults alike, which has made R.L. Stine one of the bestselling children's authors in history.
Plus, the series' fan base keeps growing, and the critical raves continue.

And now, on the heels of a hit Goosebumps movie that opened at #1 and took in more than $150 million worldwide, the eagerly awaited, delightfully frightful sequel Goosebumps 2: Haunted Halloween is ready to hit the big screen just in time for Halloween, offering up a trick-filled movie treat for audiences of all ages.

Goosebumps 2: Haunted Halloween follows the Quinn family – high school senior Sarah (Madison Iseman), her middle school brother Sonny (Jeremy Ray Taylor), and their mother Kathy (Wendi McLendon-Covey) - into an entirely new set of spooky, exciting, and funny events. Sonny and schoolmate Sam (Caleel Harris) are best friends with a side job as the "Junk Brothers," collecting discarded stuff other people don't want. But it's a gig that unfortunately leads them right into the path of (gulp) Slappy (Avery Lee Jones), the mischievous ventriloquist dummy from an unpublished Goosebumps book.

At first, Slappy seems to want nothing more than to be part of the Quinn family, but when his hijinks go too far, Sarah, Sonny and Sam realize that this pernicious puppet must be stopped. Rejected in his obsessive need to be a member of the Quinn household, Slappy decides to build his own "family" by kidnapping Kathy and bringing all of his Halloween friends back to life - including new right-hand Ogre Walter (Chris Parnell).

As Halloween transforms their sleepy town into a full-on monster mash-up, boasting such hilariously freaky creatures as giant gummy bears and creepy garden gnomes, Sarah, the boys, and neighbor Mr. Chu (Ken Jeong) team up to save Kathy and the town from Slappy's wicked plan.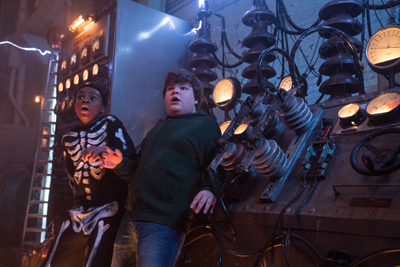 About The Shriek-Quel

Following the huge success of the first Goosebumps film, the filmmakers behind the new film decided that instead of limiting themselves to the stories in the 200 books in the Goosebumps library, they would bring an original story to the screen, an adventure inspired by the cherished series. The story begins with three regular kids who needed to be anything but average when it came to saving their town and family from certain disaster, all at the hands of one of author R.L. Stine's most famous creations, SLAPPY, a memorable ringmaster of chaos.

Says R.L. Stine, "No one ever taught me a formula for writing books. The formula for Goosebumps is to make real kids, believable kids. Once you have that element, you can really go crazy with the plot."

As for building on his legacy, Stine expresses a gracious encouragement to the screenwriters: "It's very exciting to write something and also get to see what other people create with that inspiration – what direction they go."

The books always shone a spotlight on young, brave, smart heroes – kids who stepped up when the need arose to take down monsters. Rob Lieber consciously honored that element when crafting the screenplay, and the production furthered it in their casting of Madison Iseman as Sarah, Jeremy Ray Taylor as Sonny, and Caleel Harris as Sam.

The young trio fit the mold of their intrepid schoolkid heroes perfectly. Says producer Deborah Forte of her cast, "They are all exceptionally talented and really managed to embody the characteristics of the characters."

Wendi McLendon-Covey, as Sarah's and Sonny's mother Kathy, says the kids in the cast were a natural inspiration for her to bring her best. "The great thing about watching our young actors perform is that they get to play these naturally intelligent, fun characters," says McLendon-Covey. "They are so genuine and just draw you into this this crazy world they are living in, and you get to live it right there with them."

The camaraderie made for a spirited set, according to executive producer Timothy M. Bourne. "From day one they really all jelled together," says Bourne. "They became friends instantly and have maintained that throughout the movie. They are all just a pleasure to be around and that trickles down to everybody."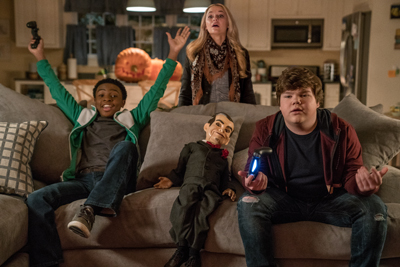 They also managed to become a family off screen, says Forte, adding, "They've really invested themselves and I think the fact that they've built that relationship on and off camera has made their performances ring true."

Continues Forte, "At the root of this film is family. It's about how growing up is hard. It centers on Sarah and her relationship with her mom and her brother, Sonny. Through the course of this adventure with Slappy and these crazy monsters, Sarah comes to realize that it is her family - her mother and her brother - that she values most."

Creating a rollicking, funny, and scare-filled adventure is a job that starts with leadership at the top. Director Ari Sandel prides himself on having an openly communicative and collaborative environment, which the cast and crew responded to throughout production.

Says makeup department head Travis Pates, "Ari is interested in every single element of this process. It's incredible to have a director that is patient, and also willing to work with you – he really invests time in the team and the process to make the best movie possible."

Says Chris Parnell, "When working with a director like Ari, it helps you feel more confident about what you are doing. He's the captain of the ship. And when you run the ship well, it makes it much more pleasant to be a part of."

Even when dealing with daily challenges, Sandel always managed to keep the environment light. Jeremy Ray Taylor, who plays Sonny, adds to the praise for Sandel when he says, "Ari makes it fun and you can tell that he is comfortable working with kids. The set is always light-hearted."

"Ari is incredible," says Madison Iseman, who plays Sarah. "He's hands-on but also really open to our own ideas, which as an actor I appreciate a lot."

Sandel also had to oversee a creative team with an ambitious goal: to serve up a scary, eye-popping, laugh-inducing world of Halloween monsters come to life. It was a mission of magic that required a lot of hard work and collaboration among talented designers and costumers, visual effects artists, special effects wizards, stunt people, make-up masters, and so many others. For McLendon-Covey, the reality of that symbiotic purpose hit while she was filming a stunt in a spiders' web twenty feet in the air. "You know, I was hanging in my spider web one night and I really got a bird's eye view of what it would look like if Halloween did come to life," says McLendon-Covey. "And it was terrifying - but in the best way. It looks so good. The effects are so genius. I mean, what if your Halloween candy attacked you? Do you ever think about that? Well I want you to think about it. What about if your jack-o'-lantern started, you know, shooting things at you? It's amazing. It's really amazing."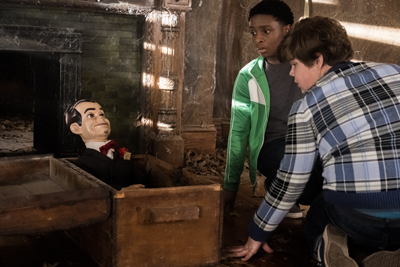 Says Slappy puppeteer Avery Lee Jones, "We have a huge crew and a lot of teams working in tandem with each other. The things they have been able to accomplish have been absolutely magical. It's not just movie magic. It's magic to see it in person as well."

R.L. Stine professes to be blown away by the level of imagination and craft that went into the dazzling, funny scares of Goosebumps 2: Haunted Halloween. "I'm amazed by what they can do!" he says. "I probably should've known about it, I mean, we've done a million TV shows and TV movies and things, but what they've done here, it's amazing." Chris Parnell sums it up by adding, "This movie has it all -- action, suspense, laughs, and some good old-fashioned frights."

Don't Call Him A Dummy

Moviemakers have lived by the belief that its biggest performers shouldn't be wooden. But that's a credo that could be thrown out the window when it comes to the unquestionable star of the Goosebumps sequel: Slappy the Ventriloquist Dummy. Who else could conjure dozens of monsters to wreak ridiculous havoc?

Slappy was first introduced in the 1993 Goosebumps book: Night of the Living Dummy. R.L. Stine drew inspiration from other authors, including Ray Bradbury and Rod Sterling, but the real idea came from his memories watching a classic fright flick. Stine says, "Sometime in my childhood I saw an old British movie called Dead of Night, which had three horror stories in it -- one of them was about a ventriloquist whose dummy comes to life and just takes over the ventriloquist's life and ruins it. And I think was one of my inspirations for Slappy, remembering that old British movie."

Producer Deborah Forte reiterates the author's sentiments when she says Slappy reminds her of the classic conceit where something safe, funny, and entertaining – like a ventriloquist dummy – can be repurposed to send chills down your spine, and then remind you of those fun childhood scares you had as a kid.

In Goosebumps 2: Haunted Halloween, Slappy is operated by actor Avery Lee Jones, but his physical performance is also coordinated with the help of four different yet uniquely Slappy puppets, all courtesy of Legacy Effects in Los Angeles. The first puppet is the "hero" puppet, a fully animatronic version that allows for remote control movement of Slappy's eyes, neck, and face, and features a head that can rotate 360 degrees. The legs and arms are manipulatable by rod, and the fingers are poseable. Legacy also went one step further and created an animatronic set of hands, which are utilized for real-life action, like playing video games.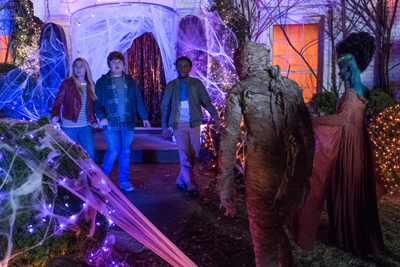 The second puppet is partially animatronic, known as the "simple" animatronic version - this Slappy has a mechanical mouth only, but features poseable eyes, eyebrows, and eyelids. Third is the "stunt" puppet, a full rubber version with 3D-printed eyes so he looks identical to the other versions but can take force to the body. This is the puppet that the kids operate because it is the lightest, there are no mechanics, and it's not easily breakable. Last, but not least, is the original Slappy puppet, a working ventriloquist doll, first seen in the original Goosebumps movie.

Madison Iseman says her co-star makes for an eerie onscreen foil. "It's weird to see Slappy in the first movie and then acting with him in real life because he is just as terrifying as he is on screen," says the actress. "I keep waiting for him to come to life and just start talking. We definitely have our fill of Slappy - rubber Slappys, mechanical Slappys - there's a lot of Slappys here on set." As for the puppet's performance, Iseman praises Jones. "He does such a good job embodying Slappy – it's really impressive."

In playing the malevolent doll, Jones was stoked that the character was a practical effect, visible on set, and not a digital one. "As a kid who grew up loving puppets and absorbing as much puppet content, all books and movies I could possibly get my hands on, I would have loved knowing that there was a real puppet in this movie," says Jones. "I would have loved this as a kid, just being able to see what I love on screen and knowing it's not a cartoon. He's real. He's there. The actors have something to interact with and there can be a little more interplay with the puppet than with an animated character."

Creating The Creatures

A central development in the escalating plot of Goosebumps 2: Haunted Halloween is that the cast of characters in fictional Wardenclyffe, New York, multiples exponentially when the townsfolk come face to face with a rash of Halloween-identified creatures that Slappy has brought to life. To keep the movie's realistic look, the filmmakers were committed to using a combination of live-action and computer animation.

Says director Ari Sandel, "The difficulty of bringing Halloween to life is having to do just that. When all Halloween décor comes to life, you have to choose your favorites. Once we had the rules figured out, we were able to choose what monsters and décor we wanted to feature, and everything fell into place."

Generating practical, on-set monsters that hold their own next to their computer-created versions is no easy task. Multiple creative meetings were held involving the filmmakers with hair, make-up, and wardrobe departments in order to whittle down hundreds of concepts and ideas. In charge of sculpting these concepts was key effects makeup artist Bill Johnson. Once the creative team had actual mock-ups, casts were made of the actors playing the monsters so that the specific moldings would fit them perfectly – a process that took weeks to complete.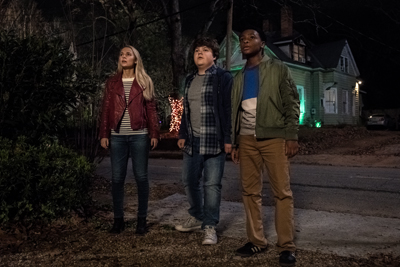 "In total," says makeup head Travis Pates, "we pulled together 18 practical monsters in about four weeks for this film. And that's from the beginning, drawings to the sculpture. It was a really fast process."

One of the most important elements to have in mind about the monsters was to keep them whimsical and in sync with the rest of the film – wild and woolly but not too scary, more likely to elicit a cathartic laugh or a look of stricken wonder, than to make anyone shield their eyes. Pates adds, "I wanted to bring characters to life that were magical, that had substance and were kind of shocking but not gory."

Assisting in Pates' effort to bring the monster concepts to life was Legacy Effects' creature effects makeup department head Matt Sprunger. Together, the pair utilized prosthetics and traditional make-up applications to create a memorably spooky cast of new and original Goosebumps monsters that together make manifest Slappy's impish mission to keep Halloween alive for good.

For example, since Slappy's plan involves animating mummies, the hair, makeup and costume team created 15 versions. The first three had full silicone face pieces to allow for additional action and facial movement. The additional 12 mummies are a combination of silicone face pieces and full pullover head masks. Adding to the uber realistic makeup of the bandaged creatures were their custom designed costumes. Although the mummy costumes look simple, they were some of the most elaborate on set. Costume designer Salvador Perez and his team cut hundreds of individual pieces of fabric into strips, aged each strip, sanded them down, then applied them layer by layer to form a mummy. Each costume took a team of costumers over four days to put together.

Two unexpected practical monsters resulting from Slappy's mayhem are Ogre Walter and Kathy the Dummy. Both characters required a seamless collaboration between the prosthetics and traditional make-up teams. For Walter, a full foam latex cowl covered actor Chris Parnell's shoulders to the perimeter of his face, while a foam silicone hump and ogre arms were used to cover any exposed skin. Silicone lips were then applied, along with a facial prosthetic, and air-brushed into place. Kathy the Dummy, on the other hand, required fitting McLendon-Covey with a silicone prosthetic puppet mouth. Both transformations took over three hours for each application.

Slappy's Monster Squad also includes a Banshee; Goblins with faces painted in bright blues, purples, and greens to make their skin tone look as though it were glowing; the Zombie Pirate; the Skeleton Bride and Groom; the Alien, which is painted in a traditional grey but with a slimy coating; the Grim Reaper; the Trolls; the Hanging Bat; a vampire; the Headless Horseman, who rides into town in a historically accurate costume on an actual horse; the Panther; and the Day of the Dead Ladies, who are first seen as lawn decorations.

Unsurprisingly, the filmmakers also utilized two additional creations to add to Slappy's squad. Both the Cauldron Hag and Skeleton puppets were manually and remotely operated by puppeteer Richard David Galinson for facial expressions.

Also making eerie appearances alongside the mummies are R.L. Stine's other original creations: the Scarecrows from The Scarecrow Walks at Midnight; the pulse-quickening pumpkin from Attack of the Jack O'Lanterns; the yelp-inducing yeti from The Abominable Snowman of Pasadena, the hairy menace from The Werewolf of Fever Swamp; and those front yard frightsters from The Gnomes from Revenge of the Gnomes.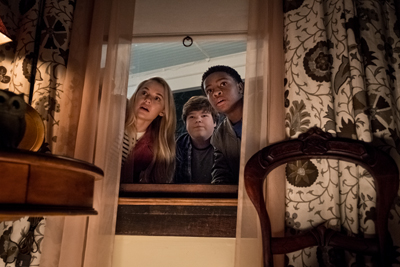 Creatures By Computer

From the initial concept meetings, director Ari Sandel was adamant about utilizing practical creatures whenever and wherever possible. However, he also knew that there were going to be specific creatures and scary/funny moments that would benefit from visual effects wizardry. With so many different environments and monsters, the filmmaking team needed to create a seamless transition between practical and computergenerated content. This responsibility was given to Visual Effects Supervisor Derek T. Spears. From magical books to giant spiders, Spears and his team were responsible for customizing each VFX scenario by collaborating with the filmmakers and the creative team. As an example, the production designer sets an artistic language to follow, and the cinematographer establishes the look. The visual effects world, therefore, has to live inside all of that.

"In order to bring Halloween to life," says Spears, "we need to know what we are trying to accomplish visually and how to create the environment. We have a lot of different moving pieces - locations, actors, creatures, effects and it's our job to find a visual language that we can all speak." But it's also a discipline where imagination can take flight. Adds Spears, "We are always driven by story and art, but we're also working in a sort of alternate universe where things don't necessarily play by the rules - so there's a lot of room for outof-the-box gags."

The VFX team is responsible for two already established creatures -- Abby the Abominable Snowman, who is covered in white fur, and the Werewolf, who is built like a pro athlete -- along with new creatures who wreak plenty of havoc: the Gummy Bears, who go from bite-sized cuties to candy-colored colossals at Tommy's house; the Angry Pumpkins that come to life and attack the kids; the Garden Gnomes that become animated in front of an abandoned house; the Bed Sheet Ghost; the Giant Spider that steals Kathy and puts her in its web and pulverizes a car; and portions of the Tesla Tower, which will magically be transported to Wardenclyffe in the middle of Long Island.

Production Design And Locations

Goosebumps 2: Haunted Halloween takes place in the fictional town of Wardenclyffe, New York, which was inspired by Wardenclyffe Tower (also known as the Tesla Tower), created by noted inventor Nikola Tesla in 1901 on New York's Long Island. But the production was based in and around Atlanta, Georgia, a fact that meant the production design team headed by Rusty Smith had to seamlessly recreate the landscapes and specific location looks of one state in another. That they pulled off the seemingly impossible is a testament to the dedication that Smith's department applied to the movie's creative vision.

Says Smith, "Shooting began at our abandoned house location, which was magically transformed from a beautiful bed & breakfast into a haunted house that looked like it hadn't been touched in years." The house was important because it's designated in the story as R.L. Stine's childhood home, and it's where Sonny and Sam, while collecting junk for their new business, find all manner of spooky paraphernalia, including a hidden box containing a certain malicious puppet.

The Quinn family home and neighborhood, along with the house of their over-the-top neighbor Mr. Chu, are centerpieces of this film. Though they initially assumed they'd find two houses in different locations and have to cut those scenes together to simulate one neighborhood, the filmmakers got lucky and found two perfect homes right next to each other within the Peachtree Battle neighborhood of Atlanta. That meant the Quinns and Mr. Chu were going to be actual neighbors. The location also served as the base for most of the scary shenanigans that Slappy creates – including spooky Halloween decorations coming to life, Kathy being taken by the Giant Spider, and Mr. Chu helping to save the kids from the monster infestation.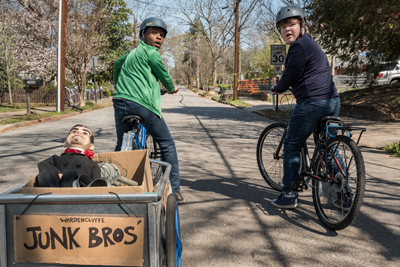 "We probably saw a hundred and fifty homes," says Smith. "Maybe more. We needed to find the right size of yard, the right relationship to the house next door to it, and no power lines because we had to create the illusion of a giant spider crawling through the neighborhood and heading off into the distance."

Stunt coordinator Steve Ritzi called the location one of his favorites for the kind of work he does. "Slappy bringing Halloween to life gave us lots of opportunities to get creative with moving and flying people around in the air," says Ritzi. "We also got to work with Wendi McLendon-Covey when the Giant Spider has her hanging in his web from a tree." Many of the interiors were shot on stage at Blackhall Studios, including the interior of the Quinn House, where Slappy first comes alive, and Mr. Chu's basement, where the kids' neighbor helps disguise them for their rescue mission to save Kathy and the town from Slappy's evil plan.

Shooting continued at Fred's Pharmacy, located in McDonough, Georgia, where we meet Walter for the first time, and then ventured to the Den, where Sarah sees her boyfriend kissing another girl.

Creating the Tesla Lab was a huge undertaking, not only because of the physicality of the events at the location but because of its importance to the film's finale. The filmmaking team ultimately chose the Hemphill Steam Plant in Atlanta as the bones for the Tesla Lab. Production designer Rusty Smith magically turned an empty water plant into one of the production's most impressive sets, a mad scientist's haven with Russian submarine dials, a grated floor, Tesla orbs, and an experiment chair with shackles and spider webs.

To create the exterior Tesla Tower, the filmmakers created one of the largest builds of the film. Smith created the Tower to mirror the original in New York, which was over 187 feet tall. Smith says, "We're making ours in three sections because we're going to morph it together in the digital world. In total, the tower will be a fifty-foot set piece, which is going to be really exciting."

For the sequences in the town square, the filmmakers chose to shoot in Covington, a quaint historic town known for its antebellum homes and quintessential small-town feel. Both West Lake High School and Marshall High School in Atlanta became the locations for the multiple school scenes in the film, including Slappy seeking revenge on Tyler, Sarah's boyfriend, for hurting his "sister."

By camera wrap, Goosebumps 2: Haunted Halloween had filmed across four Georgia counties and throughout notable towns, including Covington, Ellenwood, and Atlanta.


Goosebumps: Haunted Halloween
Release Date: October 25th, 2018
Trailer