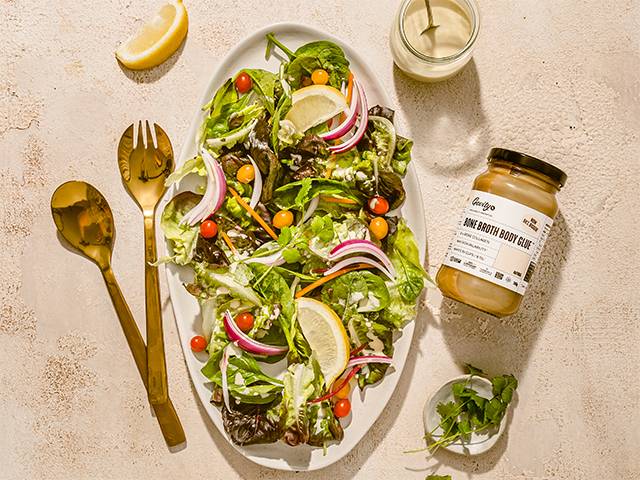 Gevity Rx "Body Glue™" the go-to for winter wellness, according to Nutritionist
Gevity Rx's "Body Glue™", which is renowned for being the world's most nutrient-dense bone broth solution, is making a splash as a mainstream health food product and in doing so, the versatile product is combatting the common perception that bone broth is a health fad.

Whilst bone broths are an ancient health tradition in many cultures, what was once old is now new again thanks to the convenience of being able to shop ready made bone broth. But not all bone broths are created equal. Gevity's range stands out above the rest thanks to its lab verified nutrient profile.

Gevity Rx Nutritionist Casey-Lee Lyons said the brand's Body Glue™ range has 10 x more collagen forming amino acids per gram than traditional bone broth (lab verified) and is a must-have in every Australian household this winter.

"Research shows that approximately 70% of your immune system resides in your gut where the gut microbiome and immune system work in synergy, so an important step in supporting your immune health is to nourish the gut."

"Considering the importance of nutrition in modulating immune function and the role of the gut microbiome, including gut friendly foods such as probiotic and prebiotic rich foods, an abundance and variety of plant foods, and nutrient dense bone broth in your diet can have a positive effect on your gut health and in turn support immune system function."

"With winter wellness on everyone's mind, this is a key time to be supporting your gut and immune health. The unique Gevity Rx Body Glue™ formula, which is a highly concentrated version of traditional bone broth, contains only nutrients from quality grass-fed bones and is a functional food product that is also a great way to add body-loving collagen amino acids boosting the nutritional profile of your favourite recipes."

Gevity Rx nutrient-rich Body Glue™ range ticks all the boxes of convenience, being so easy to incorporate into dishes, and an affordable healthy choice to add to your pantry this winter. With Body Glue™ now available in Woolworths stores across the country, it is even easier to source. Adding a spoon to your family's favourite dishes is a simple, fuss-free way to amp up the nutrient density of meals without compromising on taste and quality, so it's always a go-to in my household." she said.

Co-Founder and CEO Mark Fowler, who founded the business with his wife Atlanta to tackle her own health challenges, said the quality of the Gevity Rx range and the exponential growth of the business is a credit to their team's unwavering commitment to creating functional, health food solutions, not just products.

"We initially started by developing our unique bone broth solution and making it in 100kg batches from our health food cafe at midnight, and now we produce 20 tonnes a month."

"We initially created our hero Body Glue™ as a solution for Atlanta's myriad of gut related health issues and when she experienced dramatic improvements after trialling our unique formula for three months, we made a pact to do whatever it took to get this product to market because we knew it would help so many people who experience the same issues. The rest, as they say, is history."

"We're really proud of our bone broth product because it is so versatile, and we made it that way intentionally so that it can be added to any recipe or dish, both sweet and savoury, and it's great for fussy eaters and young families too," he said.

Last month, Gevity Rx secured a partnership with Woolworths, which saw three of their best-selling bone broth products - the Lemon & Herb, A.M. Cleanse and Natural Bone Broth Body Glue™ products - stocked in 225 stores nationwide, making their innovative bone broth solution accessible and convenient this winter.