Gemma O'Brien for Officeworks Interview
Officeworks is ushering in a new wave of creativity at its Fitzroy store with the expansion of its art supplies range, giving customers access to more than 7000 products.

From specialist paint to the perfect canvas for your next project, customers will be able to see their big, creative dreams become a reality thanks to the breadth and depth on offer.

The new range features leading art brands including: Prismacolor, Caran d'Ache, Art Spectrum, Sennelier, Chromacryl, Derivan,

Tombow, Royal & Langnickel, Roymac, Pentel, Van Gogh, and Rembrandt.

Officeworks' Merchandise Business Manager Jim Berndelis said the expansion of the art supplies range is proof of the retailer's commitment to offering Australians the latest and greatest products, at everyday lowest prices.

'Officeworks' mission is to help people achieve their big ideas, and what better way to demonstrate this commitment than offering thousands of products that will help art enthusiasts bring their big ideas to life," he said.

'This expansion is a natural progression for us, opening up a world of creativity and stretching the limits of design. We believe it presents a huge opportunity for professionals, students and art-lovers alike," said Jim.

To learn more about Officeworks' Fitzroy store and find its location, visit www.officeworks.com.au



Interview with Gemma O'Brien
Gemma O'Brien is an Australian artist and designer, specialising in lettering, illustration and typography. She splits her time between advertising commissions, gallery shows, speaking engagements and hosting consumer facing workshops around the world. Gemma is highly credible and has created work for clients including Woolworths, QANTAS, Heinz, Volcom, Angus & Julia Stone and The New York Times. A number of her projects have been recognised by the New York The Type Directors Club with Awards of Typographic Excellence and in 2015 she became an ADC Young Gun. You can view her channels here.


Question: Can you talk about your collaboration with Officeworks?

Gemma O'Brien: I was really excited when Officeworks approached me to collaborate on the retailers new art supplies range at the Fitzroy store. As an artist, the prospect of having premium art supplies available at affordable prices is a really positive thing for the industry. When I first looked at the new range, I noticed many of the speciality pens I use in my lettering workshops and illustration practice were now available, which saves the time and cost of ordering these online. Officeworks has genuinely listened to what artists of all levels need, be it hobbyists or professionals, and they've made art really accessible – a cause I'm more than happy to get behind!

Officeworks approached me to conduct two creative workshops at the Fitzroy store over launch weekend, where participants were able to try their hand at illustrations and brush script. It's great to be in a hands-on environment to teach these creative skills, which the attendees can then take home and gradually improve the craft over time.

The Officeworks Fitzroy store also commissioned an art piece which I created live in-store with Officeworks products, -Good Vibes'. The concept was based on anecdotes provided by the local community on what the suburb means to them and the completed piece is being donated to a local school, Collingwood High School.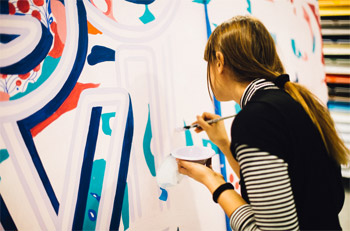 Question: What was it like working in the Fitzroy Officeworks store?

Gemma O'Brien: The Fitzroy store was an inspiring setting to work in - being surrounded by paints, brushes, pens and canvases was heaven for me and having easy access to everything that I needed for the art installation within arms reach was fantastic. Having worked on many outdoor murals, working indoors on a cold Melbourne weekend was a welcomed change!

The highlight for me however, was seeing the reaction locals artists had to the range. One friend of mine (who is also an artist) came into the store to buy specialty art paper which was new to the art supplies range and another commented that there was finally a place to buy the brush pens he used which he used to order online from Japan.


Question: What inspired your art installation?

Gemma O'Brien: Officeworks Fitzroy conducted a call out across their social media and asked their followers to comment on what Fitzroy meant to them. A anecdotal theme of -Good Vibes' came through pretty loud and clear and was the perfect starting point to inspire my design. I remember the first time I visited Fitzroy in Melbourne, and there was a certain bold energy that I wanted to translate visually in the piece. I used a rounded sans-serif lettering style coupled with vibrant colour, botanical elements and dynamic curves which weaved through the composition.


Question: What is the art of typography?

Gemma O'Brien: Traditionally typography referred to the setting of type, selecting fonts and was closely linked to the printing industry. Nowadays typography has become an umbrella term and many unique practices such as hand-lettering and calligraphy have come to be included when talking about 'type". For me, the art of typography is that it is an idealised form of writing. Typography is speech made visible, which means it is a harmony of language, meaning and culture with design principles like balance, negative space, contrast, rhythm and artful touches like colour, illustration and flourishes.


Question: Has technology killed handwriting?

Gemma O'Brien: I wouldn't say its killed handwriting; however I think that with the rise of technology, handwriting's role in our lives has shifted from something very functional to something a bit more romantic. I still believe that there is nothing nicer than a handwritten note, but that said I could not live without my iPhone or computer. I think the two can live harmoniously together.

Technology has made the means of producing text neatly and quickly very accessible - this is perfect for fast communication. However, when you want your communication to be meaningful, authentic and unique, handwriting, custom typography and lettering are a way to achieve this.


Question: What was it like working with the Officeworks art supplies?

Gemma O'Brien: The new range is beautiful to work with – the variety of products available for all creative activities is huge. During the lettering workshop I was using the Tombow Brush Pens and Faber Castell PITT pens. I've been using both of these pens in my practice for many years now so it's great to see they are available in the art supplies range at the Fitzroy store. Their flow and nib flexibility is perfect for the style of brush lettering I teach.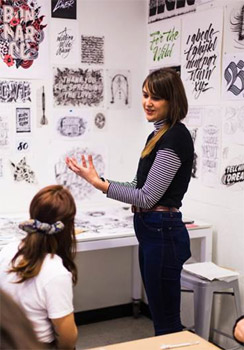 Question: Can you tell us about the expanded range of professional standard art supplies now offered at Officeworks?

Gemma O'Brien: The new range now features leading art brands including: Prismacolor, Caran d'Ache, Art Spectrum, Sennelier, Derivan, Tombow, Roymac, Pentel and Van Gogh. While Officeworks' ambition was to provide the best possible product to amateur artists at the lowest price, some of the product is certainly of professional standard. They've introduced over 7,000 new products – they've literally got every project covered!


Question: How has social media provided you with a larger exposure?

Gemma O'Brien: Over the past five years, social media has played a big role in exposing my work to a larger audience. It has facilitated collaborations with brands and opened up a range of commercial opportunities. For me it's a great platform to share elements of my practice and an artist or designer that traditionally might not be seen: the behind-the-scenes images, my inspiration and process, unfinished ideas and my studio. I've spoken to some of my audience who have followed my story and work over many years and this keeps me motivated to continuing to create new work and experiment further.


Question: What has been the biggest challenge for you, so far, in your career?

Gemma O'Brien: I think there are little creative challenges everyday: coming up with new ideas and trying to overcome design trends which saturate social media. Often when I try to push myself and try something new, there is the initial fear of the unknown which can hinder the progress. The first time I made the shift from small illustrations to large scale murals I found it quite daunting. However I think ultimately these challenges are necessary parts of the creative process, and I feel very grateful to work in a profession that allows me to be creative, work with my hands and hopefully bring some positivity to the world.


Question: What's next, for you?

Gemma O'Brien: I am working on multiple commercial commissions in my studio in Sydney this month before then have a lot of work travel booked in the latter part of this year. I will be speaking at design conferences and hosting workshops in Madrid, Antwerp, Las Vegas and San Diego. I am also in the early stages of some new work for an exhibition at China Heights in January 2017.


Interview by Brooke Hunter
Images: Hayden Dibb.