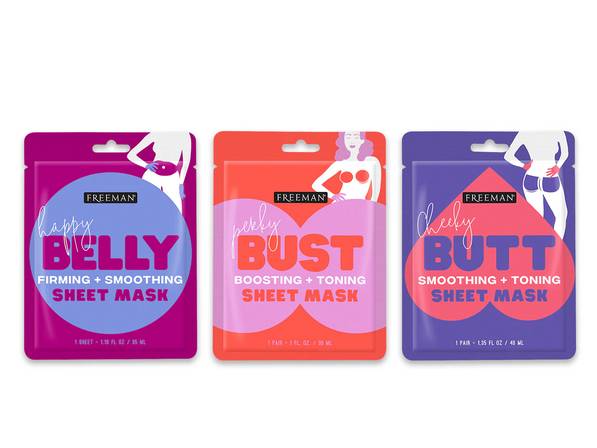 For more than 40 years, Freeman Beauty has been on a mission to produce nature-inspired, fun, high-performing speciality beauty products for women and men alike. Just in time for summer, they have introduced their new butt smoothing, bust boosting and belly firming range of body masks. Available nationally instore and online at Target, they are set to be the new seasons DIY essentials.
Freeman Beauty's face masks have remained best sellers in the US for many years. Their range of
innovative, on-trend and award-winning products are committed to ensuring their products are
cruelty free and not tested on animals. All formulas are free of parabens, sulfates, phthalates, and
mineral oil while featuring nature-inspired, efficacious, and good-for-you ingredients.
CHEEKY BUTT SMOOTHING + TONING: Get cheeky and pamper the butt with this booty sheet mask for softer, smoother-looking skin. Peach extract nourishes while the Coenzyme Q10 protects against signs of aging to help keep skin smooth and firm for sweet cheeks. Perfect for all booties. RRP: $9.99 (40ml)


PERKY BUST BOOSTING + TONING: Feel fabulous and perk up the boobies with this sheet mask designed to help soften and tone the skin. The pomegranate protects and renews the skin, while the peptide complex helps to stimulate collagen production. Perfect for all shapes and sizes. RRP: $9.99 (34ml)


HAPPY BELLY FIRMING + SMOOTHING: Designed to make belly's smile. This unique sheet mask for smoother, firmer-looking skin features a peptide complex to help tone, firm the skin and stimulate collagen production. The perfect hydration for a gorgeous tummy. Perfect for all bellies. RRP: $9.99 (35ml)

Freeman Beauty's butt, bust and belly masks are available now instore nationally at Target or online at target.com.au at an RRP of $9.99 each.