Femme Classic Art
Pierre-Auguste Renoir's
artworks are well known for their use of bright colours, and for taking advantage of light. The nude female was one of his main subjects. In typical impressionist style Renoir's paintings showed the details of a particular scene with touches of color, so that his figures mix with one and other and with their background.
Guillaume Seignac
was schooled in the academic technique, but he also embraced the quintessential subject matter of the renaissance. He specialised particularly in allegorical themes and mythological figures from ancient times. Guillaume Seignac's idealised female nudes, established on Greek and Roman criteria, were a enduring favorite. Often, Seignac's artwork depicts an allegorical woman's figure embracing an abstract idea such as "contemplation" or "daydream," usually in surroundings that show off an abundant landscape decorated with ancient Greek urns, antique Roman fountains or Pompeian seats.
William-Adolphe Bouguereau
was a French academic artist. Bouguereau was of a convention whose realistic category of artwork and mythological subjects were current interpretations of classical themes with a strong emphasis on the nude female body.
Anders Zorn
Towards the end of the eighteen eighties Zorn started to work on the theme which would come to typify him again and again - the study of the female nude in the outdoors. The flow of water along with the reflection of light on its surface had intrigued him for quite a while; but now he made the central theme more complex by placing a nude model in or by the water and attempted to show coalescence between nature and the naked human form. Americans paid an absolute fortune for his works.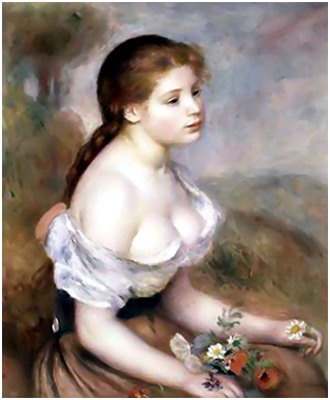 Herbert James Draper
1894 was the start of Draper's most fruitful time. He concentrated mainly on nude mythological subjects from ancient Greece. Drapers famous artwork "The Lament For Icarus" from 1898 at the Exposition Universelle in Paris in 1900 won him the gold medal. The Chantrey Trustees later purchased "The Lament For Icarus" for the Tate Gallery. The City of London has an artwork produced by Draper known as the Drapers' hall. As time moved on the popular preferences changed, and mythological themes became less attractive, so he directed his attention to portraits.
John William Godward's
artistic talents lay in the Victorian Neo-classic area. Along the lines of Frederic Leighton, although he did study with Lawrence Alma Tadema, he did have the same passion for background features made from marble. Along with classical architecture most of his paintings depict women in sensuous classical fashion, featuring these types of architecture in his backdrops. Nude and semi nude women are contained in his body of work. His best example is in 'The Tepidarium'. A title of art he has in common with Alma-Tadema that is on display in the Lady Lever Art Gallery. Godward specialised in Ancient Roman civilization.
Jules Joseph Lefebvre's
most famous nude artwork for Melbournians is at the 'Young and Jackson' Hotel on the corner of Flinders St and Swanston St Melbourne. Securely displayed, on their second floor, in pleasant surroundings. 'Chloe' is just one of a dozen or so nude or semi nude paintings that comes to epitomise his outstanding contribution to the art world.
John William Waterhouse's
early works were not pre Raphaelite. But more closely along the lines of Ala-Tadema and Frederick Leighton. Waterhouse dominated the London scene and as his popularity grew so did the size of his artwork. He taught at the St John's Wood art school and was elected to the status of full Academician. His most famous paintings 'The Lady of Shallot' after the famous poem of the same name can be found on many a lounge room wall of his young lady followers. Similarly, other popular works of Waterhouse's can also be found adorning the walls of many a home. Such as the 'Ophelia' series and 'A Song of Springtime, Gather Ye Flowers in May' as well as 'Hylas & the Nymphs'.
Lawrence Alma-Tadema's
artworks are extraordinary in the way everything is painted. In the realistic way it is painted. Particularly the realistic way he paints marble. Showing off the brilliant colour of the old Dutch masters. Alma-Tadema's works are remarkable for the way in which flowers, textures and hard reflecting substances, like metals, pottery, and especially marble, are painted - indeed, his realistic depiction of marble led him to be called the 'marbelous painter'. His work shows much of the fine execution and brilliant colour of the old Dutch masters. By the way he infuses the human interest in his art and gives them a modern feeling and frolicsomeness. Alma-Tadema was particularly meticulous with his accuracy of the architecture. He read books, visited museums, and took pictures of objects. By going to Italy and taking photographs of ancient sites he gathered an enormous number of photos to use accurately in his paintings. Alma-Tadema's other main feature in his paintings were the women.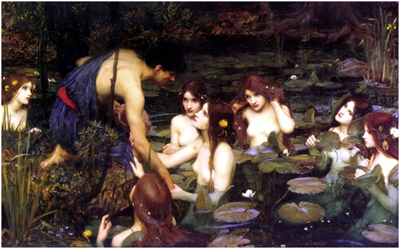 Paintings of Nymphs
A Nymph is a minor god from a special area. They usually appear in paintings as sexy young women who thoroughly enjoy singing and dancing who are very amorous and no inhibitions. Hot maybe a word used to describe Nymphs these days. They hang around in mountains and groves, rivers and trees. They do not die of old age or sickness. When they mate with gods they have immortal children. They have been known to die in various ways, so they are not immortal. Nymphs gain the love attention of Satyrs, and are also attendants of gods and goddesses.
Paintings of Venus
You will find over one hundred paintings of Venus. The Roman goddess of love, beauty and fertility on
Femme Classic Art
. The name means sexual desire and love in Latin, and the name is closely linked with a desire to try to please, as well as grace and favour. In Sanskrit it has the meaning of lust as well as the meaning of desire. Venus played major roles in religious festivals and myths.
There is a whole section dedicated to nude paintings.
http://www.femme-classic-art.com