Films Fast Tracked to Digital
Roadshow Films has announced they will fast track the in home release dates on some of the most popular cinematic features of 2020, giving people the chance to experience hit movies at home, express from the cinemas.

In these challenging times when cinema goers are required to stay in, Roadshow Films is giving movie lovers across the country the ability to experience some of the biggest cinematic releases in the comfort of their homes.

The compelling slate includes films that were either part way through their theatrical run, or which have recently completed their theatrical run in Australia and New Zealand and are being released express to in home as a temporary measure in response to the COVID-19 crisis and the forced closure of cinemas.

"These are some of our most popular releases of the year and we are pleased to be able to bring them in to Australian homes, express from the cinemas, in these extraordinary times" said Joel Pearlman, CEO Roadshow Films. "Roadshow Films has been entertaining Australians for over 80 years and we remain committed to bringing the best quality local and international entertainment to Australian movie lovers."

Miss Fisher And The Crypt Of Tears is available to buy on digital download now.

Cast: Jacqueline McKenzie, Ashleigh Cummings, Essie Davis, Rupert Penry-Jones, Miriam Margolyes
Director: Tony Tilse
Genre: Mystery
Rated: M

Synopsis: With legions of devoted fans around the world who have avidly read the best-selling series of books and who have watched every minute of three internationally successful television series, the fabulous lady detective The Hon. Phryne Fisher, now makes the leap to the big screen in Miss Fisher and the Crypt of Tears.

After freeing a young girl from her unjust imprisonment in Jerusalem, Phryne Fisher begins to unravel a mystery concerning priceless emeralds, ancient curses and the truth behind the suspicious disappearance of Shirin's forgotten tribe.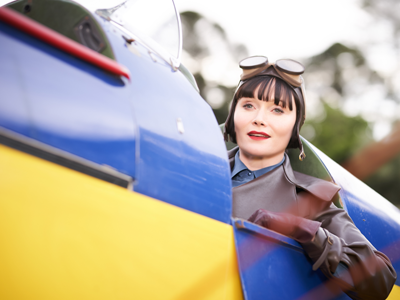 Interview with Essie Davis
Question: The locations featured in the film are incredible, what was your favourite part of filming Miss Fisher and the Crypt Of Tears?

Essie Davis: It was a spectacular film to shoot, we were extremely fortunate to be able to film in Morocco, in the Sahara Deserts and in the studios of Ouzarzate where we had access to the most incredible set-builds for Ridley Scott's Kingdom of Heaven. We had amazing extras from Morocco making a world of the film, it is vastly exotic. Filming in the Sahara Desert provided a magnificent backdrop of mountains and sand-dunes where The English Patient was filmed.

We were very lucky to be facilitated by what essentially begun as a Crowdfunding exercise to attract Australian investors and prove to financiers that there was a passion for this feature film. What we essentially tried to do was make a magnificent Indian Jones/James Bond type action-adventure-murder-romance-mystery-comedy film that takes audiences out of their homes into the world with Phryne Fisher.

It was very lucky with a small spend to take this amazing step with Miss Fisher and the Crypt Of Tears – the film was truly made for the big screen, which is why it is disappointing that the cinema release had to be cut-short during this strange and troubling time. Miss Fisher and the Crypt Of Tears is definitely an international feature that will take audiences on an adventure, inside their own home, it's actually the perfect time for this type of entertainment.


Question: Will audiences need to have seen the original series to appreciate this film?

Essie Davis: There are many audiences who have seen the film who love it to bits who have never had anything at all to do with the series, the film stands alone.


Question: What do you enjoy most about playing the role of Phryne?

Essie Davis: Phryne is such a joyful character to play and it's easy to step into her shoes because she's fun, boisterous and naughty. I enjoy how brave and independent she is, I love that she champions for the underdog and supports women whilst being a lover of men. She is such a delight!


Question: Do you even find yourself taking on the role of Miss Phryne Fisher in real life?

Essie Davis: (laughs)… when I play Cluedo, I play to win!


Question: How is it different taking on the role of Phryne compared to Ellen Kelly?

Essie Davis: I'm the luckiest women in the world taking on these two roles – I've had the opportunity to play such incredible women, who are worlds apart.

Filming True History of the Kelly Gang (which can be streamed on Stan) was one of the most profoundly special films I've made in my life even though it was brutal and intensely hard work it was something that every single cast member, involved, worked on with such great passion and worked together to make an incredibly brave, beautiful and extraordinary piece of film.

Both characters, Phryne Fisher and Ellen Kelly, are endurance characters. There is something delightful about playing the role of Phryne Fisher as she is so positive, joyous and naughty! It's wonderful to play the role of Phryne Fisher with so much joy and tounge-in-cheek when you've been breaking your wrist, rolling around in snow with the gorgeous George MacKay, Nicholas Hoult, Charlie Hunnam and Russell Crowe as Ellen Kelly.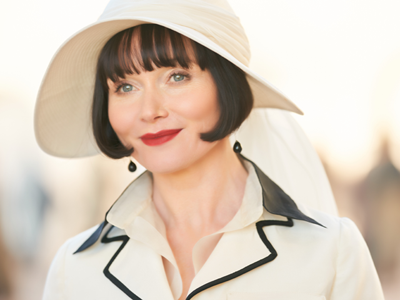 Question: How have you been managing isolation during this devastating COVID-19 climate?

Essie Davis: It's been eye-openingly scary, I feel fortunate to be in Australia and I think Australians have responded well to social-distancing and staying in their own homes which will hopefully bring this time, to an end much sooner. I feel so sorry for those who have lost their jobs and the Australian Government Job Saver package implementation has been good although I do have family members who cannot access the stimulus which is devastating.

I feel very glad that I can be a little piece of entertainment in people's lives, now is the time for escape and adventure within your own home which can keep spirits buoyant during the unknown.

Our industry is devastated too as no one can work at all. I am grateful that Justin, my husband and I, happened to be home, in Tasmania, when we went into lockdown as it's with great fortune that we weren't separated in different countries. I really hope that once this is over, everyone returns to the cinema, again, and pays for digital downloads of films to watch, at home.


Interview by Brooke Hunter