Unraveling A Wartime Mystery
Cast: Jacqueline McKenzie, Ashleigh Cummings, Essie Davis, Rupert Penry-Jones, Miriam Margolyes
Director: Tony Tilse
Genre: Mystery
Rated: M

Synopsis: Jerusalem, 1929. In a daring rescue, Phryne Fisher saves Shirin Abbas, a young Bedouin woman, from unjust imprisonment. Shirin is traumatised by memories of seeing her village massacred as a child - before a sandstorm buried everything - and is determined to prove it. Phryne promises to help Shirin seek justice, but their dangerous escape separates them, and Phryne is presumed dead. Phryne's estranged admirer, Inspector Jack Robinson, travels to her memorial service at Lofthouse Manor in the English countryside, but his mourning is interrupted by Phryne's surprise arrival, prompting Jack to depart in angry confusion.

Phryne stays at the Manor with Lord and Lady Lofthouse, the Lord's younger brother Jonathon, and Shirin and her uncle Sheikh Kahlil, who is in business with Lord Lofthouse. When Phryne tries to discover the truth about Shirin's village during the Great War, Lofthouse and Jonathon (former soldiers), along with the Sheikh, deny the massacre. However, when Phryne and Jack witness the murder of Wilson, an army deserter who gives Phryne an ancient, encrypted pendent moments before his death, they are convinced there is more to the story.

Phryne and Jack take the pendent to archaeologist, Professor Linnaeus, who dete rmines that the piece was looted from a secret tomb beneath Shirin's village, known as the Crypt of Tears, built by Alexander the Great. Whilst Linnaeus searches in his archives for more information on the Crypt, Jack is attacked by a veiled figure who is after the pendent. Phryne pursues the attacker, but they escape - empty handed - into the night.

The next day, Jack follows one of Wilson's leads, discovering a second treasure that helps point the way back to Shirin's village in the Negev Desert and the Crypt beneath. Meanwhile, Shirin convinces her uncle that the British are covering up the massacre of their Bedouin people and to end his dealings with Lord Lofthouse, who then assaults the Sheikh as a result. That night, the Sheikh is shot and Lord Lofthouse is arrested for his murder.

While investigating the crime scene, Phryne and Jack locate the third and most important Crypt treasure, the 'All-Seeing Eye'. Linnaeus decodes its inscription, which warns of an ancient curse that will befall the world should anyone remove the All-Seeing Eye. With time running out, the Professor urges Phryne and Jack, accompanied by Shirin and Jonathan, to travel to the Negev Desert to undo the curse. Before they can complete their mission however, the murderer of Wilson and the Sheikh ambushes them in the Crypt of Tears. A frenzied struggle ensues, wherein the mystery killer is revealed, and our heroes escape the collapsing Crypt.

The All-Seeing Eye is restored to its rightful place and the curse is lifted. Shirin assume s her pre-destined role as the next guardian of the Crypt of Tears – and Phryne and Jack spend a memorable night together under the stars of the Negev.

Miss Fisher And The Crypt Of Tears
Release Date: February 27th, 2020


About The Production
*contains spoilers*


With legions of devoted fans around the world who have avidly read the best-selling series of books and who have watched every minute of three internationally successful television series, the fabulous lady detective The Hon. Phryne Fisher, now makes the leap to the big screen in Miss Fisher and the Crypt of Tears.

Produced by Every Cloud Productions who so successfully translated Kerry Greenwood's Phryne Fisher books for television, Miss Fisher and the Crypt of Tears takes fans on an exhilarating new journey of mystery and mayhem through exotic 1920s British Palestine to the opulence of grand London manors.

Filmed on location in Morocco, including at the extraordinary sand dunes on the edge of the Sahara, and in Melbourne's magnificent historic mansions, Miss Fisher and the Crypt of Tears will captivate Miss Fisher's loyal fans and introduce the world's most stylish and accomplished lady detective to a whole new audience.

The television series Miss Fisher's Murder Mysteries, produced by Deb Cox and Fiona Eagger's Every Cloud Productions, is one of Australia's most successful television brands, both at home in Australia and internationally. Episodes from all three series routinely garnered audiences of more than 1 million each week in Australia and it screens in 247 territories in 179 countries around the world. Its debut in France captured an audience of 3.28 million.

Those fans helped bring Miss Fisher to the big screen with a hugely successful crowdfunding campaign raising a significant portion of the budget, making it the most successful crowdfunding campaign in Australia to date.

The series was originally based on Kerry Greenwood's hugely successful Phryne Fisher mystery series of books; however, the story of Miss Fisher and the Crypt of Tears is wholly new, written by Deb Cox with Kerry Greenwood's full blessing.

"We wanted to make a film that's part action adventure, part murder mystery with a bit of an epic feel and the kind of exotic international backdrop that an exceptional woman like Phryne Fisher deserves," Deb Cox says.

Executive Producer & Producer Fiona Eagger, and Deb Cox's partner in Every Cloud Productions, says: "Bringing a strong, brave, independent woman like Phryne Fisher to the cinema screen at this time seems more relevant than ever. And while we had a very clear idea of who Phryne Fisher is and her appeal to audiences, a feature film is a very different beast to a television series.

The characters in a television series tend to maintain a status quo, whereas when people come into a cinema, they really want to see a character arc. They need a world created for them and the opportunity to go on a big journey with the characters.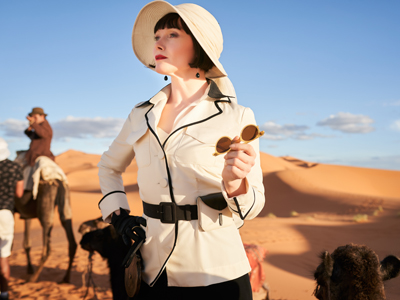 "So, we put Phryne and our leading man Jack Robinson in the desert. One of my favourite films is David Lean's Lawrence of Arabia. It's epic and it's romantic and these were the qualities we wanted for Phryne's foray onto the big screen."

Deb Cox continues: "Miss Fisher is such an interesting character that in exploring ideas for the film we could have gone with a conventional murder mystery set in a mansion or on a train, but Miss Fisher is an action sleuth. She's always been like that. She's not Miss Marple. She climbs buildings, she runs around in fast cars, she has a gun. So, we were dealing with a hybrid character and a hybrid genre which lends itself to a big screen adventure."

Miss Fisher's background also contributes to the veracity of a story set far from Australian shores. While Phryne grew up in Australia, she went to boarding school in England, drove an ambulance in France during World War I, and cavorted in Paris and across the continent in the ebullience of the post war period before coming back to Australia to live.

"As her fans know, at home in Melbourne she mixes with Latvians she has had a Chinese lover….so she's really a global woman. It seemed logical to free her from the confines of Melbourne and that one place….to let her out into the world," Deb Cox says.

"And of course, the exoticism of travel, especially of the period, was an exciting space as a writer to let my brain wander."

Fiona and Deb were determined to stay true to Kerry Greenwood's particular view of the world and her strong values around social justice. Her books always have something to say about the world and so too does the new world of Miss Fisher and the Crypt of Tears which is set against the backdrop of rising tensions in British mandated Palestine.

"We wanted to embrace the romance and the exoticism of the desert but look for a story that Kerry Greenwood – and Phryne - would support. Once again, we went back to the first World War because so much of the wellspring of the issues we talk about in the original series came from the War," Deb says.

"Our film story is set against a time of colonialism, when colonial powers overrode local culture. The British made promises they didn't keep. Contemporary affairs in the Middle East could have played out very differently if the British had come good on their promises for Palestinian independence.

"So, while we don't push the politics, Phryne is championing a young Palestinian woman and you get the feeling that there's an embedded injustice in her story."

Filming began in Morocco in Autumn with cast and crew from Australia, the UK, Morocco and France converging on the desert town of Ouzarzate, home to several Hollywood 'back lot' studios. The crew was helmed by director Tony Tilse, who had previously worked on large scale productions in Australia and in South East Asia.

Tony, Deb Cox and Fiona Eagger, with production designer Robbie Perkins, Cinematographer Roger Lancer and Co-Producer Lucy MacLaren, had earlier travelled to Morocco in search of their fictional British Palestine. While Australia certainly has a lot of desert, the landscape of North Africa has an entirely different feel. And there is nowhere in Australia that would pass as Jerusalem.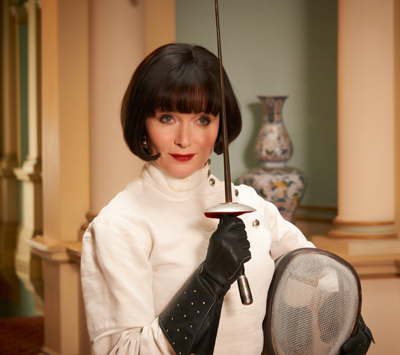 "We considered filming in Jerusalem itself and in Israel, but I heard from another filmmaking team about the advantages of Morocco – incredible landscapes, experienced crews and the amazing back lots in Ouazarzate, which included a Jerusalem set. Our fantastic art department dressed it as 1929 and we filled it with extras in stunning costumes from the period," Fiona says.

"We also had the opportunity to film in Ridley Scott's set for Kingdom of Heaven, which was a big thrill, at an amazing crater near the beginning of the Sahara where The Mummy was filmed and at amazing sand dunes near Merzouga where films such as Herzog's Queen of the Desert were made."

Deb Cox continues: "I love the mood to the desert scenes. It's very lyrical, it's more lyrical than many earlier movies shot there and perhaps more feminine because our hero is a woman - and she looks amazing in the desert."

Director of Photography Roger Lanser was also captivated by the opportunity to film in the desert, despite the 45-hour journey from Melbourne to Ouzarzate: "I think deserts are filled with their own drama. They're a location you see in films a lot and even though you can run the risk of cliché, I think there's moments of great romance and great cinematic opportunity.

"You've got camels, the sand dunes, fabulous sunsets and moonrises and extraordinary light, especially late afternoon – it's a wonderful place to make a movie. It's very rewarding for a cinematographer…driving to work in the morning and you've got a full moon setting over the Sahara on your right, and the sun rising over the Sahara Desert on your left.

"And then the colours- ... the morning pink and blue hues, the afternoon strong bold reds, that turn the desert the same colour as the sunset, which is the same colour as the buildings made of the mud of the area."

While beautiful, filming in the desert and particularly at the Merzouga sand dunes was not without its challenges.

Director Tony Tilse says: "No matter where you go, it's a bit like filming on water where everything has to be brought into the location. And then you've vehicle tracks and people's footprints all over the place in what's supposed to be a pristine environment." Roger Lanser also recalls the day when a fierce sand storms hit the crater location while cast and crew were filming a critical scene.

"It certainly gives you an insight into why most of the men and women working there all wear a turban arrangement on their head. When the storm hits, they can instantaneously wrap their face in a protective cloth that covers their ears, their nose and their eyes from the sand, which is relentless. It just blows off that desert. We had two big ones. It didn't stop us filming but, for continuity purposes, the next day we had to introduce a wind machine to re-create the sandstorm."

Tony Tilse adds: "But Morocco is a beautiful place to film, and the crews there are fantastic to work with and wonderful people. A lot of productions happen in the area, so they're very, very familiar with film making."

Tony Tilse is a long-time collaborator with Every Cloud Productions and was the set-up director for the television series, so is both incredibly knowledgeable about the world of Miss Fisher and renowned for his ability to get incredible images onto the screen, regardless of time, location and budget.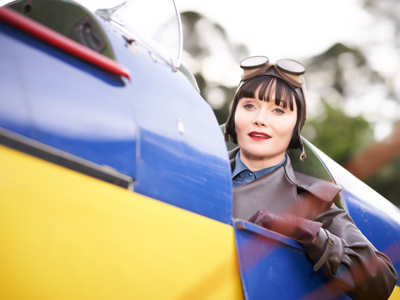 "Tony loves a challenge and it would have been impossible to achieve the film we' ve created without him at the helm," says Fiona Eagger.

Says Deb Cox: "He's incredibly experienced so he has a lot of craft up his sleeve. And he also has a maverick attitude where he's inventive when he's in a tight spot. The opportunity for Tony to direct a drama feature was overdue and he will be applauded for the vision he's been able to bring to the film."

From Morocco, the shoot continued in Melbourne, home to glorious 19th century public buildings and private estates that could readily double as 1929 England, such as the National Trust's Labassa and Ripponlea and the Victorian Government-owned Werribee Mansion, built between 1874 and 1877 in the Italianate style by the pioneering Scottish pastoralists. "While we had filmed at some of these locations previously for the television series, coming back to Melbourne from Morocco gave us a fresh and perspective and so we were able to establish these locations as England and approach filming them in a different way," Roger says.

One of the joys of making Miss Fisher and the Crypt of Tears was in bringing the original cast and key crew back together. Since the conclusion of filming of the television series, Essie Davis has gone on to pursue a stellar international career in productions such as Game of Thrones while Ashleigh Cummings is making a name for herself in the US, notably in the film Goldfinch.

Tony Tilse, the set-up director for the television series, delighted in having the team back together: "It was like an old school reunion really when they all turned up. Everyone has been off doing our own individual projects and it really was a great joy to have everyone back together again. With our cast, it was amazing how quickly they just clicked back into the Miss Fisher world."

Deb Cox agrees: "One of the highlights for me in the whole process was the read through. We had Essie and Nathan back together again doing Jack and Phryne and they just got back on that horse like they'd never left it.

"Their banter is great and watching them relate, you can see they really are the heart of the film. It was great having them and that chemistry back and I love the male/female dynamic between them …his eternal frustration with her, and her eternal defiance.

"You see Jack grappling with that, grappling with 'What do you do with a woman you can't keep tabs on all the time? And you can't marry her, and you can't pin her down because she won't be who she is' and she fascinates him. And Phryne loves him, but she doesn't want to be tied down by him, so they have this dilemma that the film works with.

"By the end there is progress in their relationship and there is a little bit of bending from both of them. Jack finds a way that he can accommodate a woman who he can't constrain in, in the ways that the times determined. And Phryne makes a slight concession to being accountable to someone else in her life who she cares about."

Essie Davis worked closely with Deb and Fiona. She feels a responsibility to represent the big screen Phryne in a way that is truthful to audiences and authentic to Kerry Greenwood's original stories.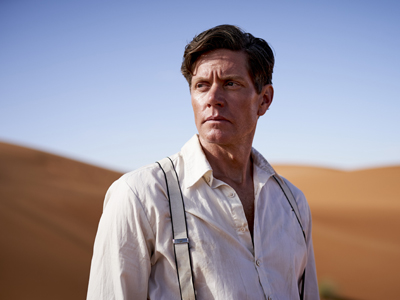 "To be on a giant screen is, it has to be a world that you believe in. It's very hard to lose yourself in something unless it is 100% truthful and I think that with the locations and landscapes that we have in the film and the rich and honest relationship that Nathan and I have built between Jack and Phryne, we have created a fantastic, lose-yourself-in-it cinema experience."

Essie describes Phryne as a female superhero who refuses to stick to the rules: "She's very naughty and will break the rules to make things right. She can speak many languages, she can dance a tango, she can drive a car, she can fly a plane. She used to work as an ambulance officer in the first World War. She can scale a building, she can break all the rules to get what is right for the underdog in the world, and for the women of the world. "And, you know, she loves women, but she's a lover of men."

Miss Fisher wouldn't be Miss Fisher without a stunning wardrobe for both Phryne and the supporting cast. Costume designer Margot Wilson relished the opportunity to dress Essie and also characters from the desert, particularly the Bedouin women with their embroidered robes, silver jewellery and breastplates with symbols designed to ward off evil spirits. She had worked before in Marrakesh so was familiar with the colours of Morocco, but for this film immersed herself in research about Bedouin culture.

"I can remember flying into Marrakesh and just seeing the incredible salmon pink buildings and landscape. That really stuck in my mind. For the Phryne character, I was thinking about colours that would work with that salmon pink and something dynamic. I also wanted to create a black and white safari look with a kind of Laurence of Arabia feel," she says.

Phryne Fisher has around 15 different looks in the film and, particularly for the Morocco shoot, Margot had to consider the amount of action the character is involved wi th. As well as the hero costumes, Margot and her team had to create body double and stunt double replicas.

"She jumps from a cliff onto a train and through windows and steals a motorbike. So, I had to design an action dress to cope with all that which consisted of a lot of gussets and culottes. Then, for the safari look in the desert, we had a local cobbler make a pair of stunning lace up boots from hemp so that Essie wouldn't sink into the sand."

Margot says that in contrast to the series, sharp eyed Phryne fans will notice that the clothing is a little more fitted to reveal her shape and femininity.

And she was very happy to release Jack Robinson from his detective suit and put him in a classic linen safari suit, made out of beautiful linen table cloths Margot had originally intended to use on a shoot she was doing with Chris Hemsworth.

"Jack would have looked ridiculous in a heavy suit in the desert. The linen safari suit moves him more towards Phryne visually."

Returning to Miss Fisher is Hair and Makeup Designer Anna Karpinski who has worked closely with Essie Davis to perfect Phryne's exquisite look. This time, we get to see a slightly more dishevelled Miss Fisher as she battles the desert environment and camping with camels in the sand.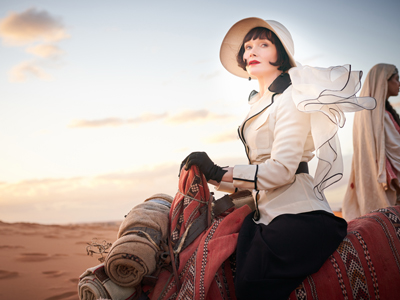 "Miss Fisher does, of course, look polished gorgeous all of the time but we did get to have a bit of fun with her being not so pristine anymore!" Anna says.

While art director Lance Whitehouse worked for weeks in Morocco with local tradespeople to dress the Ouzarzate backlots and build a Bedouin village in the desert, using traditional hand tools rather than modern technology, production designer Robbie Perkins and his team were creating sets in a back lot in Melbourne, including the Crypt of Tears where the film's final dramatic scenes were to be shot.

"Our characters enter the crypt from the edge of the volcano crater from our location in Morocco, but when we see them come down the stairs into the crypt, they're in Melbourne," Robbie laughs.

"But what's challenging about that is that you go from a bright, desert sky into the gloom and the darkness of the crypt. Visually that was something that took a lot of discussion to make it work."

Just as challenging was the creation of the destroyed Bedouin village, overtaken by years of sandstorms and neglect.

"We constructed half buildings and to make them look like they were sunk in the sand, we had truckloads of sand imported from miles away. But on the day were filming the set, Lance arrived to discover the crater filled with 200 tents – no one had told us about a music festival taking place there! We lost a bit of time, but we did manage to move the tents and set up our village and it looks spectacular."

Supporting the work of the location crew is the extraordinary post production work by Visual Effects Designer Scott Zero, who has created more than 400 digital effects for the film, enhancing its big screen feel.

The filmmakers are confident that existing Miss Fisher fans will love the movie while new audiences will also fall in love with the lady detective and her desert adventure, "I think everyone will have something different that they get out of this film. There are murder mysteries fans who will love that side of the story, and then it's an exotic fantasy and others will go for the escape. And while it's not a kind of gritty piece of social realism, there's some interesting themes that people will enjoy. But for me, at the core of this film is a love story and I'm hoping people will delight in the romance of the relationship between Phryne and Jack.

Tony Tilse concludes: "It's got romance, action and adventure. What more can you ask for in a big screen experience!"

Miss Fisher And The Crypt Of Tears
Release Date: February 27th, 2020